One of the finest 5-star hotels in Doha, Four Seasons Hotel boasts of elegant interiors and rich grandeur. The spacious and invigorating ambience of the rooms here will make you feel like home away from home along with mesmerizing vistas of the sea from the windows. Stroll through the hotel's private beach with your loved one and get startled by the magnificent beauty and tranquil aura. Walk into luxury by booking a stay at Four Seasons Hotel Doha and experience the lavish comforts with the best of Qatari hospitality. Check out this short guide to Four Seasons Doha, a luxurious retreat in Doha, Qatar.
Four Seasons Doha: Different Accommodation Options
Four Seasons in Doha, Qatar offers guests with the most luxurious accommodation options including rooms and suites which are well modernized with all the world-class facilities and eye-catching interiors and designs. Enter a world of luxury at hotel's intriguing rooms and suites and marvel at the beautiful views of the sea. Some of the different accommodation types available here are given below.
1. Premier Sea-view Room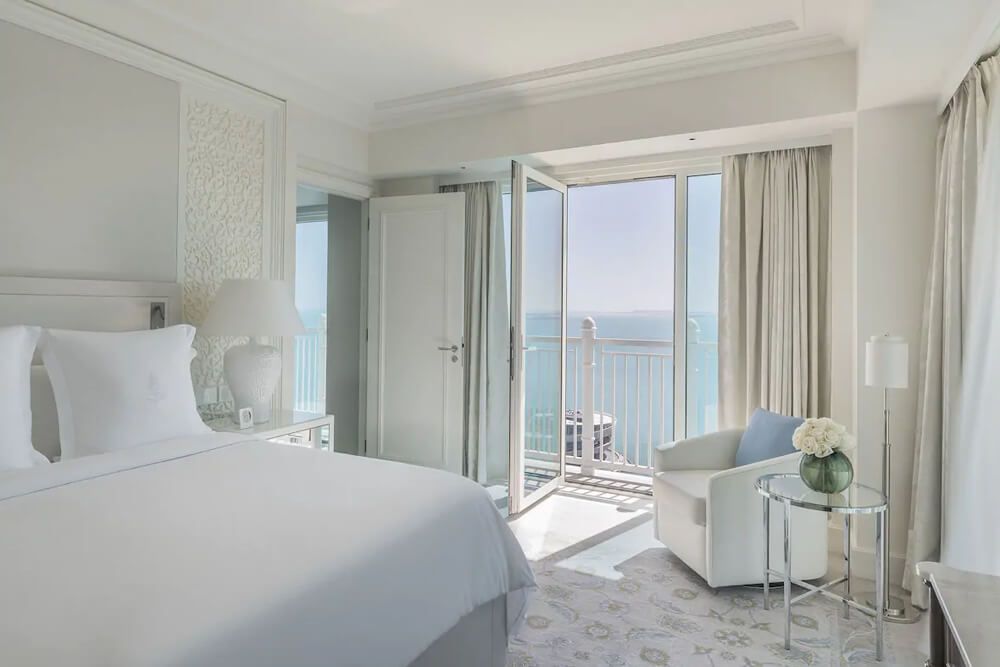 One of the most extravagant accommodation types to book here is Premier Sea-view room which is approximately 474 square feet and offers the most enchanting views of the Arabian Gulf. The rooms have one king or two twin beds and can accommodate 3 or 2 adults and 2 children. All rooms come with a personal attached marble bathroom with deep soaking tub and separate shower. Relax on the plush beds and enjoy your coffee by the windows admiring the stunning views of the sea. Premier sea-view rooms come with modern amenities like flat-screen TV, iron and ironing board, hair dryer, refrigerated private bar with sweets and savory snacks and a lot of other facilities.
2. Deluxe Room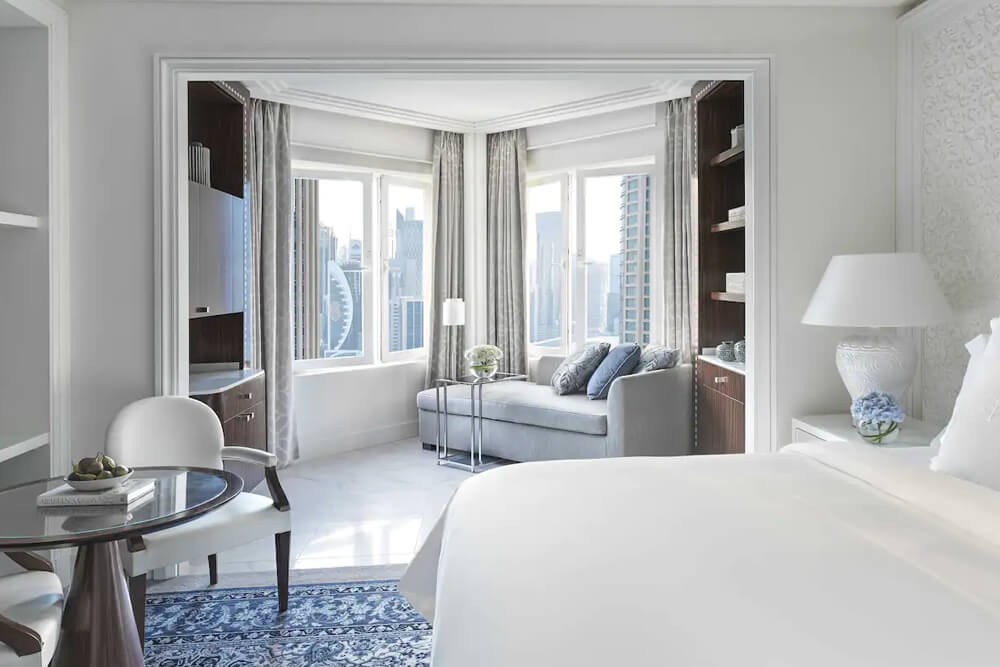 Deluxe rooms at Four Seasons Doha offer beguiling views of the scintillating Doha skyline and modern designs which are well-equipped with all the top-notch facilities for lavish comforts. The rooms are around 474 square feet in area with a separate sitting area ideal for meetings or relaxation. Most of them also come with walk-in balcony from where stunning views of the cityscape can be enjoyed. Deluxe rooms boast of rich color scheme comprising of mostly taupe and aqua shades that looks quite appealing to the eyes.
Suggested Read: Places To Visit In Doha For A Cultural & Adventurous Retreat
3. Ambassador One-Bedroom Suite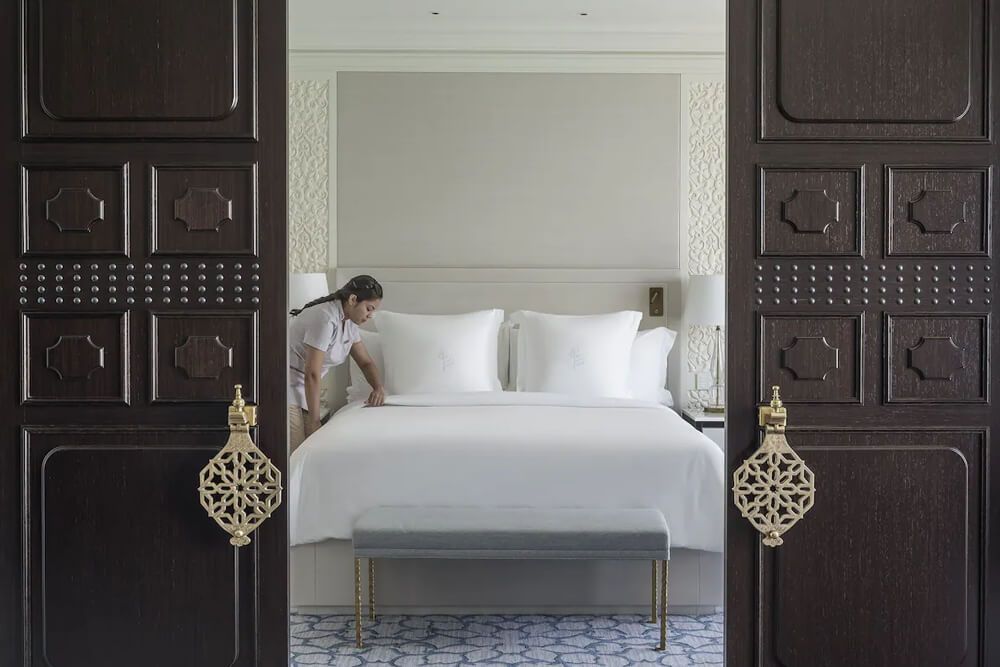 The subtle interiors, modern amenities and exotic views of the Arabian Gulf makes this room type an ideal choice for couples and small families who come here to explore the best places to visit in Qatar. Occupying an area of around 851 square feet, ambassador one-bedroom suites can accommodate 2 to 3 adults and 2 children. There is also an attached living room which is separated from the bedroom by sliding doors. What makes this room type an amazing for option for a comfortable stay are the two step-out balconies offering views of the Arabian Gulf and a separate working space. The powder blue color-scheme and furnishings of the room makes it quite appealing to the eyes and gives it a sophisticated touch.
4. Royal Suite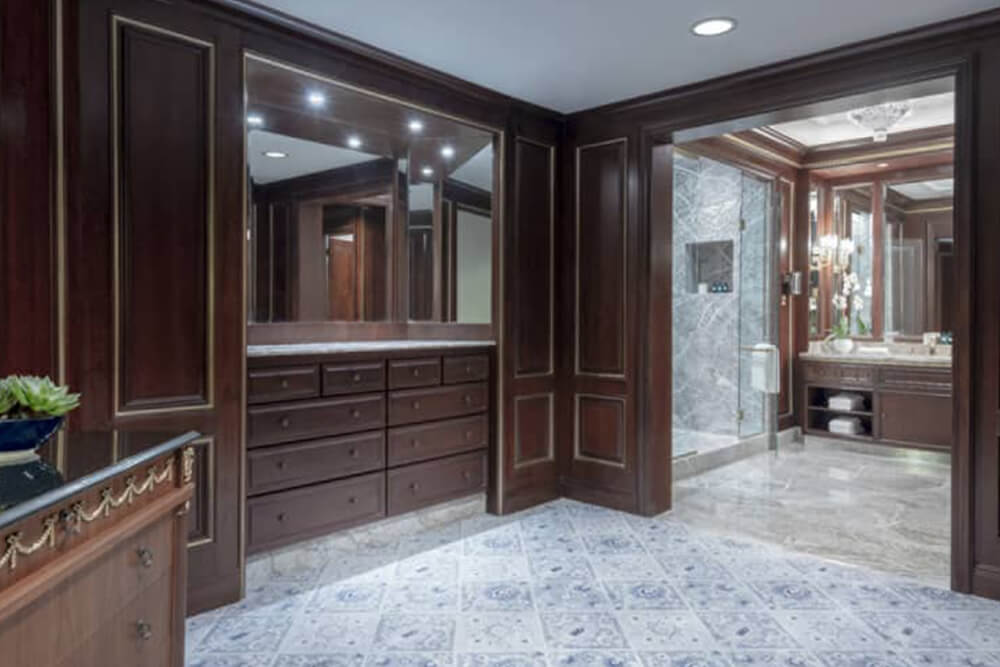 In the royal suite category, you will be delighted to witness both city and sea views which makes this accommodation type ideal for those who love both sea and cityscape views. The suites have been beautifully designed in yellow and blue color schemes that gives it a royal touch with contemporary designs. The suites come with three terraces and three balconies where private moments can be enjoyed while admiring the beautiful landscape. Booking a stay here also gives access to dining room for 14, private office and waiting room and a formal foyer. Several complimentary services are also given like flat-screen television, overnight shoeshine, 24-hours in-room dining and many other.
5. Presidential Suite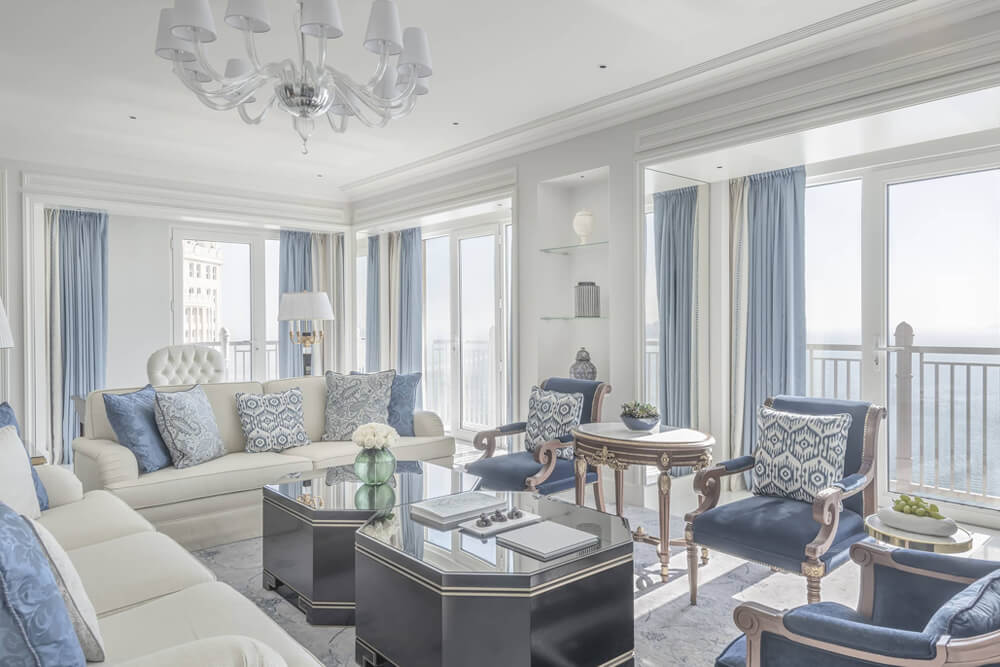 The presidential suite is an apt choice for all the VIPs and heads of state from where alluring views of the Arabian Gulf can be admired. The suite has an accommodating capacity of 6 or 3 adults and 3 children as it is quite spacious covering an area of around 2799 square feet. Access to the majles-style living room comes complimentary with the presidential suite which has a dining table for 10 people and a piano. The interiors and comforts here are lavish and will offer you a delightful experience. You will also get access to a fully-equipped kitchen, private office, formal foyer, 6 step-out balconies and connectivity with a deluxe room with one king bed.
6. Executive Suite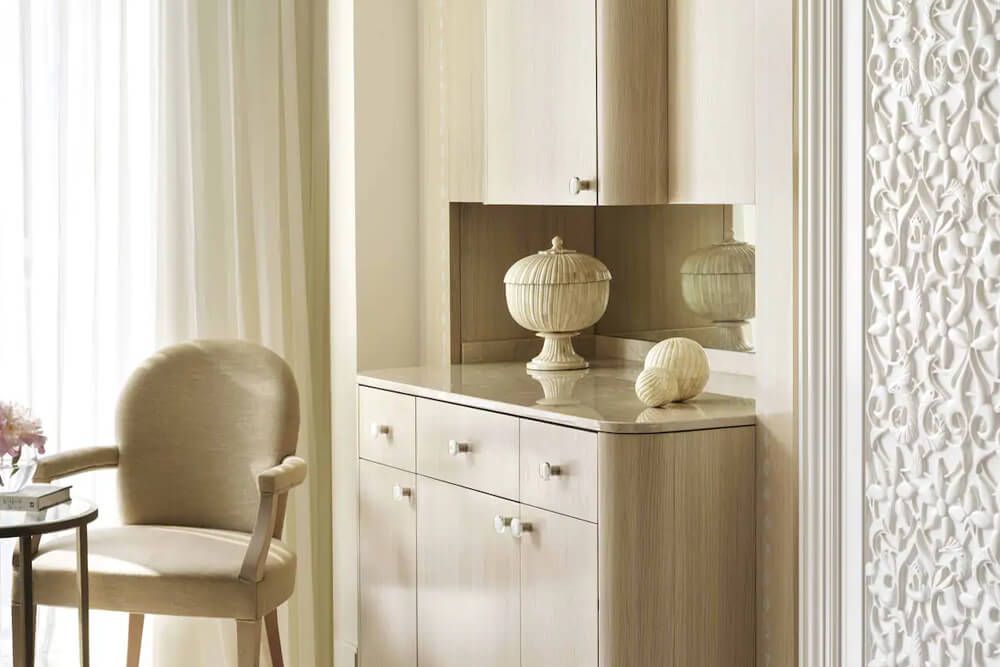 Executive suite is another room type that is available at Four Seasons Doha from where stunning views of the cityscape and side views of Arabian Gulf in the living room. This room type can accommodate around 3 to 2 adults with 2 children. Additional features that make it a perfect option to book for a comfortable stay are two step-out balconies, separate living room, large closet, and a working desk.
Suggested Read: Qatar Nightlife: What It Holds For Travelers?
Four Seasons Doha Qatar: Gorge On The Scrumptious Delights At These In-house Restaurants
1. Nobu Doha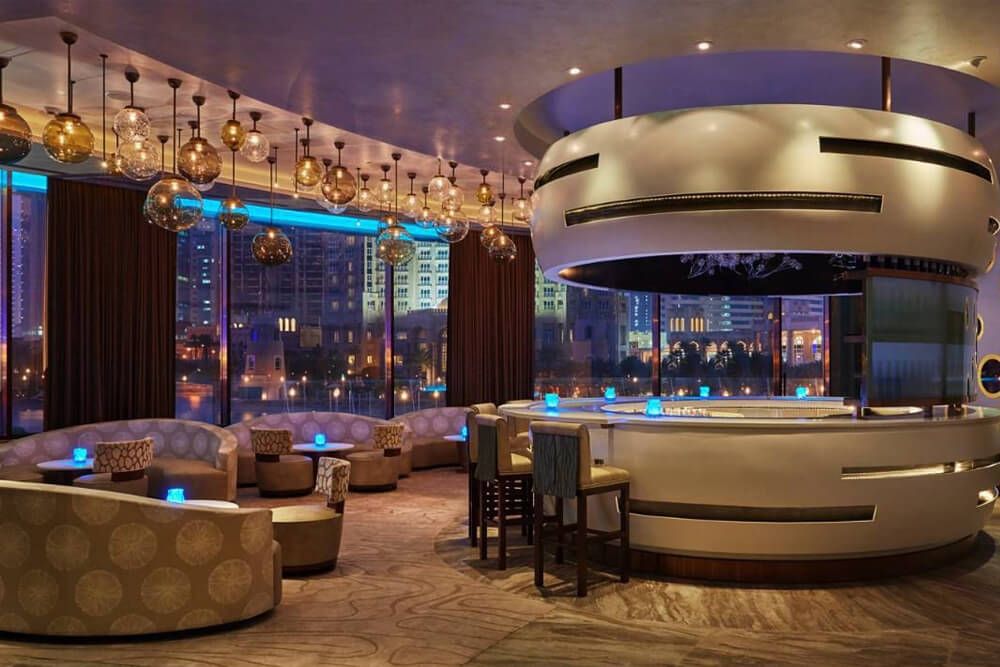 Nobu Doha is one of the best restaurants in Doha that offers magnificent vistas of the Doha skyline and the sea as it is perched above the Arabian Gulf in a dramatic location. The main cuisine served here is Japanese by the world-renowned chef, Nobuyuki Matsuhisa. The signature dishes served here and the lively ambience is just perfect for a romantic dinner or a family dinner with your loved ones. Black Cod Yuzu Miso, Rock Shrimp Tempura, King Crab Leg with Shisho Salsa, Nobu style Wagyu Beef Spicy Ponzu Tacos are some of the signature dishes served here which are considered worth-trying.
2. Elements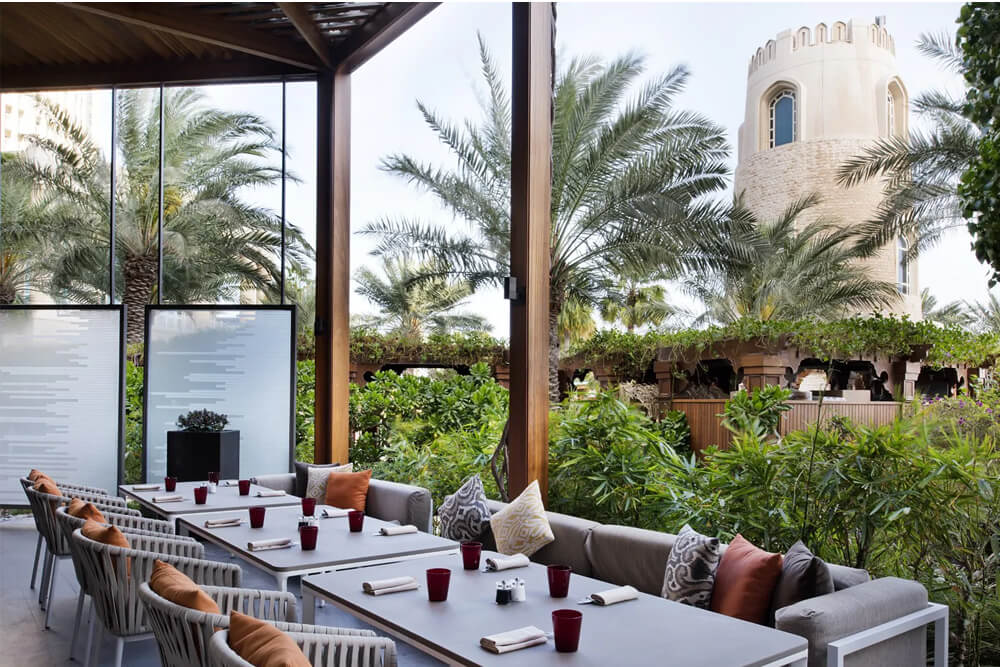 Serving the culinary delights from China, Thailand, Japan and India, Elements is another fine-dining restaurant in Four Seasons that offers a great experience to all the foodies out there. Breakfast, lunch and dinner can be relished here. Breakfast menu features dishes like croissant, Danish, deli meat and fish, multi grain roll, Greek yogurt, granola parfait etc. Dishes like chicken ban ban, crispy mixed greens salad, Greek salad, cold mezze, vegetable maki, sui jiao, Malai chicken, Dal Makhani, nasi goreng, chicken biryani are some of the delicacies to order from the lunch menu. Dinner menu is also quite impressive as it features dishes like maki rolls, sushi and sashimi, chicken tikka, dim sums, seafood, and a lot more.
3. Marina Terrace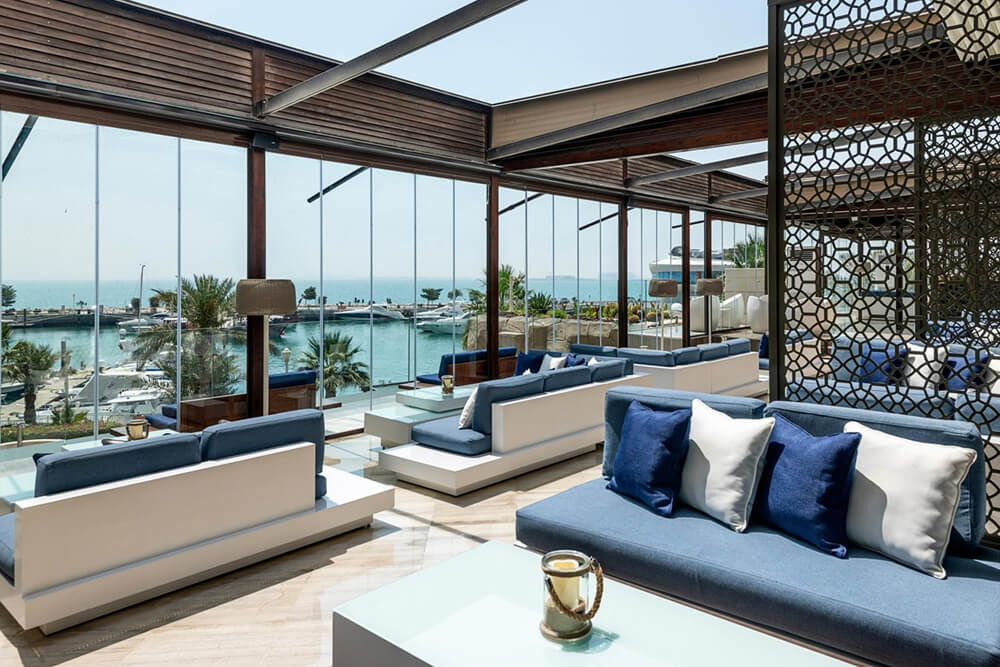 Marina Terrace is a gorgeous sitting area located within the premises of Four Seasons from where intriguing views of Doha's skyline can be enjoyed. Relax and enjoy exotic flavors of mocktails in this surreal setting and admire the gorgeous landscape surrounding this place. Baklawa ice cream, trio of panna cotta, rock wasabi shrimp, avocado hummus are some of the signature dishes to relish here along with signature drinks like Savoury sunset, golden anchor, and emerald. It is an all-day dining restaurant, so you can come here any time of the day except for Sundays as it is closed on this day.
Suggested Read: Food In Qatar That Will Leave You Drooling For More
4. The Pier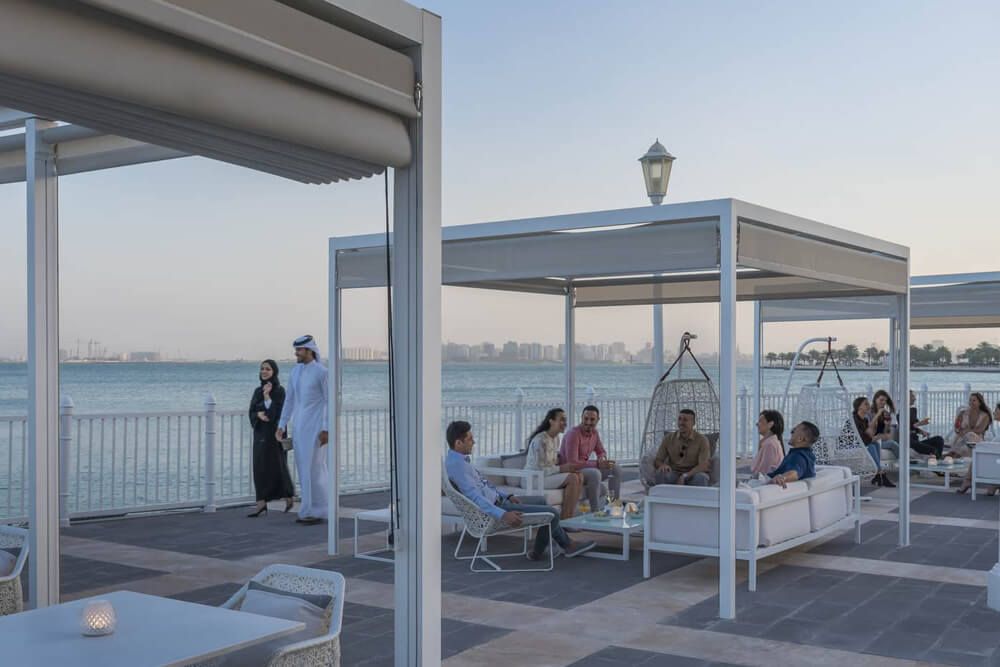 The Pier offers dining to couples who are looking for a romantic dining by the seaside. The cabana style sitting with comfortable swinging chairs makes it a great place to relish authentic Arabian cuisine along with artisanal beverages. Arabian Caesar Salad, lamb nachos, kofta sliders, and sumac fritto misto are the top highlighted dishes of the Pier's menu. All Night happy hour can be enjoyed every Tuesday and Wednesday from 05:00 pm to 11:30 pm.
5. Arabica Café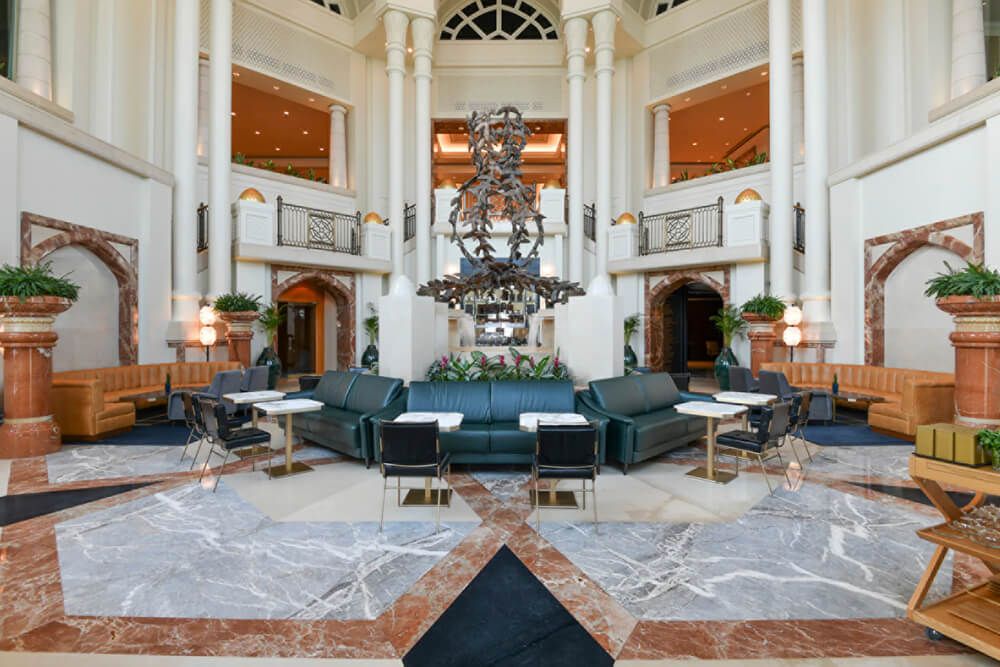 There is no dearth of fancy cafes in Doha and one of them is Arabica Café which is known for its charming and stylish interiors and exotic variety of dishes. It is a great place to relish global cuisine, frothy coffee, tea, pastries, doughnuts and several other desserts. Signature Coffee and flavorful doughnut, Huevos Rancheros, and Reuben sandwich are some of the best dishes to order at Arabica Café. Enjoy a great time with your friends or family here amidst a lively ambience that this café sets for its guests.
6. Pool Grill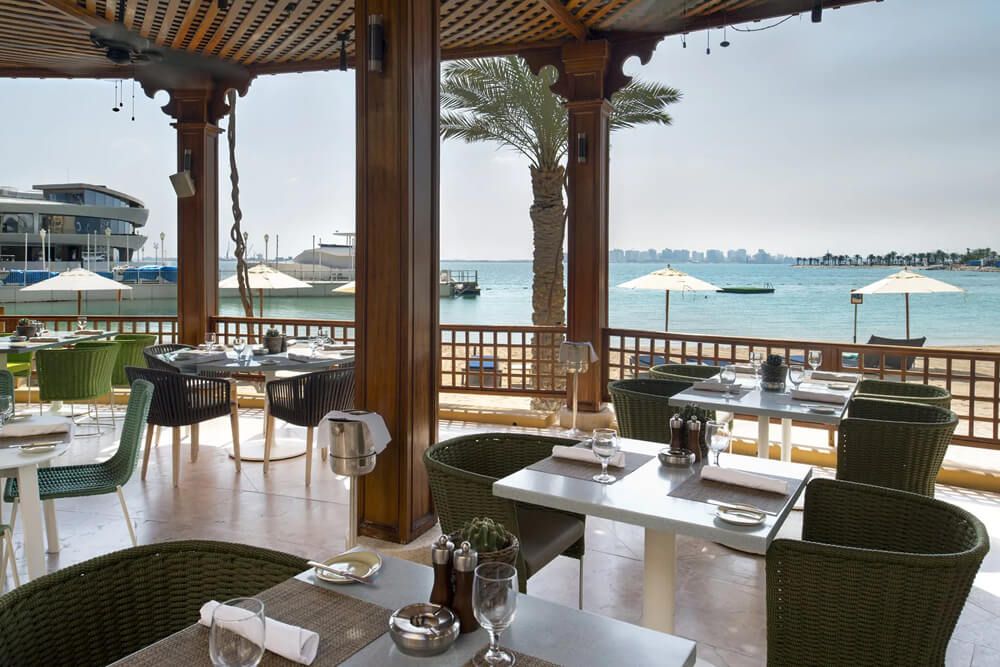 Pool Grill is another striking place to enjoy exotic flavors at Four Seasons Doha. Enjoy refreshing drinks by the pool side while you relax on the sunbeds while soaking in the sun. The café is covered with wooden trellis and is known for its charcoal-grilled dishes that taste scrumptious. Mexican crispy chicken sandwich, golden fruitti di mare risotto shrimp, homemade fettuccine carbonara, and warm pumpkin salad are some of the rich delicacies to order at the Pool Grill.
Suggested Read: Things To Do In Qatar That Every Adventure Seeker Would Relish
Venue For Meetings And Event In Four Seasons Hotel, Doha
The grandeur of Four-Season Hotel doesn't end with the accommodation and dining options, it lingers to a more luxurious facet. In addition, hotel features incredible venues for professional as well as personal meetings.
Just imagine spot that combines cosmopolitan thrills with the fun of a private beach which is accessible withing 40 minutes from the international airport. Four season urban resort renders a 3-storey spa and 9 in house restaurants. With a total event space of 2146m2, giving a space of meeting and feeding approximately 450 guests.
The hotel offers multiple space options at different levels depending upon the size of the even and the requirement of the guests and the type of the event.
Venues Available at Lobby Level
AL Mirqab Ballroom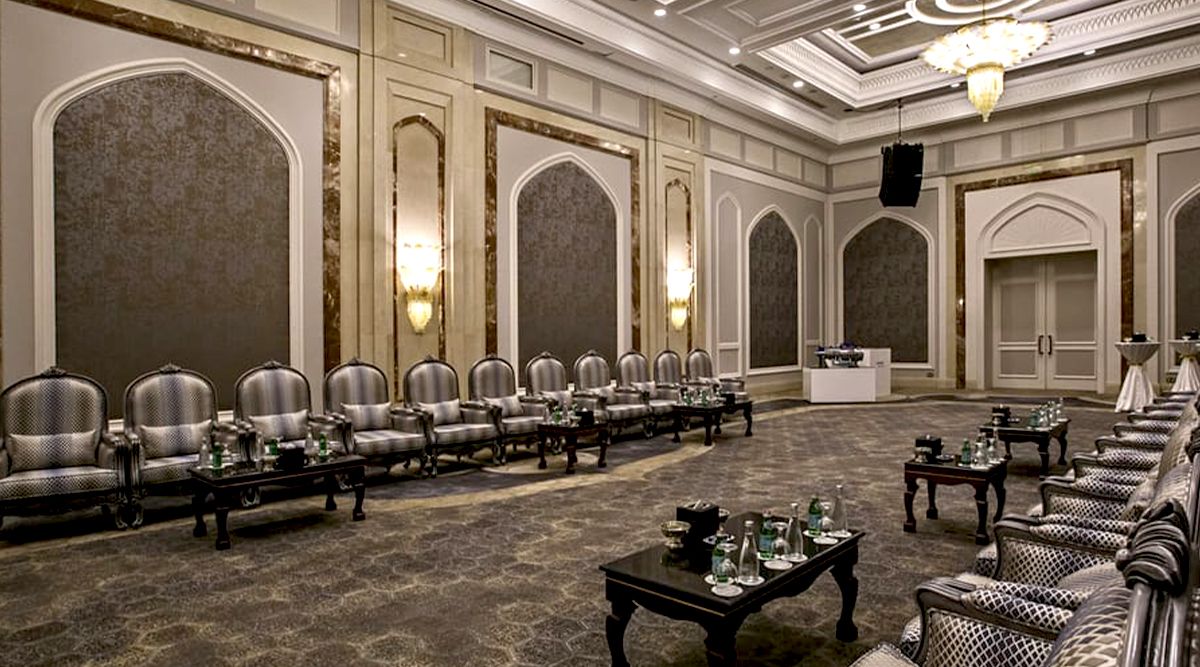 The 752 m2 grand space in the AL Mirqab Ballroom is a perfect venue for holding the maximum capacity that is 780 occupants. The biggest venue for holding grand and large-scale events, Mirqab ballroom has an exceptional setting. Additional benefits with the grand ballroom an accessible terrace that gives a scope for a more expanded event. The venue has an aloof VIP entrance for your important people that could attend your conference of gala events.   The entire ballroom is the combination smaller Al mirqab sections that can be booked for smaller events. Smaller sections of Al Mirqab Ballroom are:
The multiple parts of the ballroom Part of the ballroom with an occupancy of around 230 guests. This section with the utmost Qatar elegance can be booked for a smaller conference with less than 250 guests. The venue has a private entrance from the streetside fort court that definitely adds charm. The room is technologically sound with wired and wireless high-speed internet, highly advanced audio visual and dramatic lighting patterns.
The other parts that combine together to the form the ballroom are:
Al mirqab I
Al mirqab II
AL mirqab III
Al Mirqab Pre function area
Al Mirqab Pre function area I
Al Mirqab Pre function area II
Al Mirqab Pre function area III
Venues Available on Second Level
Al Deibel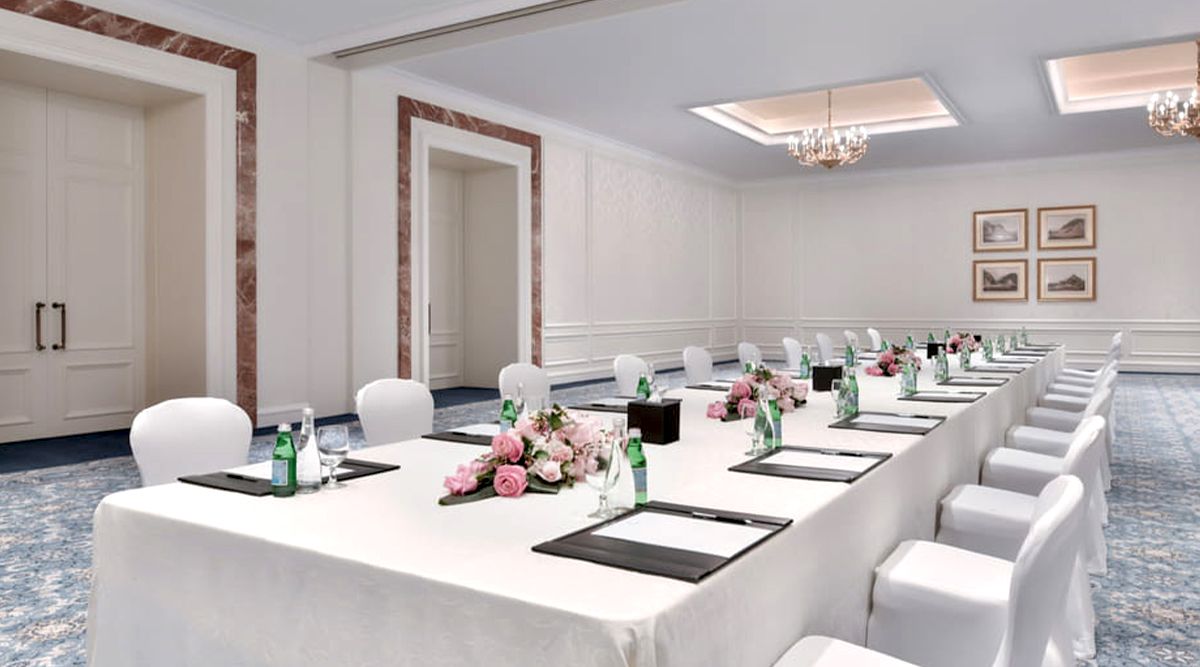 The medium-sized events with around 245 guests, can be organized in the chic Al Deibel venue. There is pre-function space available to enjoy the flexibility of the event. The space is available on the second floor giving more access to privacy. The high-tech venue is equipped with advanced AV facilities, high-speed internet connectivity and access to dramatic lighting.  The entire venue is divisible into smaller areas with separate access.
Al Deibel I
Al Deibel II
Al Deibel Pre function area
Al Deibel Pre function area I
Al Deibel Pre function area II
Suggested Read: Orient Pearl Restaurant Qatar: For A Special Night To Enjoy
AL Zubara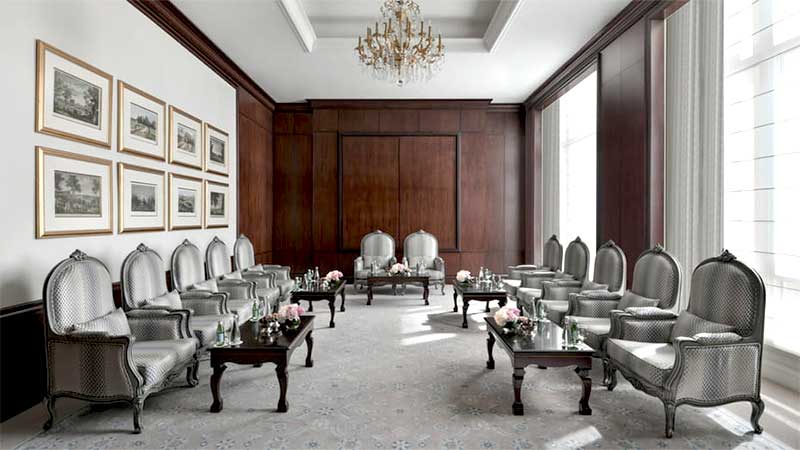 Designed with oak panels, Al Zubara can add charm to the elegance of any event. So, if you are about to host a high-level meeting with the elite guests or just an intimate get togethers you surely would love this venue. Although the maximum occupancy is confined to 40 guests the second-floor location offers a perfect blend of accessibility and privacy. The Al Zubara in Four seasons is said considered ideal to be used as a breakout room.
Al Jassasia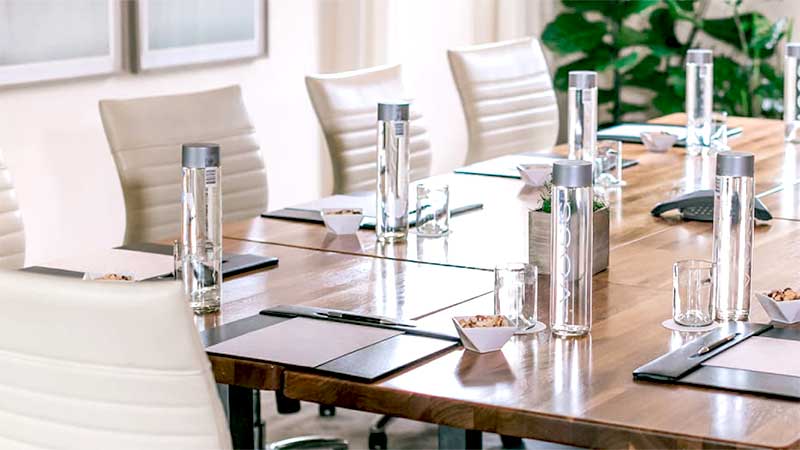 With an occupancy limit of about 25 guests, Al Jissasia is ideal for an intimate dinner or event. The elegant interiors and technical advancement and chic design of the venue qualify it to be dinners, meetings, receptions and other small events that expect a small gathering. It can also be used as a breakout room.
Jnan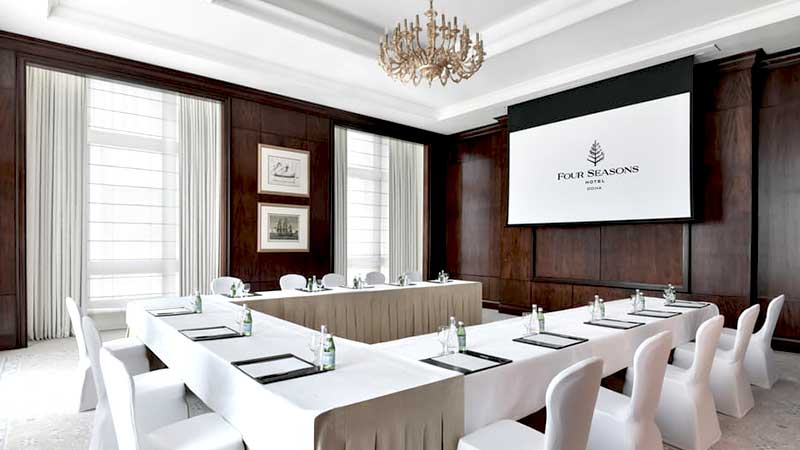 Yet another elegant venue for hosting dinner and meetings. Jnan in the four seasons hotel has highly creative and elegant interiors. For those who wish to host small scale events, this place can be perfect in terms of location and pocket-friendliness. The wooden paneled interiors give a chic and sophisticated look to the venue creating an extremely decent setting.
Suggested Read: Jwala Restaurant Qatar: Experience The Flavours Of India
Msaimar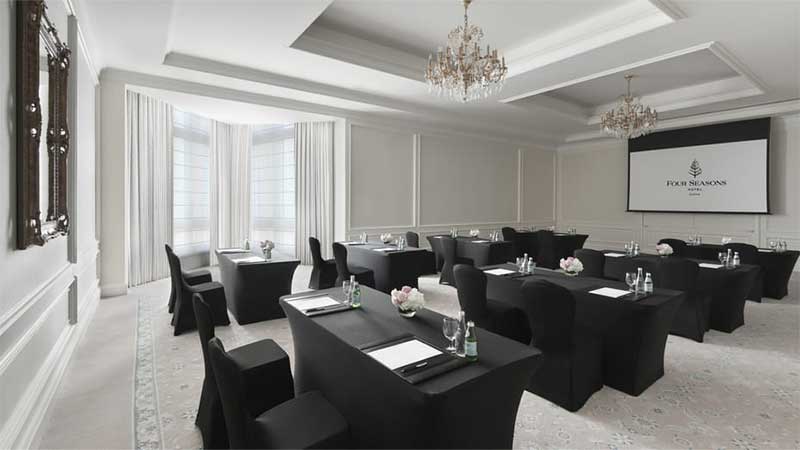 With an occupancy of approximately 75 to 80 guests the Msaimar venue in the Four seasons hotel, Doha is a very desirable place for professional and personal meetups. In case you are hosting a meeting or reception, the adjacent pre-function area appropriately functions as a breakout room for tea and coffee. It is a technically updated room with high-speed internet connectivity.
Boardrooms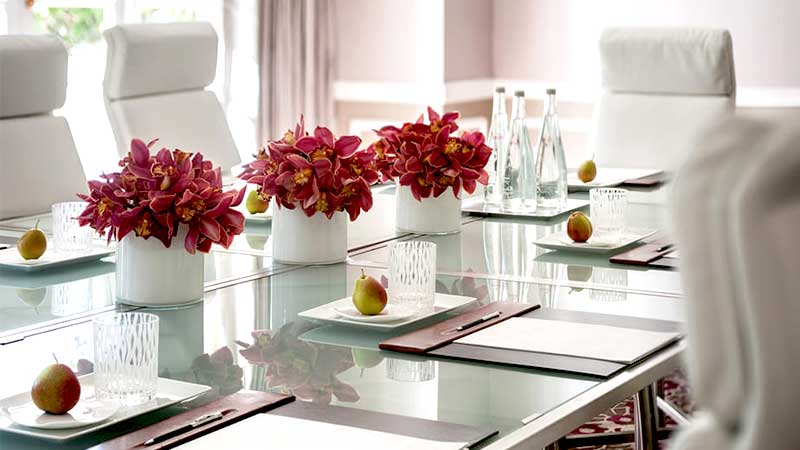 There are two boardrooms in 4-season hotel, distinguished as boardroom 1, and board room2, with the scope of accommodating 8 and 6, occupants respectively. The setting of the room is accompanied with the natural, lighting is laid with the mindset of conducting the high-level meetings
Suggested Read: Top Budget Hotels In Qatar That Won't Burn A Hole In Your Pocket
Four Seasons Doha: Indulge In A Soul-Satisfying Spa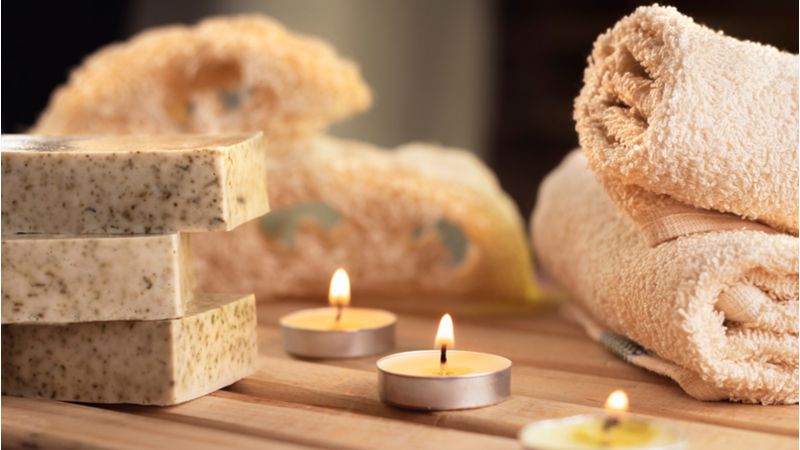 Four Seasons Doha spa is something that you shouldn't miss out on when staying at the hotel which is best for your mental and physical well-being. The spa services can be customized as per the needs of the client. Relax in the most surreal environment and enjoy the soul-satisfying massages which are perfect for rejuvenation and relaxation. There is also a hydrotherapy facility with underwater jets and massaging pool that will offer you utmost relaxation. Spa and wellness center at Four Seasons hotel Doha also boasts a private suite spa that features Swiss showers, steam rooms, and a private whirpool. Different massages, facial treatments, body treatments, therapeutic bodyworks, men rituals, and salon services are some of the facilities offered by Four Seasons Doha.
Suggested Read: Spas In Qatar : A Lavish Yet Traditional Treatment
Four Seasons Doha is one of the most luxurious hotels in Doha where you can enjoy a relaxing stay availing all the top-notch facilities. From rejuvenating spa to fitness center, pools to fine-dining restaurants, Four Seasons is a one-stop destination for people who are looking for a luxury retreat. Witness the warm Qatari hospitality here and stay in comfort at hotel's different accommodation options offering stunning vistas of the cityscape or gorgeous sea views.
FAQs
Q1. Where is Four Seasons Hotel located in Qatar?
Four Seasons Hotel address is the Doha Corniche PO Box 24665, Doha Qatar.
Q2. What are the facilities available at Four Seasons Doha?
Some of the main facilities offered by Four Seasons to its guests include:
Spa Boutique
Private Beach
Hair Salon
10 Restaurants & Lounges
Business Center
Sea-view Fitness Center
Kids' and Teens' Programs
Q3. Are there any facilities provided at Four Seasons Hotel for kids?
Yes, Four Seasons provide several facilities which are specifically for kids like:
PlayStation and Xbox
Family oriented activities and itineraries
Movies and storytelling
Beach football, golf and more sports
Kids and teens programs
Q4. Is there a parking facility at Four Seasons Hotel in Doha?
Yes, valet parking is available for customers who are coming to Four Seasons Hotel in Doha.
Q5. What are the best places to visit near Four Seasons Doha?
Some of the best places to visit near Four Seasons Doha are:
Museum of Illusions
Al Bidda Park
Museum of Islamic Art
Msheireb Museums
Souq Waqif
State Grand Mosque
Q6. Which are some of the best restaurants to visit near Four Seasons Doha?
Some of the best restaurants to visit near Four Seasons Doha are:
Pool Grill
Elements
Sora
The Library Bar & Cigar Lounge
Nobu
Q7. What are some complimentary services offered to guests at Four Seasons?
Some of the best complimentary services offered to guests at Four Seasons are:
Overnight shoeshine service
Twice-daily housekeeping
Standard Wi-Fi
High-end Toiletries
Valet parking
Coffee, tea and muffins in lobby until 08:00 am
Q8. Is Four Seasons Doha ideal for business travelers?
Yes, Four Seasons Doha is ideal for business travelers as it offers myriad of facilities for them like meeting rooms, ballroom and a lot more.
---