Kofte, kebabs, Pide, dolma, korma, baklava, halva!!!! Something familiar among all these mouthwatering dishes? Turkey!! A significant part of a vacation is enjoying the delicious food of the place. Qatar is one such place which has a variety of different cuisines from all over the Middle East and beyond. Turkish food is one of those cuisines that not only has a high demand in Qatar, but it is also appreciated a lot. This admiration for Turkish food has led to the opening of numerous Turkish restaurants in Qatar. There are many such restaurants that serve flavorsome Turkish dishes, from breakfast to desserts and everything in between.
Turkish Restaurants In Qatar: Delve In The Goodness Of Turkish Cuisine
Trying different cuisines in Qatar like Saksuka, Mercimek kofte, Iskender kebab, Hamsili pilav and Manti has always been on this list of things to do. Travellers do have so much variety in the Turkish cuisine; from breakfast, appetizers, snacks, drinks, desserts, to the mighty main course.
Agora, Doha
Sukar Pasha, Doha
Hasan Kolcuoglu Turkish Restaurant, Doha
Turkey central, Doha
Marmaris Turkish restaurant, Al Wakrah
Old Antakya Restaurant, Al Wakrah
Al Koufa, Al Wakrah
Turkish House, Al Khor
Ottoman Palace Restaurant, Al Khor
Sazeli Qatar, Al Rayyan
1. Agora, Doha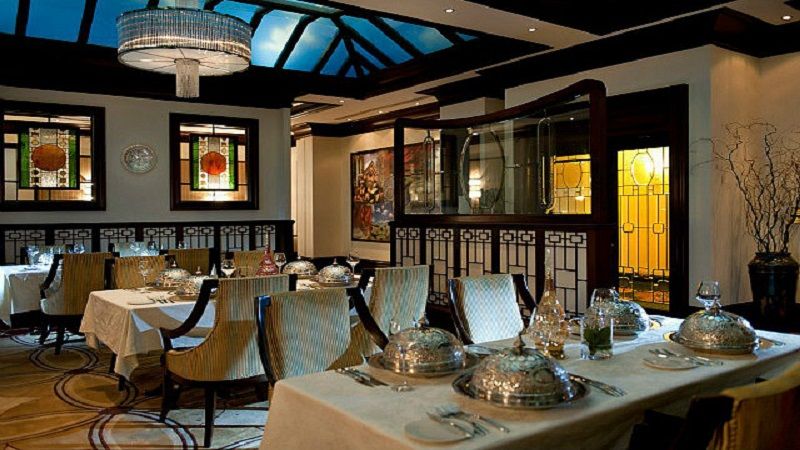 Visit this wonderful restaurant, especially for Turkish tea or coffee. This colonial restaurant is best for savouring some delicious Turkish food. When it comes to Turkish food, the restaurant is famous for its Leverek Buglama, wild sea bass, potatoes, kebabs, and chicken.The Turkish music in the background sets the tone while enjoying one of their most loved appetizers, the Turkish lamb pizza cubes. The restaurant also offers different kinds of buffet meals.
It is one of the best Turkish restaurants in Doha and is quite popular among tourists as it also serves English, American, continental, and other Middle Eastern cuisines.
Location: Al Bayya Street, Movenpick Hotel, Al Aziziyah Doha, Doha, 92996, Qatar
2. Sukar Pasha, Doha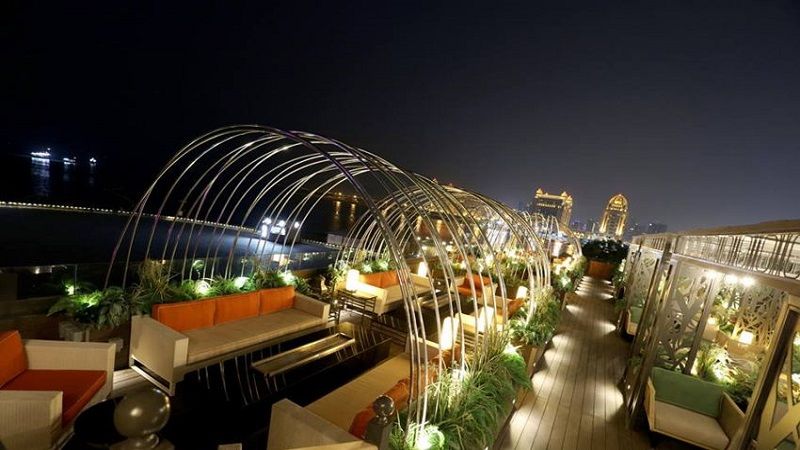 This restaurant is one of the places to visit in Qatar for the ever so enticing Beyti Kebab and vine leaves. The breakfast includes some of the most phenomenal Turkish dishes like Menemen, spinach and cheese gozleme, and Hellim-pastrami.  There are a variety of lip-smacking kebabs, from Iskander Kebab, Adana Kebab, and Pistachio Kebab to Kofta Kabab, and lamb Kabab. Other than sitting inside, the restaurant also has an outdoor 'rooftop' seating area to enjoy the view while having delicious food. The place is known for its Turkish tea and coffee. To seal the deal, the restaurant offers its all-time famous katmer with ice cream.
One needs to make reservations before visiting the restaurant. The treatment by the staff will give you nothing less than a 5-star experience.
Location: Katara cultural Village, Doha
3. Hasan Kolcuoglu Turkish Restaurant, Doha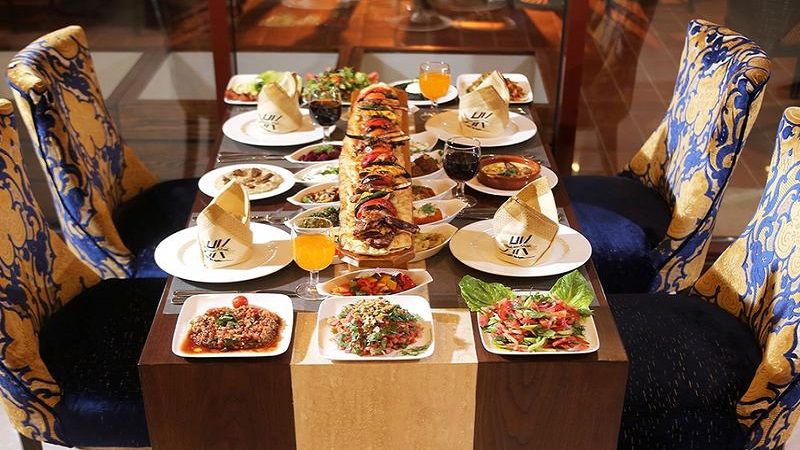 If you are craving a fancy Turkish meal, this is one of the restaurants in Doha that will make your palette quite happy. The restaurant serves one of their top dishes, metre kebab, which should not be missed at any cost. The food is prepared with the highest quality ingredients, and the restaurant is clean and spotless. They offer indoor and outdoor sitting areas with a beautiful scenic view. The restaurant is known for Turkish delicacies such as Tavuk, ribs, Kofta, Beyti, and other kinds of kebab. It is the perfect place to enjoy food with family and friends. To add some more fun to your visit, try the sultan dress provided by the restaurant and make great memories.
Location: Mall of Qatar, Doha
4. Turkey Central, Doha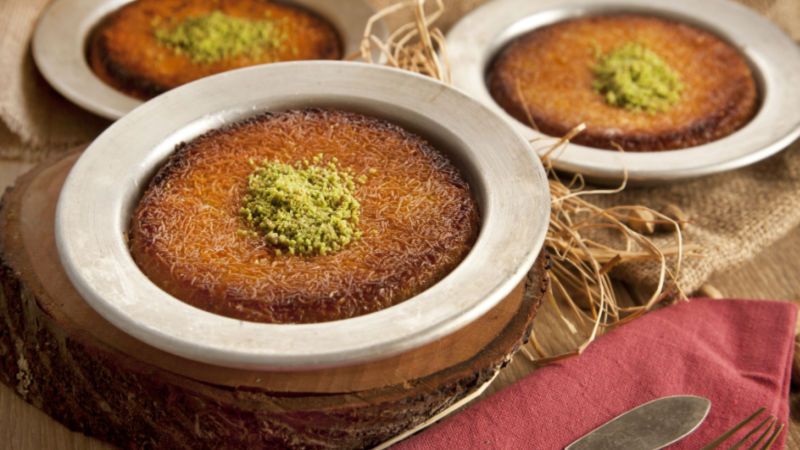 This beautiful restaurant is one of the favourites among natives and tourists. Other than the soothing ambiance of the place, this restaurant offers some of the most appetizing Turkish dishes one can ask for. The restaurant is best known for its Kunefe, or Tel kedayif, the dessert that seals the deal. This Turkish restaurant in Doha is a paradise for people looking for meat dishes. It serves delicious grilled meats and mezzes, and their shawarma roll is to die for.
One of the favourites among tourists and visitors is the mixed grill platter with lamb chops. The perfectly charred and tender meat with amazing seasoning makes you question if gluttony really is a sin. The restaurant also has many options for vegetarians, like Kuru Fasulye, corba, mam Bayld, and Nohutlu Pilav. Treating your palette at this amazing restaurant should be on the list of things to do in Qatar.
Location: Al Nasr Street, Doha, Qatar
Suggested Read: Xtremeland Qatar: New Destination to Venture into The Thrill
5. Marmaris Turkish Restaurant, Al Wakrah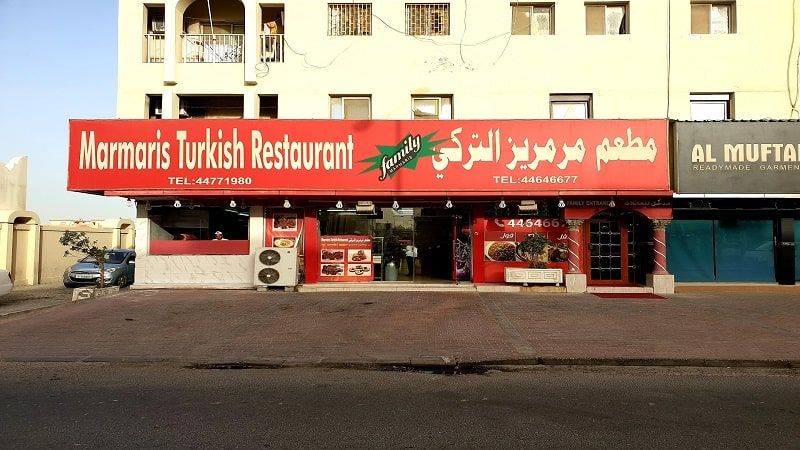 It was known for their takeaway service; the restaurant started an indoor seating arrangement some years ago. The place is clean and hygienic with quick service. One will find the restaurant quite busy at peak hours, as it should be, given the kind of fame it has. This Turkish restaurant in Wakra is best known for its ever so delicious shawarma, which is cooked on charcoal and feels heavenly with that smoky taste. The other recommended dishes are barbecued chicken, kofta, and sheesh taouk.
Location: Abdul Rahman Bin Jasim street, Al Wakrah, Qatar
Suggested Read: Top Romantic Restaurants in Qatar: For a Mesmerizing Date with Your Sweetheart
6. Old Antakya Restaurant, Al Wakrah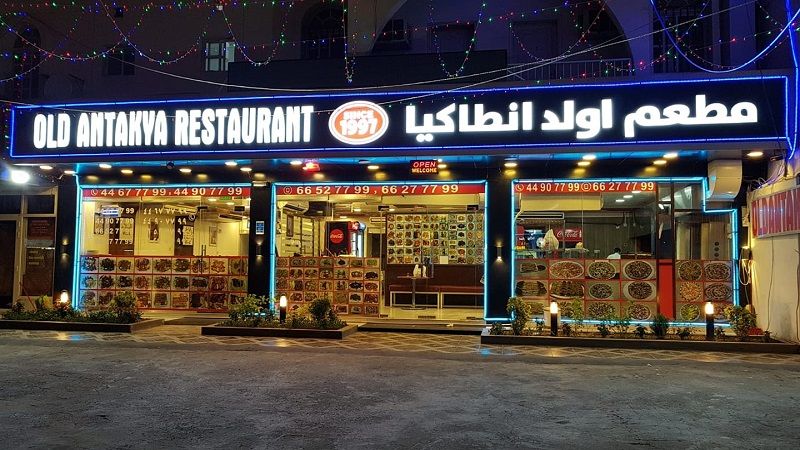 Old Antakya is one of the most famous Turkish restaurants in Qatar and is known for a special dish that is not even on their menu, the delicious Kagit Kebabi. They serve one of the best chicken koftas in all of Qatar. If anyone is looking for tender and juicy kebabs, give this restaurant a try. Finish your meal with heavenly baklava or halva and you are good to go. The restaurant offers fast service, and the staff is friendly with the customers.
Location: 67، 720، Shk. Abdulrahman Bin Jasim, Al Thani St, Al Wakrah, Qatar
7. Al Koufa, Al Wakrah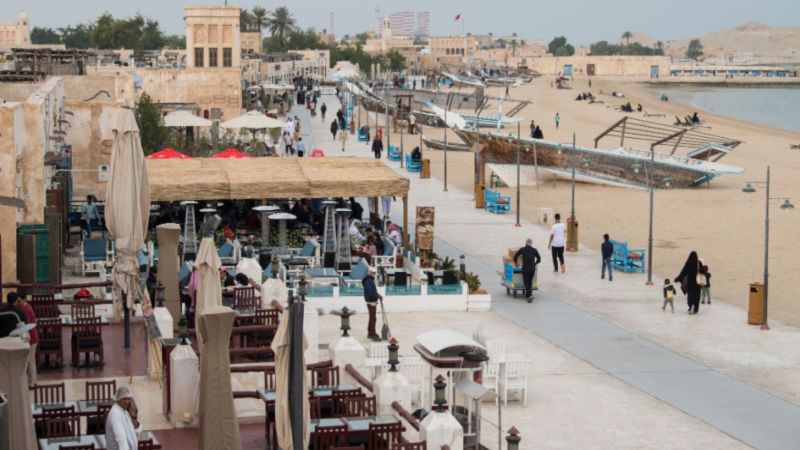 Who doesn't like to eat exquisite food with a beach view? Visit this one-of-a-kind restaurant in Qatar for the food and the view. The highlight dish is, of course, the ever-so-delicious Kofta. The restaurant is known for serving one of the most authentically prepared Turkish cuisines in the region. The well-seasoned kebabs, the soft and fresh bread, shrimp and chicken harissa, and interesting marinated lamb chops are some of the dishes that are served. The liver kebab is one of the many dishes that one should give a try. It's very tasty! The restaurant provides indoor and outdoor seating arrangements, and one can enjoy the food as per one's preference.
Location: Al Wakrah souq, opposite Al Wakrah beach, Al Wakrah, Qatar
Suggested Read: Al Maha Island Qatar: An Exclusive Amusement Center For Complete Entertainment
8. Turkish House, Al Khor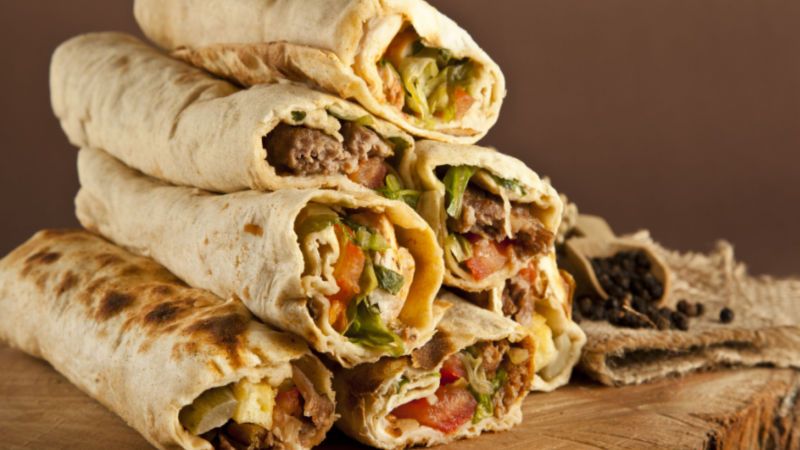 Exploring different foods in Qatar is always an adventure in itself. What to eat? Where do you eat from? So, when in Al Khor, go to the Turkish house. It is a simple-looking restaurant serving flavourful food for years. One of the favourites among tourists and natives alike is their half-chicken barbeque. They serve all kinds of Turkish food, from shish taouk, alfaham, appetizers, meat kofta, and one of the best shawarmas in town. It is known as one of the best restaurants in Al Khor, which serves the scrumptuous Bukhari rice. It's heaven on earth.
Location: Al Khor, Qatar
9. Ottoman Palace Restaurant, Al Khor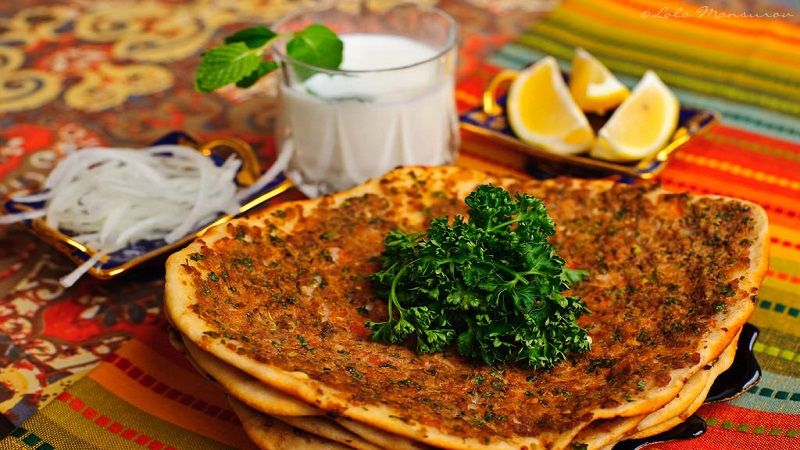 It is one of the best Turkish restaurants in Qatar and is worth every penny. Their barbeque with rice and bread is superb with that smoky flavour. One should also try their mixed grill, lamb chops, and lahmachun. The restaurant has enough capacity to fit even a large group of people. The restaurant serves the highest quality Turkish food and one will not go home disappointed with their service.
Location: Al Khor Coastal Road, Al Khor, Qatar
Suggested Read: Best Waterparks in Qatar: Beat the Heat by Splashing into the World of Cool Ambiance and Enthusiasm
10. Sazeli Qatar, Al Rayyan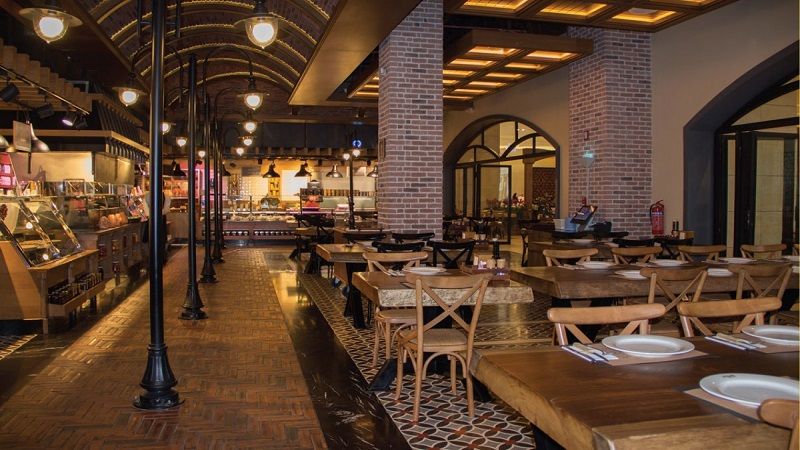 The fascinating thing about this Turkish restaurant in Qatar is that they let you choose your piece of meat and serve it after cooking. All the meals, from breakfast to dessert, are lip-smacking: from Dallas steak, Turkish lentil soup, to the famous Iskender Kebab, grilled lamb chops. Their special baklava with ice cream cannot be missed. So, if you are visiting Al Rayyan and are craving Turkish food, give this place a chance. Also, try their Turkish Coffee and Turkish Delight for a perfect end to your meal.
Location: Mall of Qatar, South gate 2, Ground floor, Al Rayyan, Qatar
Qatar not only has a tonne of interesting sites to see, but it also has a fantastic selection of food. With quite a number of Turkish restaurants in Qatar, travellers will have the time of their life while discovering the country. Therefore, if you are considering a trip to this stunning nation, take advantage of the Qatar tour package and have a wonderful time.
FAQs
Q1. Where can one find Turkish restaurants in Qatar?
There are many restaurants in different cities where one can easily find delicious Turkish cuisine like Ottoman Palace Restaurant, Al khor, Hasan Kolcuoglu Turkish Restaurant, Doha Old Antakya Restaurant, Al Wakrah Grande Restaurant Exclusively Turkish, Doha Sazeli Qatar, and Al Rayyan.
Q2. Which is the international airport in Qatar?
Hamad International Airport is the international airport in Qatar. It is also known as Doha Airport and NDIA (New Doha International Airport). This is the only gateway for international tourists to visit the country and take lots of memories back home.
Q3. How can one enjoy Qatar?
There are ample activities to do in Qatar, from exploring the historical places, shopping in the souqs, enjoying beaches, experiencing desert safaris, visiting the majestic mall of Qatar, and enjoying the delicious Turkish cuisine.
Q4. Which Turkish restaurants in Qatar provide outdoor seating?
Here are some of the most amazing restaurants which not only provide delicious food but also a view from which to enjoy the food like Sukar Pasha, Doha Hasan Kolcuoglu Turkish Restaurant, Doha AL Koufa, and Al Wakrah.
Q5. Which is the most famous dish in Doha?
Shawarma is the most popular dish in Doha. It comes under one of the street foods, which is pita bread filled with marinated meat, tomatoes, pickles, vegetables, etc. Shawarma is appreciated all over Qatar and also in other Middle Eastern countries.
Q6. What is the best time to visit Qatar?
From mid-March to mid-November is considered the perfect time to plan a visit to Qatar. The weather during these months is not very hot and all kinds of activities can be easily done.
Q7. How many days are enough to explore Qatar?
Around 5–6 days are ideal to visit all the important places, try all the delicious cuisine and do all the adventure sports. People can plan as per their desire of how much they want to explore the country.
Q8. What are some of the popular Turkish dishes in Qatar?
There are ample Turkish dishes that are liked and appreciated by the locals and tourists alike. The most popular ones are Köfte,Lahmacun, Menemen, Şiş Kebap, Döner, İskender Kebab, Corba, Kuzu Tandir, Pide, Meze, Çiğ Köfte, Pilav, Dolma, İmam Bayıldı, Borek, and many more.
---