It could happen only in Qatar! A 7-star and the most luxurious cinema hall, Katara Cinema, has arrived. Yes, you read it right. After offering us several luxurious places like malls, hotels, restaurants, etc., Qatar has now come up to spoil us by providing the topmost luxury experience of watching a movie. This new, shiny, and opulent cinema hall is the first of its kind, giving all the other theatres a run for their money. Watching a movie at this cinema hall is about more than just the movie; it is also about experiencing complete royal treatment at least once in your life.
Katara Cinema: Sit Back and Enjoy the Treat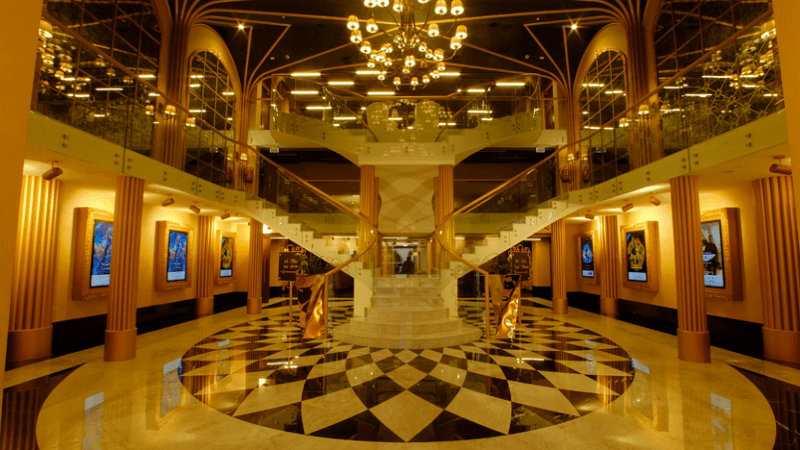 The interiors, the seating, the food, the service, and the experience of watching a movie will not be the same for people who visit the outstanding Katara Cinema. The entrance of this cinema hall is nothing less than a room in a royal palace, with elegant chandeliers, half-rounded staircases, and attractive designs on the marble floor. The staircases take people to the 4 VIP theatres, where an experience of a lifetime awaits. One of the things to do in Qatar is visit Katara Cinema, which provides everything from the most recent blockbusters to the most vintage films and family favorites.
Exclusive Features of Katara Cinema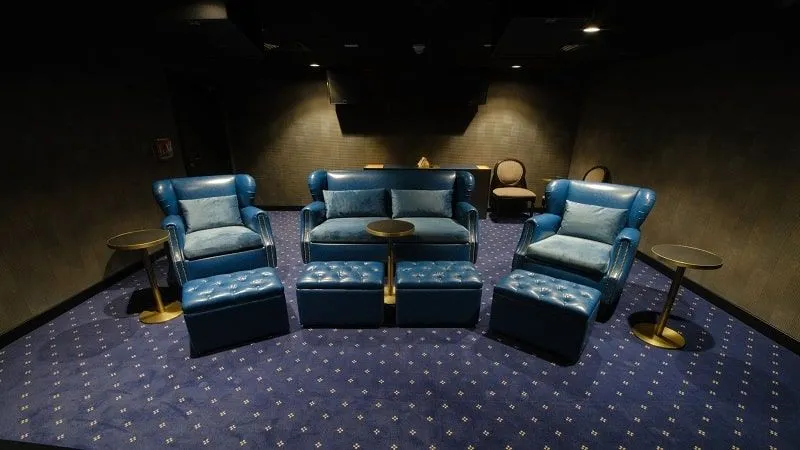 Seating Arrangement
There are 4 VIP theatres with 12 premium luxury lounges, including 6 exclusive lounges and 6 luxury platinum rooms. It features reclining luxury leather seats with an ottoman in front of every chair and a small round table at the side. This VIP cinema in Qatar also offers exclusive private balconies for a family or group of four. The theatres are divided into 3 kinds of seating, which are: single seats, platinum seats, suitable for two people; and the lounge, best for four or more people.
Screen and Sound
All the screens at this VIP movie theatre in Qatar have the best quality Christie Real Laser projectors, which display high definition, crystal clear, and vibrant images. On all four screens, the Dolby Atmos sound system is used, which has cutting-edge spatial audio technology and provides the most lifelike audio experience, especially for those thrilling action movies.
The Comfort of Eating
This VIP movie cinema hall provides the utmost convenience to its visitors, giving them the liberty to order food from their respective seats only. Moviegoers can choose from a variety of options for snacks, appetizers, mains, desserts, and drinks.
Cinema Café
Although there are several cinemas in Qatar, one of the interesting things that separates this cinema hall from the rest is an exquisite café in the lobby area. The café offers an exclusive menu with a range of different food items and drinks and a topnotch in-seat arrangement for everyone who is either waiting for their movie to start or visiting the café after enjoying a movie.
Where to Find Katara Cinema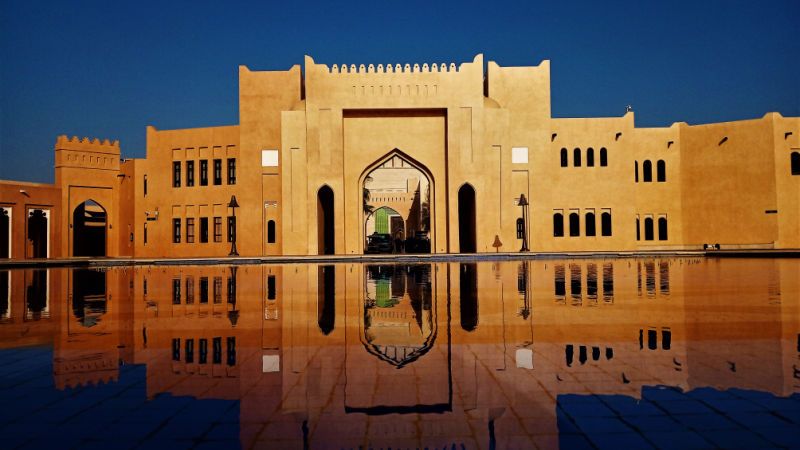 If you know even a little about Doha, you must be aware of the famous Katara Cultural Village near the city. This village was designed with traditional Qatari architecture in mind, and it includes beautiful theaters, concert halls, exhibition galleries, and first-rate facilities.
The Katara Cinema is an amazing and wonderful addition to the village, making it one of the top attractions in the city. The complete address is Building 49, Katara Cultural Village.
Suggested Read: A Quick Visit To The Celestial Delight Al Thuraya Planetarium
How to Reach Katara Cinema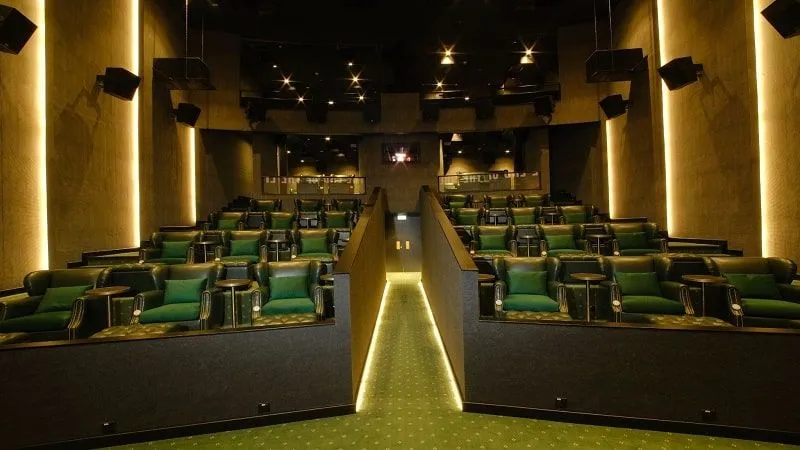 There are plenty of options to reach the cinema hall without much hassle. The cinema hall is not very far from Doha city, so it won't take a lot of time to reach there by any kind of transport.
Bus
There is a direct bus to Katara Cinema from Doha, which leaves from Souq Waqif and arrives at Al Qassar station. The buses depart every 20 minutes, and operate from Monday to Friday. The entire journey takes approximately 10 minutes.
Metro
If you are boarding the metro from Al Riffa, deboard at Al Bidda or Msheireb Station and change to the Red Line to reach Katara Station. If you're boarding the train from Al Mansoura Station, then deboard at Msheireb Station and take the red line to reach Katara Station. Commuting by Doha metro is a very convenient option to reach anywhere in Qatar.
Car
The distance from Doha city to Katara Cinema is approximately 11 kilometres, which can be covered within 25 to 30 minutes, even earlier if there is less traffic. Just switch on your GPS and enjoy the drive.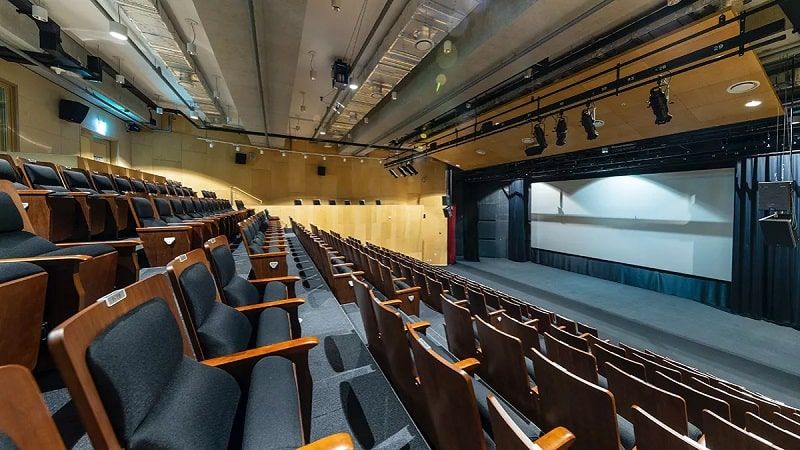 So, if you are intrigued about experiencing the royal treatment at a Katara Cinema, then plan a vacation to Doha or visit the cinema hall on a weekend day. It is a fun place to enjoy a movie with family and friends, with the best treatment from a well-trained staff. The experience of watching a movie won't be the same after being at this amazing theatre. And if you are thinking about visiting Qatar, take advantage of the Qatar tour package and spend some of your thrilling and fun days there.
FAQs
Q1. Where is Katara Cinema located?
Katara Cinema is located in Katara Cultural Village, a hub to learn about Qatari history, art, and culture. It is not very far from Doha city and can be reached easily.
Q2. What is so special about Katara Cinema?
The Katara Cinema is the first of its kind, offering the most royal way to watch a movie. The cinema provides a once-in-a-lifetime opportunity to enjoy first-rate service, food, and entertainment.
Q3. Is there a café inside Katara cinema?
Yes, there is an amazing café in the lobby of the cinema hall with in-seat arrangements and a fantastic menu to choose from a variety of food and drinks. People can spend time chatting and eating with family and friends.
Q4. What is Katara Cultural Village?
Qatari art, tradition, and culture can be found in Katara's cultural village.One can visit the beautiful mosques, the majestic open-air Ampitheater, check out the art galleries, learn about the universe in the planetarium, and try the flavours of local cuisine.
Q5. Is Qatar a safe country to travel to?
Yes, Qatar is one of the most modern countries in the Middle East. It is a blend of Qatari tradition and western thinking. One just needs to respect the culture of the country.
Q6. What is the provision to get the balcony at Katara Cinema?
If there are four or more people in a group, then you can get the balcony where there will be just your group and no other strangers. The balcony primarily has 4 recliners, but more chairs can be added if there is a need.
Q7. Can people bring food from outside to Katara Cinema?
No, people cannot bring any food from outside. One can order food while sitting in their seats or, if they have time, try the café in the lobby of Katara Cinema.
Q8. Should I watch a movie at Katara Cinema?
Yes, you must visit this amazing landmark once if you are in Doha. It is a once in a lifetime experience of what watching a movie can feel like. Can't predict the movie, but your visit will be worth it.
---