Al Khor, a secluded city nestled on the northern side of Qatar, is blessed with the tranquil beauty of nature. As Qatar adorns the beauty of the Arabian Gulf, it is home to an incredible vista of magnificent islets and beaches with a rich history. Most of the serene and sequestered beaches are in Al Khor that reflects nature at its best. The beaches in Al Khor are a significant part of the city where you can admire the vast blue sky, relax on the soft sandy shore and learn more about its pearling history. If the grandeur of Qatar is attracting many, it is the serenity and luxury of Al Khor beaches that has become a major point of interest.
The Best Beaches In Al Khor, Qatar To Discover The Littoral Beauty
Simaisma Family Beach
Al Sultan Beach
Al Thakira Beach
Farkeh Beach
Al Khor Corniche
Beaches can be fun, exciting, and a perfect getaway to escape mundane life. If there is leisure, there is adventure and thrill too, which can keep you engaged in its charismatic bliss. As you are planning a beach tour in Al Khor, here are the top beaches you can add to your list.
1. Simaisma Family Beach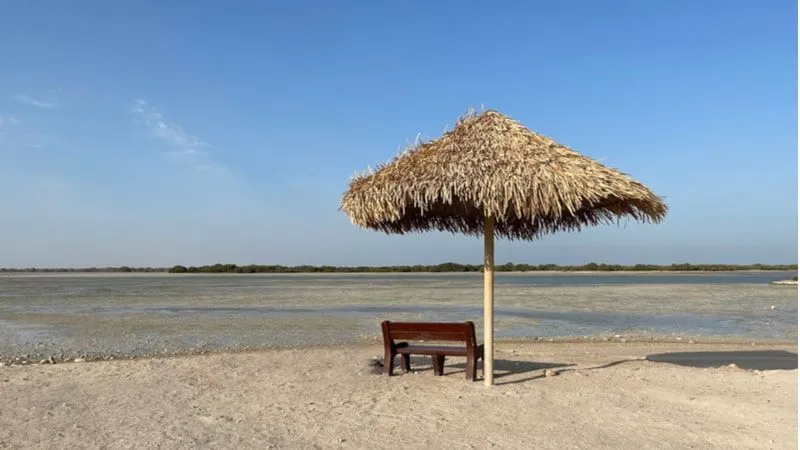 Location: Al Daayen Municipality, Qatar
Timings: 24 hours
Entry fee: Free
Activities: Jet skiing, Swimming, Beach leisure, Barbecue picnic
Facilities: Resorts, Restrooms, showers, and parking
Located at a distance of 40 km from Doha, Simaisma is one of the best Al Khor family beaches to enjoy a leisurely evening. Away from the city chaos, the beach offers a perfect spot to admire the calm, serene beauty of nature and witness the magnificence of Qatar. There might not be many facilities offered nearby, but you will find well maintained washrooms, showers, and a parking space for visitors.
Adventure is something that one might miss, but still, there is a lot you can add to your to-do list. Try swimming in the shallow waters or you can enjoy jet Sikking. The golden sand with splintered mangrove vegetation also sets a perfect ambiance to enjoy a barbecue picnic with the family. You can even spend a night at the luxury Simaisma A Murwab Resort, located at an approachable distance from the beach.
Suggested Read: Simaisma Beach: Forget The High Rises And Busy Streets Of Qatar
2. Al Sultan Beach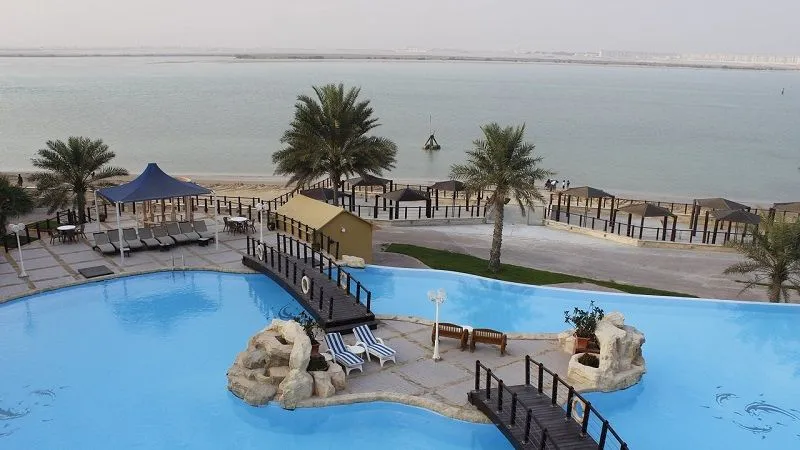 Location: P.O. Box 60002, Al Khor, Al Khor
Timing: 24 hours
Entry: Free for Guests
Activities: Beach Leisure, Water adventures
Facilities: Private resort, Water sports, Private waiter, Cafes, Restrooms
Meet the luxury drenched in the harmony of nature at the Al Sultan Beach. This private beach in Qatar is a part of the famous Al Sultan beach resort that offers the most luxurious experience of staying at the best resort in Al Khor. The clean coast and amazing facilities of the beach make it a safe and secluded place for tourists where they can enjoy leisure.
There are many adventures and activities to enjoy like swimming, or other water sports and beach games. And to add more, the resort offers a private waiter facility for the guests, indulging them in utmost luxury and leisure. But this facility is only for the guests spending their holiday at the resort. Others may buy a day pass to spend their time at this private beach of Al Khor.
3. Al Thakira Beach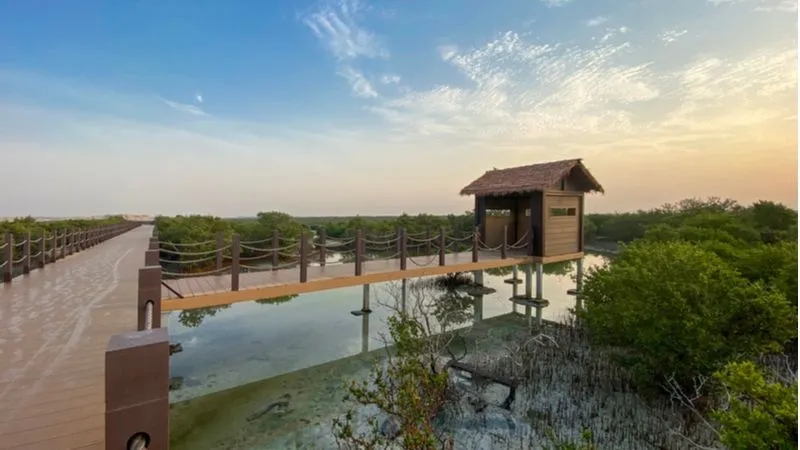 Location - Al Thakira, Al Khor, Qatar
Timing: 24x7
Entry Fee: Free
Activities: Kayaking, Mangroves, Fishing, Wildlife Tour, Beach Leisure
Facilities: Beach Umbrellas, Seating Space, Promenade
Al Thakira is one of the best attractions in Al Khor that represents a unique habitat with lush mangrove vegetation. If you are looking for a place with absolute serenity, Al Thakira is the right place to add to your list. Located in close proximity to Al Thakira island, this serene beach in Al Khor is a natural treasure that is adorned by the mangroves, the wild beauty, and a large scenic promenade.
Al Thakira Beach is an adventure hub where you can try Kayaking and other water sports. There is a long pathway where you can enjoy beach walks, cycling, jogging, and more. The place is quite famous among families who love spending the weekend at the most surreal place. Stretching to an area of 2km, the beach is just the right place where you can spend quality time.
Suggested Read: Stay Connected With The Serene Ambience At Al Thakira Mangroves Al khor
4. Farkeh Beach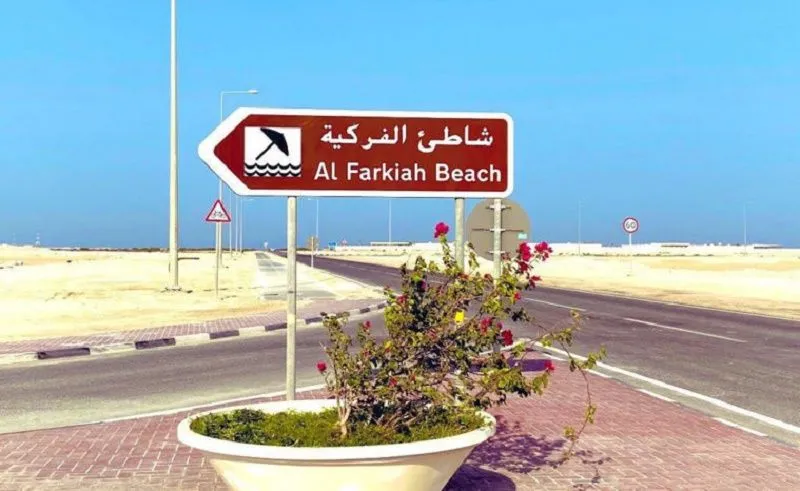 Location: AL Khawr Town Rd, Qatar
Timings: 24x7
Entry Fees: Free
Activities: Barbecue, Beach leisure, Water games and Activities
Facilities: Washrooms, Playground, Barbecue facilities
For a fun beach vacation, Farkeh Beach is indeed a place to embrace the magnificence of nature. Located at a distance of 2km from Al Khor, the beach has now become an adventure and leisure hub to enjoy a day amidst a serene environment. This Al Khor beach, with its excellent facilities and lively aura is surely one of the best beaches in Qatar you can add to your itinerary.
The place is often flooded with tourists and locals looking for a scenic and tranquil escape. There is a playing ground for kids, barbecue facilities, and a small mosque for prayer at the beach. From basking in the sun to trying beach games and some leisure, there is a lot you can try at this Al Khor family beach.
5. Al Khor Corniche Beach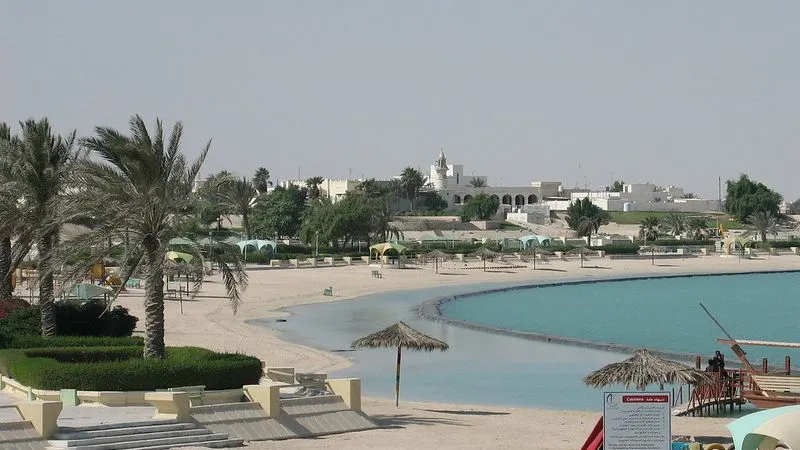 Location: Al Khor, Qatar
Timings: 24x7
Entry Fees: Free
Activities: Beach leisure, Dining
Facilities: Restaurants and Cafes
The Al Khor Corniche Beach is the most picturesque place to witness the skyline, the crimson dusk, and the tranquil aura of the place. This is a place to escape the chaos of the city and enjoy life moving at a slower pace. Locals can be seen strolling around, admiring the calm and captivating beauty of the sunset at this serene Al Khor Beach.
The Corniche is a leisure spot where you can spot top Al Khor restaurants, kiosks serving the local Qatar food. You can sit and admire the serenity of the surroundings, and spend the best time with family. There might not be many adventures or activities to try, but the place is the best spot to seek leisure and unwind in the beauty of nature.
Suggested Read: Doha Corniche: The Stunning Waterfront Promenade Constructed From A Landfill
Beaches are best for leisure and adventure. While Qatar has a number of attractions, Al Khor is one of its prominent cities where you can enjoy the best time with your family. Beaches in Al Khor are known for the best adventure and fun that can make your holiday exciting and fun. From Kayaking and swimming to barbecue picnics and leisure walks, the beaches entertain people with every fascination they need. If there is natural beauty, you will also find luxury and comfort at many private beaches. Make sure you follow the guidelines set by the government to make these beaches a happy and comfy place for all.
FAQs
Q1. Which are the top beaches in Al Khor?
Al Khor is home to some of the most scenic beaches where one can try adventure or spend a leisurely evening. Overlooking the captivating serenity and the blissful beauty of the Bay, the top beaches you can visit in Al Khor are:
Al Thakira Beach
Simaisma Beach
Al Sultan Beach
Al Khor Corniche Beach
Farkeh Beach
Q2. Are there any beaches in Qatar?
Qatar is perched beautifully in the Arabian Peninsula, overlooking the serene views of the Gulf. There are man-made and natural islands that offer a perfect spot to admire the aesthetic wonders and enjoy the best landscape beauty. The top beaches in Qatar are:
Katara Beach
Umm Bab
Wakra Beach
Sealine Beach
Al Thakira Beach
Q3. What are the best things to do in Al Khor?
Al Khor is a place with rich history and heritage where you can find a myriad of attractions and adventures. From beaches to museums and markets, the city has an enriching beauty to attract people from all walks of life. Here are some best things you can try in Al Khor:
Explore the beaches
Try Kayaking at Al Thakira
Shopping at Al Khor Mall
Swimming and Snorkeling
Q4. Where is Al Thakira Island?
Al Thakira is located at the northern end of the Al Khor Corniche that is adorned by the serene beauty of the mangroves and wilderness. The island is best known for nature tours, kayaking, and other adventures like fishing. The beach does not have many facilities but there is a Parking space and Food Stalls for the visitors to come and enjoy the day.
Q5. Why is Al Khor famous?
Al Khor is the oldest city in Qatar that is famous for its rich history and heritage, there are museums, archeological sites, and some galleries where you can learn more about the history and culture of Qatar. Apart from the attractions, the city houses some scenic beaches that make it quite popular among travelers.
Q6. Where can I stay in Al Khor?
Despite being popular among the expats, there are not many places where you can stay in Al Khor. There are two luxury resorts in Al Khor- Al Sultan Beach resort and Simaisma Beach resort that are offering you every comfort you need for a private holiday. With a private beach and pool, villas, and dining restaurant, these resorts in Al Khor are perfect for a family staycation.
Q7. Is there any entry fee for Al Sultan Beach?
Al Sultan beach is a part of Al Sultan resort that offers free access to the guests living there. The beach is a perfect spot to enjoy leisure with family or try some water adventure. Guests can also request a private waiter to get complete assistance during their visit. But these facilities are only for the guests while other visitors need a pass to enter.
Q8. How can I reach Al Khor?
Reaching Al Khor is no hassle as the city is well connected with the capital Doha via road. Hamad International is the only international airport in Qatar therefore any visitor planning to reach Al Khor can board a flight to Qatar. There are cabs available from the airport or Doha city to reach the city.
---