Qatar has amazed every traveler with the luxuriating beauty of the seafront. From the beaches to the artificial islands and oasis, there is every wonder to lend you ease and comfort. When it comes to spending a day full of leisure and luxury, the TaliaMare Beach club is among the top attractions where you can plan a day outing with your folks. Overlooking the blue waters and offering you an incredible taste of every delight, the beach club is a one-stop destination to jazz up your vacay. Here is all you need to know before adding it to your holiday list.
Porto Arabia TaliaMare Beach club: A Gem in The Pearl Qatar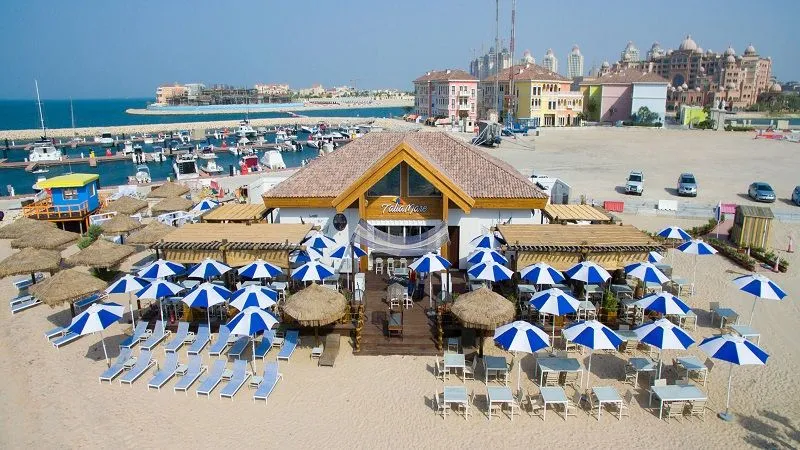 The Pearl Qatar is one of the most fascinating attractions that has lured travelers with its magnificent beauty. The deep blue waters, the extensive luxury, and the zestful lifestyle of this island make it a perfect getaway for every tourist. Now this jewel hides another gem that is bringing you the leisure of every romantic beach destination around the globe. Port Arabia TaliaMare beach club is nothing less than a gem where you can spend a day with every comfort and thrill you need.
Located in the Qanat Quartier of the Pearl Qatar, this beach club features a charm to make your experience memorable and worthy. There is a blend of zest, style, architecture, and luxury that makes it so unique to explore. Expanding to an area of 15,000 sqm, the beach club can allot space to more than 2000 people at a time, ensuring complete comfort for all. There are more than 1100 visitors recorded each day. This family-friendly attraction in Qatar has taken luxury to a different level by offering wholesome comfort and thrilling beach activities.
The Best Features and Facilities of TaliaMare Doha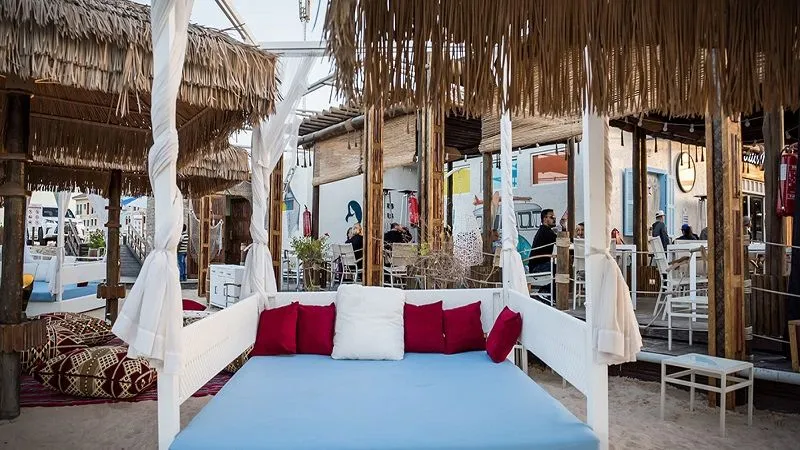 The beach club, TaliaMare Qatar is not just a beach club but something better than what you have imagined. Offering guest-friendly facilities and exclusive features to add more leisure, this beach club will boost your holiday mood in a luxuriating manner. The facilities are for every Pearl Residents and TaliaMare members
Here are some facilities listed down, bringing you utmost leisure and comfort.
Beach house that can allot space to five people
A Private Majlis for four people
The luxury Cabanas for your leisure
Sunbed with towel and Umbrella to relax at the beach
The best Qatar restaurant serves you every delightful cuisine for a gastronomic experience.
Fresh Shisha to accompany your evening
Live music for an unforgettable evening and entertainment
Party Zone on the beach club to make your holiday fun and interesting
Special beach dining overlooking the serene beauty
Suggested Read: Doha Corniche: The Stunning Waterfront Promenade Constructed From A Landfill
A quick Look Into The Menu of TaliaMare Beach Club and restaurant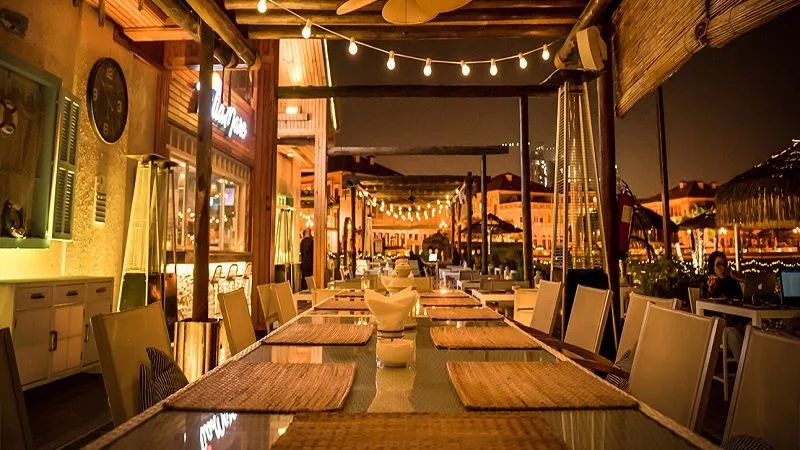 As you choose to stay around the mesmerizing beauty of TaliaMare beach club and restaurant, don't miss out on the most delicious cuisines listed on the menu. From the best food in Qatar to a fancy platter from any international restaurant, here are the best picks that you can enjoy here.
The Breakfast Menu:
Hash Browns
Nutella Pancakes
Appetizers
Coconut Shrimp
Dynamite Prawns
Salads
Talia Mare House Salad
Oriental Salad
Burger
Ranch Burger
Garlic Three Cheese Burger
Pasta
Crema Di Gamberi
Spaghetti Bolognese
Best Grilled Food
Jumbo Prawns 350g
Beef Rib Eye 250g
Signature Dishes
Fresh Catch Of The Day
Prawn In A Bucket 600g
Dessert
Beverages
Beach Lemongrass
Strawberry
Suggested Read: Events In Qatar: Watch Out For An Eventful Year Ahead
From luxury living to fancy dining and entertaining evenings, the TaliaMare Beach Club is an ultimate leisure destination in Qatar. Discover the thrill and fascinating beauty of the beachfront to make it a memorable holiday. Overlooking the charm of deep blue waters, this is an ideal place for your staycation. TaliaMare beach club not only offers an exciting day but brings every fun and leisure for your relaxation. So, why the wait? Book your Qatar flights today and get ready to spend a beach holiday at this luxurious beachfront club and restaurant in Pearl Qatar.
FAQs
Q1. What are the best beaches in Qatar?
Qatar, overlooking the charismatic beauty of the Arabian Gulf, offers the best beaches for your vacation. The best beaches in Qatar are:
Fuwairit Beach
Simaisma Beach
Al Khor Beach
Farkeh Beach
Al Dhakira Beach
Q2. Where is TaliaMare Beach Club?
The Taliamare Beach Club is located in the Qanat Quartier of Pearl Qatar. The beach club expands to an area of 15,000 sqm and can allot space to more than 2000 people at a time. There are restaurants, lounges, and a luxury accommodating unit at this beach club.
Q3. What are the best features of TaliaMare Doha?
The TaliaMare Beach club offers the best features and facilities like a Beach house, a Private Majlis for four people, Sunbed and Umbrella, Live music for an unforgettable evening and entertainment, Special beach dining, and more.
Q4. What are the best dishes offered at TaliaMare Beach Restaurant?
The menu at TaliaMare Beach Restaurant has every fancy dish for your breakfast, main course, appetizers, and more. Here are the best picks that you can try:
Nutella Pancakes
Dynamite Prawns
Oriental Salad
Garlic Three Cheese Burger
Crema Di Gamberi
Fresh Catch Of The Day
Q5. How to reach TaliaMare Beach club from Doha?
There are taxis and cabs operating from Doha airport or city center to Pearl Qatar that makes it easier for travelers to reach.
Q6. What is the best time to visit Qatar?
Qatar, being an Arabian nation, experiences hot summer and moderate weather in winter. You can plan a holiday between November to Mid-March when the climate is soothing and pleasant.
Q7. Is there any international airport in Qatar?
Hamad International is the main airport in Qatar that is served by top international airlines of the world.
Q8. What are the best activities to do in Pearl Qatar?
The Pearl Qatar is a man-made paradise that is a major attraction for travelers. The best things you can do in Qatar are:
Shopping at a fancy dining
Luxury stays
Cruise tours
---