A charming city in Qatar, Al Khor is home to some of the country's interesting landmarks and natural marvels. From tranquil beaches and lush green farms to historical landmarks and heritage sites, it's no wonder the city is a well-known tourist destination from all over the world. Other than the obvious enticing places, one of the striking attractions that catches the eye of an avid traveler are the mind-blowing parks in Al Khor. Where some parks have interesting rides and regions to play different games, others are home to a zoo, giving residents and tourists a golden opportunity to encounter exotic wildlife.
Top 7 Parks in Al Khor: Lose Yourself in the Lush Greenery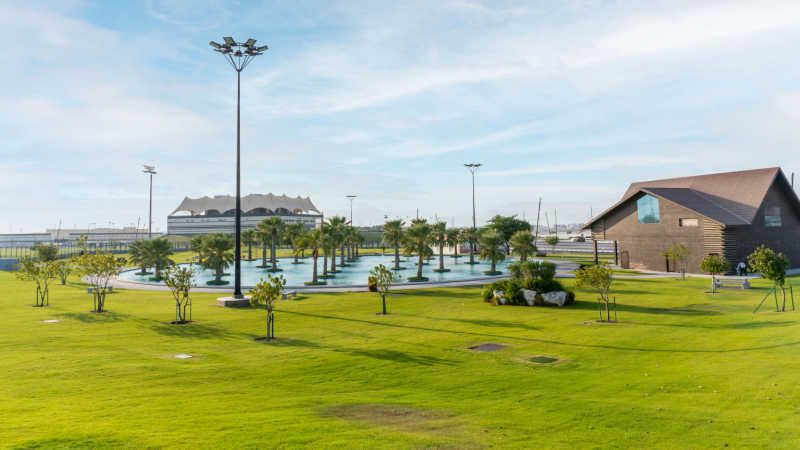 With a wide range of enchanting places to explore in the delightful city, the parks in Al Khor are one of the striking parts that represent the beauty and greenery of the region. These amazing parks cater to different people with different facilities. Some of them are for fitness freaks with perfect running tracks, some are for women and children to spend quality time, while others are for family and friends to plan a picnic or play different games. Here are some of the best parks that are not just lush green but also offer different rides and activities to their visitors.
Al Tawasul Traditional Park
Al Khor Corniche
Al Khor Park
Al Bayt Stadium Park
Al Qarma Beach Garden
Al Shu'aa Reserve
Panda House Park
1. Al Tawasul Traditional Park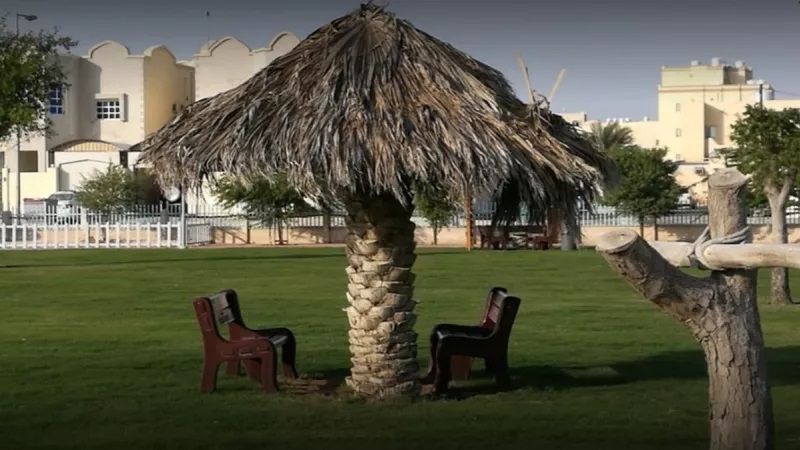 This park is an outstanding spot to enjoy some quality time with your family and friends. If you are a visitor or a resident of Al Khor, visiting this traditional park in Al Khor will not only distract your mind from the hustle and bustle of life, but different sections of the park will rejuvenate the body and soul. Encountering different animals and birds or strolling through the grass is a different and delightful experience that must not be missed. You can also plan a picnic or bring your football to enjoy a healthy match on the football field with your friends.
Working Hours: Everyday: 3 p.m.–10 p.m.
2. Al Khor Corniche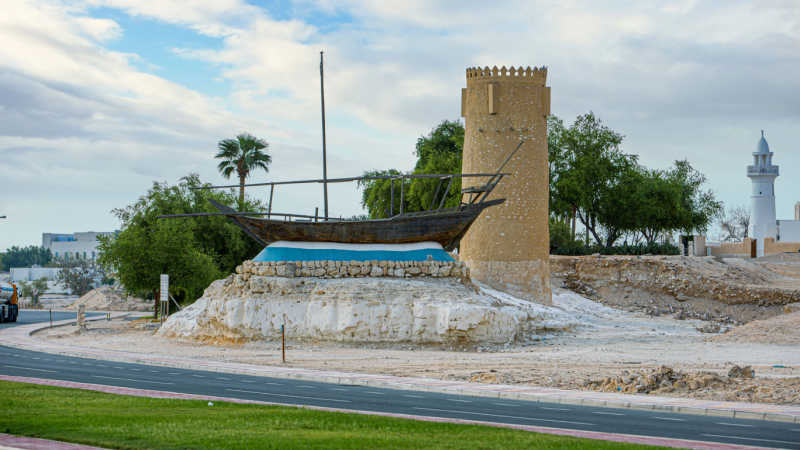 Do you like to stroll through the golden sand or relax while hearing the sound of waves coming from the nearby bay? If you do, then you must visit one of the top attractions in Doha, famous for being the perfect spot for an evening walk. People who are more on the active side have the option of building a team of players to play a match of volleyball or cricket. The kids can enjoy some light rides, while the adults can set up a picnic and bring delicious snacks for everyone to share.
Working Hours: Open all day
3. Al Khor Park and Zoo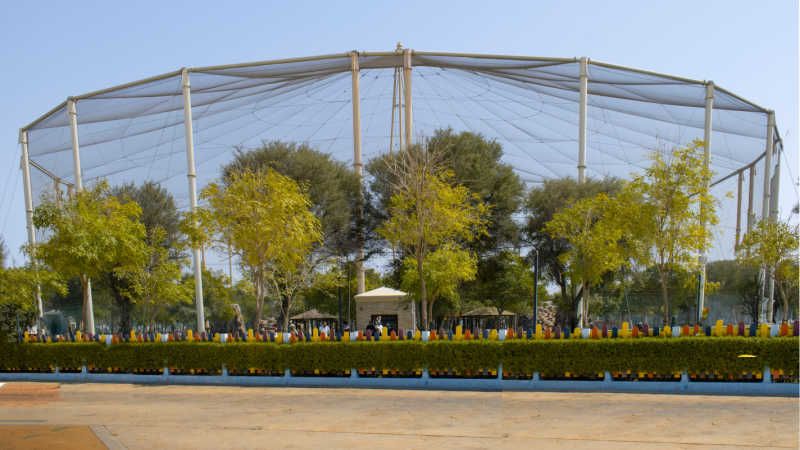 Famous for being home to about 315 diverse species of wildlife, Al Khor Family Park and Zoo is also an iconic destination for family and friends to spend some amazing time with one another. The park is spread over an area of about 240,000 square meters. Such a vast land also comprises numerous amazing restaurants, beautiful mosques, and lovely fountains, which make the park aesthetically pleasing to the eyes. The light rides for the children and vast grounds for walking or running make it the best spot to spend some time in the evening or even for the whole day.
Working Hours: Everyday: 8 a.m.–10 p.m.
Suggested Read: 13 Theme Parks in Qatar for a Family-Friendly Day Outing
4. Al Bayt Stadium Park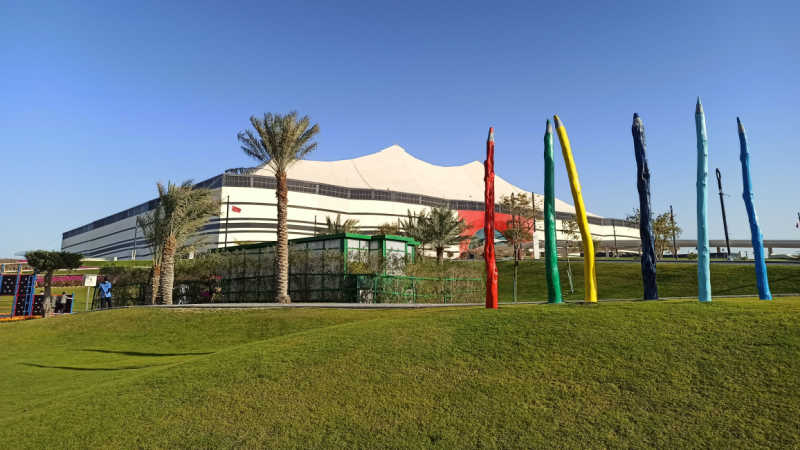 Boasting the size of more than 30 football pitches, this delightful park in Al Khor is the perfect spot for families, with an amazing children's play area, an outstanding exercise section, mind blowing cycling tracks, stunning food stations, and many more. With an artificial lake offering boat rides to visitors, trees educating people about their characteristic features, and courts and ground to play sports like basketball, tennis, and football; no doubt it has become one of the most popular parks in Qatar. And when you're completely exhausted and in need of a cup of coffee and some delectable snacks, there's a plethora of restaurants and kiosks to serve you mouthwatering meals and beverages.
Working Hours: Everyday: 5 a.m.–12 a.m.
Suggested Read: The Pearl-Qatar: An Artificial Island in Doha for an Exciting Holiday
5. Al Qarma Beach Garden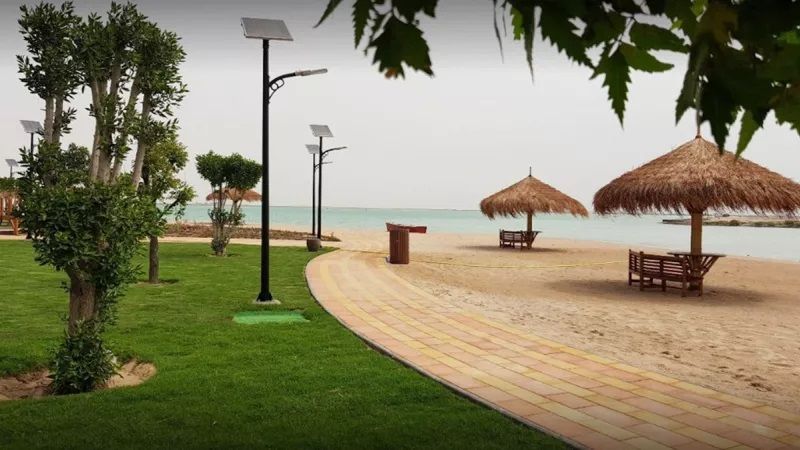 Ladies, this one is for you! Be it a tourist or a resident, all the ladies and children under the age of 10 are welcome in this iconic beachfront park in Al Khor. The park comprises an amazing play section for children, wooden umbrellas in case you want to sit under the shade along the seashore, walking paths, and comfortable benches. This lush green park is a comfortable space to chitchat with friends while sitting on the grass or strolling through the paths. So, what are you waiting for, ladies? Pack a delicious lunch, grab your little ones, and call your friends to reach this beautiful park on time.
Working Hours: Everyday: 10 a.m. - 10 p.m.
6. Al Shu'aa Reserve
One of the best things to do in Qatar is spend some time at this amazing destination called Al Shu'aa Reserve. Open to all tourists and residents, this lush green park is the perfect place to introduce your children to different animals, including ducks, tortoises, geese, ostriches, pigeons, goats, rabbits, and even the Arabian oryx. You can plan a lip-smacking meal for the family and enjoy an iconic picnic on the grounds of the park. If you are accompanied by kids, carry a ball and spend some time playing with them in the vast grounds of the reserve.
Working Hours: Everyday: 5.30 a.m.–7 p.m.
Suggested Read: Places To Visit In Saudi Arabia: Top Attractions To Uncover The Mystical Vibes
7. Panda House Park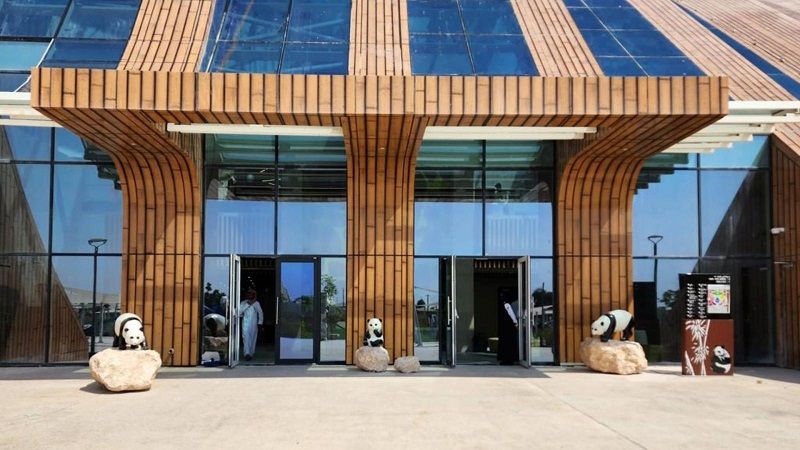 If you are a fan of those chubby and cute representatives of Ying and Yang, the pandas, then do not miss visiting this recently opened park in Al Khor. It is an amazing initiative by Qatari authorities to introduce citizens and tourists from all over the world to this exotic animal that is adorable to see and outstanding to study about. Panda House Park in Al Khor is home to two adult pandas as well as amazing outdoor booths, mesmerizing sculpture gardens, a lush green bamboo forest, an audiovisual tower, delightful cafés and restaurants, gift shops, an outdoor garden pathway, and prayer rooms for good times.
Working Hours: 9 a.m.–5 p.m.
So, if you are exploring the beautiful city of Qatar or looking for a beautiful destination to take your kids on the weekend, then consider visiting the iconic parks of Al Khor. Each park showcases a different version that is equally enjoyable and fun-worthy. Some of these parks are also home to many animals like ducks, tortoises, geese, ostriches, pigeons, goats, and rabbits. The parks have a vast amount of land, comprising an exercise area, jogging paths, a children's play zone, and a wide variety of different plants. So, without any further delay, take advantage of the Qatar holiday packages and visit these iconic places in this beautiful country.
FAQs
Q1. What is special about the parks in Al Khor?
The parks in Al Khor are beautiful, with vast, lush green lands. They comprise many things, including a zoo, an exercise section, a play area for kids, jogging and walking baths, comfortable benches, a wide variety of plants, and more, for visitors to have an amazing time.
Q2. Which is the main airport in Al Khor?
Al Khor Airport is the major airport in the city. The airport also hosts an annual Al Khor fly-in, where visitors are welcome to stay and enjoy the scenery.
Q3. Is Al Bayt Stadium Park worth visiting?
The park is the perfect spot for families, with amazing children's play areas, an outstanding exercise section, mind blowing cycling tracks, stunning food stations, and many more. Visitors can also enjoy a boat ride on the artificial lake, play different sports, and enjoy a cup of coffee with some snacks at the eateries.
Q4. How many days are enough to explore Al Khor?
2–3 days are considered ideal to explore all the mesmerizing and significant landmarks in the city and indulge in the fun activities essential to understanding the culture and traditions.
Q5. What are the interesting things to do in Al Khor?
Here are the most exciting activities to indulge in during the holiday in the beautiful city of Al Khor.
Kayaking in Al Thakira Nature Reserve
Exploring the Al Khor Park
Encountering Wildlife at Al Khor Zoo
Basking in the sun at Farkeh Beach
Buying different items at Al Khor Mall
Meeting the exotic pandas at Panda House Park
Q6. What are the travel tips for Qatar?
Here are the most vital tips to keep in mind while exploring the delightful country of Qatar.
Always keep your passport with you
Respect the traditions and culture
Try all the traditional dishes
Indulge in thrilling activities
Q7. Is Panda House Park worth visiting?
Yes, the park is home to two of the adorable adult pandas that have arrived from China. The residents and tourists get this amazing opportunity to encounter these bubbly creatures. Other than that, people can enjoy the lush green gardens inside the park or enjoy a sip of coffee at the cozy café.
Q8. When is the best time to visit Al Khor?
Between the months of November and April, tourists are advised to visit Al Khor. The weather during these months is pleasant enough for people to explore all the significant landmarks and indulge in thrilling activities.
---