Wondering where to spend your staycation in Doha, Qatar? Well, Qatar, being the best holiday spot in the middle east, has listed a number of luxury hotels and resorts that promise a perfect stay. So, if it's a task for many, we have picked an ideal fit for all your holiday moods. The Westin Doha Hotel and Spa is the best 5-star property that is recreating luxury with more comfort and class. Located in the capital city of Qatar, Doha, the Westin Doha is offering you every leisure and ease you need for a memorable holiday. The classic interiors and excellent location make it an ideal place to embrace luxury.
Discovering The Urban Oasis Of Qatar At The Westin Doha Hotel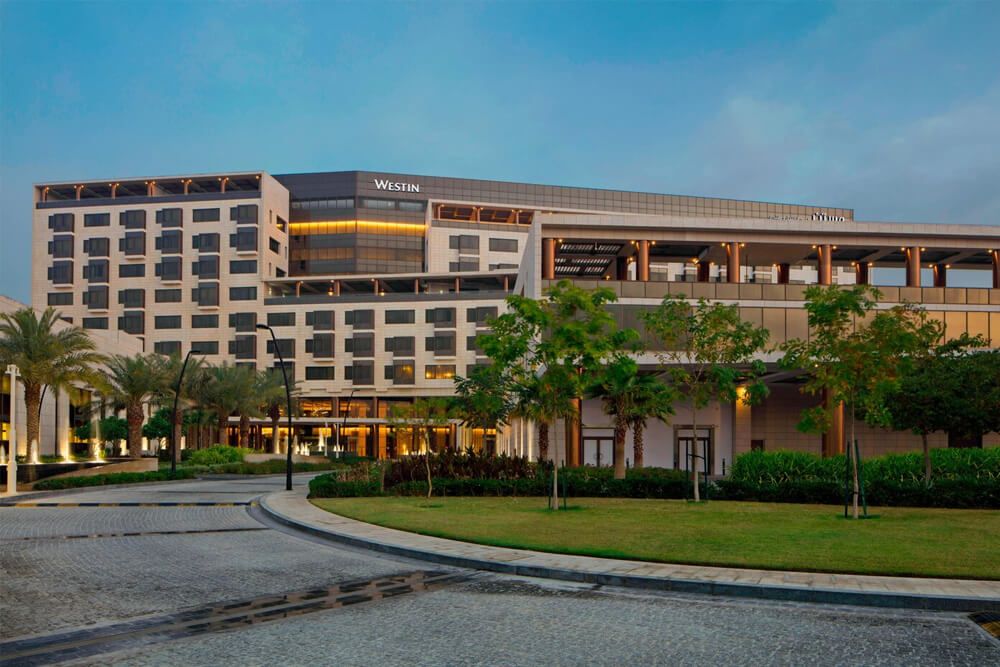 The Westin Doha is rightly called an urban oasis as it brings you modern comfort with a touch of elegance. The Qatari hospitality and the vibrant atmosphere promise you a memorable and pleasant time in Doha. Westing Doha not only represents what luxury looks like, but it has enhanced the experience of many with its up-class services.
Located in Doha Downtown, the hotel lies in proximity to many tourist attractions. People staying at this 5-star hotel in Qatar can plan a day tour exploring each of its fascinating landmarks like Souq Wakif, Msheireb Downtown, and the Doha Corniche.
There are luxury rooms, pool villas, restaurants, and every facility that will lend you an experience beyond what you have imagined. The cutting-edge technology, fancy restaurants, and other leisure options like spas and pools bring out the best of luxury you need for a splendid vacation. Promoting rejuvenation and relaxation with its style and features, a stay at Westin Doha is surely a holiday in itself. The hotel is supported by its six pillars, delivering every excellent service.
The healthy and quality food is served to let every visitor, "Eat Well".
The restorative room ambiance and the quality bedding promises a quality with to let you "Sleep Well".
There is fitness center and physical activities so that every vacationer will "Move Well" to maintain healthy routine.
"Feel Well" with the spa and sauna service at the Westin Doha hotel and spa.
At Westin you can create a professional environment to "Work Well" with the spacious meeting rooms and boardrooms.
"Play Well" and enjoy the staycation with best Family program and games crafted for your fun.
Delivering Comfort at The Westin Doha Hotel
The Westin Doha is catering the best to add more leisure and comfort to your vacation. The hotel has redefined its facilities and services which include the best accommodation options.
Living in Westin Doha is steeping into luxury and serenity. With the lush green landscape and 364 rooms, the hotel is the epitome of leisure which brings you the right setting and aura to rejuvenate. The rooms here are mended with the best interiors, well-versed with exquisite furnishing and a wide range of facilities that could make your stay a lot easier. The sweeping scenery, overlooking Doha attractions and the chic style of each room and villa will surely make your experience worth your time and money.
Here are some well-defined room categories you can choose to enhance your stay in Qatar.
1. The Presidential Suite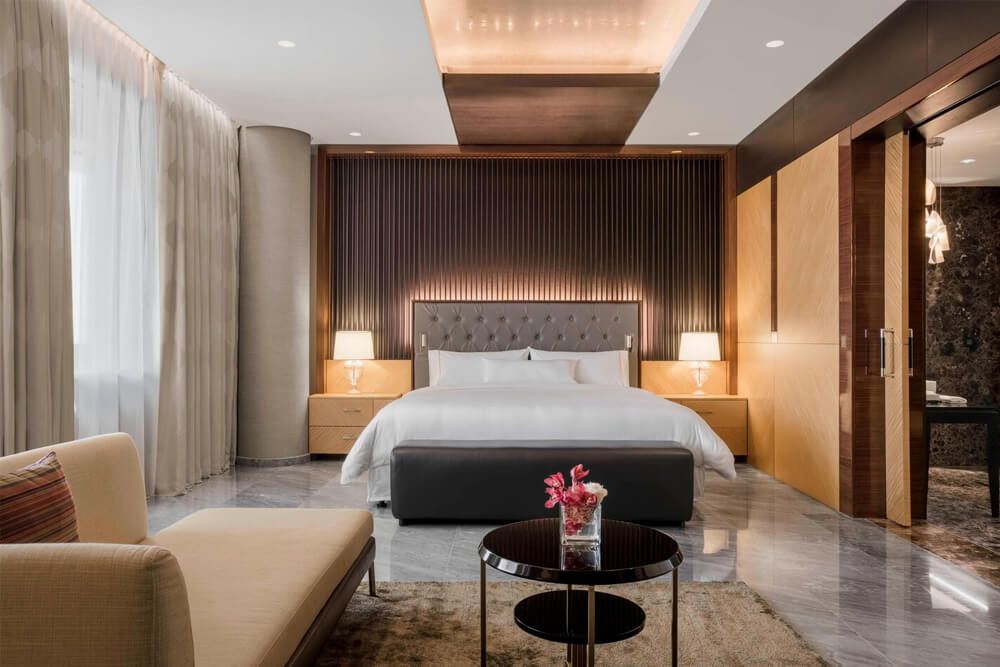 Built on an area of 347 sqm, the Presidential suite is listed as the most luxurious accommodation option in the Westin Doha Hotel and spa. Nestled on the 4th floor, the accommodating unit brings two separate bedrooms and a vast open area to make it more spacious. The chic interiors and use of high technology accessories have made it a more up-class and upgraded option you can reserve. The presidential suite lends you complete privacy that includes a separate living area, private gym, an outdoor terrace, and dining space.
2. The Guest Rooms with City View and Pool view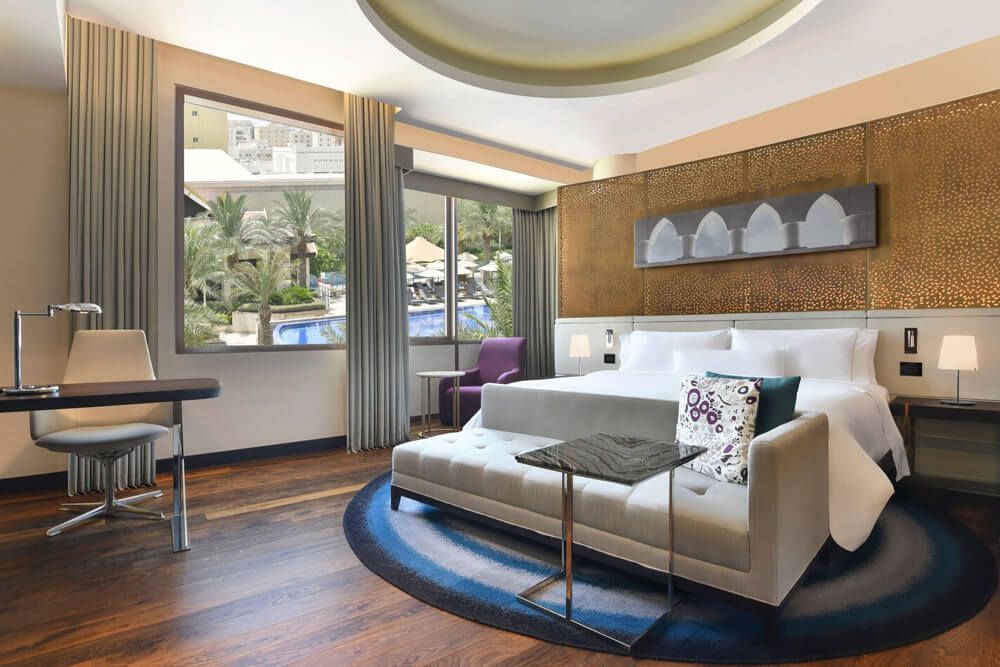 The guest room at Westin Hotel and spa, Doha is perfect for every family stay where you can choose from one-bedroom, two-bedroom, and more. With more options like a city view and pool view, you can customize your holiday stay. The exquisite design and chic interior settings have made this categorized room best for a glamorous experience. There will be modern furniture, soothing colors, and elegant decors to make it a piece of art and the best family hotel in Qatar.
3. Bridal Suite With Pool View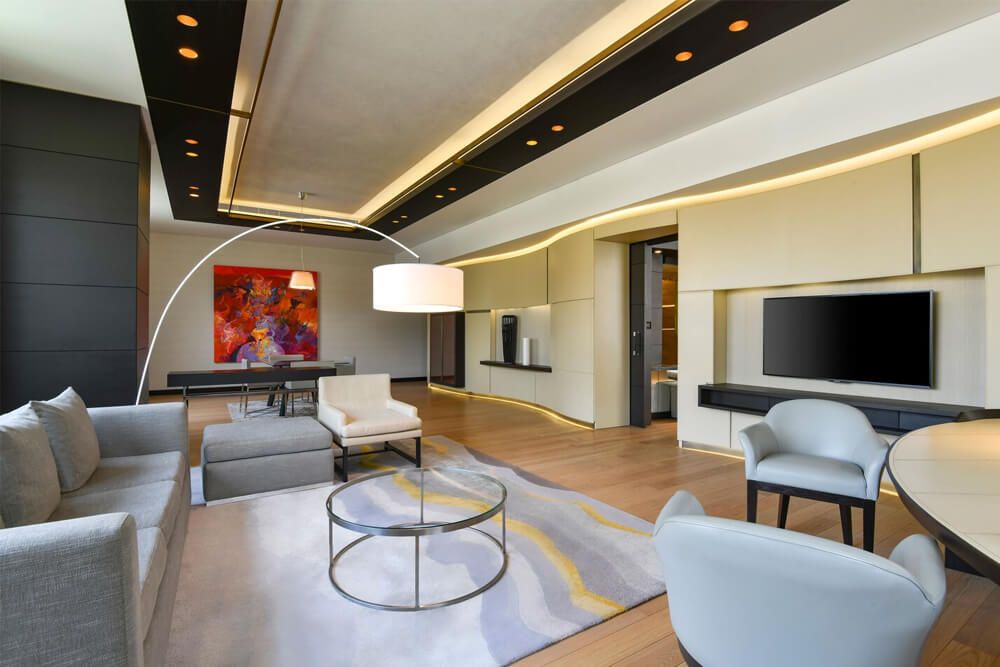 The Bridal suite is designed with utmost elegance and comfort, offending you a blissful ambiance. The room category comes with every fancy and modern technology that can romanticize your stay. The overlooking window offers a serene view of the pool, and the quality furnishing brings a lavish touch to your staycation. With plush bedding and soothing hues, the bridal suite is perfect for a romantic stay in Qatar.
4. The Studio Suite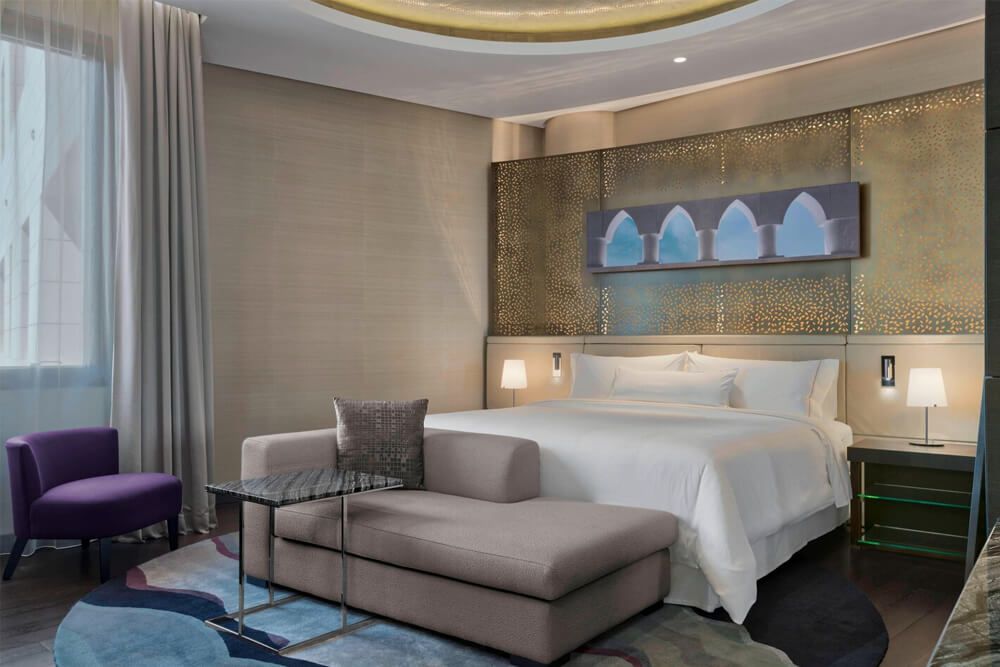 Relax amidst the well-defined interiors of the Studio Suite that makes Westin Doha the best hotel in Qatar. Featuring facilities like a separate living room, bedroom, bathroom, and access to the club lounge, the suite is not only spacious but promises a complimentary stay. The vast and spacious area of the Studio suite features a relaxing ambiance for all. Connecting rooms are also available in some selective Studio suites.
5. Club Lounge Suites and Villas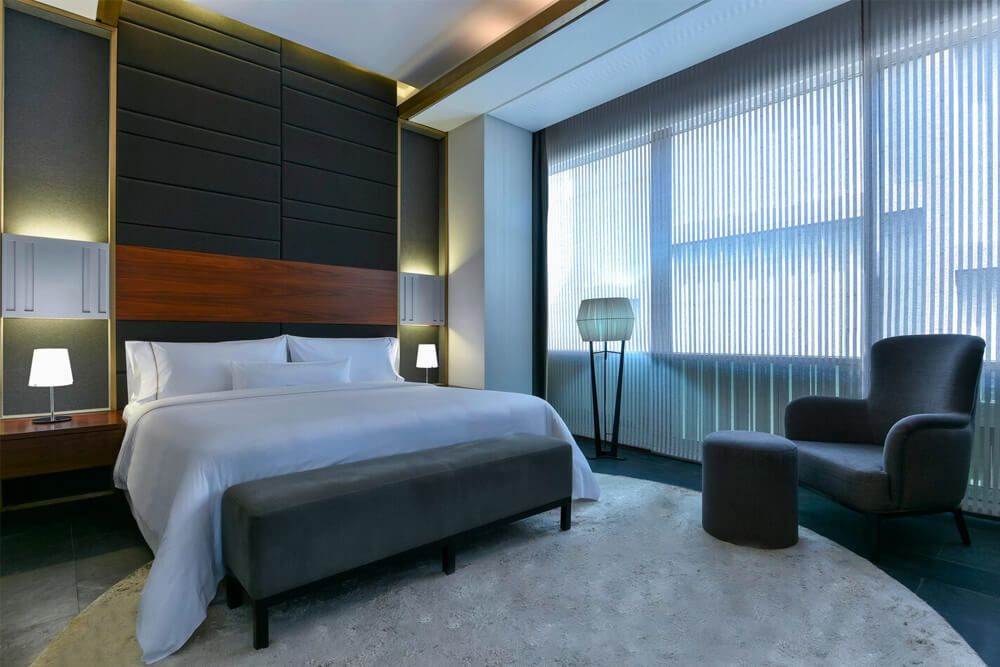 Living in a Club lounge suite or villa can be the best holiday experience at Westin Doha and spa hotel. You can choose from one-bedroom, two-bedroom, or more options that are available for the categories. The suite comes with access to the club lounge and offers some luxuriating features like the pool view or the city view. Each of the Club lounge suites and villa will offer quality furnishing, modern technology, and complimentary offers like free Wi-Fi and breakfast.
Suggested Read: Pool Hotels In Qatar Ideal For A Refreshing Retreat
The Scrumptious Taste of Your Favorite Cuisine at Westin Doha
How does it feel like missing your favorite food on holidays? Well, while you are at the Westin hotel in Qatar, one thing that comes with a guarantee is all your fancy food and the delightful taste you are missing out on your vacation. For your tempting dinners and exotic brunches, the hotel has listed everything on its menu. There are cafes, restaurants and lounges where you can relax and enjoy every delightful bite serves in the menu. If you are willing to discover the culinary excellence of the top restaurants in Qatar, this is the right place for you.
1. Sabai Thai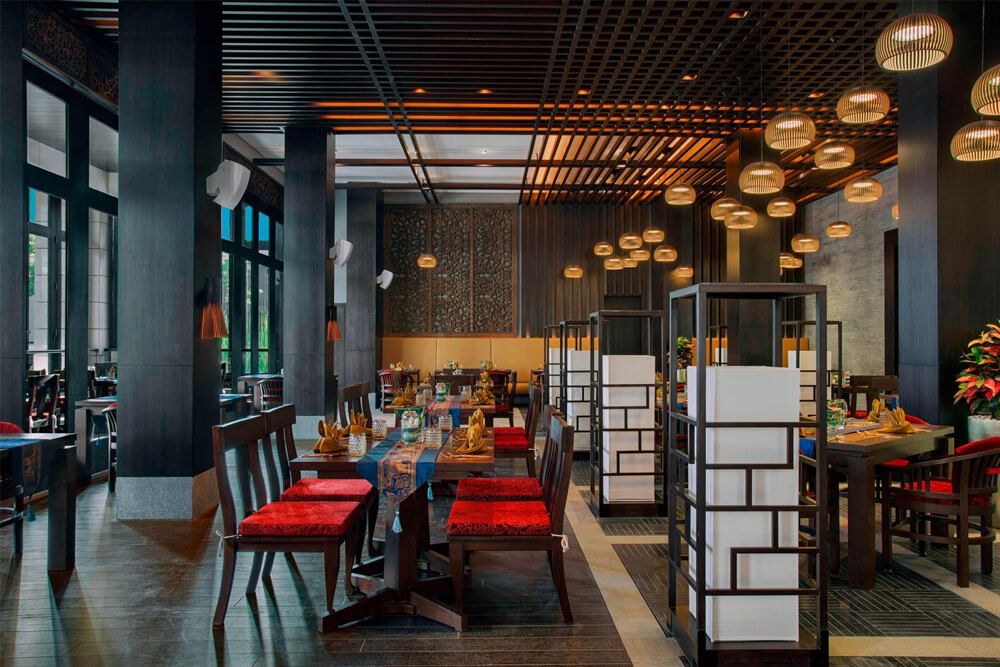 Sabai Thai is one of the signature dining places of the Westin Doha hotel and spa. Offering you a menu with rich flavors and exotic dishes, this restaurant serves the best Thai food with its authentic taste. You can find the top ranking cruises of South-East Asia, a special menu for your dinner and lunch, a bar and lounge area and so much more to make your night, happening and fun. The Sabai Thai restaurant in Qatar is known for its live kitchen where you can observe the art of cooking closely. The Saturday brunches are a specialty that you cannot miss here.
2. Seasonal Taste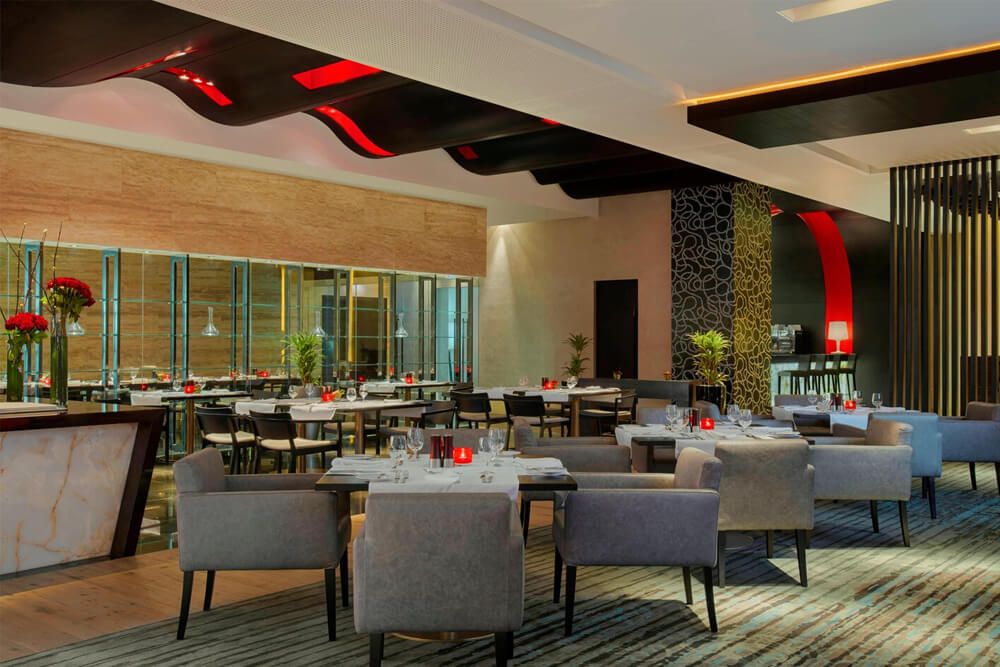 Seasonal Taste in the Westin Doha is among the finest Qatar restaurants where you can explore diversity in taste. This signature eatery is known for its impressive menu that brings you the local food of Qatar and other specialties from Asia, Europe, and more. From a live kitchen to a separate lunch and breakfast menu, the restaurant has every dish preserved for your mood and taste. The seasonal Taste restaurant delivers a theme for every evening, uplifting the mood and settings.
3. Hunter's Room & Grill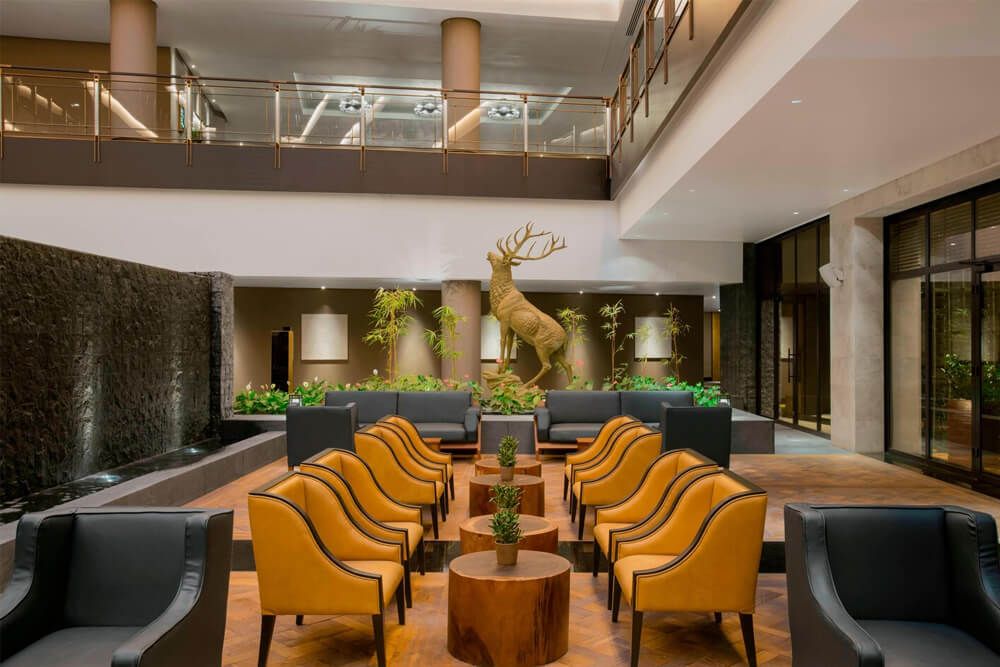 With a contemporary style, delightful flavors, and a touch of traditional spices, the Hunter's Room and Grill is an excellent cafe in Doha to enjoy some smoky grilled food. With an open kitchen, the restaurant welcomes visitors to witness the art of cooking. The team of excellent chefs is working to offer some irresistible zest. The menu of Hunter's room and grill is set perfectly to complement the vibrant and elegant interiors. There will be complementing beverages offered along with exotic dishes.
4. Mix Bar Lounge & Terrace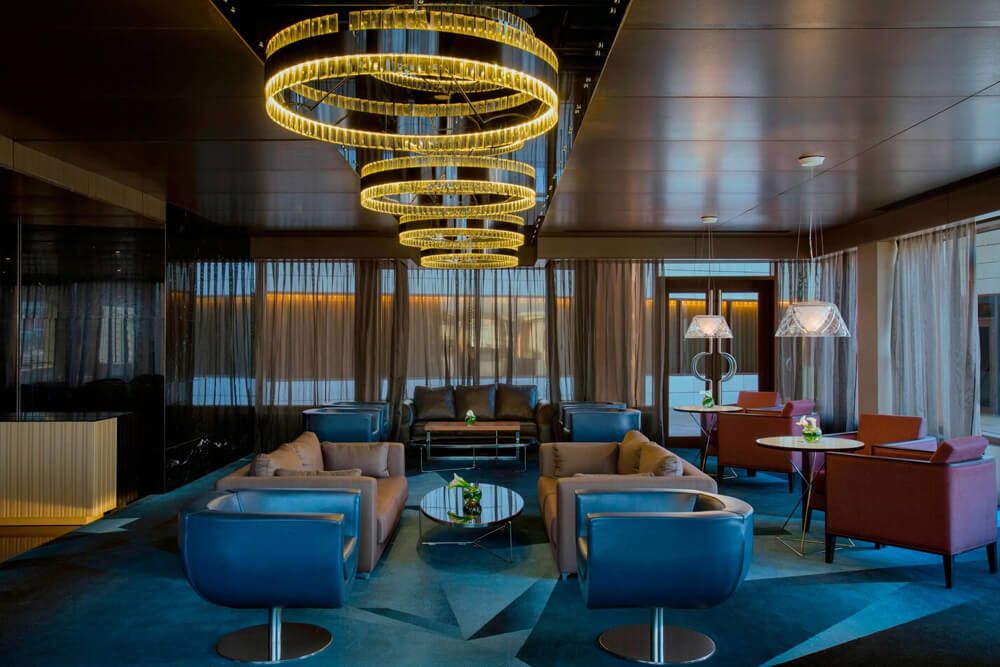 A soulful place to enjoy the nightlife in Qatar, Mix bar lounge and terrace is an ideal option for your leisure evenings. Delivering quality food and a lively ambiance, the Mix Bar Lounge and Terrace is one of the best spots in Westin Doha to dine in. The menu includes some fancy food and exotic beverages to make it a memorable evening with family and friends. There are happy hours and musical nights where you can match your steps with the beat.
5. Luxe Lounge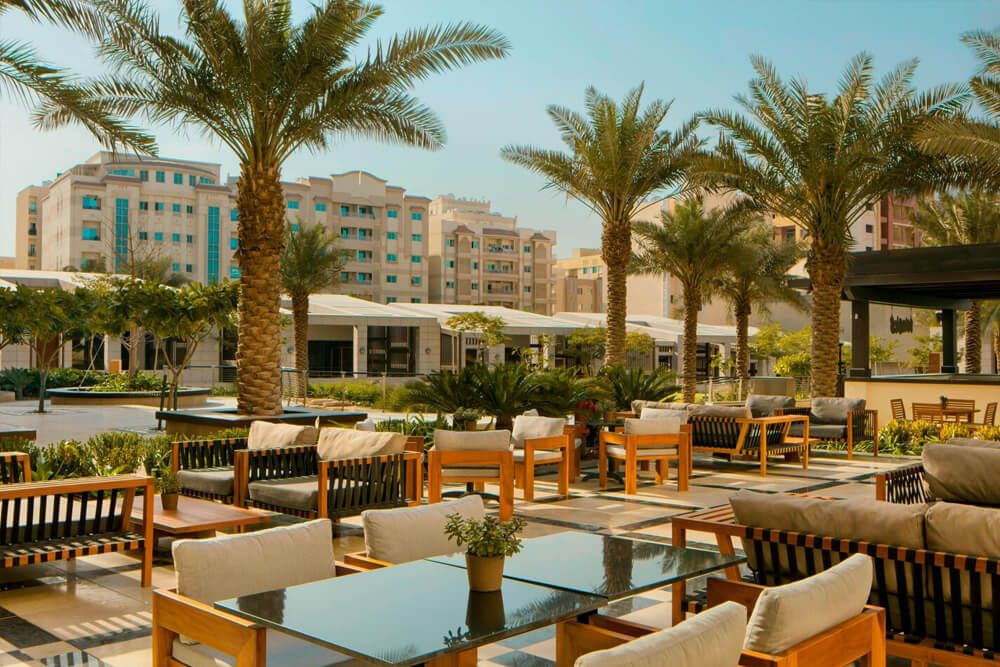 For some light snacks and tea or coffee breaks, the Luxe Lounge is one of the best cafes to enjoy leisure time while staying at the Westin Hotel and Spa in Qatar. The lounge is proffering a quality menu with a light atmosphere and casual ambiance. The chic and elegant interiors make it a perfect place for all your coffee meets, official gatherings, and some leisure breaks. Enjoy the Arabic drinks, tea, or coffee, with some delicious snacks like pastry and more.
Suggested Read: Argan Restaurant, Doha: Discover The Detectable Zest Of Moroccan Cuisine
Additional facilities and services at The Westin Doha And Spa
The luxury and style of Westin do not lie in its spacious accommodating suites. The hotel offers some exceptional features and facilities that make it a perfect staycation in Qatar. For family holidays to honeymoon and business meetings, the hotel is catering to the needs of every vacationer in the country.
While Westin Doha is gaining fame for its quality service and heartwarming hospitality, here are some of the best features or facilities available for every guest living here.
1. Spa Facility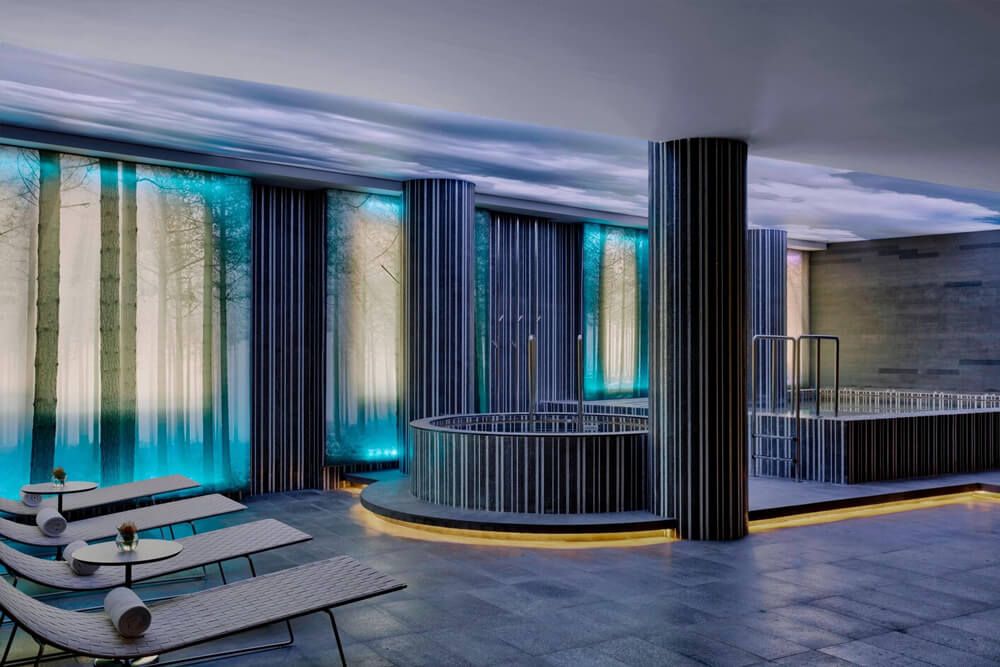 The Heavenly Spa by Westin is solely made to offer a revitalizing experience. The calm and tranquil settings of the spa make it perfect for those who are looking for some leisure. Escaping the chaos and hustle of daily life, the Westin Doha hotel and spa comes as an excellent place where you can unwind your soul and body. The holistic therapies are beneficial for both body and mind. There are treatment rooms and changing facilities offered to ensure complete comfort and privacy. Don't forget the hammam experience that is influenced by the traditional techniques of experts.
2. The Westin Workout Fitness Center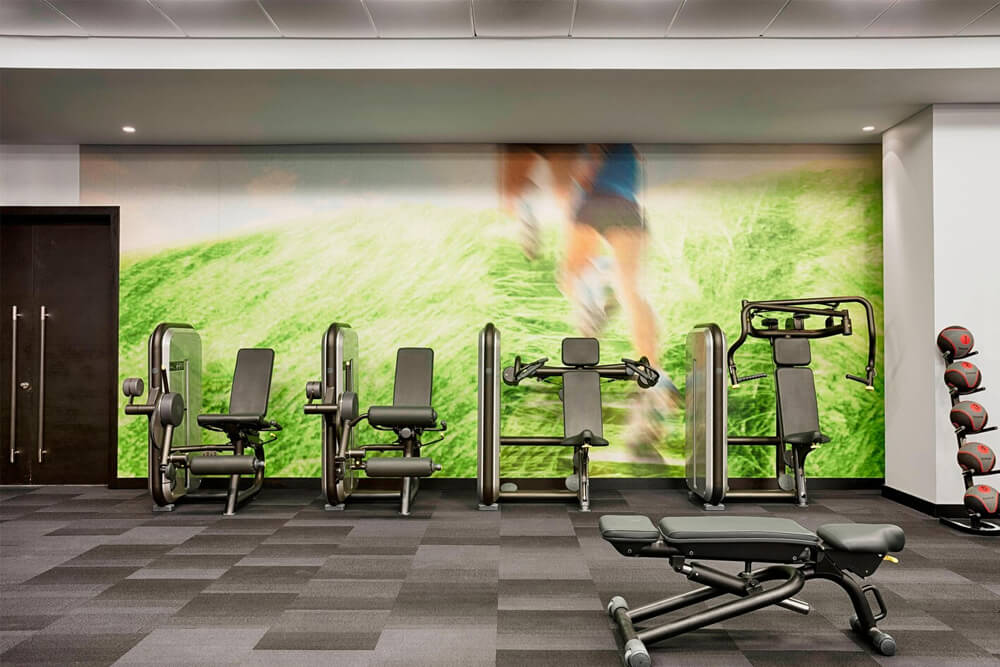 If you are missing your fitness routine, the Westin workout fitness center is an ideal space where you can get your fitness on track. The modern equipment and professional trainers make it a state-of-art fitness center. From yoga to HIIT, Zumba, cardio, and more, there is a wide range of programs that add it to the list of best gyms in Doha.
3. Meeting Space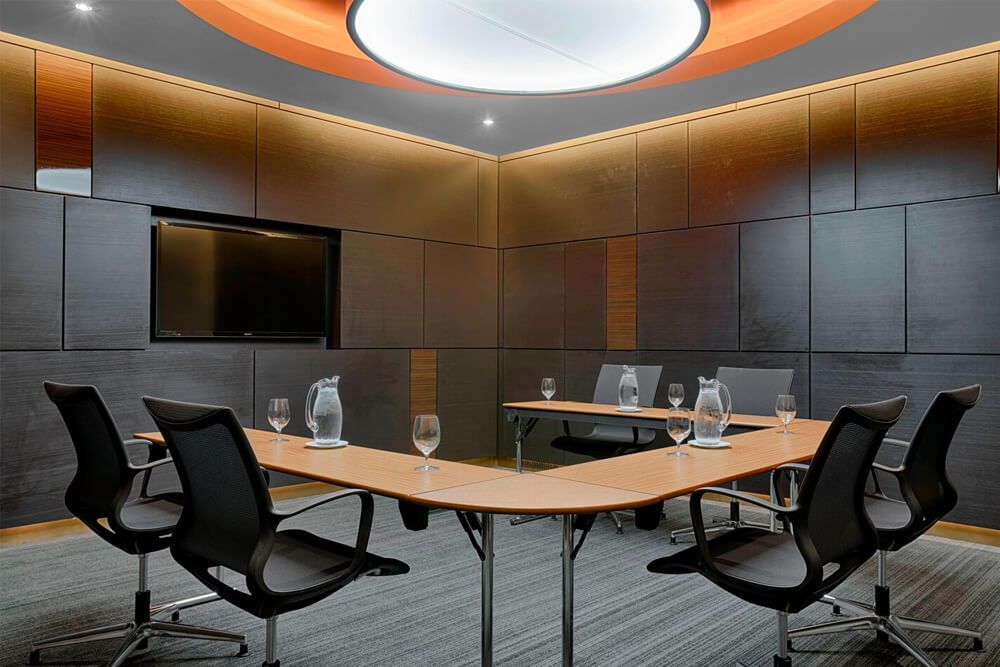 The meeting space at Westin Doha makes it the best hotel for business purposes. From conference meets to seminars and more, there is a separate space for all your official timetables. Spreading to a space of 31,193 sq ft, there are 12 rooms that are well equipped with every amenity like air conditioning, projectors, and more.
4. Wedding Space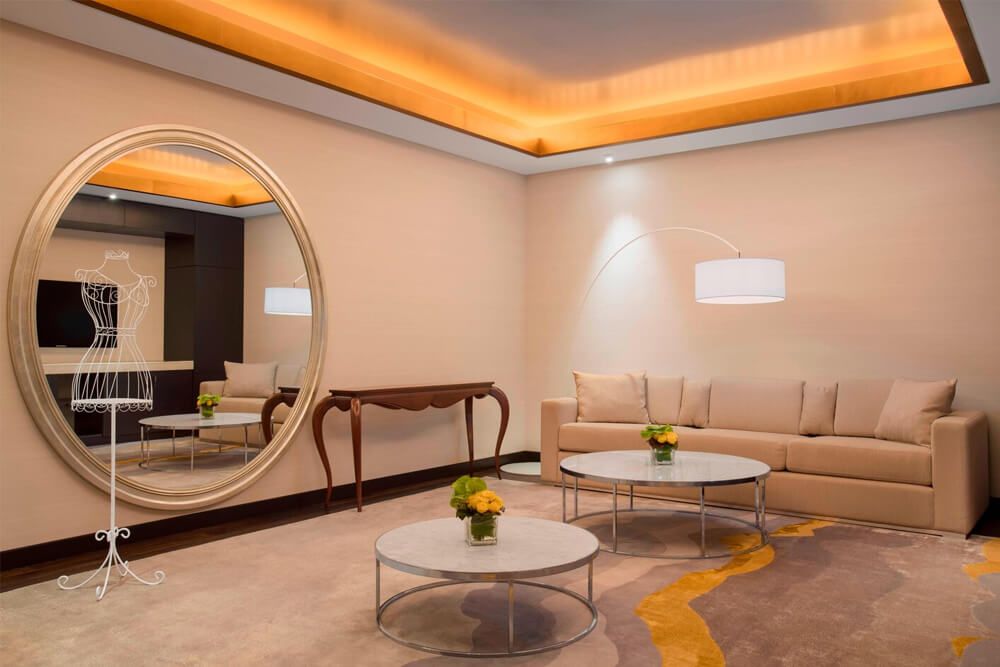 The Westin hotel in Doha offers a vast and glamorous wedding space to host the grand event of your life. With an exquisite setting, vibrant aura, vast space, and excellent facilities, there are ballrooms and other halls for guests where they can organize events like weddings, parties, ceremonies, and so much more. Dining facilities like catering are also provided for every event. Guests can also use the private bridal room if the need arises.  
Suggested Read: Top Gyms In Doha To Help You Keep Up With Your Fitness Regime
5. Pool Areas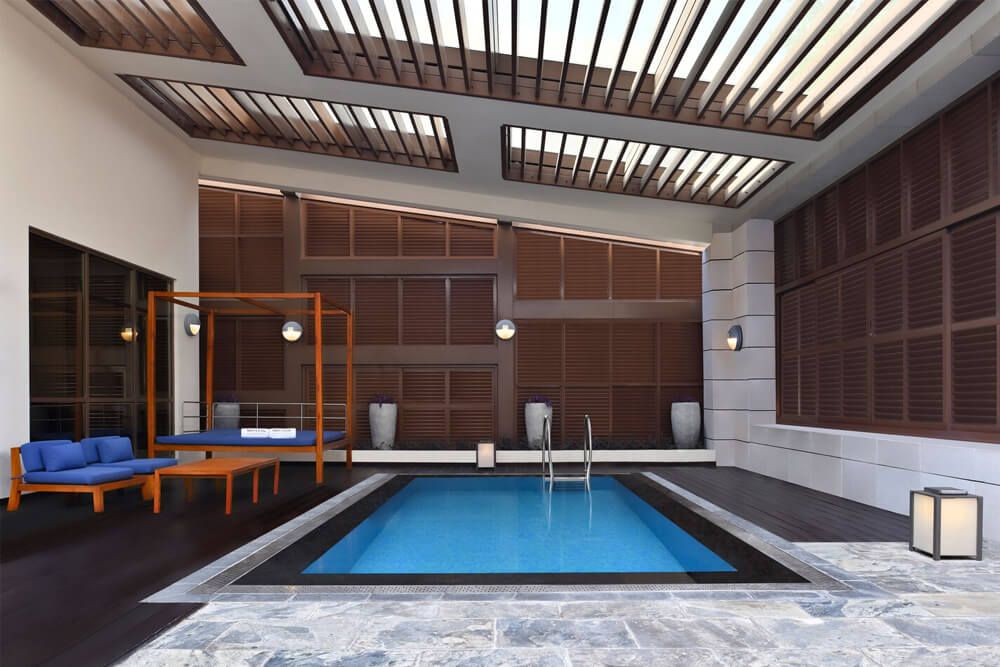 Pool time can be really fun, and Westin Doha is surely the place where you can find the best pools to enjoy leisure. What makes Westin the best Pool hotel in Qatar is its three well maintained pools. The outdoor, indoor, and wave pools are built extensively to make the hotel a leisure place for all. The indoor pool is heated, while the outdoor pool comes with complimentary services like towels. At the wave pool, you can enjoy snacks and other refreshing drinks.
The Westin Doha Hotel And Spa is an incredibly designed hotel that is delivering the best experience for your holidays. Located in Doha, close to many famous attractions, the property boasts top dining facilities, meeting rooms, pool, activity area and so more to offer you the best value for time and money. As Qatar is known to be a famous destination for planning a family holiday, Westin Hotel can be your ideal place to stay during the holiday break. So, book your Qatar flights and reserve your stay at this luxury hotel and make your stay memorable for a lifetime.
FAQs
Q1. Where is Westin Doha and Spa located?
The Westin Doha and Spa is located in the capital city of Doha, at Salwa Road in the Bin Mahmoud neighborhood. The hotel is perched close to many famous landmarks and attractions like Doha Corniche, downtown, Souq Wakif, and more.
Q2. How far is Hamad International from the Westin Doha?
Hamad International is a major Qatar airport that is just 25 min drive away from the Westin Hotel. You can easily get a cab or rent a car to reach the hotel without any hassle.
Q3. What all facilities are there at Westin Hotel and Spa in Doha?
The Westin Doha is among the top hotels in Qatar that feature every luxury and comfort. Apart from spacious and comforting rooms, here are the top facilities offered by the hotel:
Dining restaurants and cafes
Swimming pools
Spa and sauna center
Fitness center
Meeting rooms
Wedding halls
Q4. Is there any lounge at Westin hotel Qatar?
Yes, the Westin Hotel has two lounges and a pool lounge where you can relax and enjoy the nightlife. The Mix Bar Lounge and Terrace is the perfect spot in Qatar where you can enjoy refreshing drinks.
Q5. What all room categories are there at Westin Doha hotel?
The Westin Doha hotel has divided its 364 rooms into different categories to make them perfect for your mood. With pool view, city view, and other different facilities, here are the top categories:
Presidential suite
Guest Room
Bridal Suite
Studio Suite
Club Lounge
Q6. Is there any facility for weddings and parties at the Westin Doha Hotel and Spa?
Yes, the Westin hotel in Doha is a vast wedding space with ballrooms and halls to host the grand event. These rooms are designed with an exquisite setting and offer excellent facilities like catering or private bridal rooms.
Q7. What facility is there at Westin Doha for rejuvenation?
The Westin Doha offers the best spa and sauna service at the Heavenly Spa by Westin. There are holistic therapies available to soothe your body and mind. The hotel offers different treatment rooms and changing areas to ensure complete comfort and privacy.
Q8. What are the top restaurants and lounges at Westin Doha?
The Westin Doha offers a relishing taste from its best cafes and restaurants. The multi-culinary menu and the best cuisines for lunch and dinners make them perfect for family meals.
Sabai Thai
Seasonal Taste
Hunter's Room & Grill
Mix Bar Lounge & Terrace
Luxe Lounge
---