Renowned as the "Rose City of Jordan" due to its pink rock formations, Petra is a paradise for history buffs. Brimmed with classical ruins, the majestic ancient city is situated in the beautiful country of Jordan. Right from the city tours, delicious cuisines to shopping, the city is a huge attraction in the middle-east. Dating back to the fourth century B.C, there are many things that make this archeologic site a top attraction. Apart from the ruins, there are numerous restaurants and shops where one can enjoy shopping in Petra. From charming handicrafts, jewelry, traditional clothes, perfumes, ceramics, cosmetics, and more, there is a plethora of options to shop for the best Jordanian souvenirs.
Shopping in Petra: What to Buy and Where to Buy?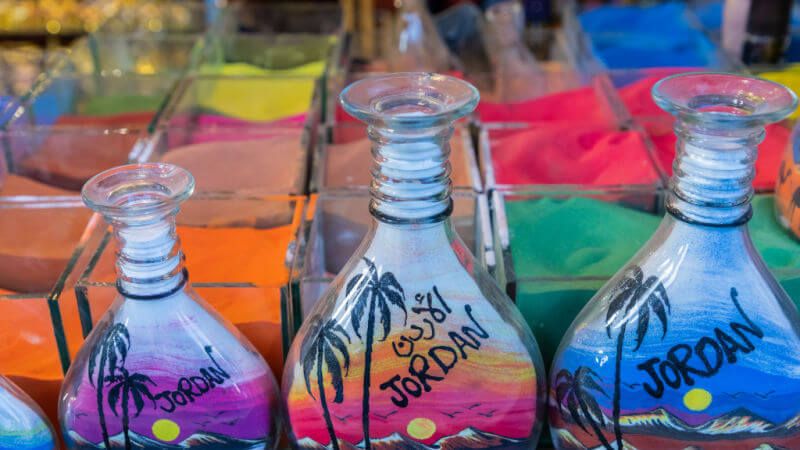 The majestic country of Jordan is brimmed with amazing experience for tourists from all over the world. From the delicious food to the beautiful souvenirs, Jordan is a fantastic place to visit. Here is a list of amazing things one can buy by enjoying shopping in Petra for a delightful experience.
Bedouin dresses
Perfumes and creams
Kajal or khol
Ceramics
Mosaic art
Sand art in a bottle
Camels & Aladdin Lamps
Dead Sea Products
1. Bedouin Dresses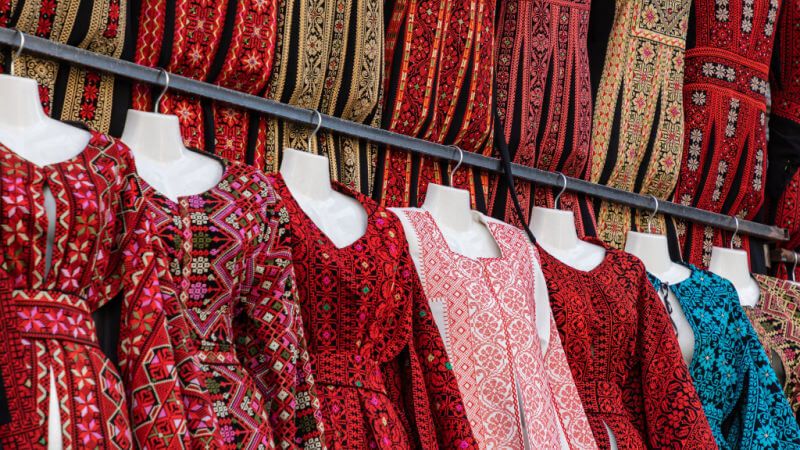 If you are on your shopping in Petra, Jordan and exploring the traditional markets, then Bedouin dresses will surely attract you. Worn by Bedouin women all over Petra and Wadi Rum, the beautifully sequenced black color long gowns with multicolored thread work and embroidery make them an ideal outfit. Tourists can shop these everywhere in the city from local markets to high-end showrooms.
2. Perfumes and Creams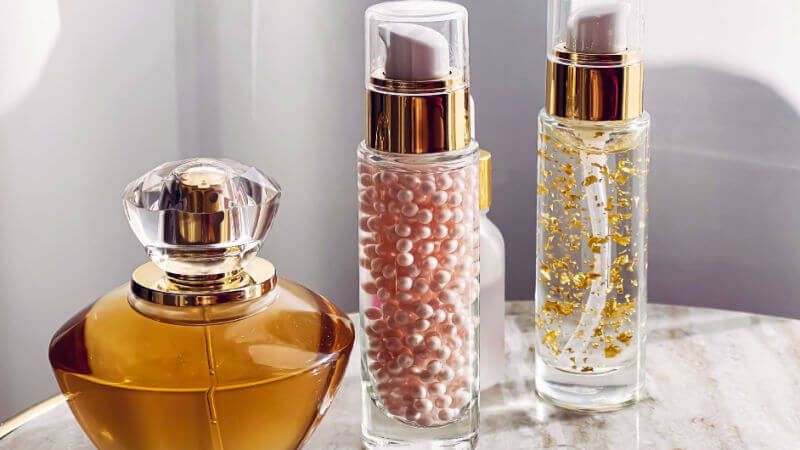 One of the best things to do in Jordan is to visit the local Souq and shop for the best perfumes and other skin care cosmetics. Famous for selling the finest skin and hair care products, the markets are brimmed with numerous options for tourists at a very reasonable price. One can also buy gift packs and baskets full of perfumes or attars for your loved ones. The old-time balms, colorful packages, and various fragrances attract numerous tourists.
3. Kajal or Kohl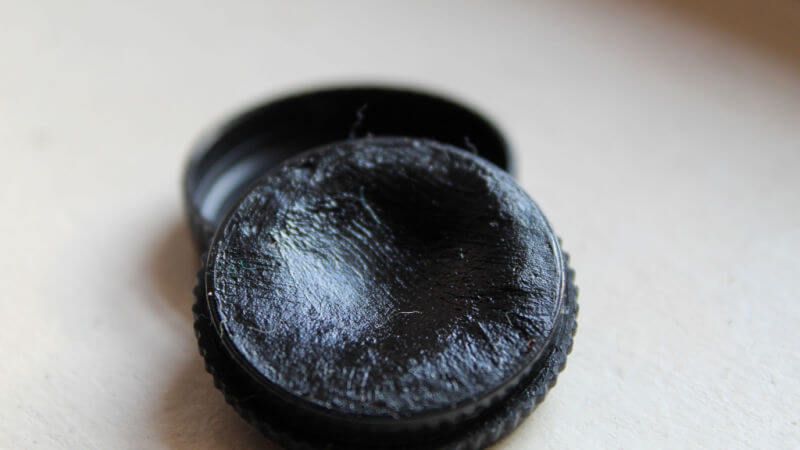 Who doesn't love applying kajal or kohl to make the eyes look bigger and more beautiful? Well, the shops in Petra have brimmed with traditional kajal made organically to soothe your eyes. Available in both traditional and high-end packaging, applying khol is an important part of many cultures. One can buy the finest quality, dark kohl for themselves and make it a part of their everyday makeover.
4. Ceramics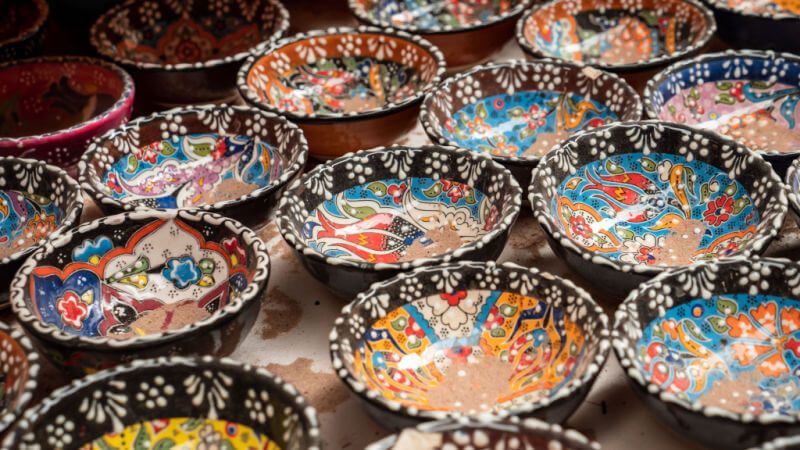 Do your love colorful ceramics? Found in numerous civilizations, ceramics are one of the best souvenirs one can find in the traditional markets of Petra. One can find many ceramics with numerous art forms, sceneries, and patters, depicting the rich culture of Jordan and the lifestyle of nomads near Petra. The colorful patterns made on different crockery including glasses, plates, soup cups, teapots, and more will add a special cultural touch to your dining table. One can also find beautiful table mats to add a magical touch to the whole setting.
5. Mosaic Art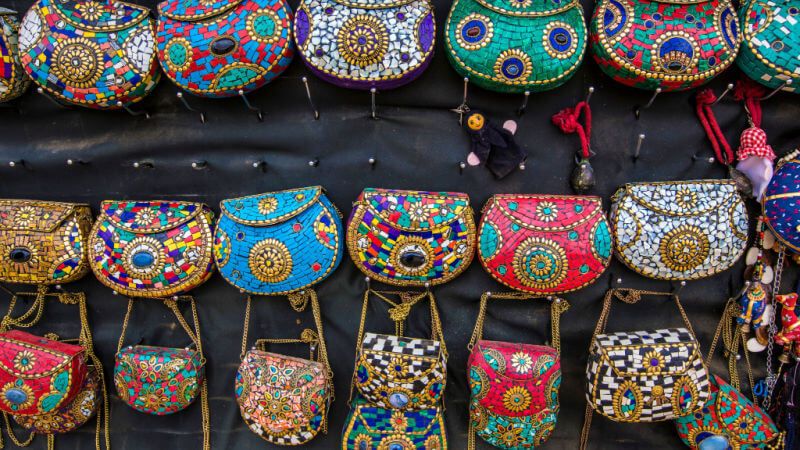 Created beautifully by arranging the small pieces of stones, one of the best things to buy from Jordan is the beautiful pieces of Mosaic artwork. One can stroll around the old markets and pick up the ancient mosaic works and the best ones from the Madaba near St George's Church. The mosaic paintings, tabletops, carpets, doormats, cups, bags, lamps, bookmarks, and pots are of the biggest attractions in Petra. This art makes Madaba one of the best places to visit in Petra.
6. Sand Art in a Bottle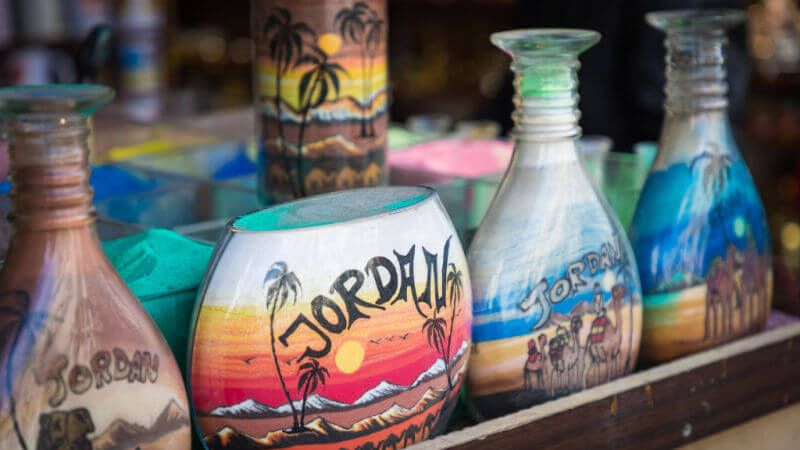 Sand art souvenirs can be widely seen on the streets and local markets of the mesmerizing city of Petra. Made from various colors and sand, this art is quite popular in Jordanian culture. The best part is tourists can choose the designs and get them made customized or even learn to make them on their own from artisans. The famous souvenirs include key chains, bottles, decors, and glasses.
7. Camels & Aladdin Lamps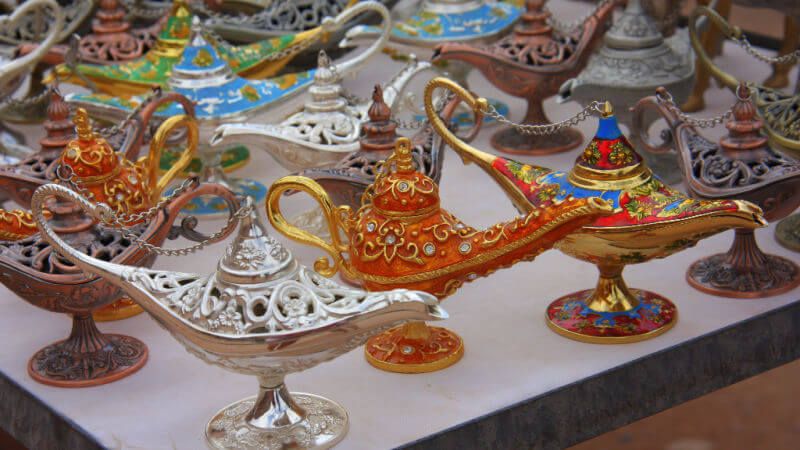 From small plastic toys to beautiful metallic camels, Jordan markets are full of gorgeous handicrafts and show pieces with a touch of class. Depicting the rich culture and heritage of the middle-east, the various handicrafts will give you a glimpse of ancient times and traditions. One can explore the various types of lamps according to their interests and the colorful ones with sparkles are the most attractive.
8. Dead Sea Products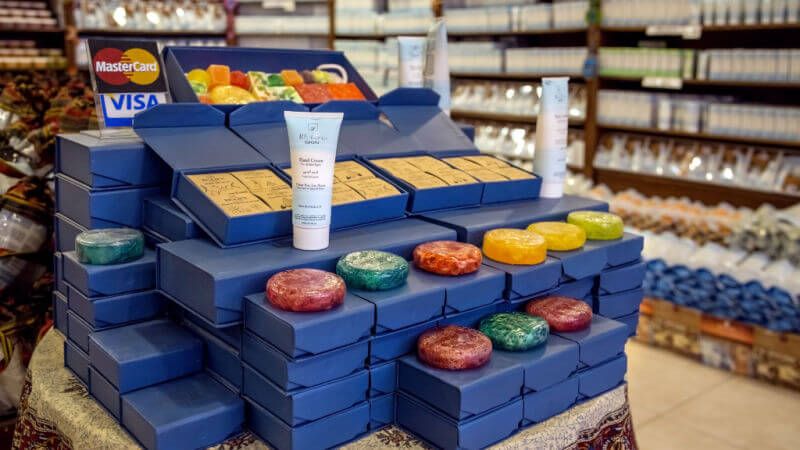 The Dead Sea is one of the best places to visit in Jordan. Considered to have healing properties, its sand is widely used to make cosmetics and skin care products. The salt, mud packs, mud soaps, body wash, and other organic products are made from the natural soothing mud of the sea. One can buy them to make their skin glow or gift them as hampers to their loved ones.
Where to Buy the Beautiful Souvenirs: Famous Markets in Petra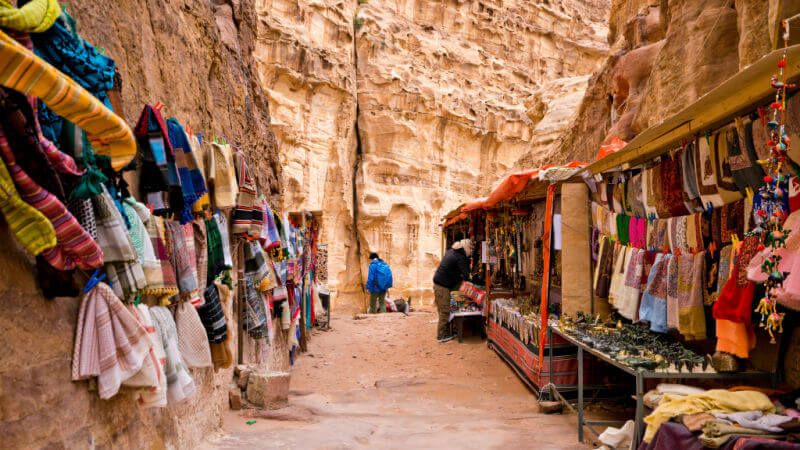 Here is a list of the best markets in Petra to make you shop for the best souvenirs.
Town Bazaar
Traditional Souq
Street markets
1. Town Bazaar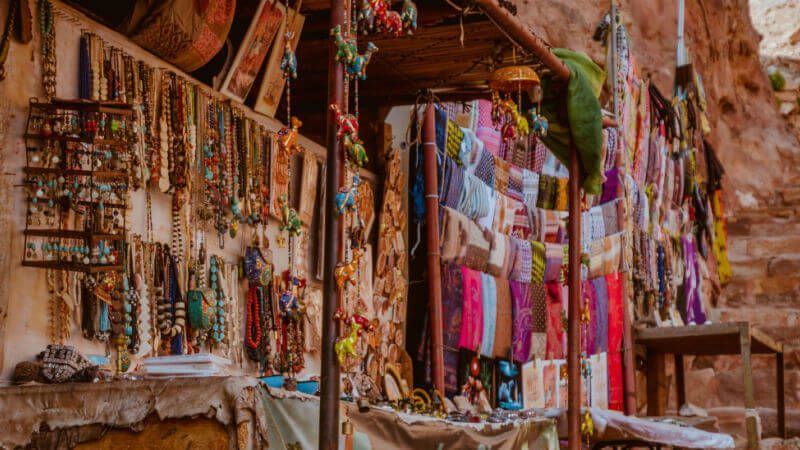 Shopping in Petra is incomplete without visiting the famous Town Bazaar. One can explore the beautiful handicrafts, home décor, perfumes or attars, scented candles, clothes, camel show pieces, lamps, carpets, mosaic arts, ceramics, table wares, artificial jewelry, tribal artworks, and more on your holiday in the ancient city. There are small traditional cafes and restaurants in Jordan nearby the market where tourists can satisfy their food hankerings by savoring the delicious cuisine.
2. Traditional Souq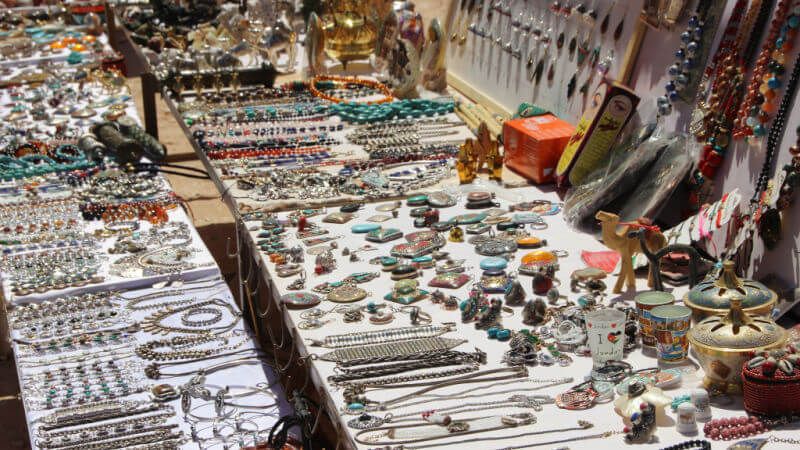 There are a few Souqs in Petra offering a plethora of fascinating items to satisfy your shopping spree. From traditional clothes, perfumes, handicrafts, home décor, skincare, jewelry, mats, pots, and mosaics, the markets also have many other options. There are many opulent cafes nearby where guests can taste the delicious beverages and food in Jordan.
3. Street Markets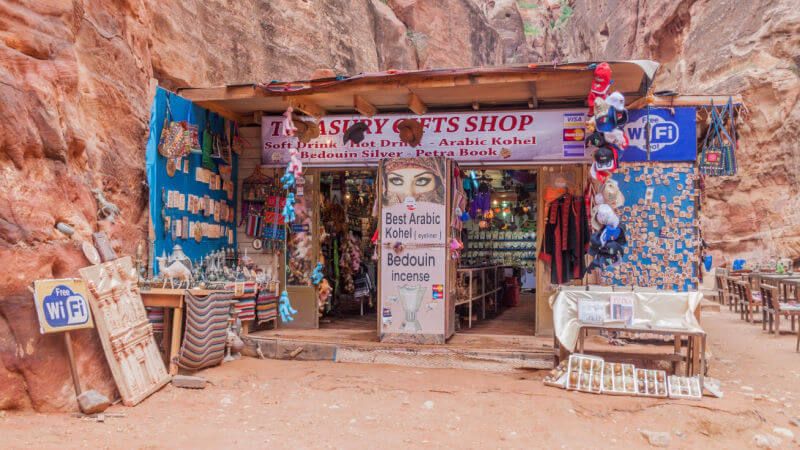 The best place to shop for real handmade artworks on a budget is the fascinating street markets in Petra. Brimmed with amazing Jordanian souvenirs, the markets feature sand art, mosaics, crockery, pots, and dry fruits for tourists to delve deep into the rich culture of the country.
The ancient site of Petra is famous for its rich culture and astounding timeless structures. But shopping and food are something that makes a holiday a perfect one. If you want to explore the rich culture of Jordan, go shopping in Petra. One can buy the best souvenirs from the ancient markets line lamps, carpets, tribal jewelry, perfumes, ceramics, mosaics, skin care cosmetics, and more for a fascinating holiday. One can book the best tour packages of Jordan to enjoy a blissful vacation amidst the classical beauty.
FAQs
Q1. What are the best things one can buy from Petra?
There are many things one can buy in Petra for a fascinating experience. It includes:
Bedouin dresses
Perfumes and creams
Ceramics
Mosaic art
Dead Sea products
Q2. What are the best markets in Petra?
Petra embraces a few marketplaces to make you enjoy a perfect shopping spree. One can find the best souvenirs from:
Town Bazaar
Traditional Souq
Street markets
Q3. What are the best places to visit in Jordan?
Here are some of the best places to visit in Jordan for a delightful vacation. It includes:
Petra
Amman
Wadi Rum
Aqaba
Jerash
Q4. What is the best time to visit Petra, Jordan?
Spring and autumn are considered the best time to visit Jordan. At this time, the weather is pleasant and ideal to explore the majestic grandeur of the city. The ancient structures will let you delve deep into the rich traditions.
Q5. How many days are enough to explore Petra, Jordan?
A total of 3 to 4 days is enough to explore the ancient structure of the city. One can stroll around and explore the mesmerizing structures, enjoy shopping for the best souvenirs, and savor delicious cuisines.
Q6. What are the best Dead Sea products one can buy from Petra, Jordan?
One can buy various things from the Dead Sea products including:
Face packs
Body washes
Body scrub
Sea salt
Mud soaps
Q7. What is the major international airport in Petra?
King Hussein International Airport is the closest airport to Petra. Connecting the city to the world, the airport is one of the busiest airports in the country.
Q8. What are the travel tips for Jordan?
Here are some useful travel tips for Jordan:
Respect the culture and traditions
Don't miss shopping and adventure activities
Do try the Jordanian cuisine
Carry your passport on public transport
Do try the Dead Sea products
---