There is always plenty to shop for wherever you go in Jordan, right from handmade handicrafts to all kinds of other goods. Jordan is filled with all kinds of shops selling hand-woven rugs and cushions, beautifully embroidered items and clothing, traditional pottery, glassware, silver jewelry embedded with semi-precious stones, Bedouin knives, and coffee pots, narghiles (hubble-bubble), marquetry work, antiques and other artefacts. The list of things to shop for is endless.
Explore the markets in the bigger towns and cities of Jordan as the treasure troves sold are a bit of out of the ordinary. Shopping in Jordan offers an unusual experience people will remember for a long time. So, when are you planning to take the time out to go shopping?
Treasure Troves To Buy From Shopping Places In Jordan
The latest fashions in Jewelry, clothing, accessories, leather and electronic goods are found in Amman and Aqaba, some of the shopping places in Jordan. Shop at some of the European and North American brand stores at Al- Wakalat Street. On the other hand, when it comes to looking for handicraft stores, coffee shops and lounges, one can visit Rainbow Street.
While shopping in the market, people will find a range of dead sea spa products.  What are you waiting for? Plan the ideal day for shopping. This is Jordan after all!
Ceramic or Handmade Mosaic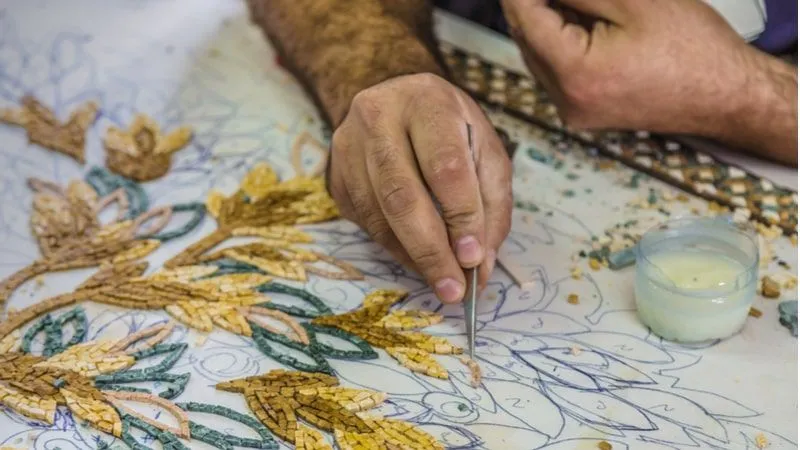 One of the Jordan shops found in Madaba sell old Jordanian mosaics, something people should not forget to explore. Some of the stunning Jordanian handicrafts in various shapes, drawings and forms are seen in Mosaic and decorative ceramics. If you like, the shopkeepers can design mosaics or ceramics as per their requirements. They can have their names carved into it. Buy some of these stunning handmade masterpieces that can be given as presents.
Are you eager to shop for old Jordanian mosaics? It does sound like something one can always decorate their homes with or give as presents. So? What are you waiting for?
Where can you buy ceramic or handmade mosaics?
You can find such things at any Jordan shop. It is one of the many treasure troves people should buy for themselves or as souvenirs.
Traditional Keffiyeh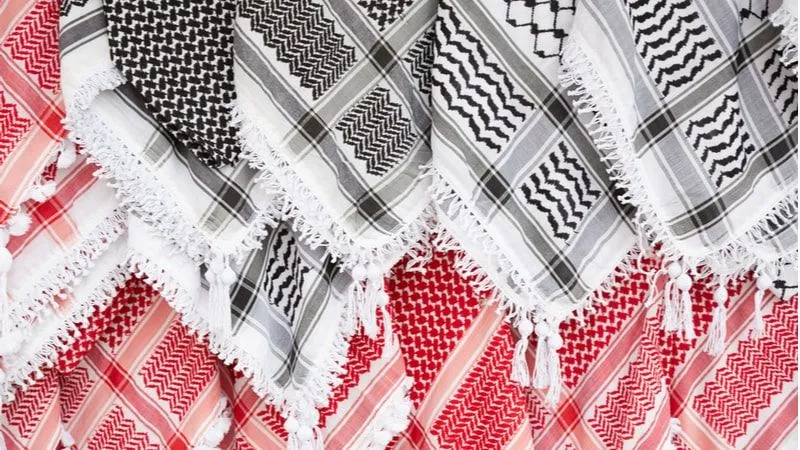 Some of the most popular Jordanian souvenirs are embroidered items and Bedouin weaves. Speaking of Bedouin weaves, have you ever heard of Keffiyeh? It is a traditional headscarf worn only by men. The Bedouins wore colors like red and white and the Palestinians wore black and white. The Jordan police forces are seen wearing it as well.
The traditional Keffiyeh is a symbol of the kingdom of Jordan and is wrapped around the head in a certain way. Tourists should buy one of each as they are sold at one of the most popular clothing stores in Jordan and of course, you will be given a lesson on how to wrap your head like a professional desert dweller.
Where can you buy traditional Keffiyeh?
People can buy the traditional Keffiyeh worn by Palestinians and Bedouins at a popular clothing store in Jordan.
Suggested Read: Nightlife in Amman: Enjoy a Blissful Time in the Glamorous Streets after Twilight
Jewelry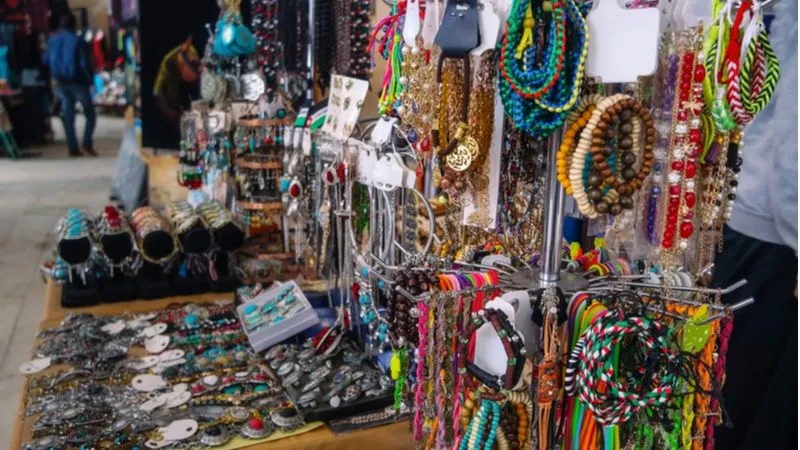 It is a tradition in almost every household to get jewelry given to their parents and grandparents by their previous generations. So, until today, Bedouin brides wore their personal wealth in silver jewelry and sustained the right throughout their married lives. Women have often considered owning jewelry a safety net for various personal reasons.
So, if you are interested in buying jewelry, one can always go to the souk in Downtown Amman, one of the many places to visit in Jordan. The souk in downtown Amman sells all kinds of modern jewelry. On the other hand, you can always request the Jordanian designers to make them a few handmade items, one often sees in craft shops imported from around the world.
Where can you buy jewelry?
Kayali Jewelry Sweifieh and Nadia Dajani Jewelry are some of the places where people can buy jewelry.
Chocolate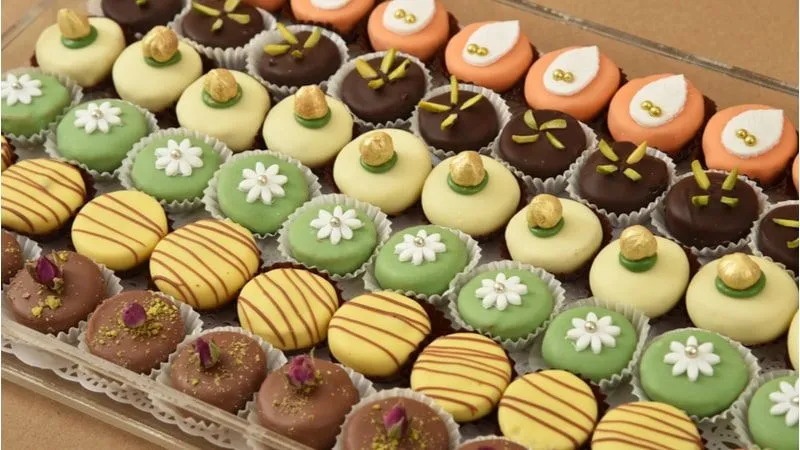 Have you ever stopped to think for once if we lived in a world without chocolate? Or have you asked yourself if you could live without eating chocolate for an entire year? I didn't think so. It is one of the many things people often crave every now and then. Well, what if I told you, one of the many things do in Jordan is to tuck into some of the finest hand-crafted chocolate?
Some of the companies in Jordan are known for their hand-crafted chocolates. The handmade chocolates reflect the local culture, which are created from local goat milk and yoghurt dried into hard cheese.  The chocolates are often made based on the current season and local produce.
Where can you buy chocolate?
Laderach Jordan and Le Roche Chocolate Sweifieh are shops in Jordan where you can buy chocolate.
Spices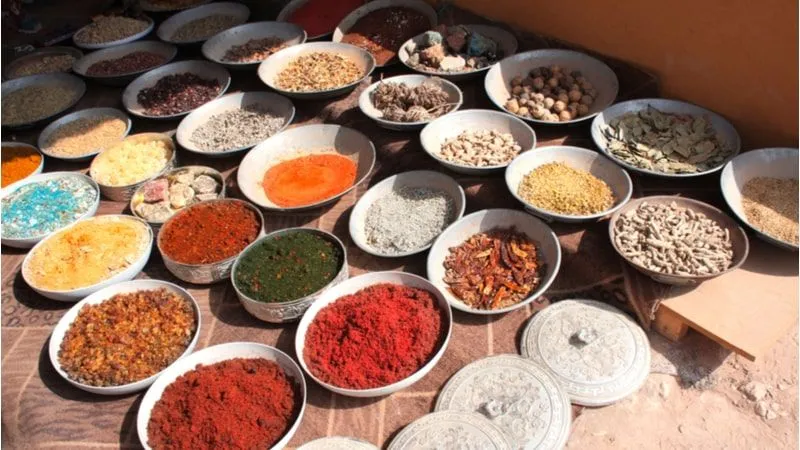 Have you ever gone shopping for spices in Jordan? Sumac and Za'atar are some of the most unique spices that bring out unique flavors of a dish. Sumac offers a lemony salty taste to a dish and Za'atar is basically thyme and sesame seeds. It is often suggested to get some finishing salt from the dead sea, which of course, can be used in cooking.
You can always buy a few spices from various marts and supermarkets including Kabatilo spice shop, some of the attractions in Jordan. Spices bring out various flavors and make each cuisine an absolute delight for every taste bud. So, when are you going to buy your spices?
Where can you buy spices?
Saffron Kingdom is the one place in Jordan where you can buy your spices.
Suggested Read: Top Places to Visit in Amman, Jordan: Discover the Majestic Splendor of the White City
Olive-oil soap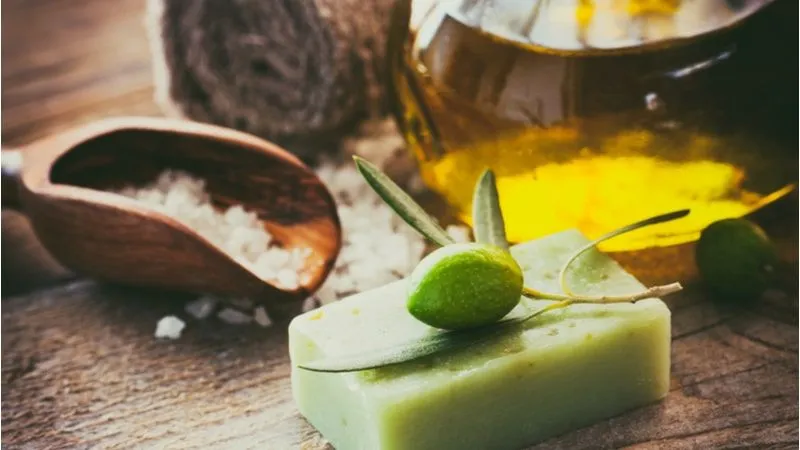 Have you ever heard of something called Olive- oil soap? Well, you are in for some fun facts about the soap. Jordan has some of the finest olive oils that are often used to make soaps and are found in Cozmo supermarkets like Dr. Mak.  The olive oil soap is bought in both bar and liquid form.
Did you Sitti and Zarqa are two companies that make soap designed and manufactured by local women? Interesting, isn't it?  It is not something people will find anywhere else.  So, when are you buying your bar of olive oil soap? It is an unusual product that people should buy while vacationing in Jordan.
Where can you buy olive-oil soap?
Jordan Gate Olive Oil Press and Ajloun Olive Oil Mill are the two places where one can go buy olive-oil soap.
Medjoul Dates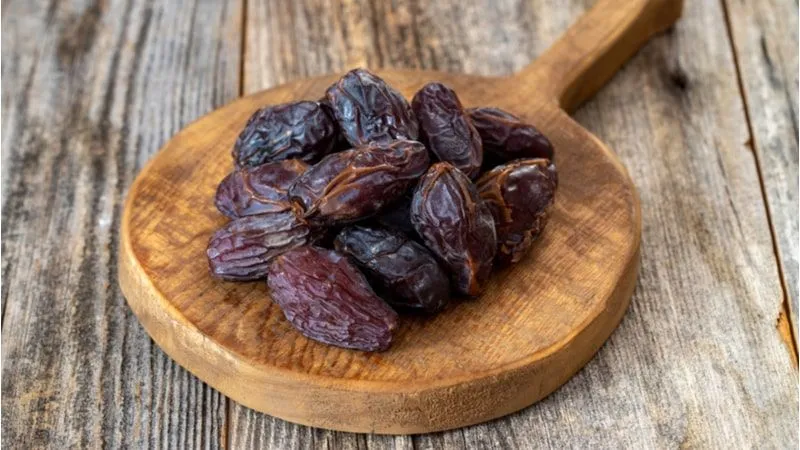 Have you ever had something called Medjoul dates? If you haven't given your taste a treat to the dates yet, then you should at least once. The dates are the one food that people come to the middle east to eat.  The huge, fleshy and sweet dates of Jordan are snacks that are often eaten at breakfast.
Most health freaks often eat these dates in the shakes and most like to have with their desserts. Dates are a stable diet in Jordan and most other places in the middle east. They are worth shopping for and of course tucking into.
Where can you buy Medjoul dates?
One can buy Medjoul dates from the Ajfan store in Jordan.
Suggested Read: Restaurants in Jordan: Enjoy The Cultural Delicacies
Nabulsi Konafa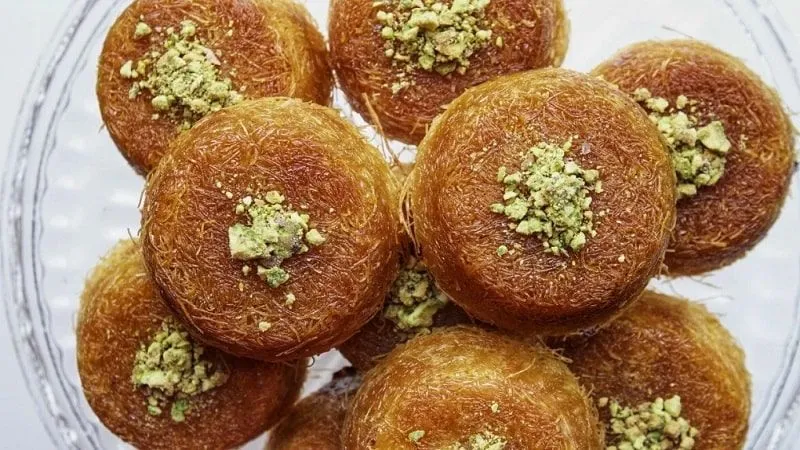 One the yummiest sweets you can try in Jordan is Nabulsi Konafa, a traditional middle eastern dessert made with thin noodle-like pastry. It includes all kinds of layers including cheese. After being cooked in the oven, hot water with sugar is added along with fruits or nuts on the top.
It is a desert people should tuck into and enjoy the taste while it lasts. So, when are you planning to treat yourself to this fine dessert? It is not a dessert to be missed. So, go ahead and give those taste buds a treat.
Where can you buy Nabulsi Konafa?
Habibah Sweets is the one place that sells Nabulsi Konafa.
Shopping is said to be one's stress buster and of course one of the best ways to shop for all kinds of new things. It is fun, especially in a country like Jordan. Shopping in Jordan is one of the most fun activities or things to do as it is a once in a lifetime experience. People can shop for all kinds of things and enjoy the experience of exploring the market. So, go ahead and make the trip worth it.
Are you planning a trip to Jordan? If you are, then don't forget to avail the Jordan holiday packages.
FAQs
Q1. What are some of the things to shop for in Jordan?
Ceramic or handmade mosaic, Traditional Keffiyeh, Jewelry, Chocolate, Spices and Olive-oil soap are some of the things to shop for in Jordan.
Q2. What is the best time to visit Jordan?
September To November is the best time to visit Jordan as the weather is pleasant and people can explore some of the most stunning attractions tucked away in each corner of Jordan.
Q3. How many days should one spend in Jordan?
People can spend 7 days in Jordan exploring every corner of the country. It is a once in a lifetime opportunity.
Q4. Where can one buy jewelry in Jordan?
Kayali Jewelry Sweifieh and Nadia Dajani Jewelry are some of the places where people can buy jewelry.
Q5. What is Jordan known for?
Jordan is known for its archaeological, religious and tourist attractions like Petra, Dead Sea, Wadi Rum and Jerash. People can enjoy the rich history and culture and have the best time of their lives.
Q6. Where can one buy chocolate in Jordan?
Laderach Jordan and Le Roche Chocolate Sweifieh are shops in Jordan where you can buy chocolate.
Q7. What are some of the most famous cuisines in Jordan?
Shawarma and Maqluba are the famous cuisines in Jordan people should eat at least once while vacationing in Jordan.
Q8. Is Jordan a safe country to visit?
Yes, Jordan is a safe country and a one- stop tourist destination, people should put on their bucket list of places to explore.
---