Jeddah, a historically rich city in Saudi Arabia is the gateway for pilgrimages to Mecca and Medina. The history of the country is deeply intertwined with this city because of the numerous historical sites present here. Even though this is a developed city, you'll still find strong traces of heritage and traditions here, from the traditional looking buildings to historical streets and alleyways. Therefore, it's important to embark on a Jeddah historical city tour to immerse yourself in the beauty of the places here from a different lens and acquaint yourself with the old-school charm of the attractions here.
Jeddah Historical City Tour: A Peak into the Historical Sites of this City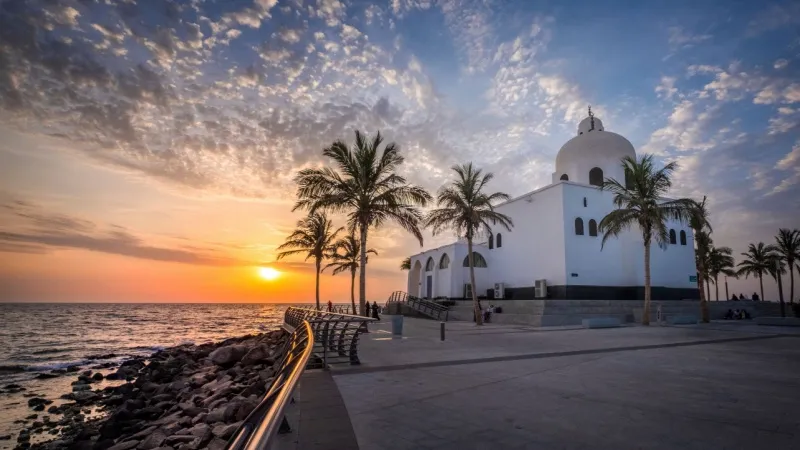 There's no dearth of historically significant tourist attractions in Jeddah. In fact, you'll come across several UNESCO World Heritage Sites that preserve the authenticity of these historical places. The best part of wandering around this city is the magnificent contrast of modern day and old era, which blends beautifully, almost like poetry. It's also Saudi Arabia's second largest city, which makes it imperative for you to explore the many attractions and things to do here. So, here are the historic places in Jeddah you should begin your tour with.
The Floating Mosque
Abdul Raouf Khalil Museum
Al-Farsi Mosque
Makkah Gate
Al Balad
Tayebat City Museum
Souk Al Alawi
Nassif House
1. The Floating Mosque: The Epitome of Spirituality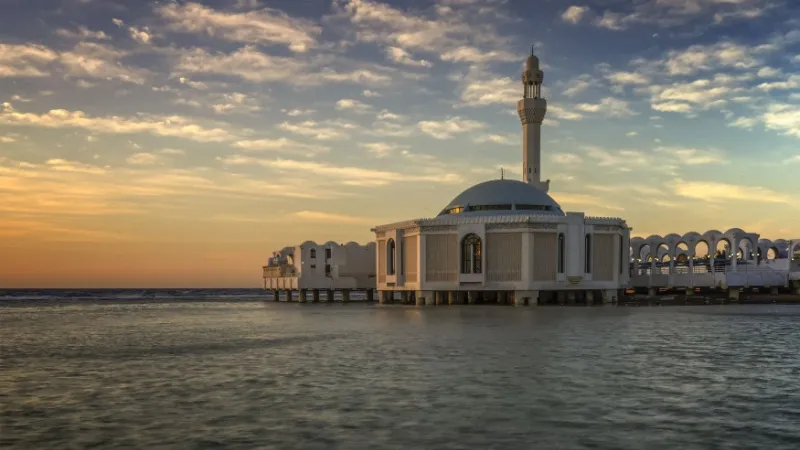 This Floating Mosque in Jeddah is more of an illusion of the eye because this mosque is standing in the middle of the water on stilts, which gives the illusion that it's floating over the water. This sacred Al Rahmah mosque is ideal for pilgrims to stop by on their way to perform Hajj or Umrah. It's an architectural marvel with Quranic verses carved on the windows in Arabic script.
Timings of the Floating Mosque: 4 P.M to 9 P.M
Location: J4X2+C9C, Ash Shati, Corniche Road, Al Shati District, Saudi Arabia
Nearby attractions: Makkah Province Corniche, Makkah Province Waterfront
Suggested Read: Mosques in Mecca: Express Your Gratitude to God for His Blessings
2. Abdul Raouf Khalil Museum: Delve into the Islamic Heritage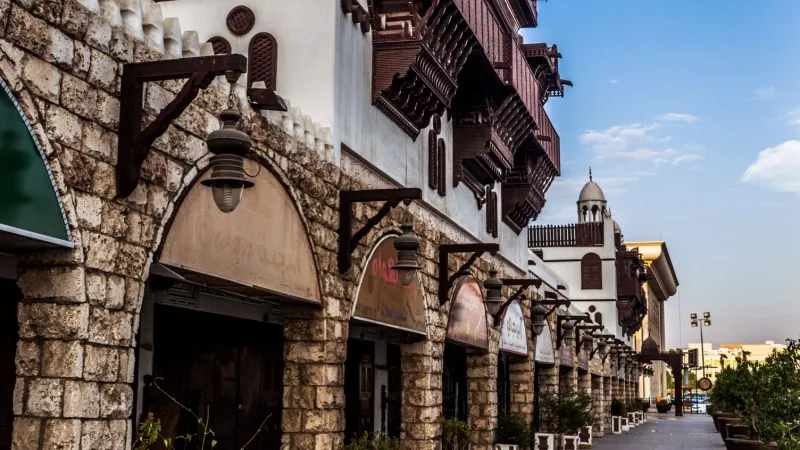 One of the reasons why this attraction should be on your Jeddah historical city tour list is because it preserves the Islamic heritage and exhibits it in a chronological order. You'll find artefacts dating back to over 2500 years and offers insight on the Ottoman Turks, local fishing tribes, and much more. It's quite a large museum spread across a vast area.
Timings of Abdul Raouf Khalil Museum: 9 A.M to 12 P.M and 5 P.M to 9 P.M, closed on Friday
Location: 3170 Raihanat Al Jazirah, Al Faisaliyyah, District, Jeddah 23442, Saudi Arabia
Nearby attractions: Prince Majid Park, King Fahd's Fountain
Suggested Read: Historical Places to Visit in Saudi Arabia: Diving Deeper into the History and Heritage
3. Al-Farsi Mosque: A Marvel to Behold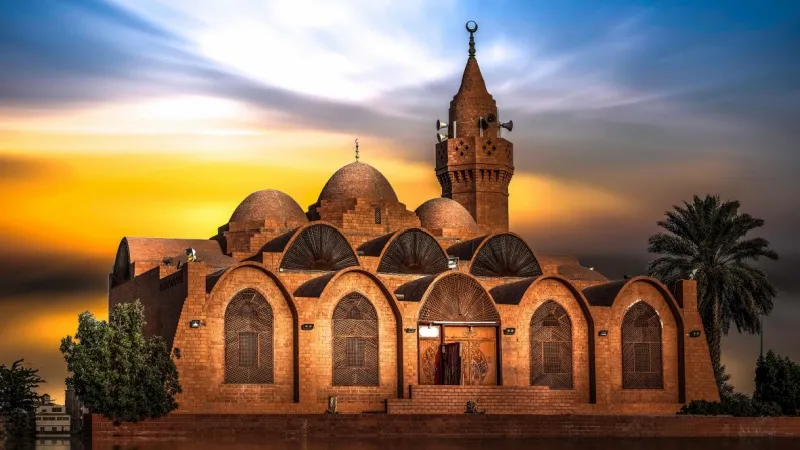 This mosque is a testament to modern architecture with contemporary ideas paired with ancient Islamic structural designs. It's without a doubt, one of the most aesthetic mosques in Saudi Arabia and exudes a sense of peace and calm. The indoor lighting and temperature of this mosque takes help of the environment around it, which is another unique aspect of this tourist attraction. You can visit this place to pray and revel in its soothing aura.
Timings of Al-Farsi Mosque: 4 A.M to 10 P.M
Location: 3177 Al Corniche Barr Road, Al-Baghdadiyah Al-Gharbiyah, 7204, Jeddah 22231, Saudi Arabia
Nearby attractions: Jaffali Mosque, Hassan Enany Mosque
4. Makkah Gate: One of the Popular Historical Places in Jeddah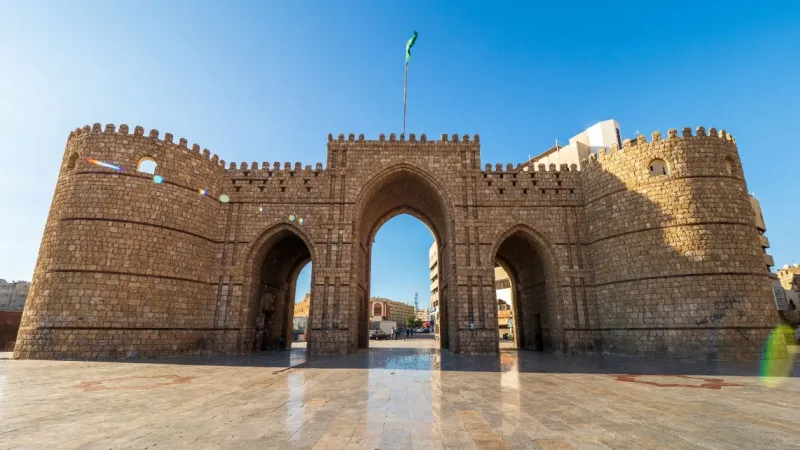 One of the places to visit in Jeddah that you can't miss out on is visiting the Makkah Gate or Baab Makkah, which used to be the entry to Makkah. The lush greenery and gorgeous views from here are perfect for tourists to enjoy their time here while also learning the historical significance of this place. At night, the gate is illuminated with lights, adding a more festive vibe to it.
Makkah Gate location: Baab Makkah Jeddah, Old Makkah Road, Jeddah Saudi Arabia
Nearby attractions: Al Rahma Mosque, King Fahd Fountain
Suggested Read: Museums in Makkah: Experience The History Of The City
5. Al Balad: The Historic Center of Jeddah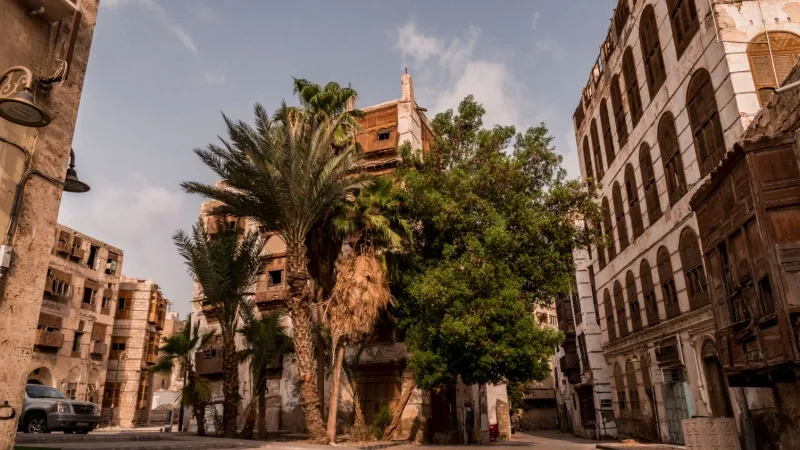 Since this town is a Jeddah historical district, it's a must that you visit this area and immerse yourself in its heritage and traditions. The charming alleys and labyrinth of streets here are full of vibrant souks. In fact, this town has become a UNESCO World Heritage Site because of its preservation of history and past civilizations, which is evident as you wander around the lanes here.
Al Balad location: Al-Balad, Jeddah Saudi Arabia
Nearby attractions: Makkah Gate, Qabel Trail
6. Tayebat City Museum: A Peek into Jeddah's Past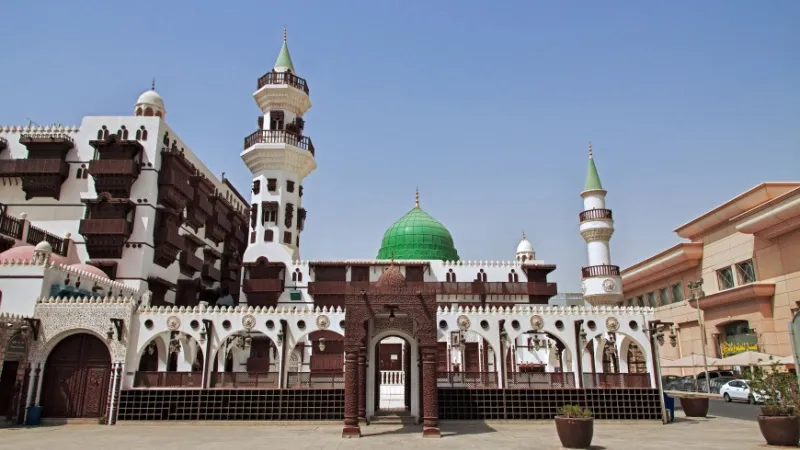 Al Tayebat International City Museum is one of the most spectacular museums in Jeddah, which incorporates the traditional Hijazi architecture with coral masonry, intricate wooden lattice work, and much more. It's the best place to indulge in a history lesson as there are more than 60,000 artefacts, including manuscripts, ancient coins, etc. here detailing the past of this city.
Timings of Tayebat City Museum: 9 A.M to 12 P.M and 5 P.M to 9 P.M, closed on Friday
Location: 3170 Raihanat Al Jazirah, Al Faisaliyyah, District, Jeddah 23442, Saudi Arabia
Nearby attractions: Abdul Raouf Khalil Museum, Aziz Mall Jeddah
Suggested Read: Museums in Saudi Arabia: Delve in the Rich Cultural Heritage of Middle Eastern Delight
7. Souq Al Alawi: Experience the Old Jeddah City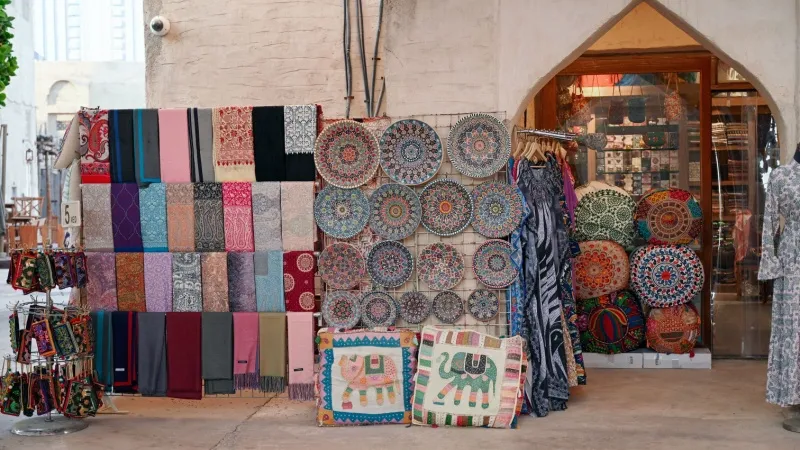 As you visit Al Balad and wander the vintage streets, you must explore the Alawi souq or market as well because it holds the essence of this city. The bustling atmosphere here with locals and tourists bargaining for prices and buying exotic items would leave you awestruck. You can buy antiques, spices, jewelry, and much more. There are traditional Hijazi clothes as well for you to try. Shopping in Jeddah becomes a lot more exciting once you start exploring this place.
Timings of Souq Al Alawi: 8 A.M to 1 P.M and 5 P.M to 9 P.M
Location: Souq Al Alawi, Jeddah
Nearby attractions: Nassif House, Old Jeddah
Also Read: Traditional Things To Buy While Shopping in Saudi Arabia
8. Nassif House: A Historical Museum and Culture Center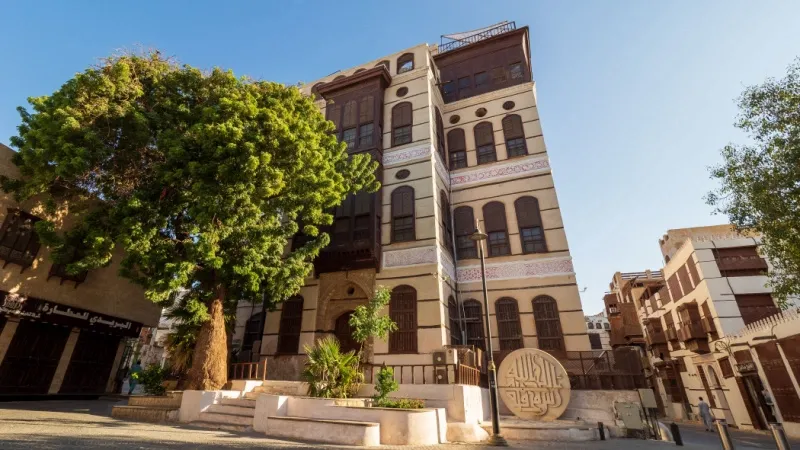 Nassif House or Beit Nassif House Museum is the last tourist attraction on our list, which is quite significant historically as it was built in the late 1800s. Earlier a location for organizing gatherings for elite people, this museum now houses Arabic calligraphy and art works representing Islamic history at its best. There are 106 rooms here full of this country's past glory.
Timings of Nassif House: 8 A.M to 11:55 P.M
Location: F5MQ+J2Q, Al Dhahab, Al-Balad, Jeddah 22236, Saudi Arabia
Nearby attractions: Jaffali Mosque, Al Ma'amar Mosque
Suggested Read: Things To Do In Jeddah: Top Activities For Your To-Do-List
Additional Information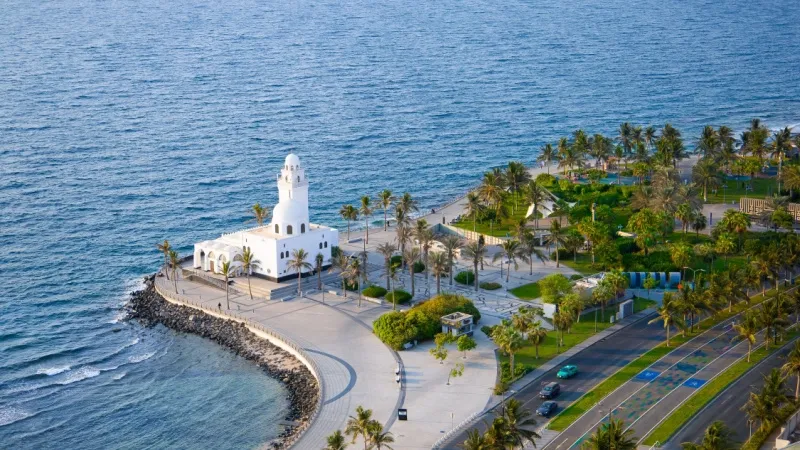 Here are a few more things you must keep in mind when planning a trip to Jeddah.
Best time to visit Jeddah: November to February is the perfect time to visit this historic city in Saudi Arabia as the temperature's average and the weather's pleasant.
How to reach Jeddah: You must take a flight to King Abdulaziz International Airport and then take a cab from there to the city center. The city is around 24 km away from the airport, so it'll take you around 25 minutes to reach there.
Your Jeddah Historical City Tour comes to an end here; however, there are several more places in this city rich in heritage and culture. You can explore numerous historic attractions here, but the ones mentioned above are a must-visit. They'll show you the historically rich side of this city at its finest and will acquaint you with the essence behind this destination's attractions and activities. Strolling around the city's alleyways and lanes is the perfect way to immerse yourself fully in Jeddah's past. So, book our Jeddah tour packages for a walk down the bygone era.
FAQs for Jeddah Historical City Tour
Q1. What is the historic town in Jeddah?
Al Balad is the historic town in Jeddah and is also a UNESCO World Heritage Site. This area preserves the essence of past civilizations and the city's history till today.
Q2. What was Jeddah famous for in the past?
Jeddah was famous for being a major port for the Indian Ocean trade routes. It was also the gateway to Makkah for pilgrims traveling through the sea route.
Q3. What is the oldest house in Jeddah?
Nassif House is one of the oldest houses in Jeddah as it dates back to the 1800s and has now been turned into a museum for Arabic calligraphy and artwork. It's a must-visit attraction in the city.
Q4. What is unique about Jeddah?
Jeddah's uniqueness stems from its historic tourist attractions, such as King Fahd Fountain, Al Farsi Mosque, Al Balad, the Floating Mosque, and so on. These tourist spots are what attract several tourists to this city every year.
Q5. What are the Islamic historical places in Jeddah?
There are several Islamic historical places in Jeddah, but some of the best ones are Al Balad, the Floating Mosque, Al Alawi Souq, Tayebat City Museum, and many more. These attractions are what make this city historically significant.
Q6. What is famous in Jeddah to buy?
Since Jeddah is a city rich in heritage and history, the souks here also sell items that reflect the city's past. From antiques and traditional clothes to spices, etc., you'll have a variety of options to choose from.
Q7. How many days are enough in Jeddah?
2 to 3 days are ideal for a visit to this city in Saudi Arabia as you'll have plenty of time to explore the tourist spots. You can also immerse yourself in the historic essence of this city.
Q8. Is Jeddah good for tourists?
Yes, Jeddah is an excellent destination for tourists because of its focus on the safety and security of the visitors. It's also a perfect place to embark on a spiritual journey or to explore the historic aspect of the city.
---