In the heart of the Indian Ocean, where the turquoise waters meet the powder-soft white sands, lies a paradise like no other – the Maldives. Nature's beauty is matched only by the culinary artistry of the world-class restaurants in Maldives. From overwater dining with mesmerizing sunset views to gourmet experiences that take you beneath the waves, the Maldives offers a culinary journey as breathtaking as its surroundings. Join us as we embark on a gastronomic adventure through the Maldives, where dining is not just a meal; it's an experience that indulges your senses in the lap of tropical luxury.
Top 10 Restaurants in Maldives: Where Waves Meet Classic Flavors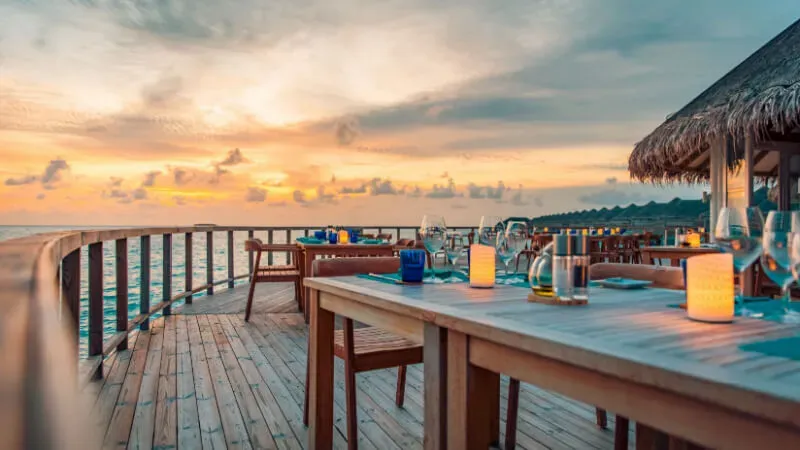 The Maldives, a constellation of coral islands in the vast Indian Ocean, has long been praised for its unrivaled beauty, where the ocean stretches as far as the eye can see. Amid this natural wonderland, an array of enchanting restaurants in Maldives awaits the discerning traveler. Whether you're craving the freshest seafood served on pristine beaches, or you prefer the thrill of dining underwater surrounded by vibrant marine life, the Maldives offers a dining experience like no other. Let's embark on a culinary expedition through this tropical paradise, discovering the diverse flavors and dining experiences.
Reethi Restaurant
Pebbles
The Market
Maaniya Restaurant
The Spice
Hot Rock
Ithaa Undersea Restaurant
Sea Fire Salt
Terra
Thila by Kurumba
1. Reethi Restaurant: Seaside Dining at its Finest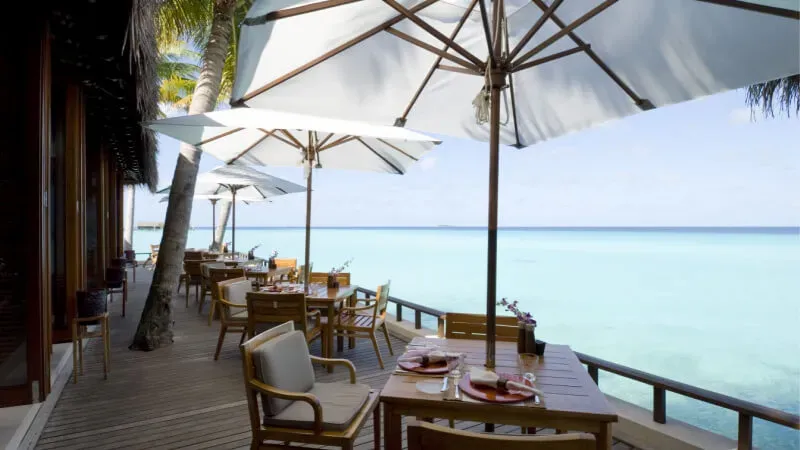 Located on Reethi Beach, this restaurant offers an exquisite beachfront experience for dining in Maldives. Enjoy freshly caught seafood and international cuisine as the waves gently lap the shore. Reethi is famous for serving a huge range of breakfast dishes on the gorgeous over-water veranda and when the sun goes down, it turns out to be a colorful theater of food. One may savor the flavors of Indian curries as well as cuisines of Thailand. The authentic recipes of Reethi, and the dishes cooked with traditional techniques make it one of the best restaurants in Maldives.
Location: Maldives
Opening Hours:
Breakfast: 7 am to 11 am
Dinner: 7 pm to 10 pm
Cuisines: Pan-Asian, modern European
Note: Reserve table in advance, smoking in this restaurant is strictly prohibited.
2. Pebbles by Royal: Elevate Your Palate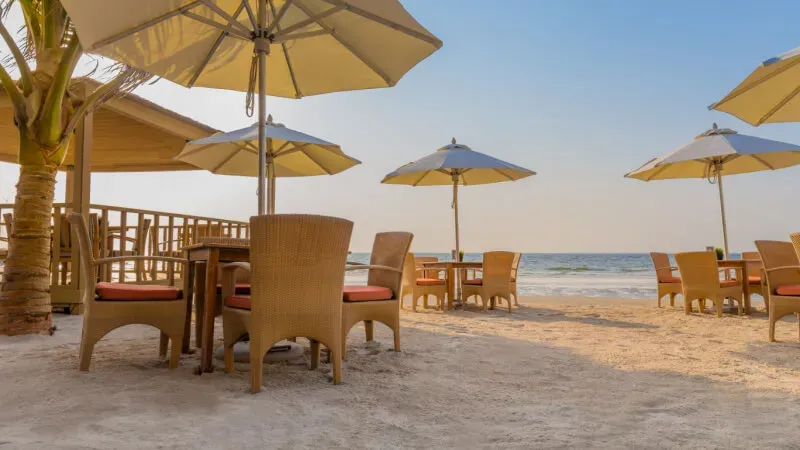 Pebbles By Royal, situated at the Royal Island Resort, is probably the biggest restaurant that boasts panoramic ocean vistas and a menu filled with culinary wonders. If you are looking for an Asian fusion and Mediterranean flavors, this gem offers a delightful blend of food in Maldives. Whether you're craving a taste of the East or a journey through Mediterranean cuisine, Pebbles by Royal will surely satisfy your palate. Among the best places to eat in Maldives, the Pebbles serves plates amidst the sea breeze to create a dining experience that's truly royal. You may choose the sitting wither indoor or outdoor as per your choice.
Location: Dhadimagu, Maldives, Genmiskih Magu, Fuvahmulah 18018, Maldives
Opening Hours: 9 am to 12 am
Cuisines: Asian fusion, and Mediterranean
Note: Book table in advance
Suggested Read: Hard Rock Café Maldives: A Musical Symphony of Scenic Views and Delish Food
3. The Market: A Culinary Journey with Each Bite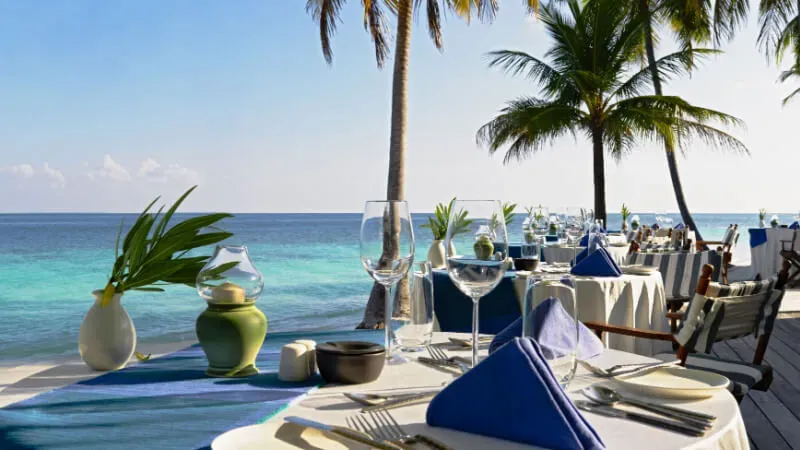 Found at the Dusit Thani Maldives, The Market is a culinary haven and among the top restaurnts in Maldives. This restaurant showcases a diverse selection of buffet and à la carte options, offering everything from Maldivian specialties to international favorites. At this honeymoon places in Maldives, you can dine under the open sky, adding a touch of romance to your meal. The Market caters to a wide range of tastes, making it a delightful choice for travelers seeking variety and an enjoyable dining experience in the Maldives.
Location: 634M+6RG Dusit Thani, 06180, Maldives
Opening Hours: Everyday- 7 to 11 am, and 6:30 to 10 pm
Cuisines: International and Maldivian Cuisine
Note: Come in smart casuals, book table in advance
Suggested Read: Honeymoon in Malé: Ideal Destination to Create the Forever Bond
4. Maaniya Restaurant: Savor the World on Your Plate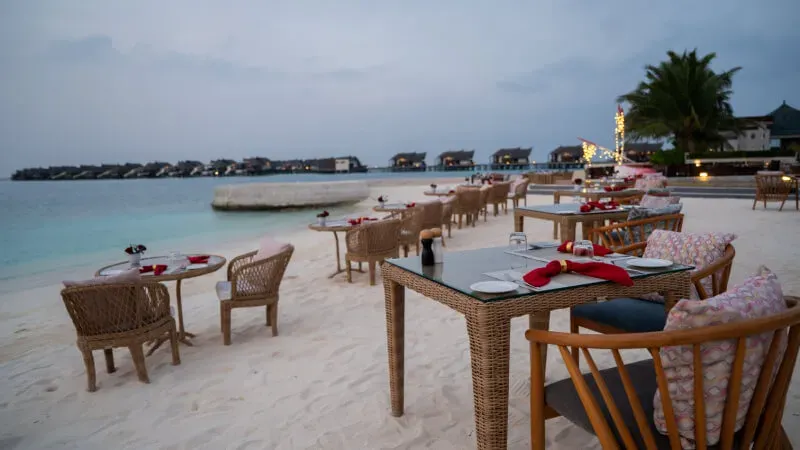 At Villa Park Sun Island Resort in Nalaguraidhoo, Maaniya Restaurant takes your taste buds on a journey with its fusion of flavors. This beachfront restaurant in Maldives is a paradise for seafood enthusiasts, offering a delectable selection of fresh catches and international cuisine. With its inviting ambiance and attentive service, this restaurant in Maldives transforms every meal into a memorable experience. Whether you're a fan of local delicacies or international dishes, this restaurant has something to satisfy every palate.
Location: Nalaguraidhoo, Maldives
Opening Hours:
Breakfast - 7:30 am to 10 am
Lunch - 12:30 pm to 2 pm
Dinner - 6:45 pm to 9 pm
Cuisines: Seafood and Maldivian cuisines
5. The Spice: Savor an Explosion of Flavors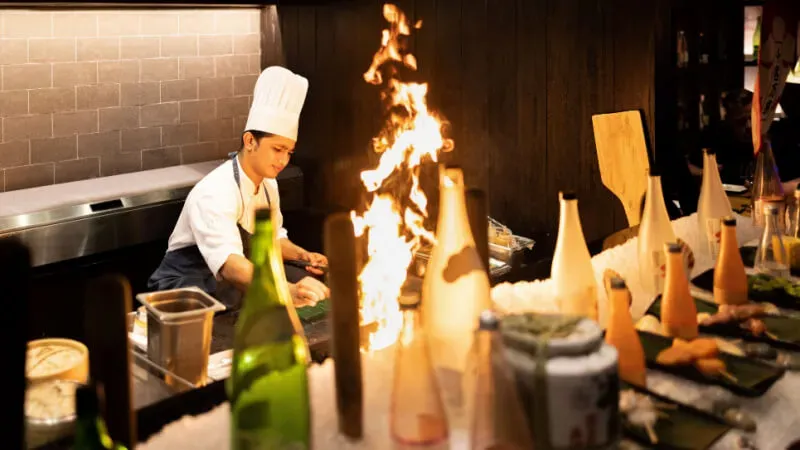 Nestled within Atmosphere Kanifushi Maldives, The Spice restaurant offers a vibrant blend of Indian and Asian culinary delights. With savory flavors and a setting that provides scenic ocean views, dining here is an immersive experience and among the most tempting things to do in Maldives. You can savor an array of delectable dishes in a relaxed and inviting environment. The Spice tantalizes your senses with a burst of aromatic spices of India and captivating ocean vistas, making it of of the must-visit Indian restaurants in Maldives for food enthusiasts seeking a memorable dining adventure.
Location: Atmosphere Kanifushi Maldives, Kanifushi Island, Lhaviyani Atoll, Maafilaafushi, Maldives
Opening Hours:
Breakfast: 7 am to 10:30 am
Lunch: 12 pm to 2:30 pm
Dinner: 7 pm to 10 pm
Cuisines: Asian, European, and Maldivian
Note: Theme-nights throughout the week, special Gala Dinners and events for the Festive Holiday seasons
Suggested Read: Beaches in Maldives For A Sun-Kissed Vacation
6. Hot Rock: Cook Your Way to Delight
Hot Rock in Meeru Maldives Resort Island presents one-of-a-kind restaurants in Maldives that provides a dining concept like no other. Yes, apart from enjoying the thrilling water sports and basking on the sun-kissed beaches, you have the opportunity to cook your own meal on sizzling hot stones right at your table. This interactive experience elevates your dining adventure, allowing you to enjoy your food exactly how you like it. With mesmerizing ocean views and the sizzle of your meal on the hot stone, Hot Rock is among the best places to visit in Maldives for dining adventure.
Location: FP39+884, Dhiffushi, Maldives
Opening Hours: 11 am to 6 pm, and Dinner- 7 pm to 10 pm
Cuisines: Italian, Maldivian
Note: Try Hot Rock Grilling, Inform any specific instruction for cooking in advance
Suggested Read: Shopping In the Maldives: Explore The Hidden Treasures
7. Ithaa Undersea Restaurant: Dine with the Aquatic Wonders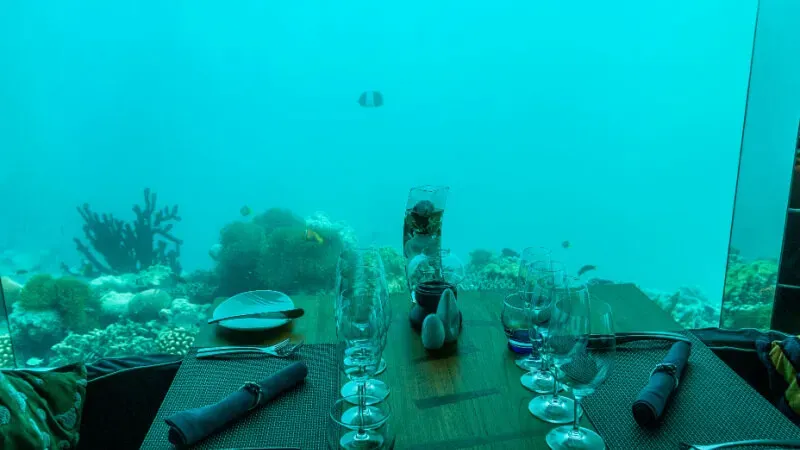 Located at Conrad Maldives Resorts, Ithaa Undersea Restaurant is an extraordinary underwater restaurant in Maldives and famed as first in the line. This dining experience lets you feast on gourmet dishes while being surrounded by the stunning marine life of the Indian Ocean. With its glass walls offering breathtaking views, you'll dine submerged beneath the waves, creating a memorable and surreal experience. Muraka is not just a restaurant; it's a window to the hidden wonders of the Maldivian sea.
Location: Conrad Rangali Island 20077, Maldives
Opening Hours:
Lunch: 11 am to 2:30 pm
Dinner: 6:30 pm to 10:30 pm
Cuisines: European, Seafood, Oriental
Note: Try resort's culinary highlight "Maldivian Lobster Dinner" on Wednesday
8. Sea Fire Salt at Anantara Dhigu: Sunset, Seafood, and Cherished Memories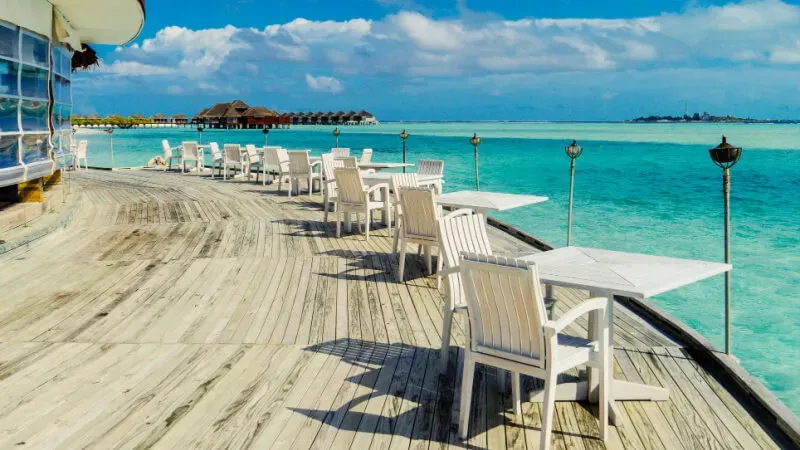 Sea Fire Salt at Anantara Dhigu Maldives Resort is a gourmet seafood grill that redefines oceanfront dining. Set against a backdrop of the Indian Ocean, this restaurant serves the freshest seafood and succulent steaks. Each dish is a work of art, blending flavors and presentation into a mesmerizing experience. With a touch of luxury and a dash of romance, Sea Fire Salt is perfect for couples seeking an unforgettable dining experience on the islands in Maldives.
Location: XGF2+5GC, Anantara Dhigu, Gulhi, Maldives
Opening Hours:
Lunch: 12.30 noon – 2.30 pm
Dinner: 6.30 pm – 10.00 pm
Cuisines: Seafood
Suggested Read: Places to Visit in Male: Explore this Pleasureful Island for a Marvelous Experience
9. Terra at Waldorf Astoria: Elevate Your Dining Experience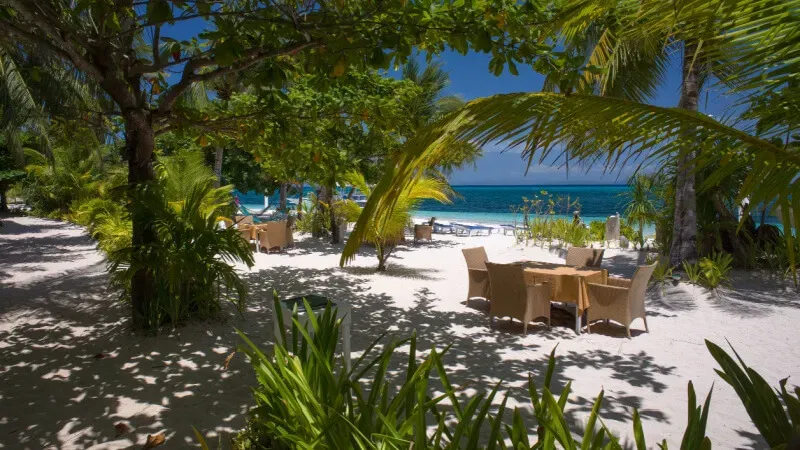 Waldorf Astoria Maldives Ithaafushi presents Terra, a treetop dining experience that takes your breath away. Dining amidst the treetops, surrounded by lush greenery, is an adventure in itself when you are exploring one of the most fascinating restaurants in Maldives. Savor fine wines and indulge in a gourmet menu with diverse flavors. Terra offers a culinary journey that perfectly complements the natural beauty of the Maldives. It's an exquisite escape for those who seek a unique dining setting to accompany their world-class meal.
Location: Ithaafushi Island Male, 20009, Maldives
Opening Hours: 7 am to 10:30 pm
Cuisines: Austrian, Contemporary, Laotian, Mexican, Sushi, Tunisian
Suggested Read: Top Things to Do in Male: Enjoying an Enthusiastic Holiday in the Vibrant City
10. Thila by Kurumba: Where Freshness Meets Flavor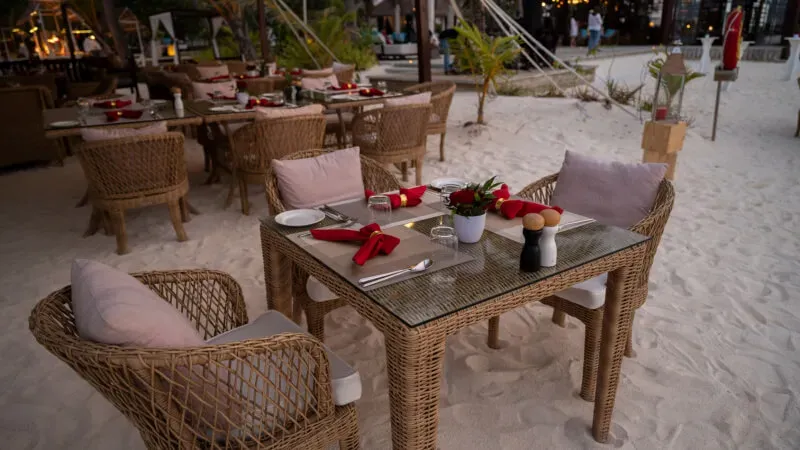 Thila restaurant at Kurumba Maldives serves as a culinary bridge between international and local flavors. Here, you can relish a blend of dishes, from fresh seafood to global delights, all served in a relaxed and inviting setting. The open-air ambiance, live music and the soft sea breeze add to the charm of this gorgeous restaurant in Maldives. Enjoy the captivating setting and live performances under the star canopy specially during the special occasions like new year in Maldives. Whether you're craving a taste of the Maldivian culture or international dishes, Thila promises a delightful dining experience that caters to a wide range of tastes.
Location: 6GGC+HGQ, Vihamanaafushi, Maldives
Opening Hours: 7am to 11 am, and 7 pm to 9:30 pm
Cuisines: Seafood, European, International, Grill, Contemporary
Suggested Read: Top Restaurants in Sri Lanka: Delight in the Best Culinary Experience
In the Maldives, dining isn't just about satisfying your hunger; it's about creating unforgettable memories. Each of these restaurants in Maldives add a unique touch to your island adventure. These Maldives' restaurants guarantee your trip to this tropical paradise an all-encompassing sensory delight. So, whether you are on a family tour, group tour or on your romantic honeymoon, don't miss out on dining at one of these culinary havens. Take advantage of one of the most tempting Maldives honeymoons packages and embark on a romantic dinner that these restaurants arrange for their guests.
Restaurants in Maldives FAQs
Q1. What are the top 5 restaurants in Maldives?
The top 5 restaurants in Maldives are:
Reethi Restaurant
Pebbles By Royal
The Market
Maaniya Restaurant
The Spice
Q2. What are the top underwater restaurants in Maldives?
The best underwater restaurants in Maldives are:
Ithaa Undersea Restaurant
SEA
Minus Six Meters
Subsix
5.8 Undersea Restaurant
Q3. What cuisines we can have in Maldives' restaurants?
The Restaurants in Maldives serve Indian, International, Continental, and authentic Maldivian cuisines.
Q4. What is the cost of food in Maldives restaurants?
The cost of food at the restaurants in Maldives may vary depending on how much luxurious the place is. The price ranges from $20 to $100.
Q5. What is the famous food of the Maldives?
The list of famous foods in Maldives is very big but here are a few of them:
Garudhiya (Fish Soup)
Mas Huni (Shredded Smoked Tuna)
Masroshi (Tuna Stuffed Chapati)
Bis Keemiya (Samosa)
Boshi Mashuni (Banana Flower Salad)
Fried Yams
Maldivian Live Lobster
Saagu Bondibai (Sago Pudding)
Q6. Is Indian food available in Maldives?
Most of the resorts on private islands in Maldives have at least 3 to 4 restaurants and all of them surely serve Indian food. In few of the resorts, you will find a purely dedicated Indian restaurant.
Q7. Do we need to book table in Maldivian restaurants in advance?
Yes, one must book their table in advance for a wonderful experience. Maldives is one of the most favorite destinations for tourists, and most of the restaurants are always stay packed.
Q8. Can we get vegetarian food in Maldives?
Maldives is an island country and thus sea food, fish and coconut is primary staple here but don't worry you may get vegetarian food here as well.
Q9. What are the best vegetarian restaurants in Maldives?
Maldives boasts few of the best vegetarian restaurants as well. For your convenience, few of them are listed below:
Bombay Darbar
Just Veg by Atmosphere
Tandoori Flames
Calorie Counter
Baraabaru
Q10. What are the travel tips for Maldives?
Some of the most recommended travel tips for Maldives are:
Dress modestly and comfortably
Respect the local customs and traditions
Ask before taking pictures of locals
Use sun protection for tropical heat
Be sensitive towards aquatic creatures
---