Choosing where to celebrate is never easy, in a world so big there are plenty of options to discover exotic places and discover diversified culture and traditions, Beauty of a few destinations are so unrealistic that you have to take the firsthand experience to believe the existence. Maldives is that one place that would make you believe in the make beliefs. The destination is all about romantic rendezvous with the hypnotizing picturesque beauty and luxurious staycations. Unfathomable white sandy beaches fringing the cerulean water clearer than the crystals. Celebrating New year in the Maldives can be enrapturing for all irrespective of their ethnicity.
Hypnotic Destinations to Celebrate New Year 2024 in Maldives!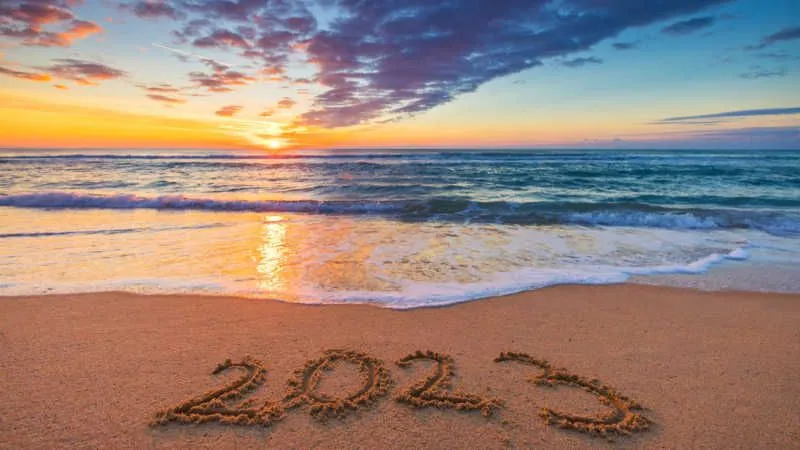 Maldives is one of the most adored places around the world for traveling, and when it comes to celebrating New Year eve in Maldives, the archipelagic state has many bewitching islands and luxe resorts. The Maldives is a world-renowned New Year's Eve party destination. Locals and foreign visitors alike are looking forward to Maldives New Year's Eve 2023. Most Maldives island resorts provide a wide range of attractions, such as gala dinners, parties, decorations, and a variety of activities. Everyone is having a good time on their vacation. Let's take a look at all the options that you can avail to celebrate the eve and New Year's Day to make the most of it.
St. Regis Maldives Vommuli Resort
Underwater Party in Subsix
Sheraton Maldives Full Moon Resort & Spa
Lily Beach Resort and Spa
Cocoa Island by COMO
AYADA Resort Maldives
Bandos Island Resort Maldives
Kuredu Island Resort & Spa
1. St. Regis Maldives Vommuli Resort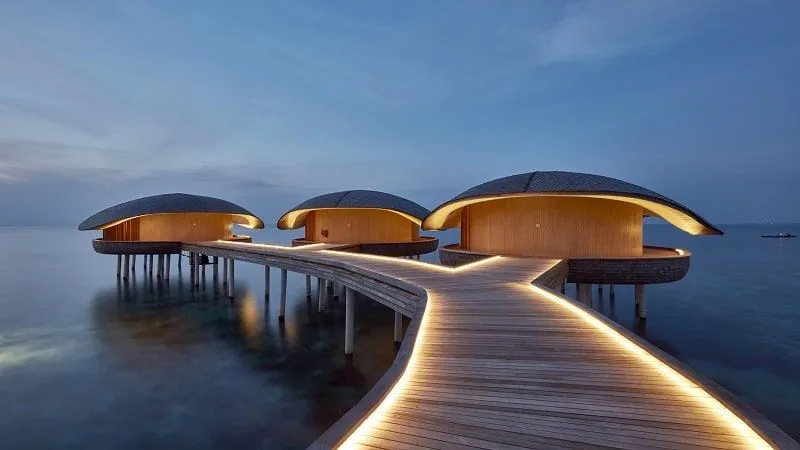 St. Regis Maldives Vommuli Resort has started all the preparation with the blast for New Year's Eve celebrations 2023 in the Maldives. Get ready for the exciting beach party, extravagant festivities, tempting dinners, a wide range of drinks, fireworks, live events, and whatnot. Bid adieu to the passing year and leap forward to embrace the new one approaching, with luxe amenities such as beach villas and water suites offering a visual retreat of the calm view of turquoise water. The luxe 5-star resort offers pools with direct sea access and other features of the property are spa centers, water sports centers, fitness centers and kid's zone.
The Gala dinners are yet another most enticing attribute of the resort to celebrate New Year in Maldives, don't forget to relish the lavish food platter of the Alba restaurant that presents mouth-watering cuisines from across the globe. Get your hands on the authentic Maldivian cuisine of international recipes and flavors, whatever you feel like savoring. The beach parties are an affair that you will never forget, and the credit directly would go to the live music, DJ, non-stop dancing, appetizers, food, drinks, and surrealistic visual treats.
Suggested Read: New Year In France: Celebrating La Saint-Sylvestre with Some French Tradition
2. Underwater Party in Subsix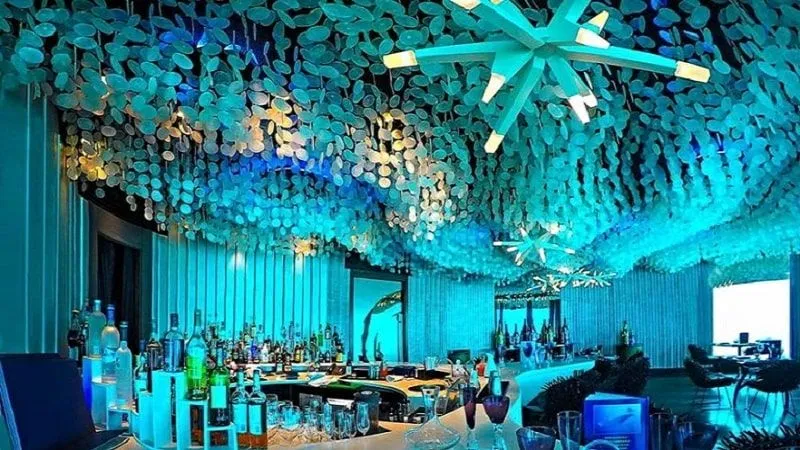 A playground resort to chill an invitation to chill and celebrate the new yea eve in Maldives in the most memorable way. A party spot in Maldives under 6-meter ground level. Delve into the underwater fun with your family, friends or beloved and watch the aquatic lives swim past you. Live an experience that will convince you to stay for longer and enjoy the perfect ambience.
The taste of food is delicious to another level. Located at Niyama Island, Subsix can be reached via a speed boat, where you will find a tree tier staircase that will lead you to the underwater bar. Get ready for a party of new year in Maldives like never before and dive in to Champagne breakfasts, subaquatic lunches and wine executed at the venue.
3. Sheraton Maldives Full Moon Resort & Spa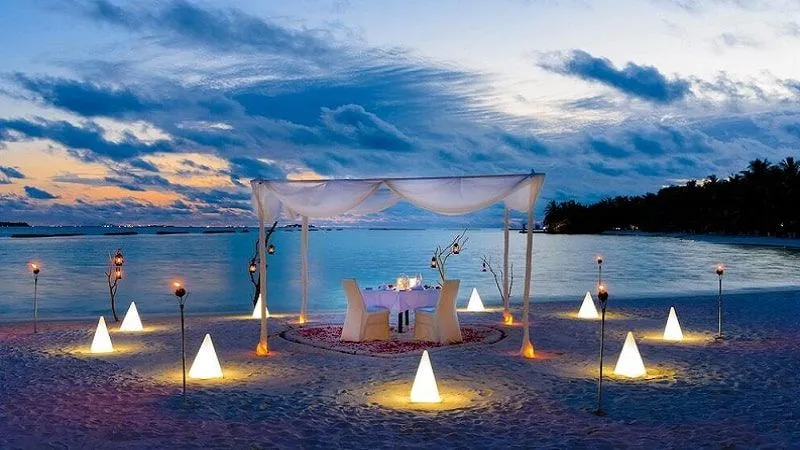 Want to experience heaven on earth? Sheraton Full moon resort and spa is acclaimed to be no less than paradise on the planet. A magnetically charming property much elegantly designed for the tourists visiting Furanafushi island. It is one of the top resorts for New Year's Eve 2023 parties in Maldives with your loved ones. The sparkling blue oceans, bright skies, opulent beaches, magnificent resorts, and calm nature make this place more than just a vacation spot. There are options for you to consider, such as spending New Year's Eve 2023 in the Maldives. As usual, the resort has a loud party motif, and the arrangement looks fantastic with all of the funky party music. Enjoy the New Year Gala Dinner 2024 at one of their seven quirky and party-themed restaurants, where you may sample a varied menu according to your taste preferences.
The wonder island resort can be accessible by speedboat, so get your hopes high for a wholesome journey enriched with gastronomy and fun activities. However, the ticket price for the trip is around US$136/round, but special concessions might offer to the travelers Maldives New Year celebration in style.
Suggested Read: New Year in Cyprus: Getting Into The Merry Mood
4. Lily Beach Resort and Spa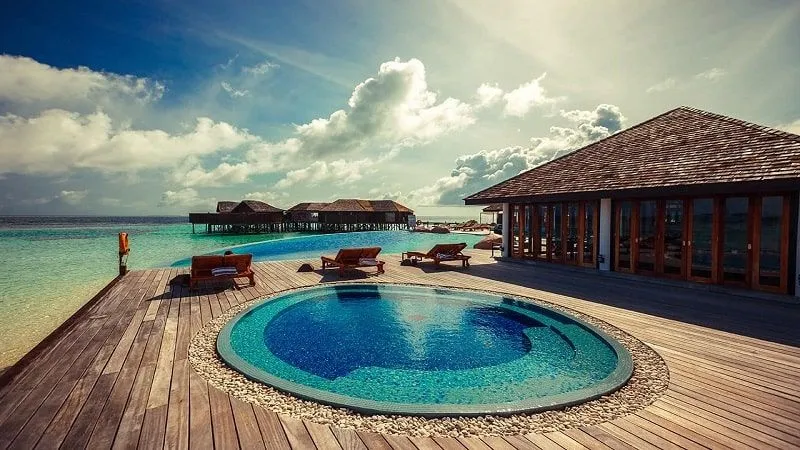 The Lily Beach resort is ready to greet visitors to this New year celebration in the Maldives with the theme "believe in the magic of the season." The Lily Beach is a family-friendly beach, therefore, they are adding an extra day to this year's celebrations for kids on December 23rd, with various activities such as Santa's Hat Ring Toss Games, swimming at Vibes, Christmas ball painting, Christmas card making, and many more. On December 24th, Santa Claus will arrive at the main jetty with gifts for all of the young Lily Guests.
From the 25th to the 31st of December, the calendar is packed with adventurous activities such as Turtle Tour Ocean Adventure, Coral Garden Snorkeling, a Trip to Local Island, Sunset Dolphin Safari, Sunset Fishing, and an evening cultural performance at Spirit bar deck, followed by a live band at Vibes. The night of December 31st will be unforgettable, as the New Year's Eve Gala Buffet at Lily Maa will welcome you to taste a delicious feast of exquisite dishes in a Carnival environment. Then comes the most anticipated countdown at Vibes Beach, where you will say "Farewell to 2023 and Hello 2024" with an explosion of joyful fireworks, followed by a New Year's Eve party till dawn.
Suggested Read: Phenomenal Places To Celebrate New year in London
5. Cocoa Island by COMO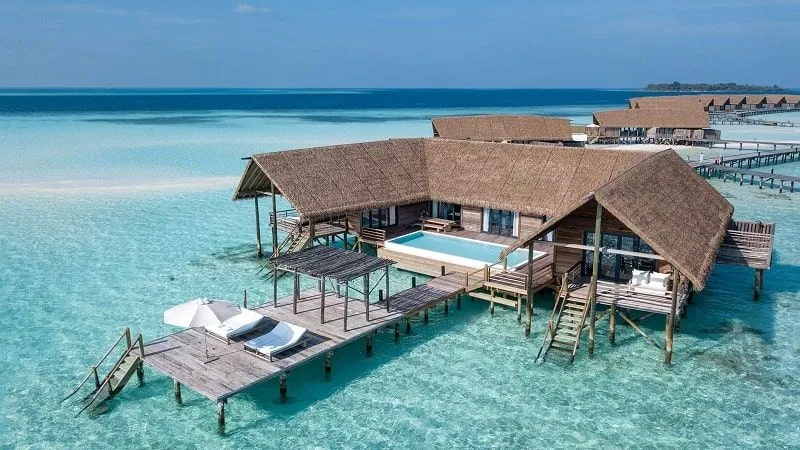 With over 34 water villas with infinity pools, right through your extended balcony. Get ready to take a plunge into the sapphire water of the lagoon and discover the marine life and its richness. Celebrate New Year's Eve 2023, on Cocoa Island and enjoy the restoration of consciousness in the abundance of green and blue shades of nature.
Luxury is enjoyed in all forms but when it comes along Maldivian pleasure it provides a lot more than just comfort. The gliding sand, fun water sports and marine life exploration is everything at the bewitching resort, is everything you need when you are planning to travel to the Maldives with family.
6. AYADA Resort Maldives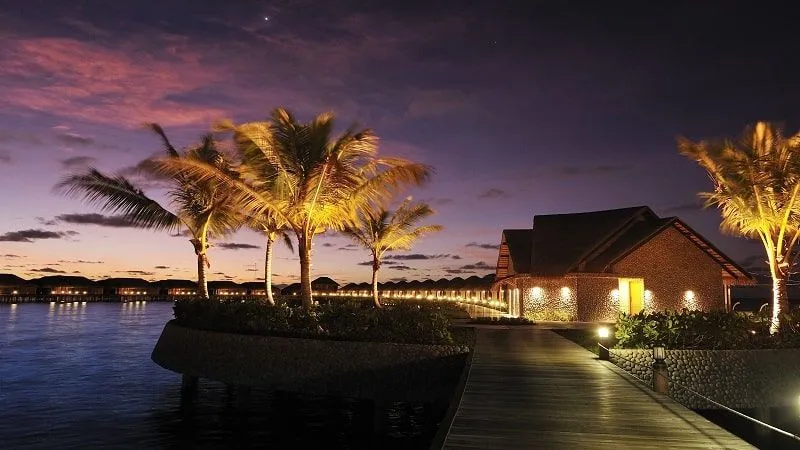 Ayada is a private island in the Maldives that encompasses pristine beaches, luscious greenery and a tranquil ambience. Allow the excitement of the season to envelope you as you participate in animations and festivities centered on the sea, fire, light, and enchantment in a stunning environment.
Ayada has thoughtfully prepared a new year celebration 2024 program packed full of kindness and happiness that will bring the festive charm directly to you, from couples to families searching for a tranquil retreat in the Maldives. They have set up Christmas market-style kiosks in and around their Magu restaurant on Christmas Eve. The New Year's Eve Gala Dinner is a beautiful event that includes gorgeous décor and a festive feast, followed by a variety of entertainment that makes the evening unique.
Surprise your loved one in style this holiday season and spice up your relationship by taking them for new year celebration in Maldives! You may make fantastic new memories that will last a lifetime, whether it is a marriage proposal, a birthday celebration, a wedding anniversary, or simply to reaffirm your love for each other. Our Zuzuu Kids Club will welcome children throughout the holiday season with engaging and enjoyable everyday events such as carnival, fire dance shows, magic workshops, fun surf lessons, and family-friendly excursions.
Suggested Read: Places To Visit In Qatar For The Stunning Skylines And Attractions
7. Bandos Island Resort Maldives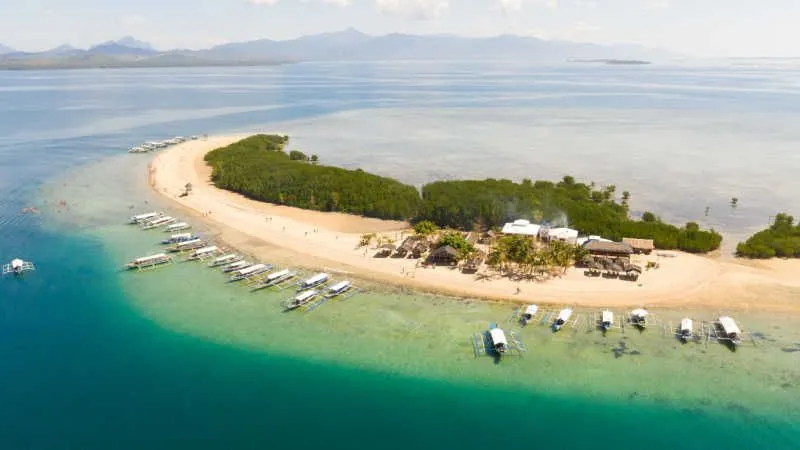 The Bandos Island Resort Maldives New Years Eve 2023 Party is one of the most anticipated New Year's Eve celebrations in the Maldives. It's an excellent island resort for ringing in the new year with your loved one! They provide one of the greatest new year's parties to their guests in order to make their stay unforgettable for a longer period of time. A large number of individuals will attend this new year's celebration to commemorate this wonderful festival.
They host one of the top New Year's Eve gala dinners in the area. There will be a live band playing, amazing cuisine, and much more. So, let's watch how Bandos Resort Maldives celebrates New Year 2024! On New Year's Eve, you will be able to enjoy live band performances for spectacular entertainment and memorable memories. It is one of the most enjoyable ways to ring in the new year in the Maldives. A fantastic sea view and incredible music make your new year's vacation enjoyable and memorable.
8. Kuredu Island Resort & Spa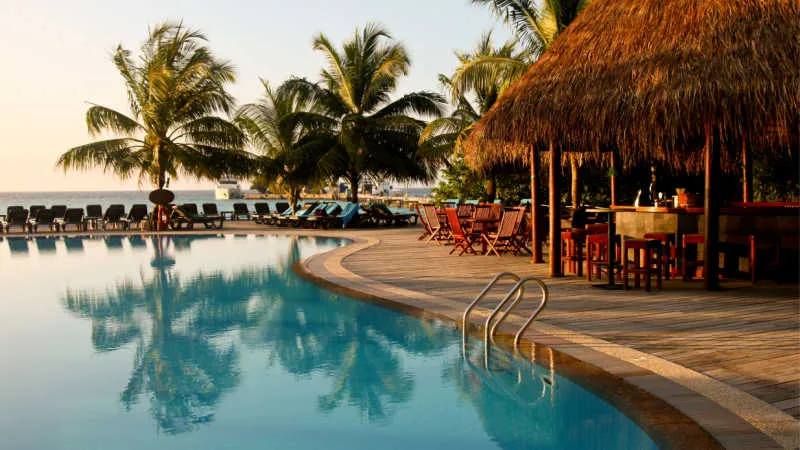 The most wonderful time of year is nearly here, and if you've booked a Christmas and new year vacation at Kuredu Resort Maldives, you'll be able to conclude 2023 in style! The festivities begin on December 23rd with a game of beach volleyball, a Gloaming Gathering to view the stunning sunset accompanied by live music, and a Crazy Hat Party later in the evening - pack yours if you can! Kuredu's Christmas lights will be ceremoniously turned on on Christmas Eve, and the delicious gala meal will be followed by live music by the main pool to get everyone in the holiday spirit.
The atmosphere during the Maldives new year 2024 will continue with an exciting program that includes Santa's island-style arrival, a treasure hunt, gourmet pleasures at Chef's Table events, a street market, live music performances, and another stunning Gala Dinner and a Pirate's Party to welcome in 2024 on New Year's Eve. Kuredu Resort is excited to share this special moment with you and your family on their long sandy beaches that will ensure you have a white Christmas and new year's eve 2023 to remember!
Maldives is a destination providing the most enthralling experience. Now that you know some of the best places to celebrate your new year 2024 the Maldives. If you are planning to travel on new year's week you surely should consider the island state to cherish the experience for a lifetime. Gather your friends or family and buckle for a joyous ride in this new year 2023. Let the celebration begin the most luxurious way plunging into the most stunning and touristy destination. Avail of the best Maldives couple tour packages to enjoy a fantastic holiday close to nature.
New Year in Maldives FAQs
Q1. Where to go for New Year's Eve in the Maldives?
For New Years celebration visitors choose the big resorts, that are booked for a luxurious stay over. Many resorts have inhouse clubs that organize parties and other adventurous activities for the guests to celebrate an awestriking eve in Maldives.
Q2. How many days should I spend in Maldives?
Approximately 4-5 days are enough to spend a decent vacation in Maldives and enjoy the activities and explore the places.
Q3. What is the best time to visit Maldives?
The best time to visit Maldives is between the month of November and April. Given the soothing temperature and serene ambience most people visit during the these months.
Q4. Can I visit the beaches in Maldives at night?
Yes, Maldives can be visited at night. In fact, there are few locations that are worth visiting during night.
Q5. What are the best beaches in Maldives?
Located in the North Huvadhoo Atoll, lies the Hadahaa Island, which has best beaches in the Maldives to explore as a tourist.
Q6. How many airports are there in Maldives?
There are currently 18 Airports in the Maldives, 5 International airports, and 13 Domestic airports. All these airports are in serving mode and connecting the whole world to the Islands of the Maldives.
Q7. What are the best resorts in Maldives?
Maldives has stunning resorts that are very couple friendly.
Meeru Island Resort & Spa
Sun Siyam Iru Fushi Maldives
Paradise Island Resort & Spa
Cocoa Island by COMO
AYADA Resort Maldives
Q8. Where can I stay in the Maldives for my New Year's vacation?
Bandos Maldives is one of the most luxurious tourist resorts in the Maldives for New Year's Eve celebrations. Every eating area of the island resort will offer you a flavor that is difficult to resist, from the music to the fireworks and exotic food with delectable taste. The Eve begins with delectable Asian food, live entertainment, a DJ and saxophonist night, and much more.
---