A holiday with family means planning a vacation with adventure, fun, and thrill. Qatar has a number of theme parks, entertainment zones, and attractions offering you the thrill and frill for an exciting time with family and friends. While the country is popular for its culture, heritage, and excellent architecture, the places like Snow Dunes Qatar bring fun and entertainment. So, be all prepared for an enthralling experience of snow in Qatar, where you will have top adventures and exhilarating games to enjoy.  
Here is all you need to know before getting your tickets to the best theme park.
Snow Dunes Doha Festival City With The Best Fun and Features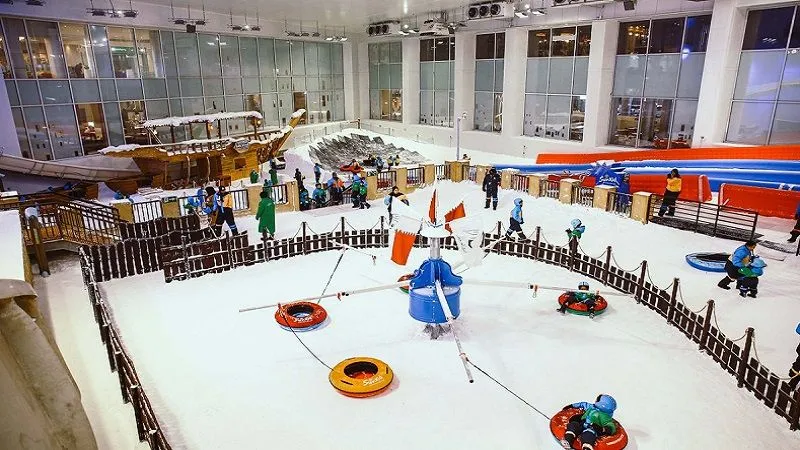 Located in the Doha Festival City Mall, Snow Dunes Doha is nothing lesser than a magical attraction for all. Qatar, on average, experiences a temperature between 18-to-37-degree Celsius, but the temperature inside the snow dunes does not rise beyond–4 degrees to maintain the right atmosphere. Snow Dunes, therefore, are an ideal place to kill the heat of the Gulf and enjoy a day in a white snowy wonderland.
Built on an area of 900 sqm, the family park in Qatar features a number of fun rides, snow games and offers more than 5000 gears to visitors. The Park welcomes everyone irrespective of their age.
Check out these exclusive features of Snow Dunes theme park Qatar before booking your tickets.
Snow dunes offer the best experience of adventure and fun rides for your perfect family day. There are more than 12 rides that are not just thrilling and breathtaking but bring you an ultimate adventure to feel the adrenaline rush.
Do you know there are 17 snow guns that are constantly producing snow to make the theme park best for a chilling affair? A temperature of -4 degrees is maintained so that a perfect atmosphere is maintained for the snow.
There are more than 5000 gears present at the theme park to make the experience satisfactory for all. The theme park can allot space to a relative number of visitors and offer them an exciting day.
The speedy dash slide is another feature that makes Snow dunes park the best attraction in Doha for all. The slide can reach up to a speed of 50 km/h, letting you feel the thrill.
The Best Attraction At Dunes Doha Festival City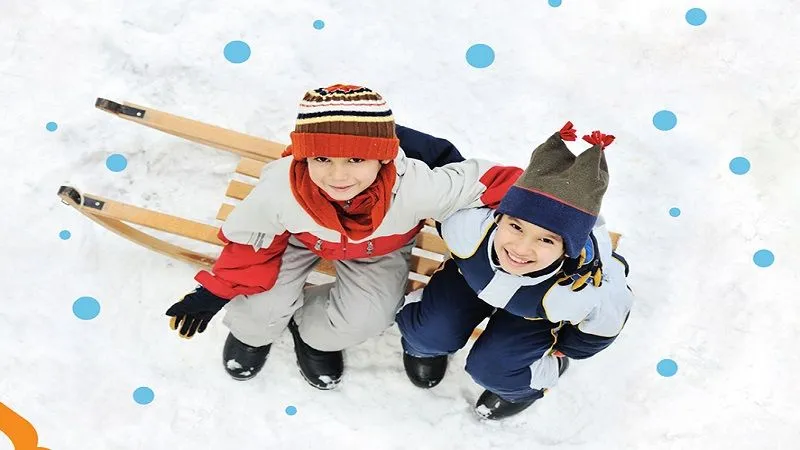 Snow Dunes at the festival city has some best things to do in Qatar, for keeping you entertained for the entire day. Featuring the best rides, games, and a number of other activities, the theme park is a complete entertainment zone. You can tighten your belts, put on your gears and get ready for an exhilarating and interesting day.
Snow Motion has the best rides for your kids, from some breathtaking adventures to the usual merry-go-round. The ice adds more fun and thrill to the experience.
The Dune Dash has the longest slide in the park, which is reaching up to 50 meters in height. This brings the most enthralling experience of snow dunes dash.
Kids will love the snow slide, especially the duo racer slide at Snow Dunes Qatar. This is one of the best attractions for kids and adults.
One of the best spots to enjoy hot drinks and a choice of sweets is the park's Snow Dunes Restaurant. Visitors are given the finest delicacies in an environment they have never seen before.
Snow Storm is one thrilling experience of rushing through the snowstorm.
White Dune is a great alternative for usual dune bashing in the desert. But what's best about this white dune bash in Snow dunes theme park is, there will be ice and a cold atmosphere.
Snowy Mount is a fancy expedition with fun and adventure. This attraction of Snow Dunes Doha is nothing lesser than reaching the top of a snowy cliff.
The Magic Box is something that you cannot miss for your party fun. The magic box has every element to make your experience memorable.
San Bouk is the most happening attraction in the Doha festival mall. Nothing can beat the fun and pleasure of enjoying the finest drinks and delectable treats in a relaxing environment. The San Bouk at Sand Dunes Park serves up the best drinks and refreshments for visitors to enjoy.
Facilities and Highlight of Snow Dunes In Doha Festival city
The snow dunes, known to be the most popular theme park in Qatar, brings you so much more than adventure and fun. Being one of the most happening spots and an attraction in Qatar for fun and enjoyment, there are so many facilities and services offered to make it the best experience for all. Let us take a look at the best highlight and facilities offered by Snow Dune.
1. Discovering The Luxury of Snow Dunes Qatar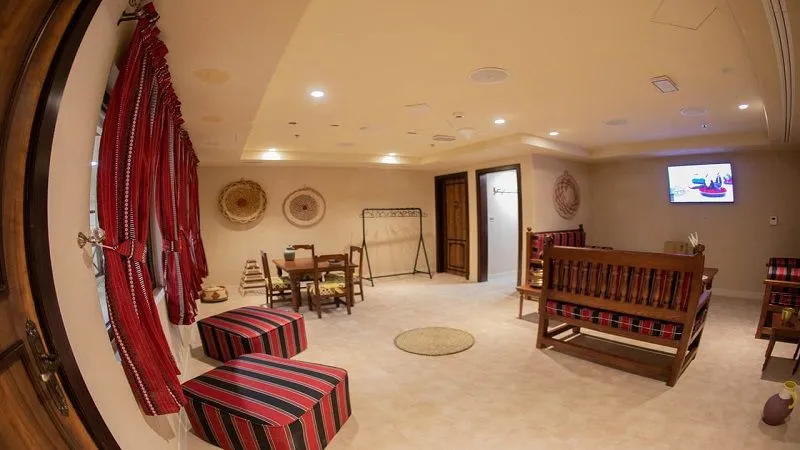 The snow dunes theme park has a lot to offer, excluding the adventure and fun. Making it a luxuriating experience for the visitors, the theme park has introduced a luxury concept of VIP rooms. For absolute leisure and lavish treatment, these rooms at the snow dunes are perfectly designed to offer you quality time.
The VIP Rooms at Snow dunes can accommodate 6 people at a time, offering them every luxury and comfort. The rooms are spacious and feature a luxuriating touch of quality design and leisurely ambiance. The private seating lounge area of the VIP room is best for your leisure. There is proper furnishing done to ensure complete leisure and comfort, just like any luxury hotel in Doha.
Talking about the amenities and comfort, the room has a complete setup like cable television and gaming for kids' entertainment. The visitors are advised to book the VIP room in advance as they are very popular and allotted for a limited time. You can reserve your stay for three hours only, which will cost you QAR 1500.
Suggested Read: Ravishing Things To do in Saudi Arabia to Explore the Kingdom Closely
2. The Ice Party With Your Friends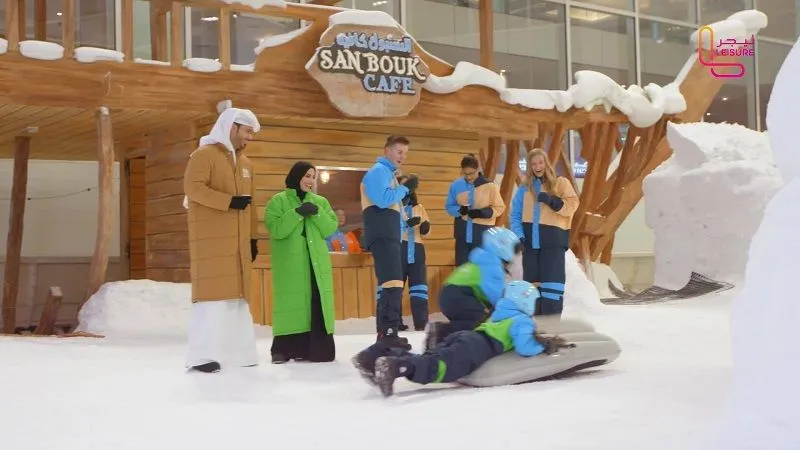 Snow dunes theme park, Qatar, is the best spot for an ice party and a fun day with friends or family. The magic box will let you organize a scintillating party with your folks, especially to make your day more pleasant and entertaining. Your private party in a cool and chilling environment can be more exciting than it sounds.
The ice party package of Snow Dunes Doha festival city is well crafted for the people looking to host the most unique and exciting party of the year in a chilling setting. Let's find out more details about the best ice party experience in Qatar.
The Party Package will cost around QAR 2000 at the snow dunes theme park. It is advisable to make your books in advance, and this is one of the most popular activities in Doha to enjoy with your gang.
The package offered by Magic box permits 10 to 40 people at a time for the best party experience. This number is enough to host a private party under your estimated budget. You must make a reasonable guest list to make it a bit more exciting.
The package you will purchase will be valid for only 2hours but if you are planning for some time extension, get in direct touch with the reservation department.
Doha Festival City Snow Dunes Price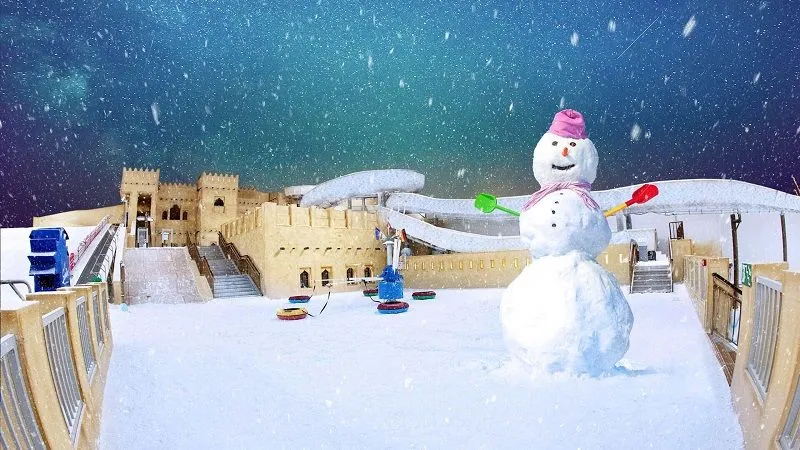 The snow dunes, located in the best mall of Qatar offers four different packages for the guests to offer you a complete day of entertainment and fun. With some specific inclusion and additional features, you can book your day slot depending on the trip experience you are looking for. Check out the details before booking your Snow Dunes tickets.
1. Platinum Package
With unlimited playtime and more fun, the platinum package is the best and most expensive package a guest can buy at the Snow Dunes Qatar. The guests with a platinum package will get access to the VIP lounge. From your Arabian coffee to the exotic teas and other beverages, there is a complete luxury offered to everyone. They can also enjoy rides for an unlimited period of time.
The Cost Of The Platinum Package is QAR 490
Suggested Read: Aspire Park In Doha: For Casual Strolls And Fun Activities
2. Gold Package
The Gold Package is a medium ranged package you can book at Snow Dunes Park. The package includes a three-hour playtime with access to one locker room. Guests booking a gold package can enjoy rides like Slope, Snow Motion, Snow Slide, Dune Dash only once in a day package.
The Cost Of The Gold Package is QAR 240
3. Silver Package
The Silver Package is valid for playtime of two hours at the Snow Dunes theme Park Qatar. The visitors will be offered access to the locker room. The guest can enjoy adventure and fun rides like Slope, Cold Slide, Carousel, and the Dual Racer Ride.
The Cost Of The Silver Package is QAR 190
How to Reach Snow Dunes Theme Park in Doha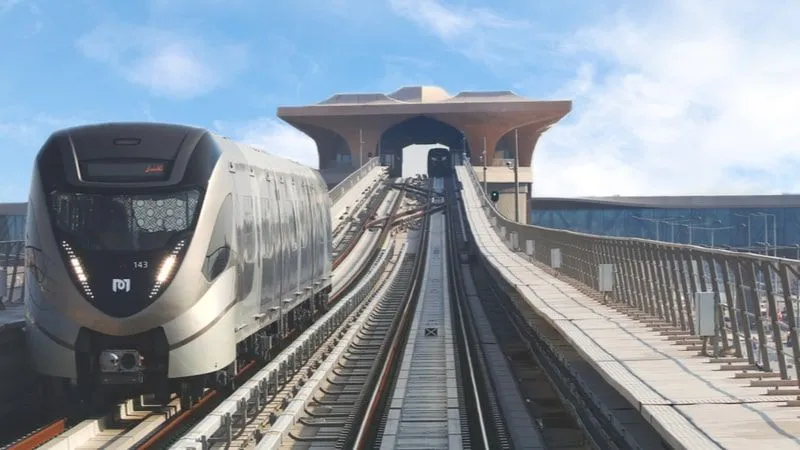 Snow Dunes is one of the finest parks in the country, that offers numerous rides and nonstop fun in the country. With numerous rides and well renowned Qatari hospitality, this is a place that leaves everyone ecstatic. Located at Al Shamal Road in Doha Festival City, this theme park is an ultimate place for spending a day out with kids and can be reached very conveniently with various means of public and private transport. You can reach the place via the red, green and gold metro lines. One can take a Karwa taxi to Doha Festival City Mall without much hassle.
Suggested Read: Al Shamal Park Qatar: A Green Space At The Northern Entrance Of The City
The Snow Dunes Qatar is the best place for family entertainment and fun. Located in the Doha festival city, you can now shop and enjoy a family day with the best activities like thrilling rides, games, and more. The Doha festival mall is famous for luxury shopping and the exhilarating experience at the theme park. Moreover, this is a place to kill the extreme heat of Qatar and enjoy the cold chilling ambiance. So, take advantage of the Doha Family tour packages today and make a reservation at this famous theme park for a thrilling time with your loved ones.
FAQs
Q1. What are the best theme parks in Qatar?
The top theme parks in Qatar where you can enjoy a day with family are:
Snow Dunes theme Park
Angry Bird world
Aqua Park
Jungle Zone Qatar
Q2. What are the opening hours of Snow Dunes Theme Park?
Here is a detail on Snow Dunes Park operational hours:
Thursday – Friday 3:00 pm to 12:00 am
Saturday – Wednesday 1:00 pm to 10:00 pm
Q3. Where is Snow Dunes theme Park in Qatar?
The snow dunes theme park is located in the Doha festival mall. The mall is one of the most popular places for shopping and entertainment. There are luxury brands and supermarkets, dining restaurants, and entertainment units that make it so popular among visitors.
Q4. What are the entry price tickets of Snow dunes park in Doha?
There are three packages as gold, platinum, and silver that you can book for a day tour of Snow dunes theme park. The price for these three packages are as follows:
The Cost Of The Platinum Package is QAR 490
The Cost Of The Gold Package is QAR 240
The Cost Of The Silver Package is QAR 190
Q5. What activities can I enjoy at Snow Dunes Park?
Snow dunes park has 12 fun rides and some of the best activities to keep you entertained. You can enjoy the fun games at Dune Dash, Snow mount, Snow Storm, and White Dunes. The Park features 17 snow guns to keep the place covered with ice 24x7.
Q6. Can I reserve a VIP Room at Snow Dunes Park Qatar?
Yes, Snow dunes park in Qatar offers a VIP room for three hours where you can relax and enjoy. The room is well equipped with video games, television, furniture, and other leisurely elements. The room can allot 6 people at a time and will cost QAR 1500 for three hours.
Q7. Is there space for a private party in Snow Park Doha Festival City?
The Magic box at Snow dunes Qatar offers private party arrangements where you can invite 10 to 40 guests at a time. The Party Package will cost around QAR 2000 at the snow dunes theme park.
Q8. Is Snow Dunes Park suitable for kids?
Yes, the snow dunes park in Qatar has the best activity and games for every visitor irrespective of their age. Kids can enjoy some best rides and snow games while spending a day with their family.
---