Having a peaceful park nearby is counted as a luxury these days, and a place like New Salata Park is complete bliss. It is a quintessential community park that has tracked everything, considering every age group in mind. City parks have a special purpose in life that converges to better living and lifestyle by improving physical and psychological health. Parks give open space and scope for strengthening the community, making the city life more interesting by evoking a sense of connectivity among the people dwelling in the neighborhood.
Fascinating Seating Arrangement At The New Salata Park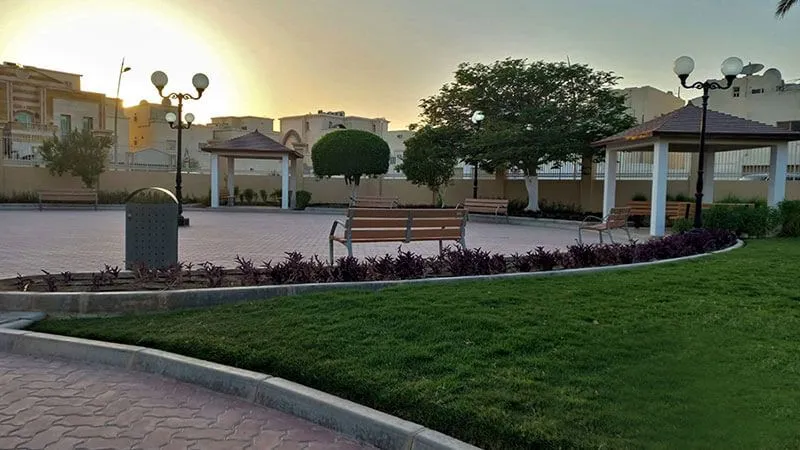 In the chaotic city life, people hardly get to enjoy the phenomenons of nature. If you are someone who craves dusk and dawn, you can get a good gaze here. There are approximately 50 big lush trees inside Salata park. The pretty organized seating plan allows plenty of space for the joggers and strollers for relaxing. The Park owns 50 benches and 12 gazebos. Although it's not a theme park in Qatar that are famous among children for extravaganzas, you can still bring your children here and let them enjoy while you sit there enjoying the lush greenery during sunsets and talk for hours.
Roll Over The 'Rolling Hill' In The New Salata Park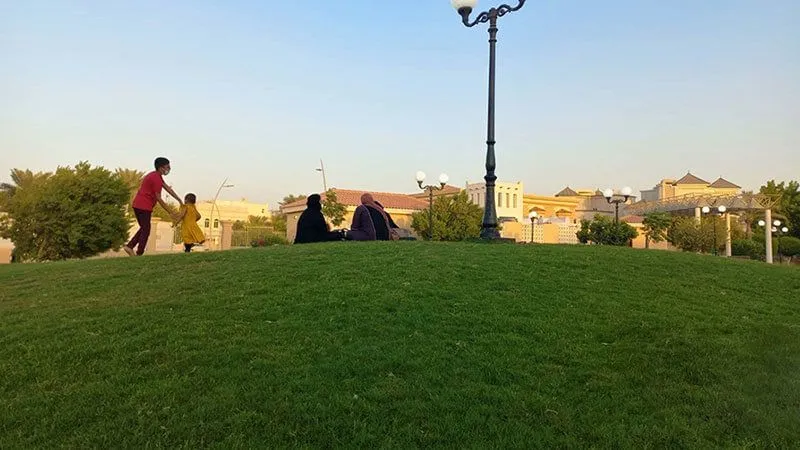 Not a hill exactly, but a man-made bump in the ground. Slightly elevated part in the park resembles a small hill where children roll and play. Families sit there watching over their kids.
You can find children playing, at either side of the park as the family park offers two playgrounds located at both ends. The play area is well equipped and incorporated with different types of slides. Children love their time enjoying the monkey bar, climbing paths, merry go round and many more. The best thing about the park is that not only kids but adults can also enjoy the swings. There is a separate section that has robust swings to handle the weight of adults. Many incredible parks in Qatar keep children and adults indulged, New Salata family Park is one such family destination where you can do anything from leisurely sitting and adoring nature to running and working out. It offers a wide track which is apt for jogging, running and walking.
New Salata Park: Fresh water Faucets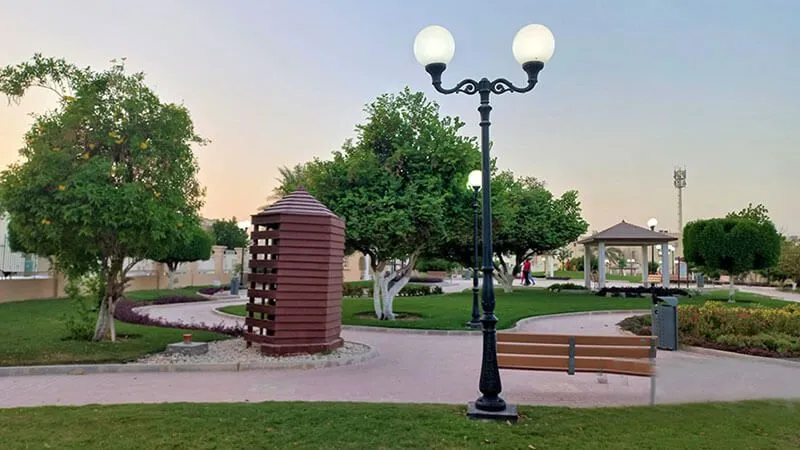 The Park remains very lively with children running in all directions and adults taking strolls or burning calories, if they feel tired or thirsty, they can approach the brown hut in the corner which is a shaded water booth. The booth has two fresh and potable water faucets. So, getting dehydrated is not the option here. There is a hanging water feeder for birds due to which many different and rare birds can be spotted in the New Salata Park.
Suggested Read: Kahramaa Water Awareness Park Qatar: A Museum Dedicated To Encouraging Water & Electricity Conservation
Do's And Don't In New Salata Park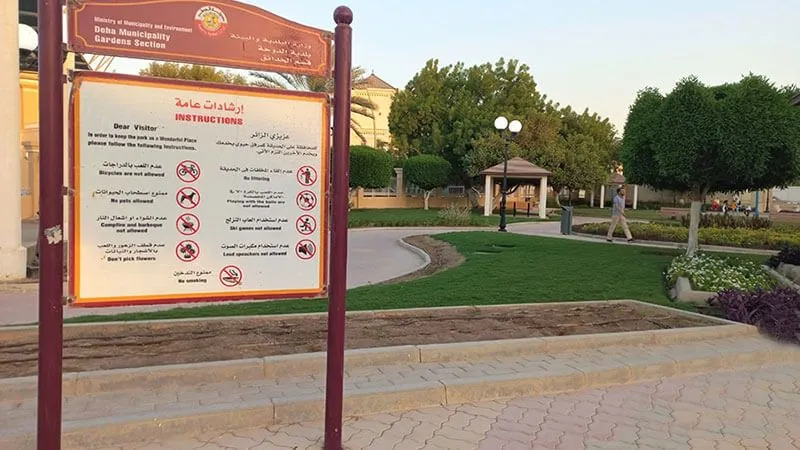 To ensure the convenience of all the visitors, a set of rules are needed to adhere to. There is one reminder board just at the entrance gate. Here is a list of things that are prohibited inside the park, which contributed to making it one of the most tranquil places to visit in Qatar.
Bicycles: Since there is no cycling track, visitors are not allowed to cycle the park.
Pets: With the initiation of keeping the park clean and safe for children as well as adults, pets are not allowed inside the boundaries of the park.
Campfire and barbeque: Barbeques and campfires are not allowed, inside the park, as it might cause inconvenience to others.
Loudspeakers: Any sort of noise pollution is not allowed.
Playing with balls: No harsh balls are allowed such as basketball, volleyball.
Picking of flowers: Visitors are not allowed to destroy plants and pick flowers.
Littering: Eating and littering are not allowed inside the park, the family is kept clean, and visitors are requested to contribute.
Details:
Timing: All days, 6 am - 11 pm
Phone: +974 4421 9976
Though it's not a very big place to be but despite its size New Salata park has a lot to offer. It qualifies to be a perfect city park catering to the needs of people with all age group and different preferences. Before visiting you must keep in mind that it is not a designated playground so don't carry your basket balls and volleyballs along. While you are there, you must check out the sunset and the happy faces  of children and adults enjoying there time.
FAQs
Q1. Where is New Salata park located?
The New Salata Park is a family city park located in Ad Dawhah, in Doha Qatar. It spans an area of 7,313 square meters and i a perfect place for a soothing evening.
Q2. Is New Salata a pet friendly park?
No, pets are not allowed inside the park to ensure the convenience of others. There are reminder boards inside the park that include certain do's and don'ts that people should adhere to.
Q3. When can I visit the park?
The park can be visited throughout the week anytime between 6AM to 11PM. It is a perfect place to hangout with family and friends.
Q4. What is the best time to visit the New Salata park?
To enjoy a tranquil evening, try visiting during sunset and spend take a stroll through the lush greenery or just sit and adore the sun bidding goodbye.
Q5. Is it allowed to organize a small party inside the park?
Since New Salata family park is a small city park it hold the main objective of rendering moments of solace and serenity to the localities residing nearby. Children are seen playing while youngsters visit to relax and absorb the nature. Keeping that in mind the authorities have created a list of certain things that are prohibited, and partying, playing loud music and setting up barbecue's is one of the prohibited items.
Q6. What are the best family park in Qatar?
There are many family parks in Qatar that cater to everyone regardless of their age. Here is the list of 5 best family parks in Qatar apart from New Salata park.
Aspire Park.
MIA Park.
Al Bidda Park.
Al Khor Park.
Al Wakrah Park.
Hotel Park Doha.
Q7. What is the best park in Qatar and why?
Aspire Park is one of the best parks in Qatar given to the top-notch facilities it provides. The Park offers slides and rides for the kids, people rent a bicycle and ride on designated cycling tracks. There is MIA café inside the park along with several food truck. The open-air cinema and fitness classes are the added charms.
Q8. What are the best theme parks for children in Qatar?
Qatar has plethora of options when it comes to theme parks. Here is a list of best and most visited theme parks in Qatar.
Gondolania
Aqua Park Qatar
Virtuocity
Jungle Zone
Angry Birds World
Snow Dunes
---