Qatar strikes again. Adding another beautiful feather to its already vibrant cap, B12 Beach Club in Doha is a family-friendly place to enjoy the day and have fun with your loved ones. Opening on November 15th, 2022, the club offers a wide range of water sports activities, luxurious dining choices, optimum treatment, outstanding facilities, and ample forms of entertainment. The capital city of Qatar is home to many luxurious and fun places; this beach club is one of them, where people can spend a day indulging in a variety of activities while staying in one location.
B12 Beach Club in Doha: Time for Some Beach Therapy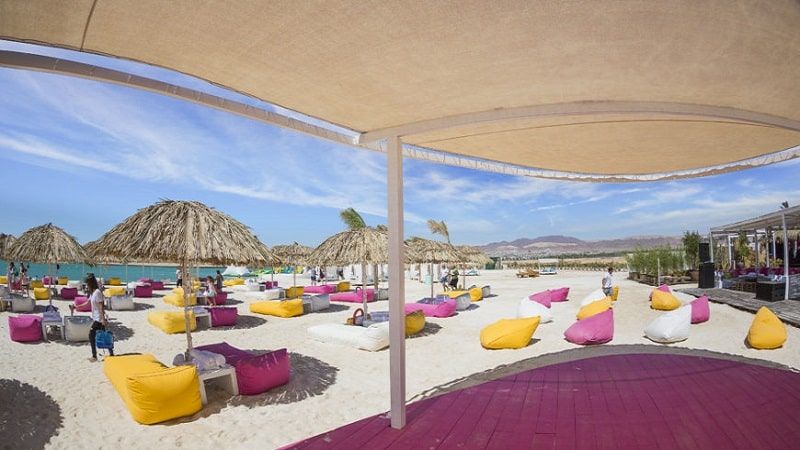 The astonishingly beautiful B12 Beach Club in Doha is open for all, the residents and people arriving from all around the world to be a part of Football world cup 2022. People carrying Qatar Identification proof need not to pay any entry fee. There is no prior reservation required on the opening day and couples, families, and groups will be allowed to enter. The club offers premium beach front and all-day dining at the beach deck with plenty of culinary options. The specialty of the club is that it doesn't just end in the day, there are special arrangements for people who like to groove during the dark hours.
B12 Beach Club in Doha: A Beach Party for Hayya Card Holders
Amazing opportunity for all Hayya card holders who have reached Qatar for FIFA world cup 2022. If you are one of those water babies who can wants to tale some time out to relax at the beach and enjoy the optimum services, B12 Beach Club in Doha has offered to let you enter the club for free and without any prior reservations.  There is a wide range of luxury services, delicious food, amazing drinks, water sports, and more to be offered to people who visit the beach club.
The B12 Beach Club: What to Expect?
Anyone visiting the country and the locals are free to unwind on the 40,000 metres of premium beachfront while enjoying the outstanding services in an eco-friendly setting. The B12 Beach Club is primarily known to be a family-friendly place. However, if you're seeking a romantic retreat or having fun with your friends, you can spend some time at the property and take advantage of the facilities.
There are plenty of lazy chairs, hammocks, and cabanas that offer limitless opportunities for lounging and snoozing the day away. There is a chic indoor restaurant along with small eateries around the beach for people to dive into the food while watching the waves. Guests who are planning to visit the country during the FIFA World Cup 2022 have an option to relax on the days when their team is not playing.
Activities at the B12 Beach Club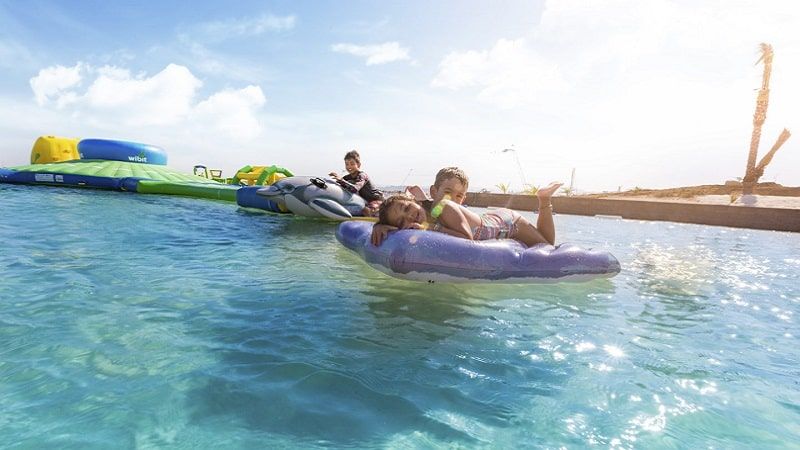 If you are done soaking up the sun and want to indulge in some thrilling water sports, then get out of your cabana and choose your preferred activity from the bunch. Other than going swimming in the waters, the guests can try paddleboarding, kayaking, wakeboarding, knee boarding, waterskiing, parasailing, scuba diving, snorkelling, jet skiing, or taking a sunset boat ride etc. There is an age limit for children, but there are plenty of activities for them at the beach.
Food Options at the B12 Beach Club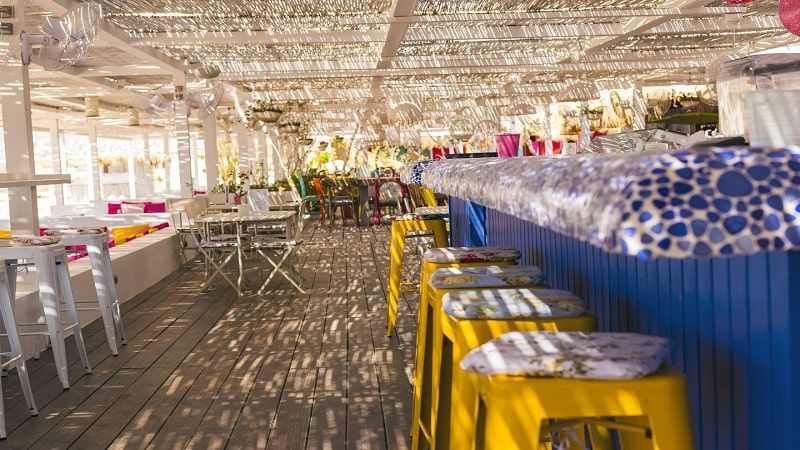 The restaurants and other eateries are nothing less than very stylish, European-looking, sophisticated, and comfortable for a perfect holiday. All the food and beverages served are delicious and diverse. Guests are served everything from chicken, pasta, fish tacos, grilled shrimp, and large bowls of fruits, delicious salads, and fresh juices, etc.
Suggested Read: Best Hotels Near FIFA Stadiums in Qatar: Redefining Luxury and Leisure
Nightlife at the B12 Beach Club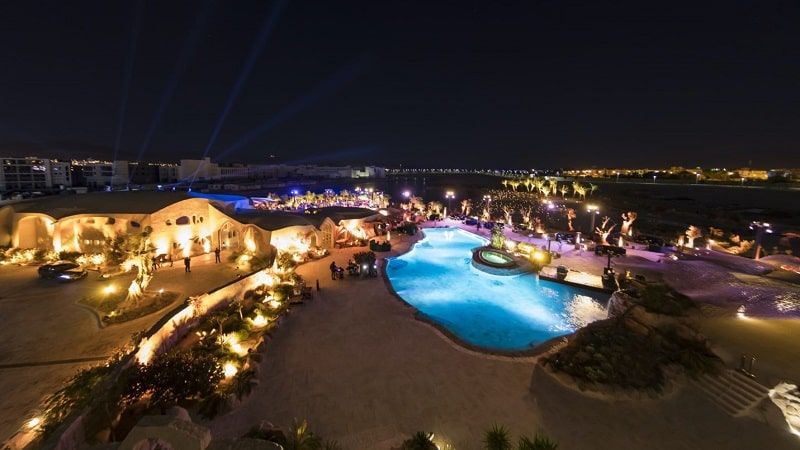 The B12 beach club doesn't stop partying even after the sun sets. The whole mood and view of the club change when the guests start grooving to the beats of the music after spending hours just relaxing in the sun. People can have drinks and food while enjoying the changed ambiance of the same place. This beach club is perfect for people who are looking for an upbeat place to chill with friends and enjoy the night.
This beach club is an amazing addition to the vibrant nightlife in Doha, which is a significant part of many people's itinerary. If you don't want to stay during the day, you can always come to enjoy just the night and the view of the beach, which becomes more enigmatic.
Location: St 801 Block 61, Doha, Qatar
If you are planning to visit the beautiful city of Doha, then take a day off from doing anything but basking in the sun or playing with your children at the delightful beach. B12 beach club in Doha is nothing less than a paradise for people who love a leisure day even during their vacation. Guests are treated like royalty, and children get a wide variety of options to spend their time. Get on board and choose from a variety of different Qatar holiday packages to surprise your family with the best vacation of their lives.
FAQs
Q1. When is B12 Beach Club in Doha opening?
The beach club will open on October 15th, 2022. It is a fascinating place with an upfront view of the beach, plenty of places to sit and relax, luxurious restaurants, and a wide variety of water sports and other games for adults and children.
Q2. What are some travel tips for Qatar?
Here are some important tips to keep in mind while exploring Qatar.
Keep your passport with you
Bring sunglasses and sunscreen
Wear comfortable clothes
Try all the local dishes
Q3. How can one enjoy Qatar?
There are ample activities to do in Qatar, from exploring the historical places, shopping in the souqs, enjoying beaches, experiencing desert safaris, visiting the majestic mall of Qatar, enjoying the delicious Turkish cuisine, and spending a day at B12 Beach Club to relax and rejuvenate.
Q4. What months are best to visit Qatar?
The months from March to November are the best to visit the beautiful country. The weather during these months is pleasant and tourists can explore all the significant places with ease and comfort.
Q5. Which is the major airport in Qatar for international travel?
Hamad International Airport in Doha is the only international airport in the country. It has been named the world's best airport twice because of the infrastructure and the humble treatment of tourists coming from all over the world.
Q6. How many days are enough to explore Qatar?
3 to 5 days are more than enough to explore all the significant places and experience all the fun activities in the country, like shopping in exotic markets, trying local dishes, visiting forts and mosques, etc.
Q7. What are some interesting places to visit in Doha?
There are many exciting places to explore in the capital city of Qatar.
Museum of Islamic Art
Villaggio Mall
Pearl Qatar
Doha Corniche
Aspire Park
Katara Cultural Village
Q8. What are the fascinating activities to indulge in during a visit to Doha?
There are several interesting things to do in Doha, like climbing the Barzan Towers, exploring Pearl Qatar, learning falconry, indulging in Doha Desert Safari, experiencing crab hunting, etc.
---