Qatar is setting a new standard for public parks by offering residents modern, world-class parks that are nature-friendly. In Qatar, family parks are the most basic amenity, but by making this kind of park accessible to the general public, they have elevated the ordinary. They just gave one of these parks a new name: Umm Al Seneem Park Qatar. It is close to the Lulu Hypermarket in Ain Khaled as well as the Dragon Mart, Safari Mall, and 01 Mall. The Municipality of Al Rayyan has announced the opening of this park, which has the longest air-conditioned running track in the world, ahead of the soccer world cup. This park has 1,143 meters of air-conditioned jogging tracks, which have made Guinness World Records.
Umm Al Seneem Park Qatar: Everything You Need to Know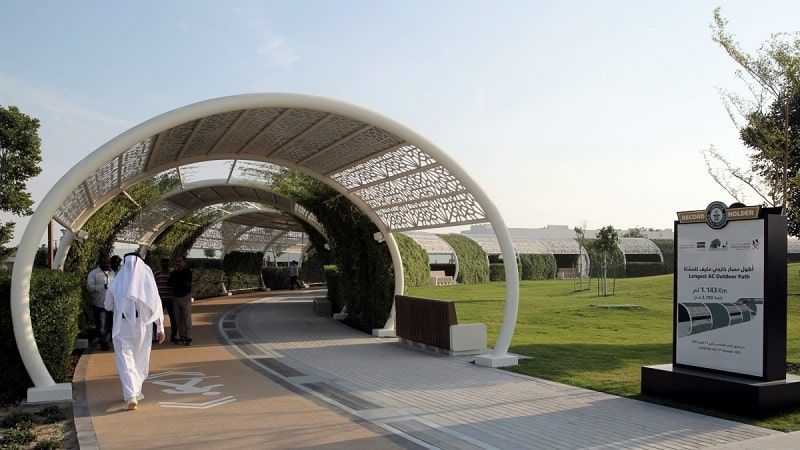 The longest air-conditioned running track in Qatar is one of the park's most notable features. Regardless of age group, the park is brimming with amenities of every description. The Public Works Authority's fifth project is the longest 1,143-meter air-conditioned outdoor promenade in this park. Children and persons with disabilities are protected at the park by amenities. With its longest outdoor air-conditioned walking track, Umm Al Seneem Park Qatar will inspire everyone to choose a healthier and more active lifestyle even during the warmest months of the year. Here is a summary of the attributes and characteristics of the park.
World's longest outdoor air-conditioned track
Fitness Areas with Reflexology Path
Children's Play Zones
Greenland for Relaxation
1. World's Longest Outdoor Air-conditioned Track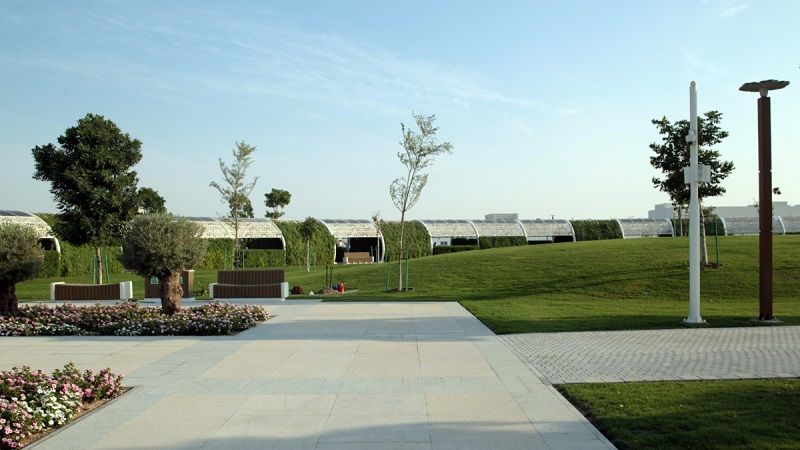 The tunnel's controlled temperature is referred to as "conditioned" in this context to ensure that visitors can walk or run comfortably. The tunnels are lined with flowering plants to help regulate the temperature. However, the park has been equipped with a cooling and air-conditioning system to keep the temperature between 26 and 28 degrees. Given the increase in temperature in Qatar, folks who are a little more concerned about their health may find the integrated systems to be extremely useful. After the Al-Gharrafa Family Park in Qatar, this park is on a higher level. The well-being of its population is a top priority for the government of Qatar. The opening of this park ahead of the FIFA World Cup 2022 is a brilliant move by the authorities to entice soccer enthusiasts to visit the park and experience it. Such a park encourages people to keep their health while also assisting the government in starting something fresh. One of the nicest things to do in Qatar is to stroll around the longest-cooled track in the world and take in the park.
2. Fitness Areas with Reflexology Path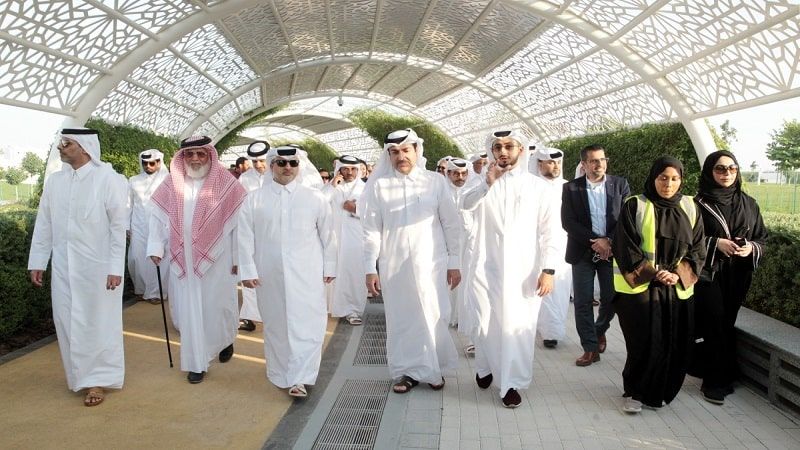 Due to the Guinness World Record, set for the longest air-conditioned walking track, Umm Al Seneem Park is one of the best tourist attractions in Qatar. The park also offers the general public several other amenities, such as three fitness centers with exercise machines. Additionally, the park contains a solar-powered, recycled shipping container workout box. The public can observe fitness courses offered by international experts while practicing in front of the fitness box thanks to the installation of a huge screen there. With numerous amenities, including a reflexology path, this park is committed to wellness and exercise. The cobblestone route can be walked on bare feet, which promotes blood circulation and eventually aids in health gain.
3. Children's Play Zones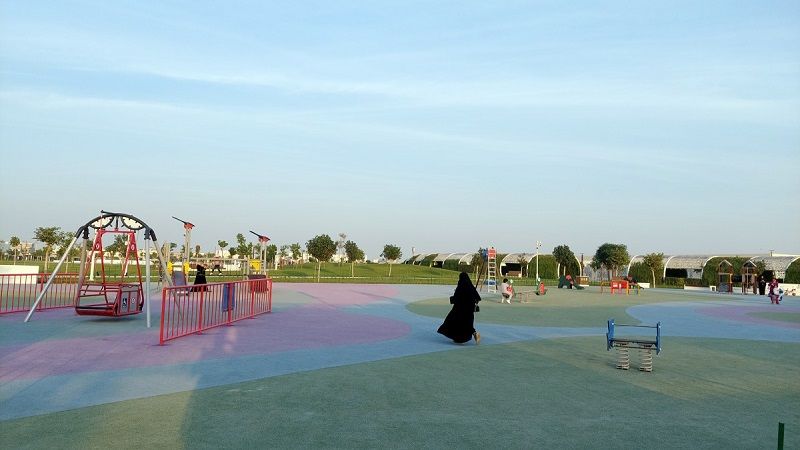 Since this park is a family park in Qatar, it includes all the amenities a family would require while visiting for a day trip. Since children are not permitted in the workout facilities, they have their designated play areas. According to age, there are two groups in the playing area. Children from 2 to 5 years old and children from 6 to 12 years old can play in separate locations because the play areas are divided by age groups. For the amusement of children, this park offers slides, zip lines, monkey bars, swings, and a sea saw. When creating the play zones, consideration is given to children with specific needs.
Suggested Read: Wakra Family Beach: A Natural, Placid And Soothing Gem Of Qatar
4. Greenland for Relaxation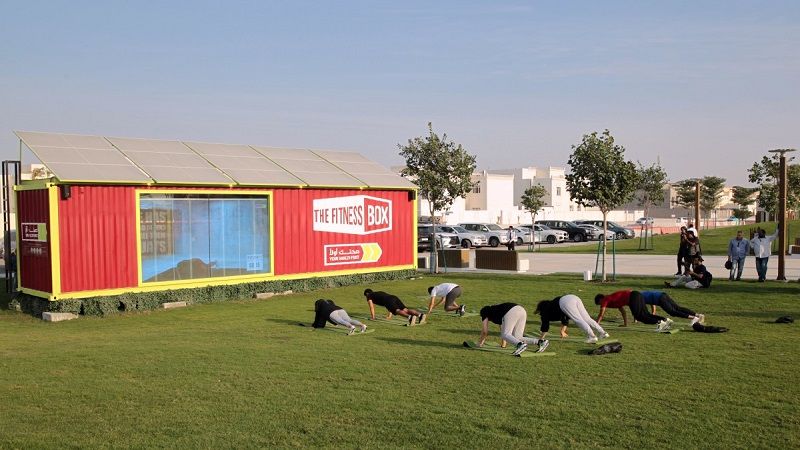 There are several locations and parks throughout the nation, including a fitness park. Theme parks in Qatar have a large following including families and youth. In order to give the park a pleasing appearance, it also has an 820 square meter Greenwall and hills that are about 3 meters high. People can sit and unwind in this park's spacious grassy area, which is lavishly covered in flora like bushes, hedges, climbers, and ground covers. Bring your loved ones and spend some time together in a park that is home to 896 trees of 18 varieties, including Pithecellobium Dulce, Qatari trees, and Zizyphus Spinachristi. A government source claims that new parks, landscaping, and green areas are mostly to blame for the country's almost 10-fold increase in green spaces since 2010. The strategic Umm Al Seneem park location will make it a perfect choice for many, including students, to enjoy a fresh walk during the day.
5. Appetite and Drinking Areas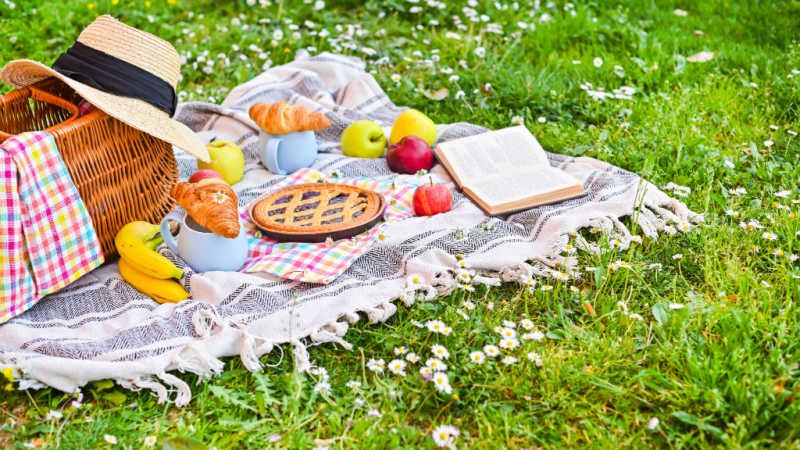 If a visitor asks is food allowed in Umm Al Seneem park? The answer is yes, if one gets a hunger attack, one can go to any of the seven food kiosks available in the park with a variety of food options on the counters. A visitor can enjoy hardcore food as well as fast food in these stalls. This park is equipped with water coolers as well for the good temperature of the water in the hot weather of Qatar. This place provides all kinds of facilities for a person looking for a family outing.
6. Additional Facilities
Male and female prayer areas
Bike Rental Area
Two family seating areas
Male & female toilets
7. Additional Information
Timing: Umm Al Seneem park opening hours is 6 am to midnight, every day (as per the security staff at the park)
Pet friendly: not allowed (as per the security staff at the park)
Entrance: Free
Parking: Two parking areas
Location: 6F56+937, Al Rayyan Municipality, Doha, Qatar
Umm Al Seneem Park. The park is right opposite Woqod Petrol Station #77 (Um al Seneem) which has a Tim Hortons, McDonald's, KFC, local tea spots, and a Sidra store
Suggested Read: Al Khor Zoo Qatar: A Perfect Spot To Witness The Amazing Wilderness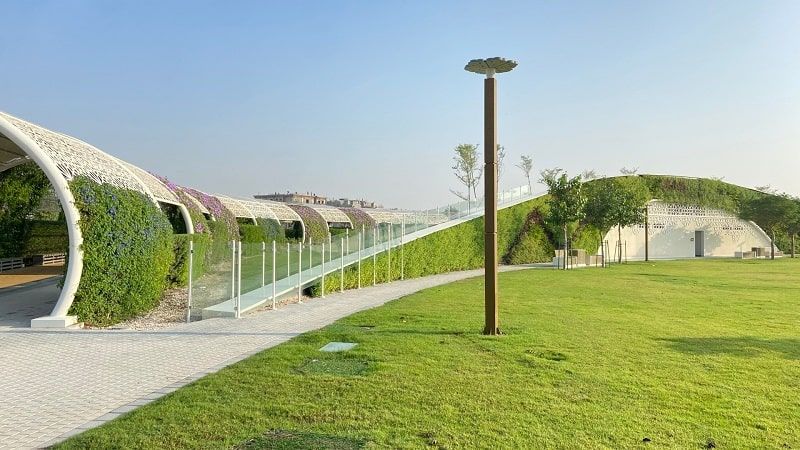 The importance of theme parks and family parks in fostering a sense of community and improving locals' health cannot be overstated. One such place is Umm Al Seneem Park in Qatar, which is undoubtedly going to be key to increasing the excitement and fun of your excursion. Plan a day trip and spend the entire day exercising and swinging in the great outdoors. It's the ideal location for spending quality time with friends and family as the youngsters play in the nearby play areas. The park will make sure that you depart inspired for good health and with a big smile on your face, regardless of what stage of life you are in. Avail yourself of the best Qatar tour package to experience the fitness walk in the world's longest outdoor air-conditioned track.
FAQs
Q1. Where is Umm Al Seneem Park located in Qatar?
New to the list of parks Umm Al Seneem Park is a family park located in Al Rayyan Municipality Qatar. The park is equipped with the world's longest air-conditioned park in Qatar and is equipped with a variety of conveniences to meet the needs of people of all ages.
Q2. How many theme parks are there in Qatar?
There are several popular theme parks in Qatar, The best ones are:
Gondolania Theme Park
Aqua Park Qatar
Jungle Zone
Angry Bird Park
Snow Dunes Park
Q3. What is the timings of Umm Al Seneem Park?
The Umm Al Seneem Park is open daily from 6 a.m. to midnight, according to the park's security personnel. Throughout this time, anyone may visit this location to unwind in the natural surroundings.
Q4. Is there a vehicle parking available in Umm Al Seneem Park or around?
Yes, there are two parking spaces accessible at the park for those who drive their cars. One can simply and comfortably find room for their vehicles.
Q5. Is there a chilldren play zone in the Umm Al Seneem Park?
Yes, the park has many zones including 2 children's zones. These playing areas are divided according to the age of the kids. The kids will be separated into two groups, first from 2 to 5 years and second from 6 to 12 years.
Q6. Are there any eateries on the premises of the park?
Yes, the park has 7 food kiosks with a variety of food options. One can spend a complete day here without the need of going outside for food or water as they are available inside.
Q7. What is the major international airport in Doha?
Hamad International Airport in Doha is the major airport in the city connecting it to the world. Opened in 2014, it is formerly known as New Doha International Airport.
Q8. What are the best travel tips for Qatar?
Here are some fantastic travel suggestions for Qatar for the ideal vacation
Observe the customs
Don't overlook the most recent occurrences.
Try some Qatari cuisine.
Utilize a Hayya Card to get free travel.
Utilize the metro to escape traffic
---