A country known to have changed its face from being a part of the Soviet Union to this ultra-modern and cosmopolitan nation, Azerbaijan is here to stay for a long time. The country beautifully embraces the years-long traditions and projects its talents by showcasing various landmarks. From the charming old town of Baku, Bibi-Heybat Mosque and Museum of contemporary art to Heydar Aliyev Centre, Baku Promenade, Flame Towers, Mini Venice, and Carpet Museum; each is more astonishingly wonderful than the other. Likewise, the country is filled with diverse natural terrains that provide a plethora of activities to the residents and tourists. One would have to take a long break to put a tick on all the things to do in Azerbaijan.
Top Things to Do in Azerbaijan: Satisfy Your Hankering for Adventure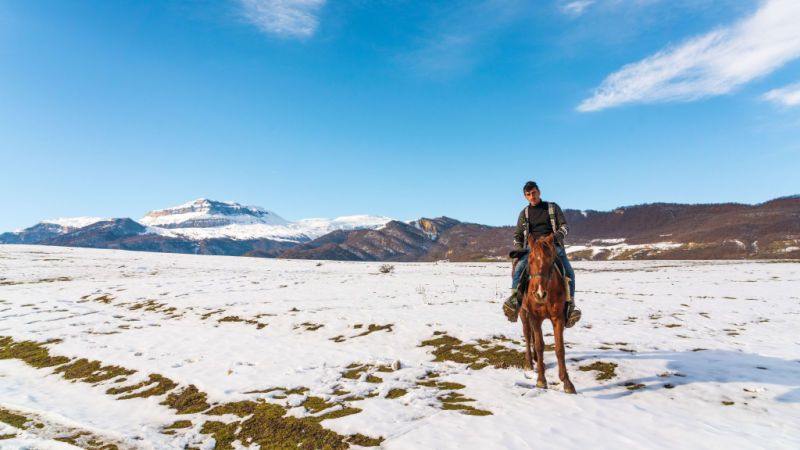 A country resting in the Caucasus region and popularly known as the land of fire; it won't be a surprise to learn that there is a plethora of things to do in Azerbaijan. From the mountainous terrain which is amazing for trekkers, snowy peaks which are a delight for skiers, to tranquil beaches that are safe haven for water babies, and the Caspian Sea which provides the ultimate diving experience; Azerbaijan is a paradise for adventure seekers. The country is a perfect holiday destination to get a glimpse of adventure and nature. Here is a list of all the things you can do in this delightful country.
Hiking in the majestic Caucasus
Discover the peculiar mud volcanoes
Splurge on traditional items in vibrant markets
Enjoy the flavors of delicious dishes
Indulge in thrilling water sports
Experience the fun of skiing in the cold winds
Ride ATV bikes on the diverse tracks
Explore the lush green National Parks
1. Hiking in the Majestic Caucasus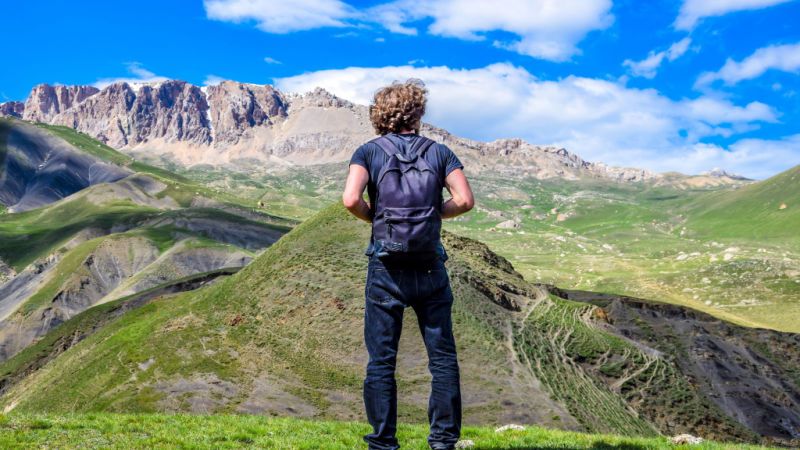 Existing in the Caucasus region comes with a lot of perks and for Azerbaijan, it is the advantage of exploring the natural beauty through hiking and trekking. There is a wide range of hiking trails in different parts of the mountainous region of the country. Cascading waterfalls, ancient temples, old cemeteries, gentle rivers, and lush greenery around the trails are some of the natural delights that tourists encounter while hiking in Azerbaijan. The Goygol region is known to be one of the prime locations to indulge in hiking activities as there are amazing trails that not just take the hikers on a beautiful journey but also introduce them to many villages and the locals who narrate the different stories about their culture.
Top Attractions: Old villages, panoramic vistas, cascading waterfalls, and ancient temples
Location: Caucasus Mountains
2. Discover the Peculiar Mud Volcanoes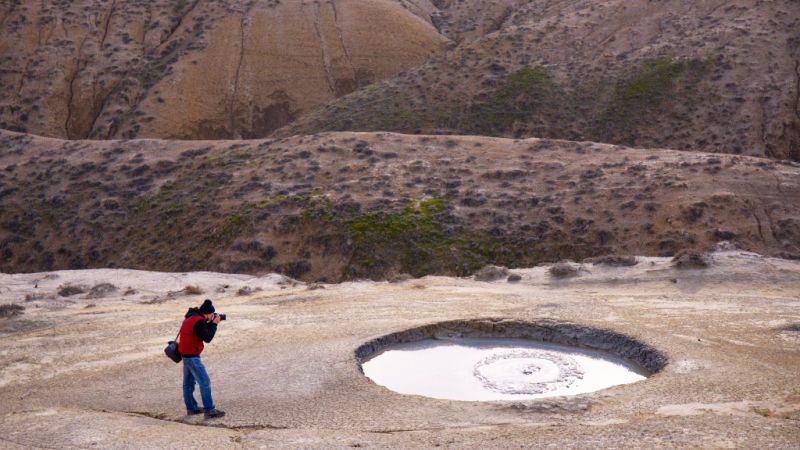 A messy, bubbling, and sometimes explosive landscape near Baku is the world's greatest concentration of mud volcanoes. One of the most-visited places in Azerbaijan, the view of this place is both astonishing and intriguing. These volcanoes appear when the tectonic plates move giving space for underground gases to come to the surface. The only difference is that a lot of a peculiar kind of mud comes out instead of burning lava. It is believed that around 400 such mud volcanoes are present in Azerbaijan out of 1000 all over the world. These mud volcanoes are something that must not be missed if one is visiting Azerbaijan, especially Baku.
Top Attractions: Mud volcanoes, messy and bubbling mud
Location: Dashgil near the Gobustan Reserve
3. Splurge on the Traditional Items in Vibrant Markets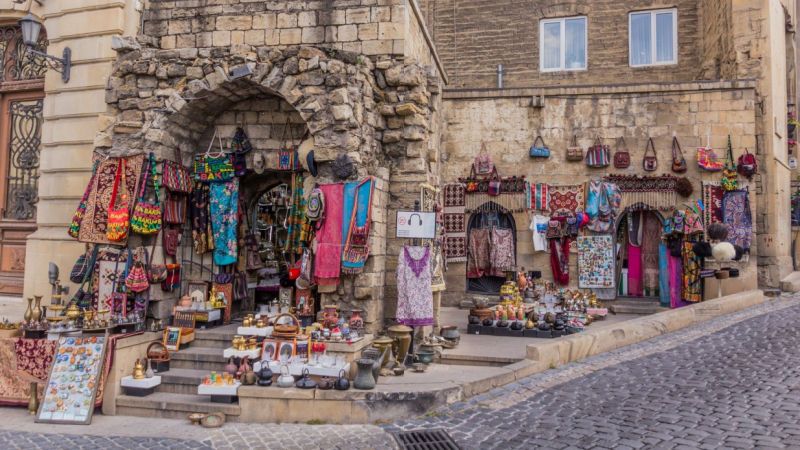 If you are one of those people who has to bring souvenirs for their loved ones and also get some traditional items from every destination they visit, then you are in for a treat. Shopping in Azerbaijan is all fun with incredible traditional bazaars to meet every need of the shopper from high-end branded clothes, shoes, and décor to paintings, ceramics, carpets, jewelry, antiques, and more. One of the significant markets that must not be missed by anyone is Yashil Bazaar in Baku. This colossal food bazaar consists of organic and exotic fruit and vegetable, perfumes, herbs and spices, nuts, dried fruits, juices, compotes and jams, along with local delicacies like caviar and saffron. There are many opulent malls in Azerbaijan if someone wants to have a luxurious shopping experience.
Top Attractions: Ceramics, carpets, herbs, spices, and nuts
Location: Baku region
4. Enjoy the Flavors of Delicious Dishes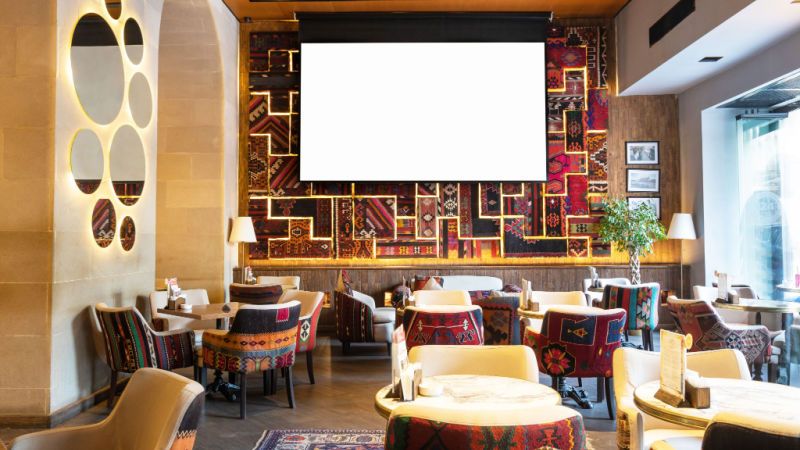 One of the primary things which is always in the mind of a traveler is to find good food in a new place. Luckily, there are amazing restaurants in Azerbaijan that not only comprise of serene ambiance, spectacular interior and décor, and hospitable staff but also serve lip-smacking traditional and international food. Some of the dishes served in the best restaurants include cherry dumplings, mashed beef ribs with pea puree, Calamari zucchini fritti, pilafs, kebab, and Saj meals, among others. There are many small shops and eateries spread across the country that also serves some of the delicious dishes appropriate to savor while exploring the landmarks.
Top Attractions: Delicious food, cozy ambiance, and charming décor
Location: Here is a list of top restaurants in Azerbaijan:
Dolma Restaurant
Firuze Restaurant
Nergiz Restaurant
Movida Lounge and Dining
Sirvansah Musey Restaurant
Suggested Read: Castles in Azerbaijan: Partner with Magnificent Heritage
5. Indulge in Thrilling Water Sports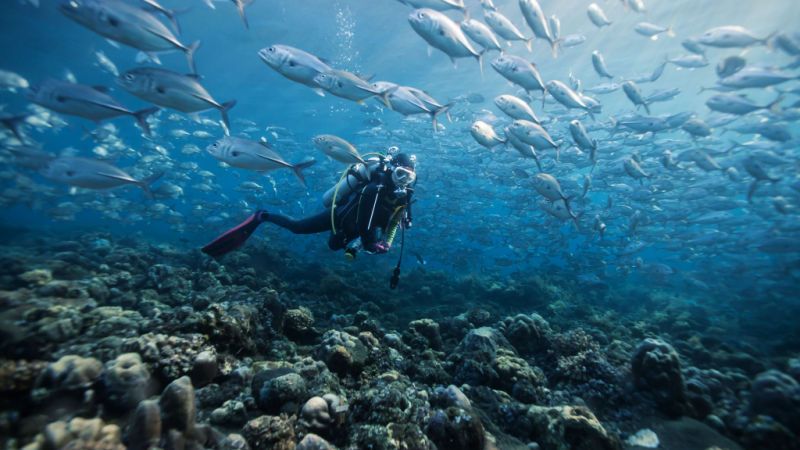 With no dangerous marine animals, the Caspian Sea is perfect to indulge in all the available water activities. If you want to discover the underwater secrets including shipwrecks, drowned villages, vibrant marine life, and more, then try the amazing scuba diving in Azerbaijan. One may encounter beautiful marine animals like the Caspian seal, the world's smallest seal species, black sea turtle, and sea snakes among others. The other very well-known watersport is windsurfing in Baku. There are courses and classes available for people to learn surfing properly. Some other interesting water sports include paddleboarding, kayaking, and boating, among others.
Top Attractions: Marine life, shipwrecks, and paddleboarding
Location: Caspian Sea
Suggested Read: Top Historical Places In Qatar To Embrace The Beauty of Bygone Era
6. Experience the Fun of Skiing in the Cold Winds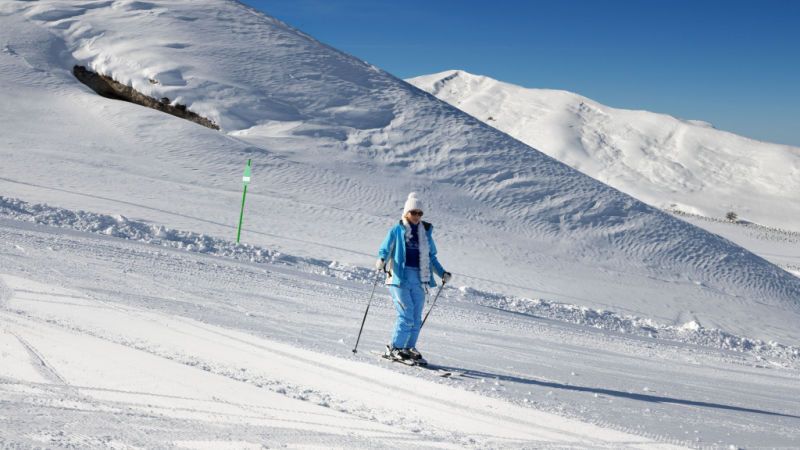 One of the top things to do in Azerbaijan is skiing in the snowy peaks in different regions of the country. There are many regions in the country with slopes varying from 15 to 18 at altitudes between 1,435 and 2,351 metres for beginners and experts to enjoy the activity. The main 3 regions where skiing and other snow activities are conducted include Gusar, Gabala, and Nakhchivan. There are all levels of slopes available from green, blue to black for people to enjoy according to their comfort. Many resorts in different regions offer accommodation, ski training, ski passes and equipment. Skiing in Azerbaijan is an amazing way to explore the natural beauty of the soft snowy mountains. Some of the other snow activities include snowboarding, riding segway, riding snowmobiles, ziplining, quad biking, and mountain biking.
Top Attractions: Snowfall, skiing, and snowboarding
Location: Gusar, Gabala, and Nakhchivan
7. Ride ATV Bikes on Diverse Tracks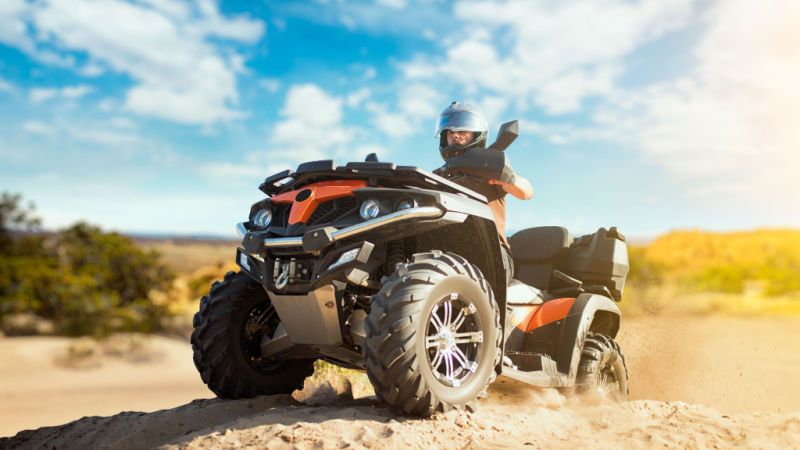 Are you one of those travelers who love to go off-road to explore a destination on an ATV bike? Well, Azerbaijan has some thrilling trails that are completely cut off from the main city and provide an amazing wilderness experience. The fun of riding on the muddy, uneven and rough land is beyond anyone's imagination. One of the other exciting things to do in Azerbaijan is to take on quad biking on the snowy peaks to experience something new, different, and fantastic. Riding ATV on the snow is quite different from riding on land and that is what makes all the difference.
Top Attractions: Beautiful views, muddy and snowy terrain
Location: Gabala, Azerbaijan
Suggested Read: Traditional Things To Buy While Shopping in Saudi Arabia
8. Explore the Lush Green National Parks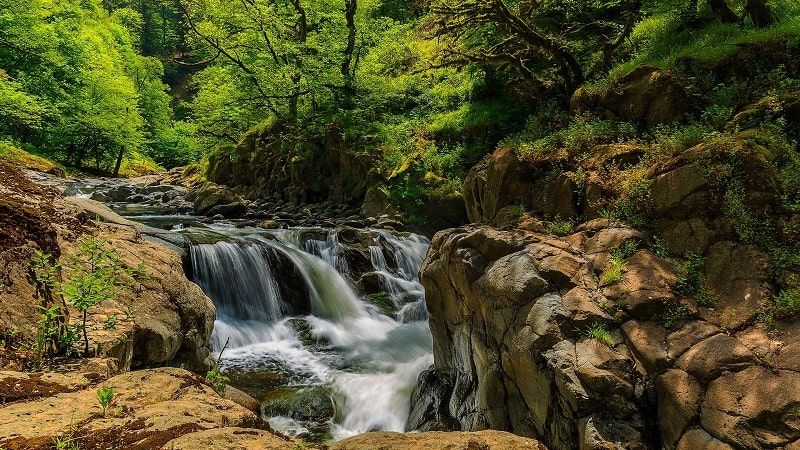 A country known for its ultra-urbanized cities is also home to some of the most beautiful national parks. There are 9 national parks spread across the country comprising a diverse species of flora and fauna. Exploring these amazing national parks in Azerbaijan is an absolute delight for nature lovers and wildlife enthusiasts. These parks also consist of interesting things like the existence of mud volcanoes and musical rocks existing in Gobustan National Park and Absheron National Park has a small desert area with dunes. The national parks are home to more than 200 species of plants and some of the interesting animals that can be found include jackals, foxes, tortoises, wolves, wild cats, leopards, striped hyenas, and more than 300 species of birds.
Top Attractions: Greenery, wild animals, different plants
Location: Here is a list of the beautiful National Parks in Azerbaijan:
Gobustan National Park
Absheron National Park
Shirvan National Park
Goygol National Park
Azerbaijan is one of those hidden gems which is not much popular as a tourist destination but when you get there, the magical marvels surely take your breath away. A country with diverse topography assures a delightful time for adventure seekers and avid travelers. There are so many thrilling and exciting things to do in Azerbaijan that even a month wouldn't suffice if one wishes to go deep. So, without much ado, consider this cosmopolitan country to be your next holiday destination and enjoy a marvelous time exploring the landmarks and indulging in thrilling activities.
FAQs
Q1. Is it worth visiting Azerbaijan?
Yes, the country of Azerbaijan is a mesmerizing destination to explore. The country is full of historical sites, snowy mountains, tranquil beaches, urban cities, opulent malls, and traditional bazaars. The panoramic views of the natural sites are enough to take someone's breath away.
Q2. Are any good restaurants in Azerbaijan?
Yes, there are amazing restaurants in the beautiful country of Azerbaijan that serve delicious traditional and international dishes. The restaurants have cozy ambiance, chic interiors and trendy décor.
Q3. What are some interesting activities to do in Azerbaijan?
There are many exciting activities that one can indulge in during their holiday in Azerbaijan.
Indulge in thrilling water sports
Experience the fun of skiing in the cold winds
Ride ATV Bikes on the diverse tracks
Splurge on traditional items in vibrant markets
Delve into the gastronomic delight
Explore the lush green National Parks
Q4. What is special about mud volcanoes?
Mud volcanoes are one of nature's wonders which appear when the tectonic plates move to create space for underground gases to come to the surface. A lot of mud also comes out with the gases which are muddy, bubbling, and sometimes explosive.
Q5. Can one do shopping in Azerbaijan?
Yes, there are many places to go shopping in Azerbaijan from luxurious malls to get high-end products to traditional bazaars for antiques and other items. One of the famous bazaars in the city of Baku is Yashil Bazaar known for exotic fruit and vegetable, herbs and spices, nuts, dried fruits, and juices.
Q6. Is Azerbaijan good for skiing?
Yes, the country is known to be one of the top preferences of avid skiers to spend at least a week in the snowy mountains. There are all kinds of slopes for amateurs and experts to learn and have fun gliding through the snow.
Q7. How many days are enough to explore Azerbaijan?
Spending 7 – 10 days is more than required to explore all the significant landmarks in Azerbaijan. One will also find time to indulge in different adventurous and fun activities during these days.
Q8. Can one dive in the Caspian Sea?
Yes, scuba diving in the Caspian Sea is one of the popular watersports in Azerbaijan. One may find many intriguing things underwater like shipwrecks, drowned villages, and vibrant marine life. One may find many exotic animals like Caspian seal, black sea turtles, and sea snakes.
---