Alexandria, one of the largest towns in Egypt, is known as the "Bride of the Mediterranean" and bears Alexander the Great's name. Visitors from all over the world come to see some of the most distinctive sights, including the museums dedicated to ancient Egyptian culture, sacred locations, and numerous entertainment venues. With its rich history and culture, Alexandria has never stopped to astound visitors and grabbing their imagination. Tourists will be astounded by the nightlife in Alexandria as it seems to be the opposite character of the city. So, if you haven't already, prepare a list of all the Alexandria tourist attractions that let you witness the exciting nightlife and cross them off as you go.
Nightlife in Alexandria: Adore the Night in Pharaonic Egyptian City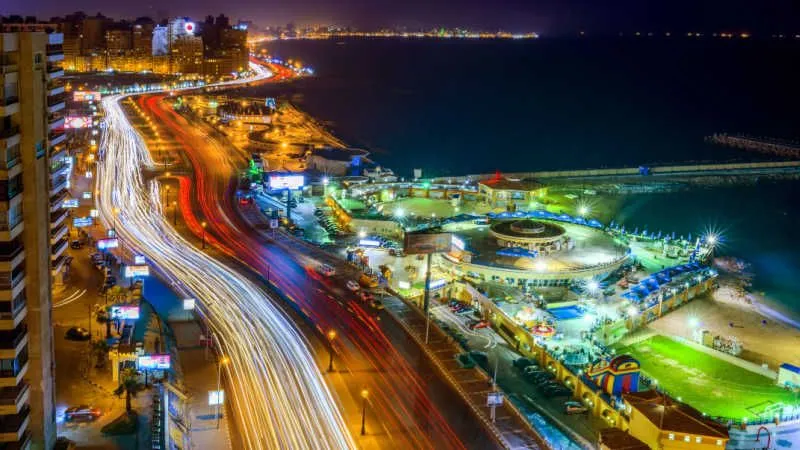 One of Egypt's greatest undiscovered gems is Alexandria, a cosmopolitan city with a Mediterranean feel and a storied past that has been largely forgotten. Alexandria is known for its ruins and museums as it gives a glimpse into the end of Pharaonic Egypt but there is much more to this city. If you will think of enjoying a vacation in this modern city, the first thing that will come to your mind is exploring cruising, and another one is the famous nightlife that will hold you. Though beach dances, overnight camping, shopping, cuisine, and night pubs are also famous in Alexandria. Here are some places to enjoy the perfect nightlife in Alexandria.
Outstanding San Giovanni Hotel
El-Salamlek's Restaurants and Cafes
Nightlife Shopping in Alexandria
Walking Across Stanely Bridge at Night
Overnight Camping in the Nitrian Desert
Bars, Pubs and Night Spots
Night Cruising in Alexandria
Boardwalk at Alexandria Corniche
1. Outstanding San Giovanni Hotel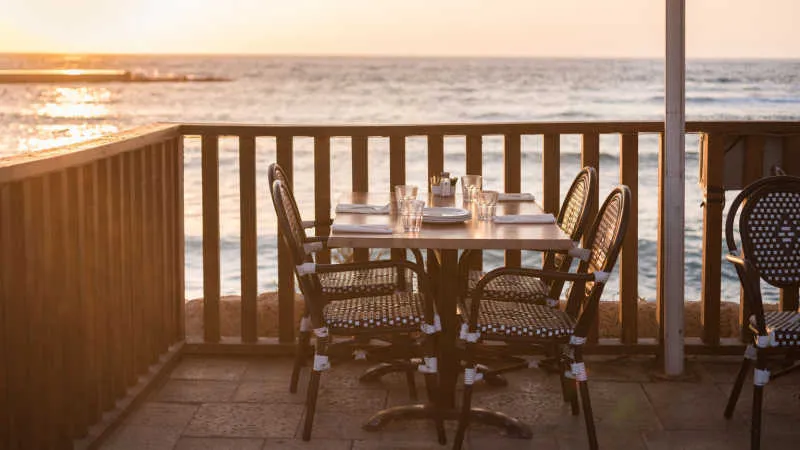 San Giovanni Hotel is a magical place in the city that offers the best night to visitors. The clubs of this hotel are active the whole night and serve the clients. If you are a music lover, you can listen to Egyptian and international music under one roof and dance till you want to stop. The clubs of this hotel organize live music too by local and renowned singers who sing worldwide famous songs to the listeners. There is also a special bar in the hotel that overlooks Stanley Beach and staying the whole night there and enjoying your drinks while looking at the Sea with calm music is the best thing to do in Egypt.
2. Alexandria's Restaurants and Cafes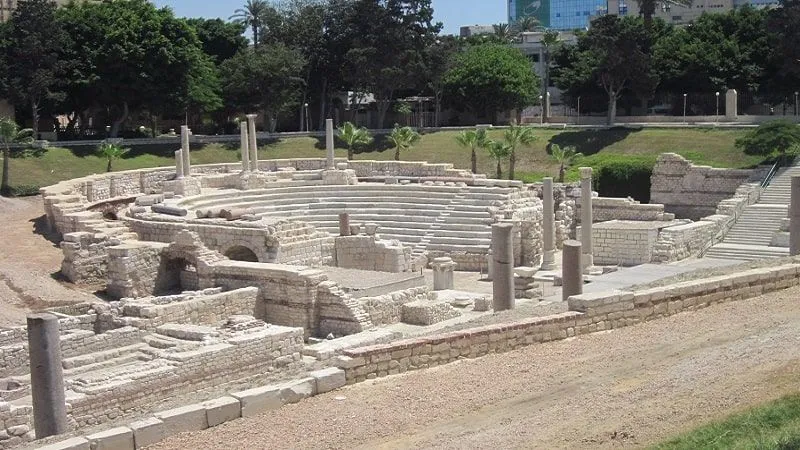 The word that most describes Alexandria City is "Seafood," thus you can visit the most well-known eateries there to have the most delectable seafood meals of your life. These restaurants in Alexandria serve the best cuisine the whole night, so here you can spend your night enjoying the ambiance, beautiful music, and delicious seafood. Here are the names of some of them.
It served as King Farouk's primary workplace and is now a highly regarded restaurant serving the finest French cuisine. Dinner is served there between 20:00 PM and 01:00 AM.
Location: 2 Zawya Abd El-Salam Ln, Alexandria, Alexandria Governorate, Egypt
You may enjoy the most delectable Italian and international cuisine at this fantastic restaurant while taking in the views of the sea and the wonderful grounds. There are some amazing fish dinners offered. You can visit there at any time between 20:00 PM and 05:00 AM to enjoy your dinner.
Location: 72PC+VHJ, Al Mandarah Bahri, Qesm Al Montazah, Alexandria Governorate 5527001, Egypt
This wonderful café has a view of Montazah Bay and the Mediterranean Sea. There are numerous fresh juice varieties, snakes, and delectable ice cream served there. It is open from 10:00 PM to 2:00 AM
Location: Mostafa Kamel Street, Alexandria, Alexandria Governorate, Egypt, 03
The tastiest sandwiches, some fresh juices, and a range of snacks are available at this perfect café with a royal ambiance. The fact that this café is open around-the-clock is its best feature.
Location: 72PC+VHJ, Al Mandarah Bahri, Qesm Al Montazah, Alexandria Governorate 5527001, Egypt
3. Nightlife Shopping in Alexandria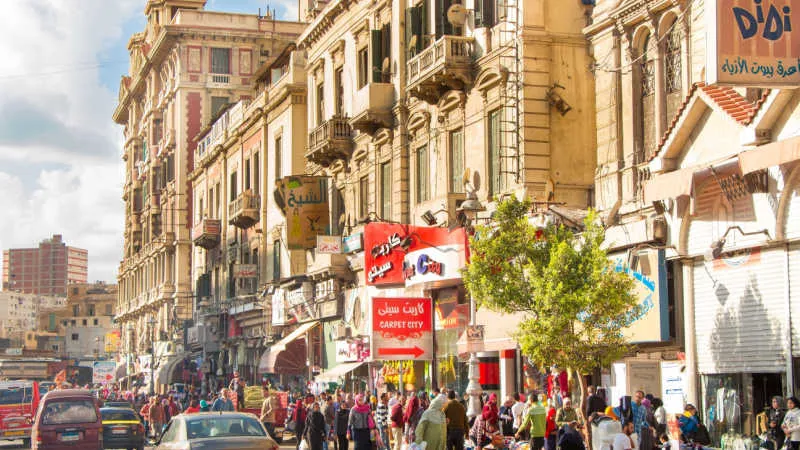 If you are a shopping lover, you can explore the markets in Alexandria and nearby places after sunset as people slip out of their houses by then to shop and for spending some pleasure time with family and friends. You can take the best shopping trips ever in some of Alexandria's most renowned markets and districts in the late evening. The City Center Mall, Attareen Antique Market, Souk El-Ibrahimmiyya, Souk District, Anfushi Fish Market, and Safiyya Zaghloul Shopping Street are the best places to visit in Alexandria for shopping excursions. In addition to being able to find a lot of cinemas, restaurants, and theatres so you can spend the most interesting time while touring those places, all of those locations are bustling with shoppers and pedestrians and you can buy some of the most amazing items at really marvelous reasonable prices like books, bags, clothes, shoes, and gifts. A few of the main markets are:
The City Center Mall
Attareen Antique Market
Souk El-Ibrahimmiyya
Souk District
Anfushi Fish Market
Safiyya Zaghloul Shopping Street
Suggested Read: Top Things to Do in Cairo: To Enjoy a Perfect Holiday Amidst the Sparkling Sands and Vibrating City
4. Walking Across Stanely Bridge at Night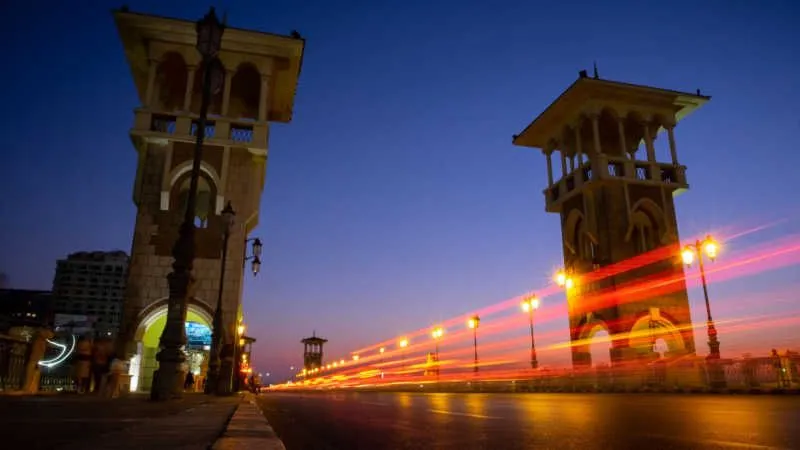 In terms of architecture, it is a bridge in the European style. On the face, the Mediterranean breath appears. Everything feels right: the brilliant sun, the billowing clouds, the warm wind, the crashing waves. When you are visiting Alexandria don't miss walking across this amazing bridge as this is one of the best places to visit in Egypt to inhale the beauty of nature. Try it in the morning to take a view of the open sea. The vicinity of the Stanley Bridge is home to numerous hotels and eateries, and it is regarded as the ideal location to take in the lovely evening sea breeze or the nicest stroll. Both experiences will be remembered for life long.
Location: Stanley Bridge, Fleming, Egypt
Suggested Read: Top Beaches in Egypt: Rejuvenate in the Hypnotic Charm of Nature for a Blissful Holiday
5. Overnight Camping in the Nitrian Desert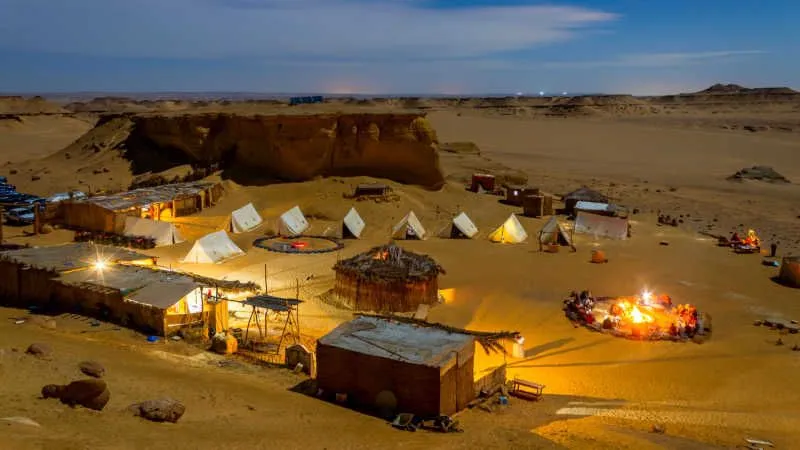 Picture yourself peacefully camping out in the vast desert, far from the hustle and bustle, under a sky filled with stars, what else one can ask for while exploring the nightlife in Egypt? Your spirit will be soothed by the wind, and your naked feet will be scrubbed by the sand! Mesmerized? One of the most popular adventurous pursuits in Alexandria is overnight camping. Other activities available include camel riding, sand boarding, and enjoying delectable Egyptian cuisine. The camps will provide you with the opportunity to have an unforgettable experience while enjoying top-notch Egyptian hospitality.
Location: Nitria Desert, Alexandria, Egypt
Suggested Read: Malls in Egypt: Plan Your Trip For A Day of Fun
6. Bars, Pubs and Night Spots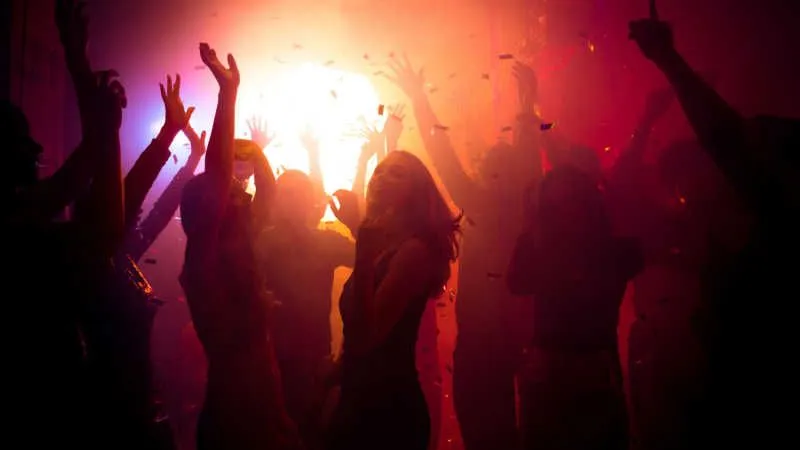 The nightlife in Alexandria is the stuff of legends for many people. One might spend a particularly wonderful evening in this dazzling Egyptian metropolis at one of the flashy bars, pubs, vintage clubs, or eateries. The nightlife in this city features a large selection of dishes and beverages, clubs with lively music, cozy settings, and a fun atmosphere. Try exotic wines and drinks in these places for a good evening away from the daily grind, here are some nightclubs in Alexandria.
NEO Lounge at the Hilton Alexandria Corniche is a sports bar and club/lounge that hosts weekly themed events including House Night, Latin Night, Oriental Night, etc. This place is among the best night places in Alexandria.
Sky Roof is a bright purple bar and club on the roof of the Windsor Palace Hotel that plays loud music (albeit with great sea views).
Mermaid is a seafood restaurant by Calithea on the Corniche that transforms into a seedy bar at night.
In addition to these, there are other more names, such as Spitfire, Eros, a restaurant and bar, Cap D'Or, etc. that enhance the nightlife experience even further.
Location: Multiple
Suggested Read: Honeymoon in Saudi Arabia: Fall Head Over Heels in the Balmy Camelot
7. Night Cruising in Alexandria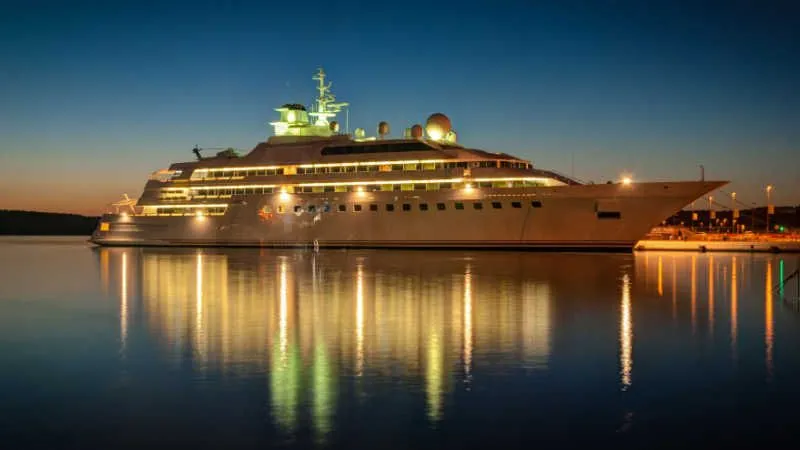 On the sea, City Cruises Alexandria adds life to extraordinary occasions. It's a dream come true for many people coming on their honeymoon in Egypt to cruise along the beautiful Nile River as the waves sparkle and take in the breathtaking grandeur of the Necropolis of Thebes and the Great Pyramids, whether they're organizing a milestone celebration or a casual trip. One of the finest things to do in Alexandria is go on a cruise, which allows visitors to see the monuments up close.  On the intriguing trip, you may take in the city's breathtaking magnificence, and in the evening and into the night, you can repose on the serene river with tasty meals and beverages.
Location: Nile River, Alexandria, Egypt
8. Boardwalk at Alexandria Corniche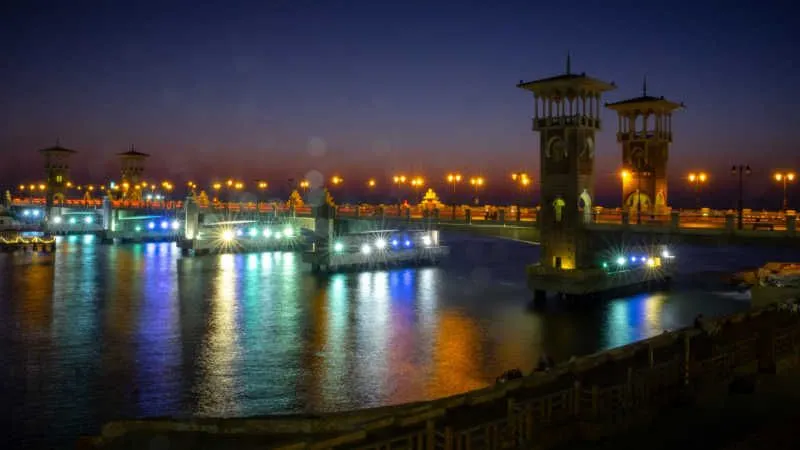 Due to its laid-back atmosphere and classic beauty, Alexandria Corniche is a well-known tourist destination in Egypt. When it comes to leisure, Alexandria, Egypt offers a broad variety of activities. The wide highways overlooking the harbor and the ancient city road make it fascinating to investigate. A must-do activity at this location is to take in the splendor of the sunset as the sun sets and disappears into the horizon bringing the best view for a tourist who wants to admire the nightlife in Alexandria Egypt. Along the shoreline, there will be stores, cafés, and a relaxing area to sit. There is a lengthy boardwalk that provides views of the stunning grandeur of the Mediterranean Sea and bustling city life. There will be other adventures available so you may spice up your leisure day in Alexandria with some excitement.
Location: Alexandria Chorniche
Egypt has its own distinct, wonderful atmosphere, but visiting Alexandria seems like entering another universe. If you find yourself in enchanting Alexandria City, you will have the greatest fun throughout the day and even at night. Nightlife in Alexandria offers a wealth of fantastic things to explore, in addition to a spectacular waterfront vista that will provide you with a respite from the craziness of the world. There, you will see the amazing Alexandria Corniche, take some great photographs in Qaitbay Citadel, and experience the true thrill of visiting the Stanely Bridge, night cruising, and exhilarating night camping. Avail yourself of the best Egypt tour package because there is much to do in Alexandria, especially at night, when hundreds of cafés, pubs, restaurants, and clubs open their doors for tourists to experience the city's fantastic splendor.
FAQs
Q1. What makes Alexandria famous?
The huge lighthouse of Alexandria is one of the ancient world's seven marvels. Alexandria, known for its history, is famed as the land of the Pharos and is still home to a variety of important temples and historic monuments from antiquity. Apart from this Alexandria is known for the exciting nightlife activities too.
Q2. When is the best time to visit Alexandria?
The spring season of March to June and the autumn months of late September to November are considered ideal times to visit Alexandria since the weather is dry and pleasant.
Q3. How is the nightlife in Alexandria?
If you are a night owl seeking for entertaining places to visit in Alexandria, this city will not disappoint. Alexandria has a lot to offer in terms of live music, entertainment, delicious cuisine, and activities so there's a lot to look forward to.
Q4. What are the best places to visit in Alexandria in night?
There is plethora of places to visit in Alexandria to enjoy the nightlife here, some of them are,
San Giovanni Hotel
El-Salamlek's Restaurants and Cafes
Shopping in Alexandria
Stanely Bridge in Night
Camping in the Nitrian Desert
Q5. Which are the best restaurants in Alexandria that serve food late at late night?
One can visit the most well-known eateries there to have the most delectable seafood meals of your life. These restaurants in Alexandria serve the best cuisine the whole night,
Al-Farouk Restaurant
Al-Farida Restaurant
Prince Cafe
Al-Farida Cafe
Q6. Is there a decent beach in Alexandria?
There are several gorgeous beaches in Alexandria for a sun-kissed holiday, with crystal-clear seas, sandy shoreline, and countless exciting activities. It includes the following:
Beach of Cleopatra
Beach of El Maamoura
Beach Bianchi
Beach of Abu Qir
Beach Aida
Q7. What is the main international airport that serves Alexandria, Egypt?
Borg El Arab International Airport is the main international airport in Alexandria, Egypt connecting the city to the world. It is located about 40 KM southwest of Alexandria.
Q8. Where can we see the New Year's Eve celebrations firework in Alexandria?
Alexandria is a city of people who love to enjoy moments in life. Every year, a large group of people gathers at Alexandria's iconic Stanley Bridge as fireworks light up the sky to mark the New Year celebrations.
---