What is the first thing that comes to your mind after listening to Egypt? The majestic pyramids or the ancient civilizations of the pharaohs indeed! Well, apart from the cultural beauty, Egypt is also a fantastic contemporary holiday hotspot for beach lovers. Imagine turquoise water gushing your feet, the cool breeze soothing your soul amidst the sweet chirping of birds and you relaxing on a hammock under a shaded tree? Or you are relishing quality time taking a spa in a cabana on the waterfront promenade? Mesmerized? There are umpteen charming beaches in Egypt to make you enjoy a perfect getaway in complete peace.  
Best Beaches in Egypt: For an Adventurous Holiday Amidst the Turquoise Waters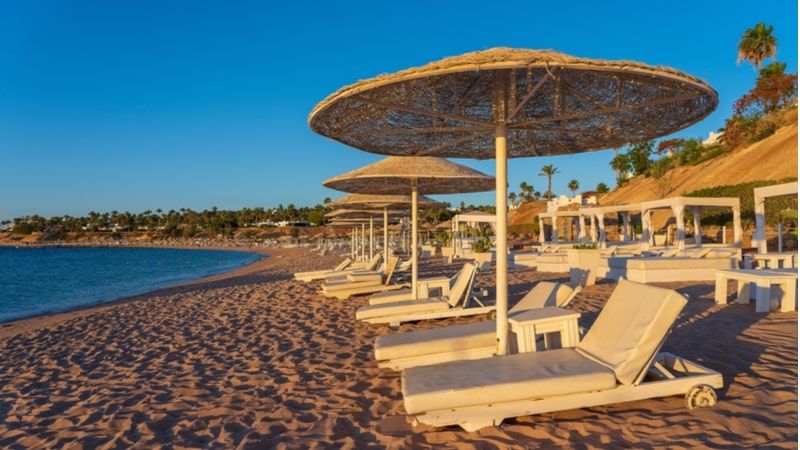 From relaxing on the beaches to enjoying water sports like scuba diving, hiking, trekking, and more, there are various things one can try for a sun-kissed vacation on the sands. The beaches in Egypt boast every comfort, luxury, thrill, and adventure for a rejuvenating holiday amidst natural vistas. Here is a list of top beaches in Egypt to make you relish a world-class beach experience.
Naama Bay
Soma Bay
Marsa Alam
Ras Abu Galoum
Sahl Hasheesh
Blue Beach
Cleopatra's Beach
El Gouna
1. Naama Bay: A Heaven for Adventure Enthusiasts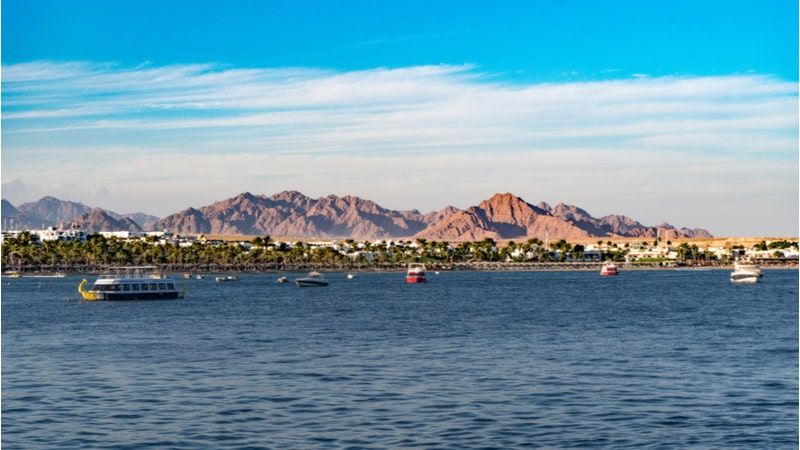 Renowned for scuba-diving, Naama Bay is one of the top beaches in Egypt. Home to deluxe resorts, the beach is embellished with crystal-clear turquoise waters, sandy shores, a picturesque landscape, and a mesmerizing aura. The peaceful surroundings of the beach, with numerous shacks and umbrellas for the comfort of the guests, make this beach an idyllic holiday hotspot. If you are planning a picnic with your loved ones, then without a doubt visit this amazing destination to relish yourself amidst the natural beauty. A paradise for water sports enthusiasts, the beach is full of water activities to push your adrenaline rush. From scuba diving, snorkeling, and swimming, to relaxing with your loved ones, the shoreline is pure bliss. Witness the beautiful coral reefs and the mountains as the backdrop for a fascinating experience.
Location: Sharm El Sheikh
Top Attractions: Scuba Diving and Snorkeling
2. Soma Bay: An Idyllic Spot with Your Loved Ones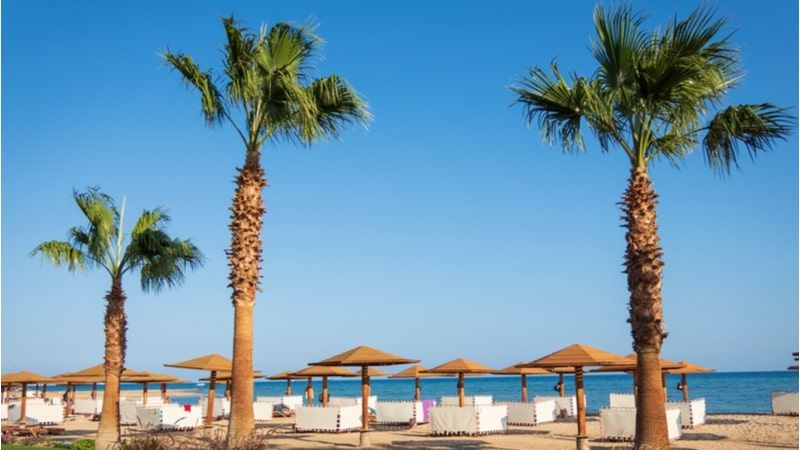 Embosoming turquoise waters, white sand shores, and every luxury, Soma Bay is a famous beach in Egypt. Located away from the hustle and bustle of the city, the beach is an ideal spot to spend a perfect time with your loved ones. Home to a plethora of deluxe hotels, the beach is a top attraction among tourists. The 5-star hotels and resorts will make you feel the world-class Egyptian hospitality to enchant your senses. The numerous shades and umbrellas on the dramatic shoreline make it a perfect place to relax and bask in the vital vitamin D of the Sun. One of the best things to do in Egypt is try water activities for a thrilling adventure on the amazing beaches. From scuba diving, snorkeling, paddleboarding, kitesurfing, and more, one can enjoy a perfect holiday amidst the scenic and blissful scenery. The nearby restaurants and cafes serve the best international cuisines to delight your taste buds.
Location: the Red Sea in Egypt
Top Attractions: Scuba diving, snorkeling, kite surfing, paddle boarding
Suggested Read: Delve into Egyptian History with the Places to Visit in Cairo
3. Marsa Alam Beach: An Ideal Place for Kite-Surfing and Scuba Diving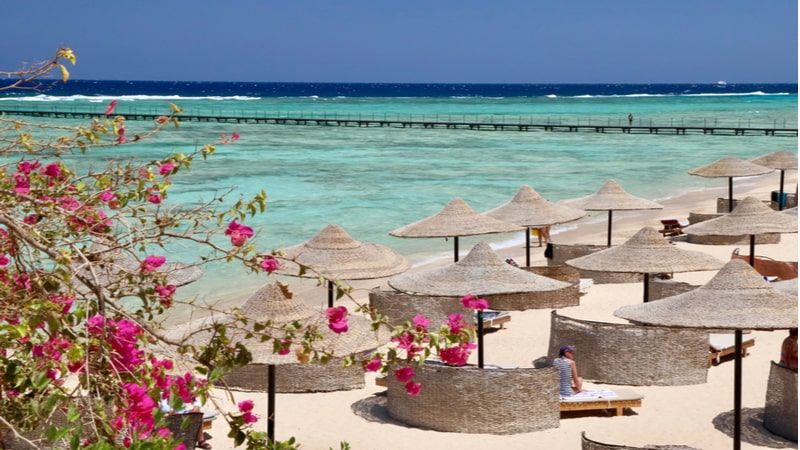 The beautiful resort town of Marsa Alam is renowned for its Red Sea beaches in Egypt. Adorning charming sandy beaches, coral reefs, blue waters, and tranquility, the beach is a famous world-class kitesurfing destination. One of the best places to visit in Egypt, Marsa Alam Beach is a perfect vacation destination for travelers and honeymooners from all over the world. With the enchanting beauty of the turquoise waters and blooming flowers and ample seating space, the beach is pure bliss. One can relax under the umbrellas and delight their taste buds with the scrumptious Egyptian cuisines for a lifetime experience. Featuring among the top ten places for diving, Marsa Alam is a perfect spot for experienced scuba divers. If you are on your honeymoon in Egypt, then you should add Marsa Alam beach to your itinerary to relish in the deluxe hotels and resort with your soulmate.
Location: South of Egypt's the Red Sea Coastline
Top Attractions: Deluxe Hotels and Resorts, Scuba Diving
4. Ras Abu Galoum Beach: For an Escape into Tranquil Scenery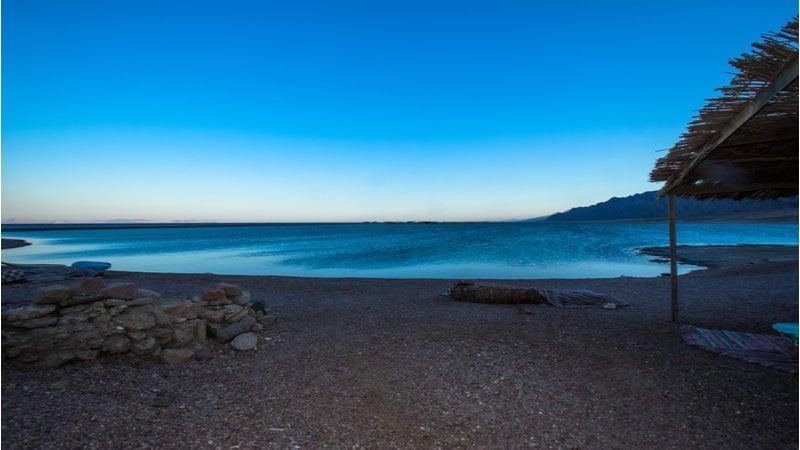 If you are a troglodyte and love to be alone in some secluded place closer to nature, then this beach is for you. Located in the Sinai Peninsula, bordering the Red Sea coast, Ras Abu Galoum Beach is a perfect place to relax in nature's lap. With the pristine beauty of crystal-clear greenish-blue waters and picturesque views of the gleaming deserts nearby, this is a place for nature lovers. Spend a rejuvenating day on the beach and enjoy reading your favorite books, admire the peaceful surroundings, and soak in the positive vibes of nature. A perfect escape into nature, the beach is a quintessential holiday place to relax away from the city's hustle and bustle. Adding more to the fun and breaking the humdrum, there are desert mountains where one can try hiking, trekking, and camel riding for a thrilling adventure with your loved ones. The serene coral reef and amazing fauna make this one of the top places to visit in Egypt.  
Location: Egypt
Top Attractions: Hiking, Trekking, and camel safari
Suggested Read: Top Places to Visit in Egypt: Discover the Ancient and Mystical Land for a Fascinating Experience
5. Sahl Hasheesh: For a Fascinating Holiday Retreat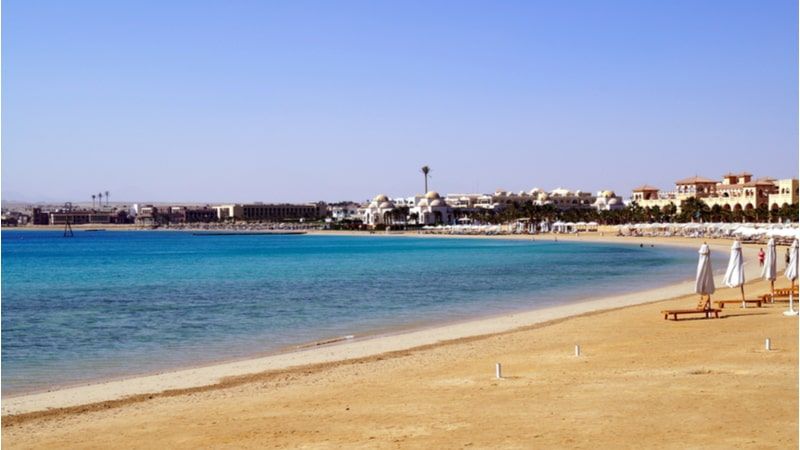 Located 30 km south of Hurghada, Sahl Hasheesh Beach is one of the most amazing beaches in Sharm El Sheikh. Witness the picturesque scenery and relax amidst the mesmerizing aura of the scintillating waters of the sea. There are numerous top-notch hotels and resorts to make you experience a dream holiday in this beautiful country. Brimmed with palm trees and relaxing chairs, the beach is ideal for a romantic getaway with your soulmate. Adorning local eateries, fascinating marketplaces, and activities like boat trips and horse riding, the beach allures numerous tourists from all over the world. Home to private beaches in Egypt, Sahl Hasheesh will make you experience every luxury and comfort for a lavish vacation in the country.
Location: Red Sea coast of Egypt, across from Sharm El Sheikh
Top Attractions: Boat trips, horse riding, and nearby restaurants
6. Blue Beach: For a Luxurious Getaway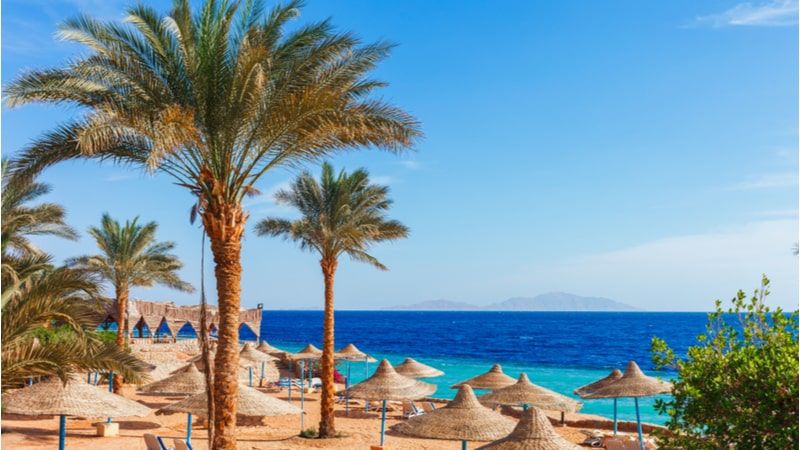 Brimmed with umpteen facilities, a deluxe aura, and a private setting space, Blue Beach is one of the best beaches in Egypt. It is a quintessential beach to make you enjoy a world-class beach experience in Egypt. Adorning an 80 meters long soft sandy shoreline and various umbrellas for travelers to relax, Blue beach will make you experience a deluxe holiday amidst the happening aura. The beach is divided into VIP sections, private cabins, and public areas. There is a beautiful swimming pool on the beach for pool enthusiasts. Imagine relishing in the pool while sipping your favorite drink and witnessing the charming views of the ocean? Well, honestly, it's like a heavenly feeling. One can also delight their taste buds by savoring the delicious international cuisines in the nearby poolside bars and restaurants in Egypt.
Location: Beyond the bay in Dahab
Top Attractions: Swimming pool, VIP sections, Private Cabins
7. Cleopatra's Beach: Swim Amidst the Natural Cavities of Rocks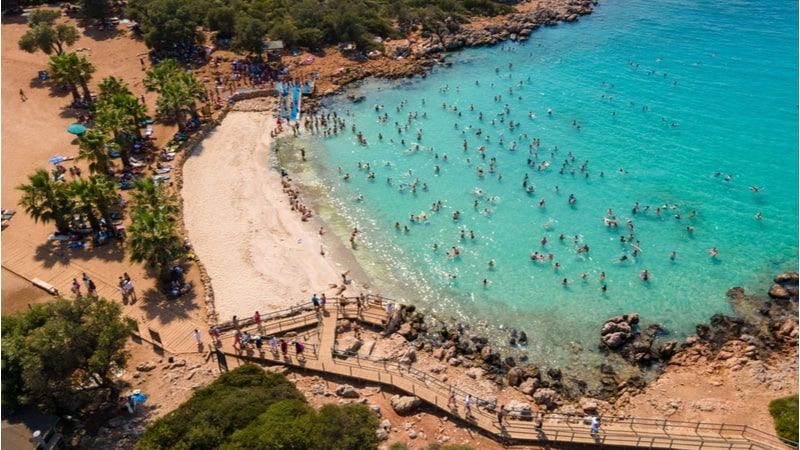 Embracing lush greenery, Cleopatra's Beach is one of the most charming and evocative beaches in Egypt. Alluring a myriad of photographers from all over the world, the scenic beach is a perfect holiday destination for vacationers and honeymooners. Cleopatra beach got its name from Queen Cleopatra VII, the seventh queen of Egypt as the beach dates back to her reign. There are two large formations of rock on either side of the beach making it a unique place to visit in Egypt. Tourists visit the fascinating beach to bathe inside the series of cavities excavated artificially to make the seawater come inside.
Location: 14km drive north-west of Marsa Matruh, Egypt
Famous for: Natural rock formations and cavities inside the rocks used as swimming pools
Suggested Read: Places to Visit in The Middle East: Top Cities Brimming With Diverse Culture and Traditions
8. El Gouna: For a Mesmerizing Family Time on Beach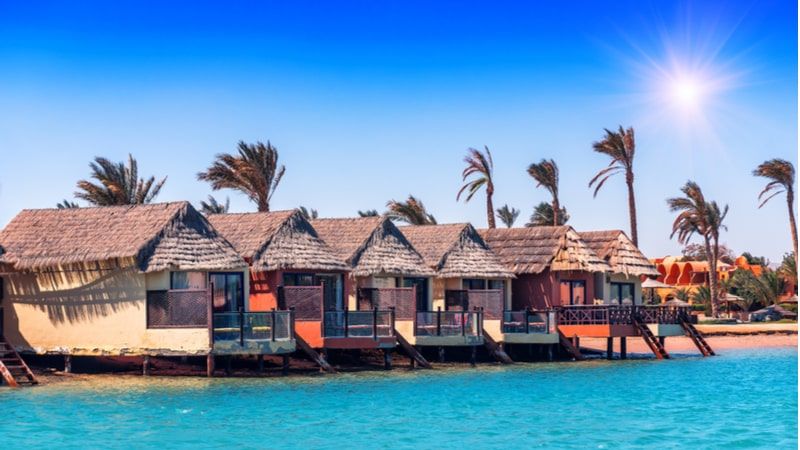 El Gouna is one of the best beaches for a beach wedding in Egypt. Brimming with numerous restaurants, hotels, resorts, and more, the beach is a perfect place to spend time with family and get together with your soulmate. A favorite romantic date spot for many, the beach boasts the hypnotic beauty of nature with a fusion of modern touch and luxury. The tourists can savor international cuisines in the amazing nearby restaurants in Egypt and try many water activities. The water adventure includes snorkeling, kayaking, paddleboarding, and more. Mangroovy Beach and Zeytouna beach are among the main areas to visit in the country. One can also enjoy camel rides and explore the surreal beauty of the Red Sea for a lifetime experience.
Location: Near Hurghada, Egypt
Top Attractions: Snorkeling, kayaking, desert ATV tours with an 18-hole golf course, paddle boarding, resorts, restaurants, and camel ride.
The beautiful country of Egypt embraces numerous beaches for a perfect vacation with your loved ones. The super deluxe beachside resorts offering world-class hospitality, a mesmerizing aura, and flavorsome food make this a dream destination for many. The heavenly surroundings of the beaches make it an ideal spot for a perfect soulmate connection with nature. One can enjoy numerous thrilling water adventures for a lifetime experience. So, what are you waiting for? Avail of the best tour packages of Egypt today and relish amidst nature's lap for a rejuvenating holiday.
FAQs
Q1. What are the best beaches in Egypt?
Egypt is brimmed with amazing beaches to make you relish a perfect vacation in natural scenery. The best beaches in Egypt include:
Naama Bay
Soma Bay
Marsa Alam
Cleopatra's Beach
El Gouna
Q2. What is the best time to visit Egypt?
The best time to visit Egypt is between October and April when the weather is pleasant and perfect to explore the majestic grandeur of the charming country. To visit the beaches in Egypt, the best time is January when the temperature is perfect for swimming and beach adventure.
Q3. What are the adventure activities one can enjoy on the Beaches in Egypt?
One can enjoy numerous water adventures like scuba diving, snorkeling, paddleboarding, kayaking, kite surfing, camel riding, horse riding, and much more in Egypt. One can try the adventures for a thrilling holiday retreat amidst the natural scenery.
Q4. What are the best things to do in Egypt?
There are numerous amazing things to do in Egypt for a fantastic vacation. It includes:
Exploring the Pyramids of Giza
Discovering the beauty of Luxor's Temples and Tombs
Enjoy cruising on the Nile at Luxor
Enjoying water adventure on the beaches
Explore Islamic Cairo
Q5. What are some travel tips for beaches in Egypt?
Here are some amazing travel tips for beaches in Egypt for a fun-filled vacation.
Carry your sunscreen and sunglasses along.
Don't miss the water adventures.
The best time to visit the beaches in Egypt is in January.
Keep yourself hydrated.
Bikinis are not allowed everywhere.
Q6. How many days are enough to explore Egypt?
A total of 7 days will be enough to explore the rich culture and majestic grandeur of Egypt. One should visit the scenic beaches, discover the architectural marvels, and delight your senses with the Egyptian cuisines for a perfect holiday experience in the charming country.
Q7. What is the best beach in Egypt?
There are numerous beautiful beaches in Egypt to make you enjoy a fantastic vacation but Naama Bay is the epitome of luxury and natural beauty. Offering a world-class beach experience, Naama Bay is a paradise for beach lovers and water enthusiasts. One can enjoy scuba diving and relish in deluxe resorts for a refreshing vacation.
Q8. What is the main international airport in Egypt?
There are a total of 26 international airports in Egypt. Cairo international airport is the main and busiest international airport in Egypt connecting the world globally.
---