If you are someone who is looking to spend some leisure time with friends or family then, MIA Park is an ideal place for you which is full of green spaces, leisure activities and offers blissful views of the Doha skyline. The Park also features kiosks and café with a menu featuring a wide selection of snacks and beverages and also offers panoramic views of the Doha's West Bay. Besides this, several fun-filled activities can also be enjoyed here like kayaking, paddle fit, fun games, physical exercises and a lot more. Check out this detailed guide to MIA Park to know what all can be enjoyed here.
Activities To Enjoy At MIA Park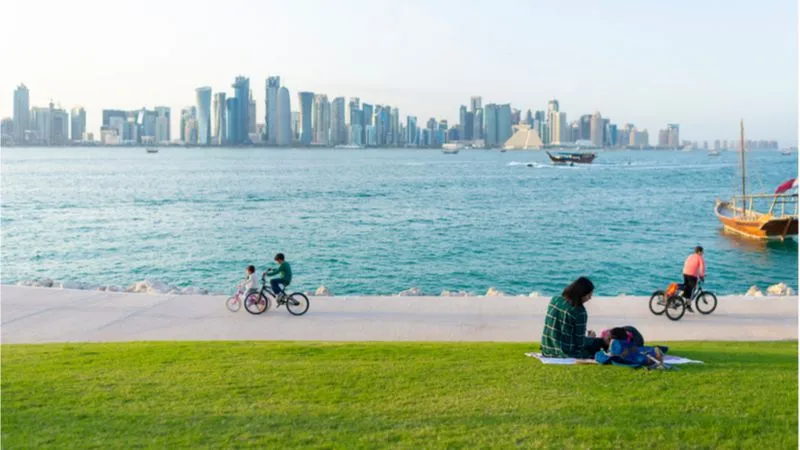 There are myriad of things that can be enjoyed at MIA Park which are great for leisure, fun and entertainment. Let's check out the diverse range of activities that can be enjoyed here by both adults and children.
1. PaddleFit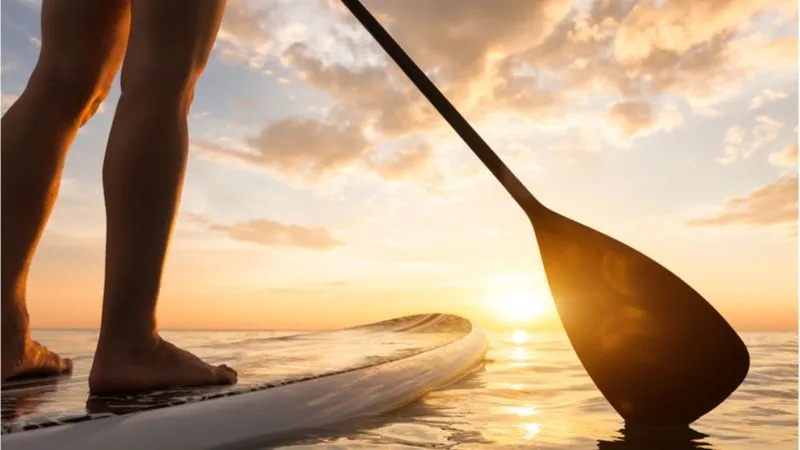 PaddleFit classes can be taken by visitors at MIA Park in Qatar which are available for both novice and experienced people that will help them in achieving their fitness goals and will also improve their paddling technique. Classes are organized at least 2 to 3 times a week with an objective to offer a fun-filled programme to visitors wherein they can achieve their fitness goals with stand-up paddle boarding (SUP). To avail this programme, visitors can directly register on the official website of the MIA Park.
2. Guided Kayaking Tour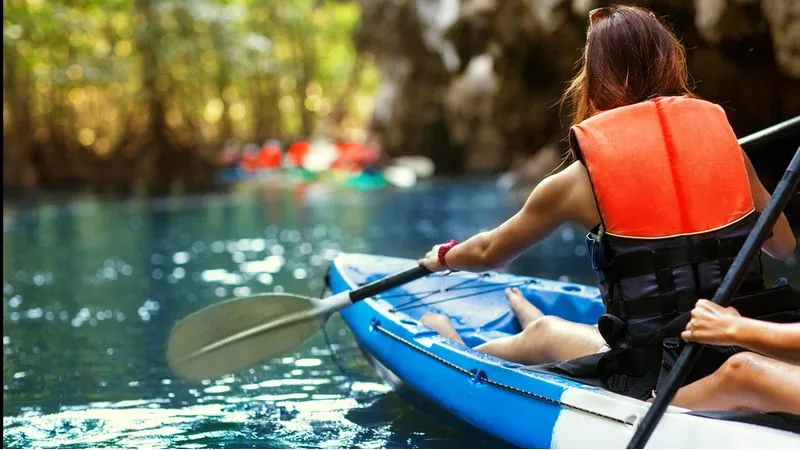 One of the best activities in Park is to take a guided kayaking tour that offers an absolutely gorgeous views of the MIA building from water level. This kayaking tour will take guests on an informative journey to every nook and corner of the park giving them insights about the history, architecture and significance of the Museum of Islamic Art and MIA Park. Through this guided tour, you will also be taken to 7" sculpture of Richard Serra which is located at the end of the park. The tour guide will tell you the significance and important details about the architecture of this sculpture.
3. Shopping At The Park Bazaar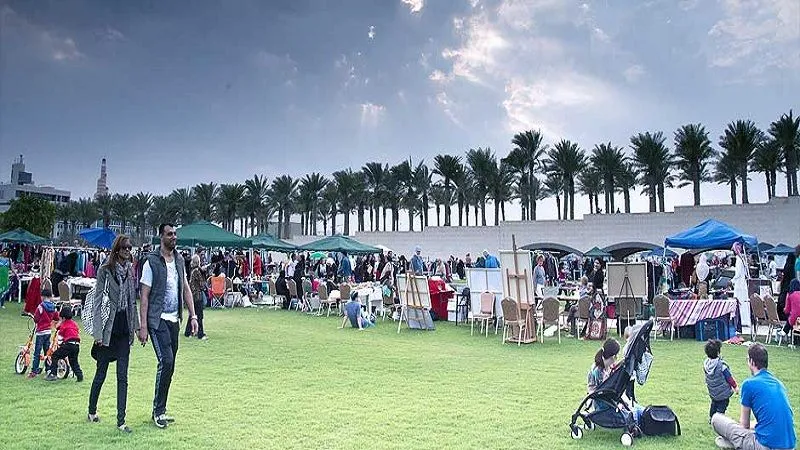 MIA Park events are famous all over the city which attracts both travelers and locals alike. Shopping exhibition is one of the best events that takes place here where there are different kiosks that are set up here selling handicrafts, jewelry, clothes, home décor, art and paintings, antiques, accessories and knick-knacks at very affordable prices. Food and beverage stalls are also set up here where Qatari food as well as international flavors can be relished. This bazaar is like a mini version of Souq Waqif and takes place within the park on weekends.
4. Witness The Beauty Of Richard Serra's '7' Sculpture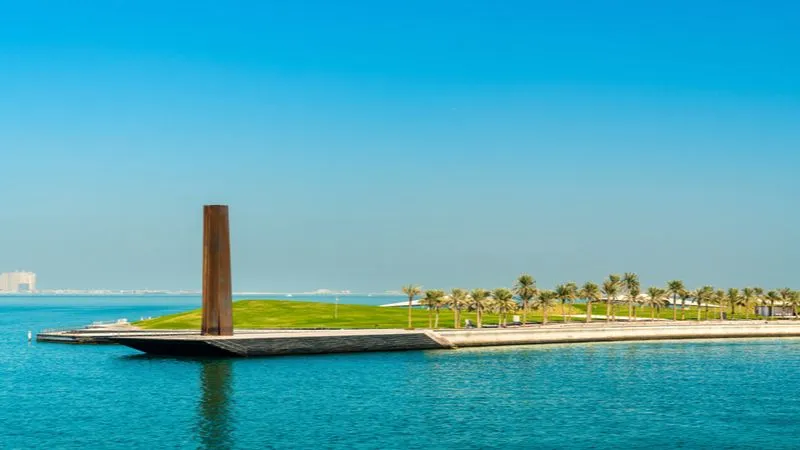 '7' sculpture is one of the major highlights of MIA Park in Doha that makes it one of the major attractions of Doha. It is located at extreme end of the park and was constructed by world renowned artist Richard Serra. '7' sculpture 80-foot-high structure which is made of steel plates and signifies the scientific & spiritual in Islamic culture. These steel plates were tested under seismic and strong winds load to measure the stability of these plates. This structure is made from 7 steel plates which are arranged in heptagonal shape.
5. Enjoy Picnic With Friends Or Family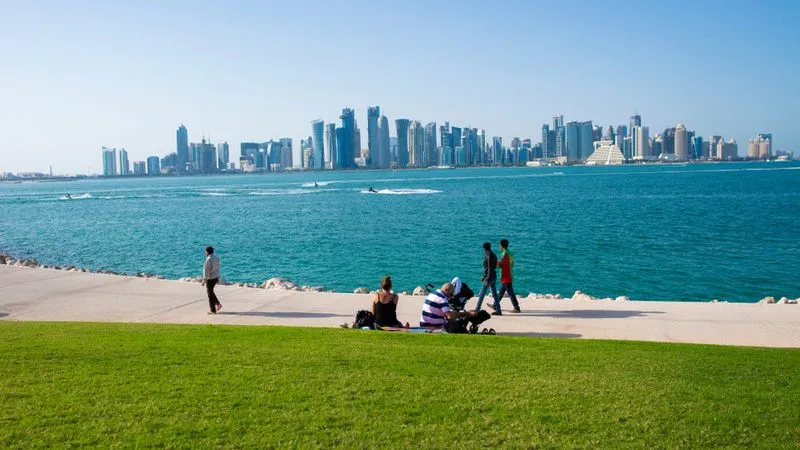 MIA Park Qatar is one of the best places to spend leisure time with family or friends at an outdoor space overlooking the gorgeous Doha West Bay. You can buy your own picnic basket for around QAR 50 and enjoy family time together in the evening enjoying the pleasant weather during the months from November to March. You can also relax and enjoy a great gastronomic experience at Park Café which is also one of the best cafes in Doha. From here stunning vistas of Doha West Bay can also be enjoyed while enjoying pastries, refreshing beverages and freshly prepared sandwiches.
6. Rent A Bicycle To Stroll Around The Park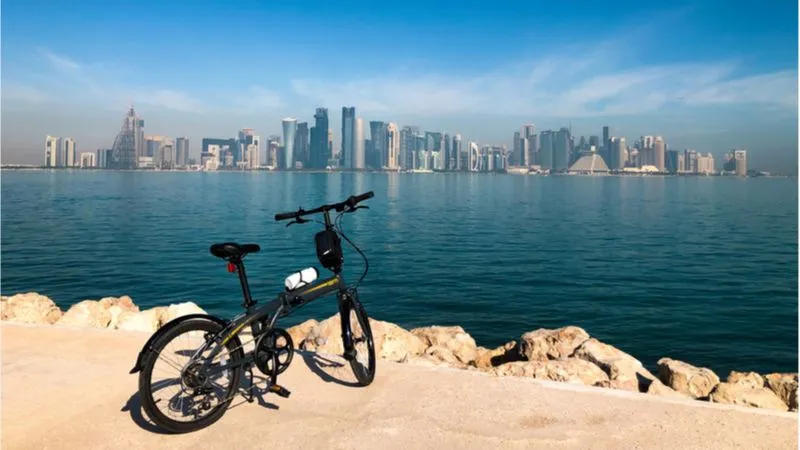 Another in the list of fun activities to do at MIA Park is to rent a bicycle and enjoy leisure stroll around the parl. There are bicycle tracks inside the park where riding a bicycle is a joyful experience. Bike rental is available for both kids and adults and tickets for the same can be purchased from portacabin at carousel area. Renting a bicycle is a pleasant experience to enjoy at MIA Park as you can witness enthralling views of the sea along the track and enjoy fresh sea breeze.
7. Enjoy Different Activities At MIA Playground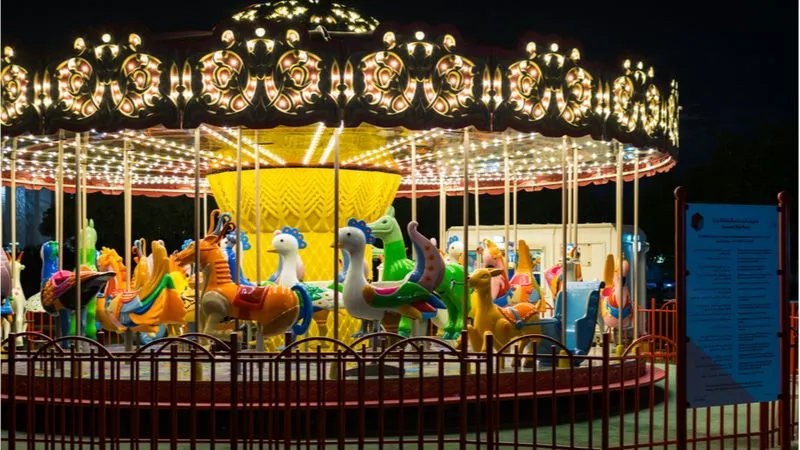 MIA Playground has 3 dedicated spaces for children of different age groups which are well-equipped with play equipment and offers diverse range of games that will help in their physical development. Children of all age groups can spend a blissful time here indulging in different activities and games as the park features an area for 2-5 years old, a larger one for 5 to 12 years and another one for young children from 12 to 16 years. Bungee trampoline can also be enjoyed here at very nominal prices and it is also absolutely safe.
8. Try Out Physical Exercises To Keep your Fitness Game On Point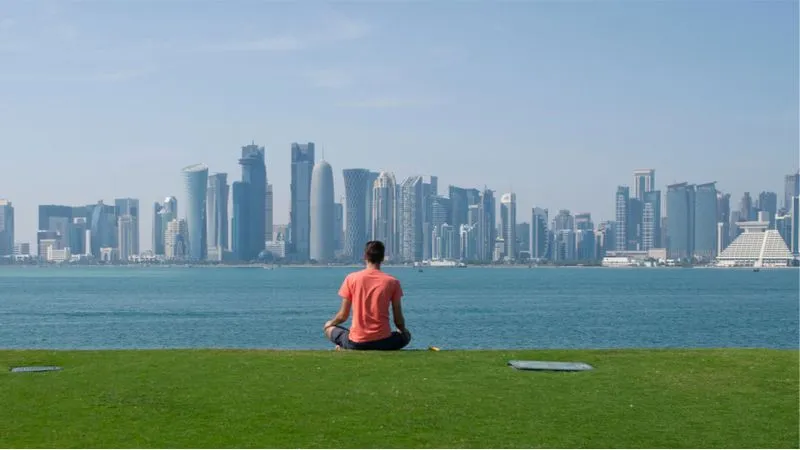 MIA Park in Doha is a great place to indulge in physical exercises amidst natural surroundings. People come here early in the morning and during evenings to workout amidst a natural ambience. Renting a bicycle is also one of the activities that can be enjoyed here as the park has dedicated cycling tracks offering stunning views of the Doha Bay. Regular fitness classes are also conducted here which you can join to keep your fitness game on point and to learn about different exercises that are healthy for the body.
Some Rules To Follow At MIA Park, Doha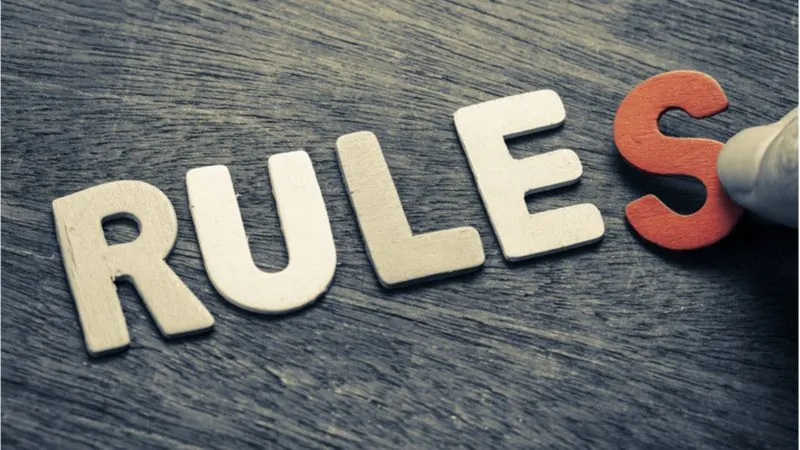 In order to maintain a healthy environment in the park and offer a pleasant experience to visitors the park has laid special emphasis on certain rules that visitors need to abide by. Some of the rules that you need to follow here are:
Playground in the MIA Park are exclusively for children aged between 2 to 16 years of age and no adult is allowed to visit the park unless and until they have come as guardians for children below 10 years of age. Also, the playground is a no smoking zone hence, one is not allowed to smoke here. Riding of bicycles is also not permitted inside the playground.
Since MIA Park is a family park, one needs to abide by the dress code rules and should not wear anything obscene to the park. The authorities of the park might refuse your entry to the park if you wear anything short to the park which is not considered modest.
To ensure safety of guests and offer a safe environment to everyone, the authorities at MIA Park has set up certain rules that need to be abided by before going for paddle boating. A person needs to be more than 1 meters of height to be eligible for this adventure. Also, eatables are not allowed in the main area and the life vest must fit in properly to the person going for paddle boating. People with health issues like neck aches, lung disorders, heart patients and also pregnant women must not take part in paddle boating.
Trampoline & Bungee Jumping Rules
People going for trampoline and bungee jumping should remove all the loose items and footwear before undertaking this adventure. Also, to be eligible for this activity, you must be less than 90 kgs and should be physically fit. No eatables and beverages are allowed inside the trampoline and bungee jumping area.
Major Attractions Near MIA Park
The ideal location of MIA Park makes it one of the best public parks in Qatar as it is located overlooking the gorgeous Doha West Bay and near major tourist spots in Doha. Some of the best places to visit near MIA Park, Doha are:
1. Museum of Islamic Art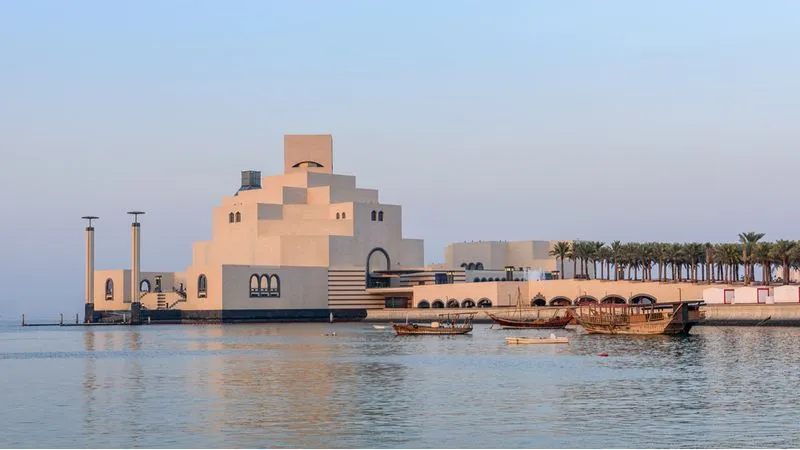 Located adjacent to the MIA Park, overlooking the Doha West Bay, Museum of Islamic Art is a must-visit place for art admirers as this place features a vast collection of art from around the world. The architecture of the museum reflects Islamic touches and has been done by the world-renowned architect I.M Pei. The artefacts found inside the museum are a mix of both religious and non-religious ones. From glass collection to wooden work, textiles, ceramic collection, and Islamic books, there are so many amazing things to explore here. The museum also features a rich collection of manuscripts dating back to the Ottoman period.
2. MIA Library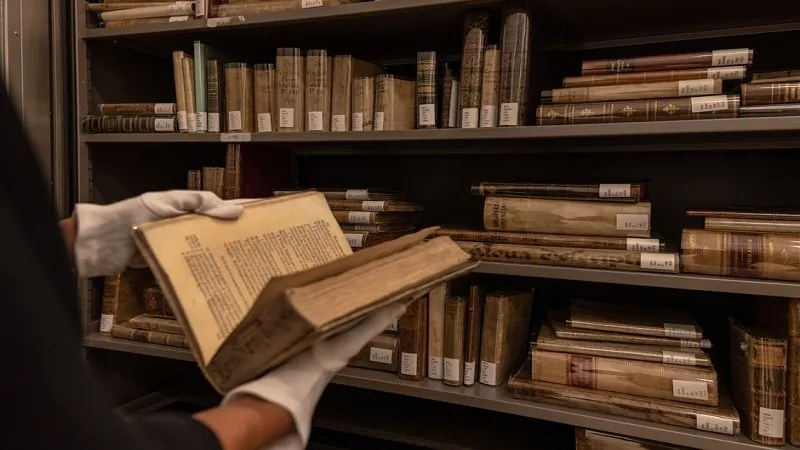 One of the best libraries in the country, MIA Library is located on level one of Education center and boasts of around 21000 books on Islam besides many other. There are nine study rooms inside the library where people can study, learn and read peacefully without any disturbance. Mia Library also features a children's library which has an exclusive collection of books for children like story books, general knowledge books, books on aptitude and many other. There is also a free wi-fi facility available so that people can do the research work online.
3. MIA Café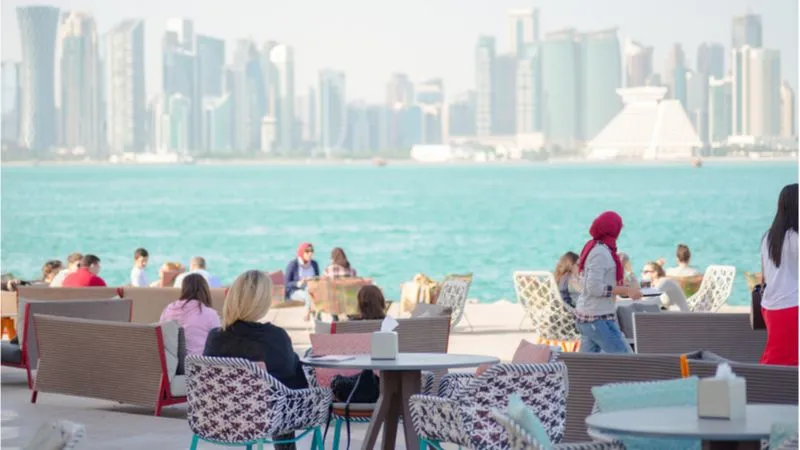 One of the best cafes in Doha, MIA Café offers pristine views of the West Bay and an exquisite ambience where coffee and lite snacks can be relished. The architecture and interiors of MIA Café are awe-inspiring and have been done by a French architect, Phillipe Starck. Some of the items that can be enjoyed at MIA Café are gourmet sandwiches, desserts, freshly prepared salads, a selection of cold and hot beverages, muffins, pasta, fruits and a lot of other dishes. The dishes here are prepared by the trained chefs of the Grand Hyatt Doha Hotel & Villas, so the presentation and the taste is something to die for.
4. Souq Waqif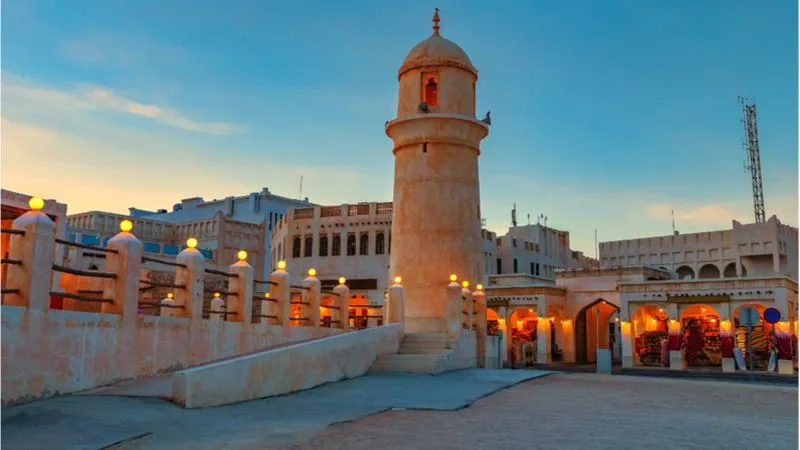 One of the main attractions to visit near MIA Park is Souq Waqif which is located at a distance of just 2 km from the park. Souq Waqif is a traditional market in Doha that is famous for offering an authentic shopping experience to travelers from where they can shop for souvenirs, traditional jewelry, spices, antiques, Dalla Arabian pots, shisha, pashmina shawls, wooden boxes, desert rose and a lot of other unique items. Souq Waqif also houses some of the best restaurants of Qatar serving rich and authentic Qatari flavors along with international dishes.
5. National Museum of Qatar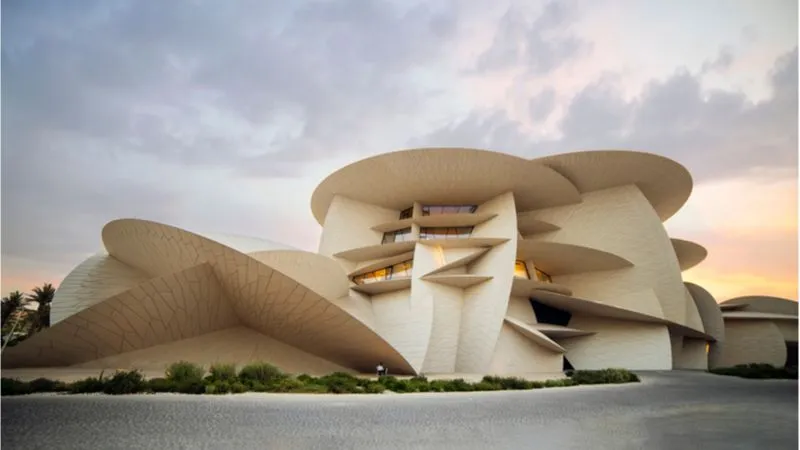 One of the top historical places in Qatar, National Museum of Qatar is located at an approximate distance of 1.7 km from MIA Park, Doha. National Museum of Qatar not only boasts of a rich collection of artefacts but also its stunning architecture and interiors which was done by French architect, Jean Nouvel. There are 11 different galleries inside the museum that will take you through the historical journey telling the rich history of Qatar through different displays. It also gives insight into the lives of the people who used to live in Qatar earlier, their lifestyle and culture.
5 Best Eateries Near MIA Park
The MIA Park in Qatar, being a famous attraction among tourists, is nestled close to many fancy cafes and dining restaurants. As you spend a day admiring the green lush beauty of the park and exploring the nearby attraction, there are many cafes where you can enjoy a bite. Here are some best restaurants near MIA Park, Qatar, to plan a family meal together.
1. IDAM Restaurant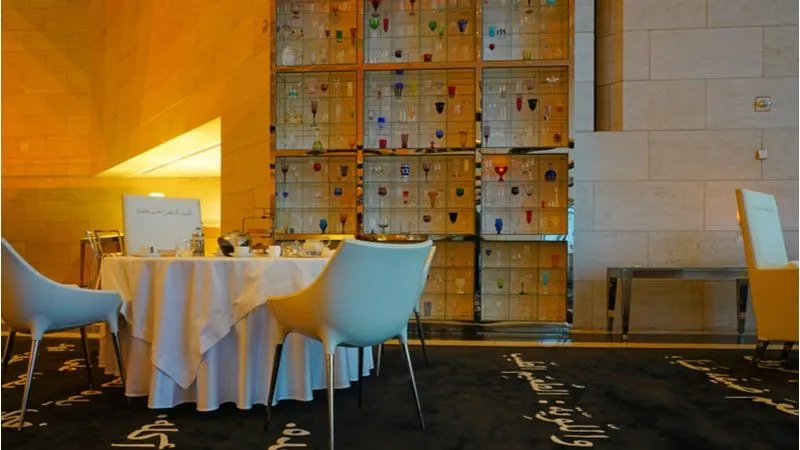 IDAM, located at the Museum of Islamic Art is the best restaurant near the MIA park that is known for its quality food and luxuriating interiors. The restaurant is delivering not just an authentic zest but warm hospitality to make it a family-friendly space. You can choose the best cuisine from some famous Qatari food listed on the menu. There is a team of professionals who are working constantly, ensuring not just comfort but a service that will cater to the needs of every guest. The world-class chefs at IDAM will serve you the finest aroma and flavor, making it the best eatery near MIA Park, Qatar.
Address: Corniche St 5th Floor, Museum of Islamic Art, Doha 2777 Qatar
Operational Hours: Everyday- 12:30 PM - 3:00 PM : 7:00 PM - 10:00 PM
Food: Mediterranean, French, European, Arabic
Distance: 0.5 Km
Suggested Read: IDAM Restaurant Doha: A Culinary Gem In MIA, Qatar
2. Claw BBQ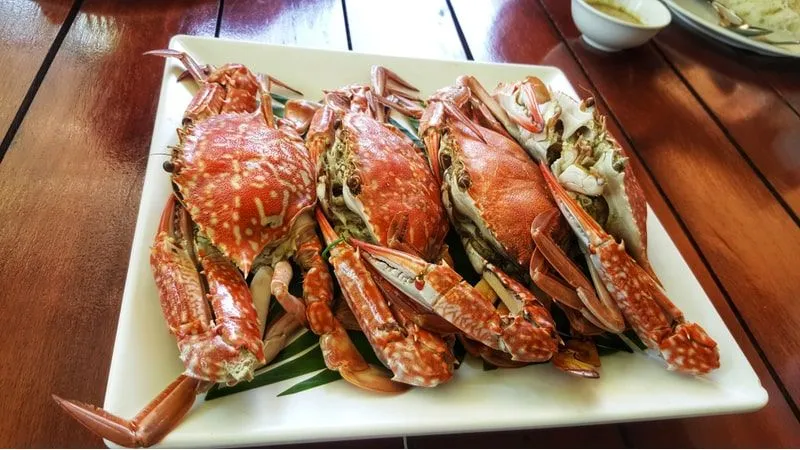 Are you a fan of grilled food? Well, the Claw BBQ is the right place where you can head off after spending a day at MIA Park. This eatery has been on the hit list of many locals and tourists in the city. This American restaurant in Qatar is welcoming people from every corner and serving the best seafood. The cool and casual settings of the place make it quite famous among vacationers and foodies. The menu at Claw BBQ delicious includes the best dishes and great cocktails, and some crispy snacks like Buffalo wings, BBQ steaks, burgers and buckets of crab, and so more.
Address: Al Meena Street, Old Salata DoubleTree by Hilton Old Town, Doha 20993 Qatar
Operational Hours: Everyday- 12:00 PM- 12:00 PM
Food: Seafood, American Food
Distance: 1.0 Km
3. The Seasons Restaurant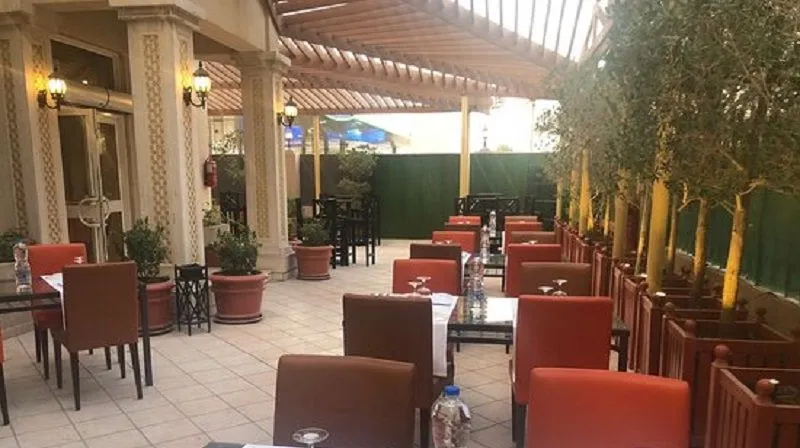 A classic décor, a sophisticated ambiance, and a delightful food menu have made the Seasons Restaurant one of the best places to eat near MIA Park in Doha, Qatar. What's the specialty of the Seasons Restaurant? It is offering a unique and distinct menu for all meal courses, brunch, lunch, and dinner. There is a buffet service and a La Carte Menu available for the families. The seasons' Restaurant has included seafood and desserts to the menu, adding more variety to the platters. This restaurant near MIA café is quite popular among families for its 'Parent-free Zone' where kids can enjoy fun games while parents can enjoy the meal.
Address: Al Meena Street, Old Salata DoubleTree by Hilton Old Town, Doha 20993 Qatar
Operational Hours: Everyday
6 am to 10:30 am
12:00 pm to 3:30 pm
6:30 pm to 11 pm
Food: Seafood, Mediterranean, Sushi, Asian, Middle Eastern
Distance: 0.6 Km
Suggested Read: Four Seasons Hotel, Doha: A 5-Star Luxury Retreat Known For Its Rich Grandeur
4. June Café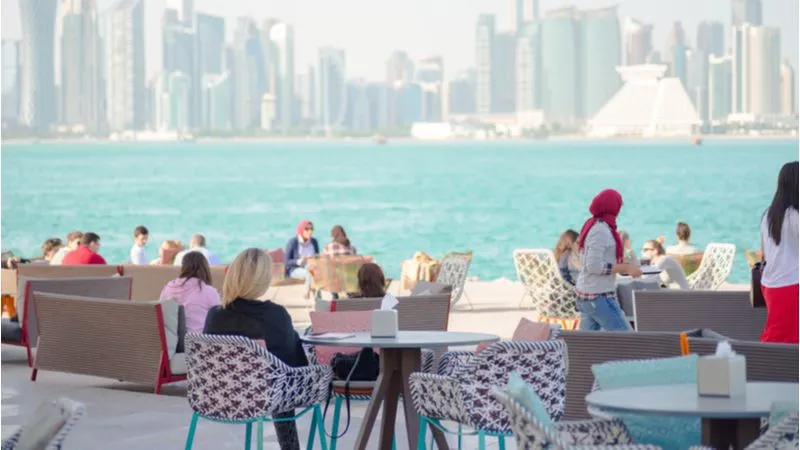 A heaven for foodies, June Café is the most happening spot in the city, located in the MIA Park in Qatar. The café not only offers quality food and a cool, casual ambiance, but it is adding more popularity to the park. You can plan a family picnic at MIA park, ordering the best food from the café's menu. Overlooking the corniche, the café has made dining quite special, and a romantic affair. Admire the serene views of the night, or enjoy a leisure evening at the café, sipping your favorite Arabian Drink.
Address: MIA Café, Doha, Qatar
Operational Hours: Everyday 05:00 pm to 12:00 am
Food: Indian, International, Middle Eastern, Arabic, Cafe
Distance: 0.5 Km
5. Al Shurfa Arabic Restaurant
At a distance of 1.5 km, the Al Shurfa Arabic Restaurant is one of the best-known places to enjoy a family dinner in Doha. This restaurant near MIA park in Doha, Qatar, offers an ideal spot to relish the taste of the best cuisines offered in the city. Located in the Souq Waqif hotels, the restaurant has a sophisticated and casual environment where you can plan a family get-together or dinner after spending a fun day at MIA Park. There is outdoor seating available that offers a serene view of the Souq Waqif and Doha Skyline.
Address: Souq Waqif Al Jomrok-Souq Waqif Boutique Hotels, Doha, 1274
Operational Hours: Everyday 04:00 pm to 11:30 pm
Food: Lebanese, Mediterranean, Middle Eastern, Arabic
Distance: 1.4 Km
Best Hotels Near MIA Park in Doha Qatar
While MIA Park is a place to soak in the surreal beauty of nature, admire the vista, one must witness its serenity every morning to give their day a kick start. If you are looking for a perfect space to live near this beautiful park in Qatar, here is a list of top hotels you can consider adding to your list.
1. Golden Tulip Doha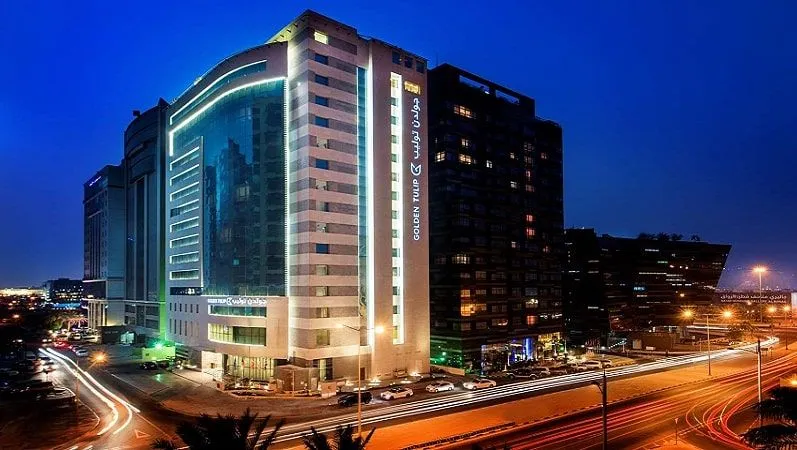 Located at the heart of Doha, the Golden Tulip is one of the best accommodation options near MIA park. The luxury hotel offers every comfort and eases you are looking to spend a holiday in Qatar. The hotel is not just located near the famous Museum of Islamic arts but is quite accessible from the Hamad international airport.
There are 193 rooms, well designed and spacious enough to offer you a comfy place like your home. Every room exhibits quality furnishing with a décor that enhances the experience for all. You will find a coffee and tea kettle, minibar, in-room safe, and telephone connectivity in every room. The hotel ensures to deliver the best comfort and entertainment with top dining places, spa, pool, and fitness center. You can enjoy all-day dining at the best restaurants and cafes available at Golden Tulip Hotel, Doha.
A relaxing spa is all we need after a tiring day, so, the Golden Tulip has a QI Spa where you can enjoy some healing therapies, spa treatment, and sauna.
Address: Al Meena Street, Doha 490, Qatar
Ratings: 4.5
We love it For: Restaurants and Cafes, Meeting space, Fitness center, Pool
Distance: 0.7 km
Suggested Read: Spas In Qatar : A Lavish Yet Traditional Treatment
2. DoubleTree by Hilton Doha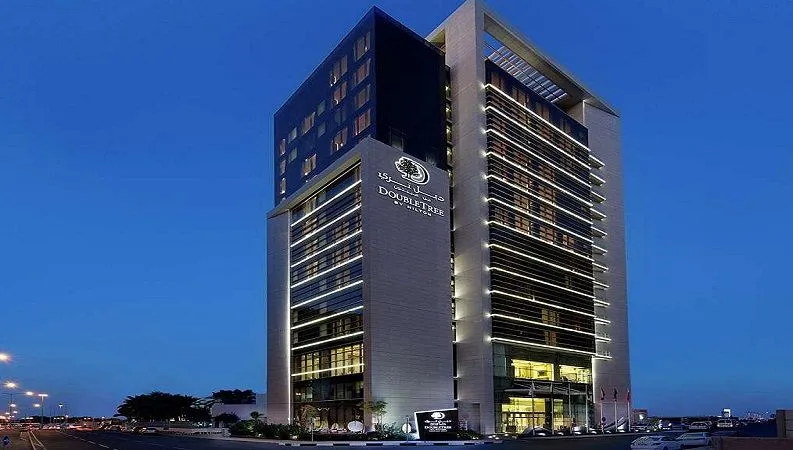 Enjoy the luxury and comfort of staying at the best hotel in Doha, located close to MIA Park Qatar. DoubleTree by Hilton in Doha is one of the best accommodations you can get near the Museum of Islamic art as the hotel delivers the best service and hospitality.
The hotel offers standard to premium accommodation options with rooms that are well designed and laced with every modern amenity. From air conditioning to plush bedding, separate bathroom, and toiletries, the hotel has included the finest collection of luxury and high-tech facilities in its room.
Doubletree by Hilton in Doha is a paradise for foodies as the hotel has a top Doha restaurant to serve you a tempting taste of the best Qatari food. Indulge in the delighting zest of every fancy and traditional cuisine served at this luxury hotel near the MIA Park in Qatar. Other facilities offered at the hotel include well equipped meeting rooms, halls, luxury, and private suites, and 4x7 assistance.
Address: Mohammed Bin Al Qasim Street Al Sadd, Doha
Ratings: 4.5
We love it For: Cafes, Meeting space, Spa and Fitness center, Pool
Distance: 0.8 km
3. Saraya Corniche Hotel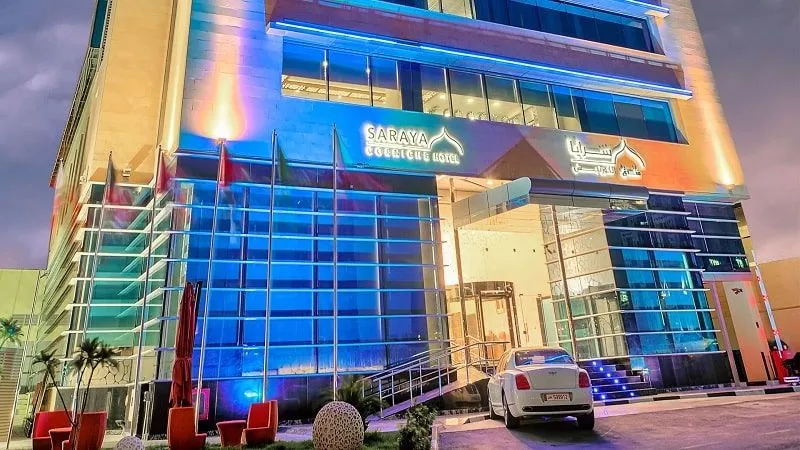 Make your staycation a luxury escape by staying at Saraya Corniche Hotel. Located 0.7 km from MIA Park, Doha, the hotel is considered to be the best accommodation you can find in the city. It is a unique style, appealing architecture, and lavish interiors of the hotel that makes it an ideal option while choosing a place to stay.
Saraya Corniche has 187 hotel rooms that are designed elegantly with exquisite amenities and complimenting furnishing. This premier boutique hotel offers class and luxury in each of the rooms designed with the best quality décor. From air conditioning to television and free WIFI, everything comes in handy to enhance your holiday experience at this hotel.
Enjoy dining at the best on-site restaurant, which includes every international cuisine on the menu. The hotel has also listed facilities like a spa, fitness center, and meeting space to make it an ideal accommodation for every vacationer in the city.
Address: Old Salata Al Safilia Street Zone #18 Building 1, Doha, Qatar
Ratings: 4.0
We love it For: Meeting space, Restaurants, Spa and Fitness center
Distance: 0.7 km
Qatar MIA Park is a great place to unwind yourself as the ambience of this place is serene and offers pleasant views of the landscape around. With so many activities and facilities to enjoy, families and kids can have a gala time here. Adults can indulge in activities like workout, cycling, bungee jumping, trampoline and several other while children can enjoy at different playgrounds which have been designed for kids of all ages. If you have already visited this park before or plan to visit after reading this post then, do let us know about your experiences in the comments section below.
FAQs
Q1. Where is MIA Park located?
MIA Park is located very close to Museum of Islamic Art which is quite a popular attraction in Doha overlooking the waterfront promenade. It is very easy to get to the park by hiring or renting a cab.
Q2. What are the facilities available at MIA Park?
MIA Park offers a wide range of activities to visitors like:
Guided kayaking tours
PaddleFit and Bungee Trampoline
Bicycle Rental
Fitness Classes
Children's playground area
Shopping from the Park Bazaar
Eating at Park Café and kiosks
Picnicking
Q3. What are the famous attractions to explore near MIA Park?
Some of the famous attractions near MIA Park which you can explore on your visit to the park are:
Museum of Islamic Art
Doha Corniche
National Museum of Qatar
Souq Waqif
MIA Library
Q4. How far is MIA Park from Doha Airport?
MIA Park is located at an approximate distance of 6.2 km from Doha Airport and it takes around 12 to 15 minutes to reach here from the airport.
Q5. Which are the best hotels near MIA Park?
Some of the best hotels near MIA Park are:
Golden Tulip Doha
DoubleTree by Hilton Hotel Doha - Old Town
Saraya Corniche Hotel
Golden Ocean Hotel
Movenpick Hotel Doha
Q6. What are the timings of MIA Park?
The Park remains open 24 hours a day however, certain activities and areas are open only from 08:00 am to 10:00 pm.
Q7. What are the facilities available at MIA Park?
There are a lot of facilities available at MIA Park for the comfort and leisure of visitors like washrooms, café, 200-seat auditorium, guided tours, ATM, and separate prayer rooms for males and females.
Q8. Are there any restrictions in MIA Park?
Visitors going to MIA Park have to follow a certain rules and guidelines like smoking is not allowed at MIA Café, children under 10 years of age have to be supervised by adults, to enjoy bungee trampoline it is necessary to be below 90 Kgs and you must be taller than 1 meter to enjoy paddle boating.
---