Home to some of the most pristine landscapes, and colorful cultural heritage, Oman attracts millions of tourists from around the world. The rich history of this rich middle eastern country is seen in its forts and archaeological sites. Speaking of some of these stunning historical attractions, the islands in Oman are known for their divine beauty, waiting to explored by tourists from around the world. When planning a vacation to Oman, one should ensure the islands are one of the many places to explore.
Top 8 Islands in Oman: The Treasures Of The Middle East
Oman is one of the richest middle eastern countries, home to some of the finest forts, malls, deserts and mosques. One of the many reasons why tourists visit Oman is for its islands, amongst various other attractions. Speaking of islands, people should ensure they explore Masirah, telegraph, quoin, and Daymaniyat islands.
Daymaniyat islands
Masirah island
Telegraph Island
Quoin Island
Jazirat Al Hallaniyyah
Al Fahal
Barr Al Hikman, AlWasta Governorate
Khuriya Muriya Islands
1. Daymaniyat Islands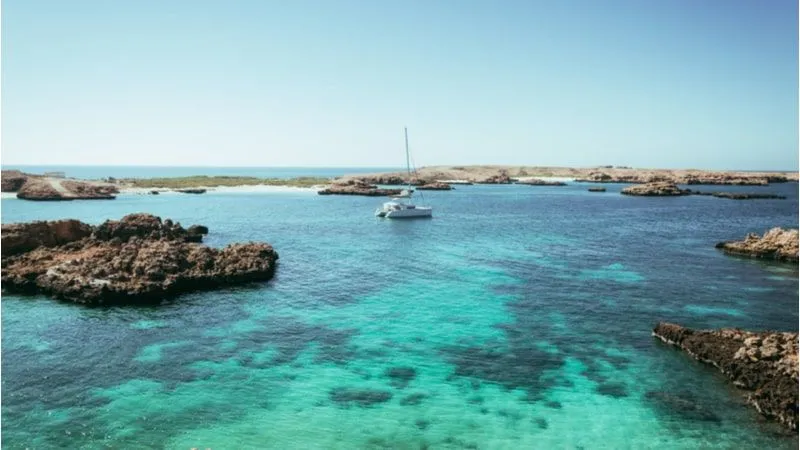 One of the must- do things while visiting the Daymaniyat islands is touring and snorkelling. With its vibrant fish, sea turtles and clear blue waters, the island is a hotspot for snorkelling.  Back in 1993, the island was used as a nature reserve to protect the turtles, fish and coral reefs in the area. Tourists will be taken on a half a day tour around the island in Oman which includes lunch.
Along with snorkeling, diving is one of the other adventure activities to enjoy on the island.  The easiest way to get to the island is by boat. With so much to do and explore, what are you waiting for? Visit the island and enjoy the adventure of a lifetime.
Location: Muscat Governorate, Oman
Things To Do: Snorkeling
2. Masirah Island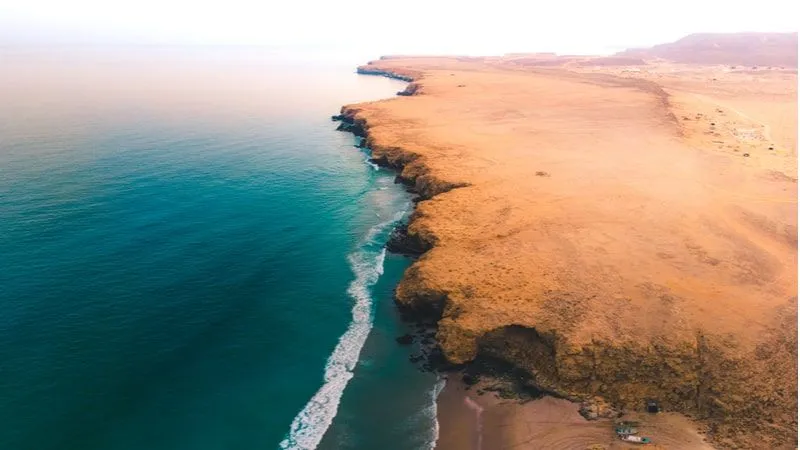 Nestled in South East Oman, Masirah island is one of the largest islands and a landmark in the middle of the sea. The Masirah island Oman is said to be a gem in the middle of the azure waters, home to stunning marine life. Tourists will get to see agricultural fields, several mountains on Ras Halif, Rasia, Al Ija and several other places. The harmony of nature, the calmness of the sea waves and the cool breeze offers tourists a sense of serenity.
People can travel by Alyasoora, a ferry to the island. It is a carrier that takes cars, goods and tourists back and forth from the island. People can even travel by air. With so much beauty waiting to be explored, tourists should ensure the island is on their list of places to visit.
Location: Oman
Things To Do: Watch the Turtles
Suggested Read: Things To Do in Muscat: Top Things Advices By Locals You Cannot Miss In The City
3. Telegraph Island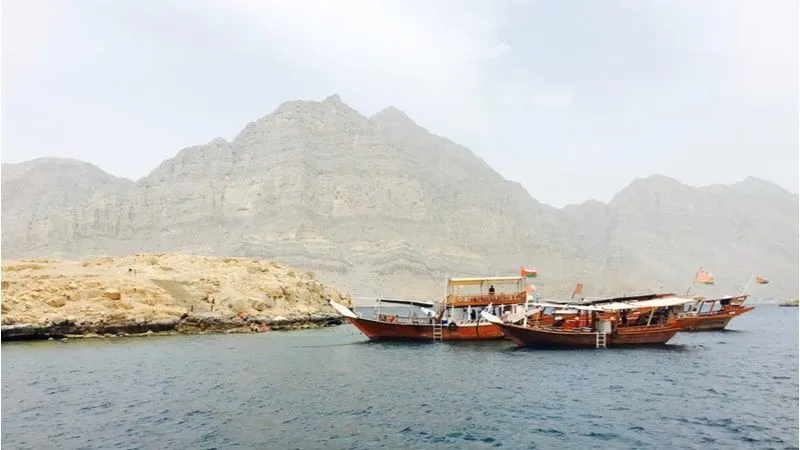 Once upon a time, Telegraph Island played an important role in connecting Asia to Europe. Found just off the coast of Musandam, the island was an entity that acted as an important point for cables sent between Britain and India during the 19th century. It is one of the most popular tourist destinations that offer the adventure of a lifetime.
Back in the day, telegraph messages were sent across in a matter of hours as writing letters was considered time-consuming. The island, one of the places to visit in Oman was a telegraph outpost between India and Britain. The island is now a destination for snorkeling and fishing, one of the many things' tourists are attracted too.
Location: Oman
Things To Do: Snorkeling and Fishing
4. Jazirat Al Hallaniyyah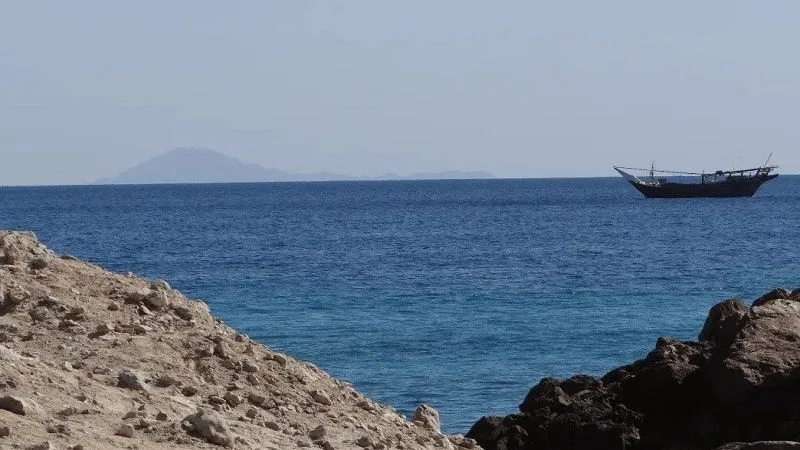 One of the biggest Oman islands, Jazirat Al Hallaniyyah is found sitting a couple of kms east of Al Sawda, the closest island. The rugged and barren island can be reached by boat or plane easily. The center of the island rises to granite chimney peaks standing close together. The island's coastline is defined by coral reefs, fish and turtles that are often seen laying their eggs.
If people are lucky, then they can get to see dolphins and whales. So, what more can anyone ask for? One of the many things to do in Oman is to visit the island at least while on vacation.
Location: Oman
Things To Do: Watch the dolphins, whales and turtles
5. Quoin Island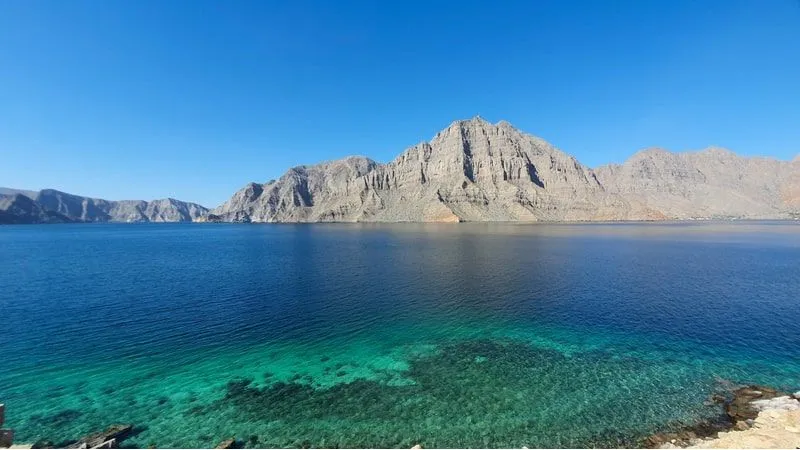 The largest of the 3 islands, Quoin Island, also known as Salamah Island, is a port used by ships to define the entrance or exit from the Persian Gulf. The island is triangular in shape, over 700 meters long and about 530 m wide.
People should not get muddled up with the one in Australia, even though they have the same name. Quoin is one of the best islands in Oman waiting to be discovered.
Location: Persian Gulf, Oman
Suggested Read: Best Places to Visit in Muscat, Oman for an Ideal Omani Retreat
6. Al Fahal
Also known as Shark Island, Al Fahal is a formation of fossilized limestone with 3 pinnacles that stick out above sea level. One can easily reach the island by boat, nestled a couple of km offshore from one of the most popular beaches in Muscat. The limestone was initially a part of the sea floor. Shells, coral and algae are some of the things that the island is made up of.
Al Fahal is not an Oman island where one can think of having a picnic due to the rocks. However, one can see how the composition of the island has changed due to the rocks. Tourists can even get a glimpse of marine life and enjoy diving and snorkeling as well.
Location:  Muscat, Oman
Things To Do: Diving, Snorkeling
Suggested Read: 55 Places To Visit In Qatar For The Stunning Skylines And Attractions
7. Barr Al Hikman, Al Wasta Governorate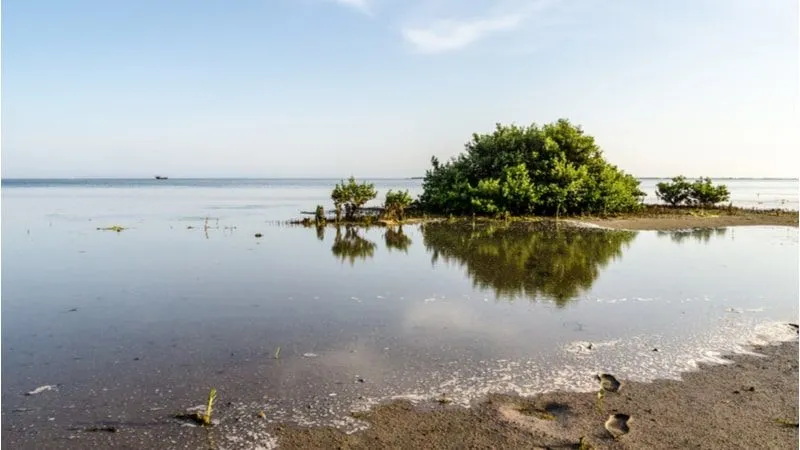 An ideal island in Oman, Barr Al Hikman is a heaven for all bird lovers and scuba divers.  About 5OO kms away from Muscat, the island is a bird sanctuary where people will discover a range of birds from the northern shores of Siberia.
Besides birds, people can discover a range of fish as well. The island is one of the most stunning places to explore in the Middle East and an important migration station. With birds and fish on the islands, people will never want to leave. So, what are you waiting for? Go ahead and have the best island vacation of your life.
Location: Center of Oman's east coast in AlWasta Governorate, 500 kms south of Muscat
Things To Do: Birds and Fishes
Suggested Read: Places To Visit In Saudi Arabia: Top Attractions To Uncover The Mystical Vibes of This Arabian Country
8. Khuriya Muriya Island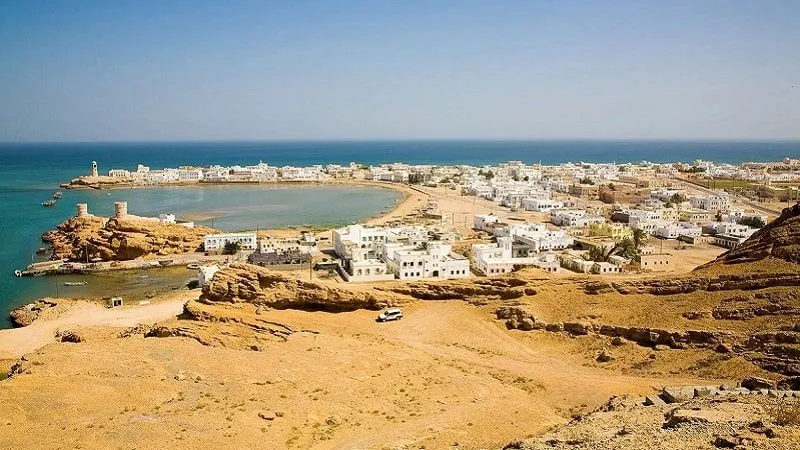 The island group of Oman, Khuriya Muriya is made up of granite and boast of the submarine ridge peaks. Al-Ḥāsikīyah, Al-Sawdāʾ, Al-Ḥallānīyah, Qarzawīt, and Al-Qiblīyah are islands found nestled from west to east.  People who lived on this island left in 1818 as it was said to have been raided by pirates.
The island was then governed by Arabs and later the sultan of Oman.  At present, several fishermen live on the island who use skins for crafts. Besides the island, one can even explore some of the beaches in Oman.
Location: Southeastern coast of Oman
Things To Do: Opulent beaches, birdlife, and turtle-nesting grounds
What is it about Oman that attracts tourists from around the world? The islands and beaches are one of the many places in the Middle East tourists love to plan their holidays around. Oman is one of the richest middle eastern countries that is said to be a complete package. Scuba diving and snorkeling are one of the many adventure activities people enjoy while on vacation on the islands in Oman. So, go ahead, pack those bags and have the best vacation.
One of the richest middle eastern places is Oman, known for its sand dunes and cuisine. The Oman tour package is just what tourists need when planning their vacation.
FAQs
Q1. How many days should one spend in Oman?
People can spend about 7-10 days in Oman, exploring its rich culture and heritage. Out of the several heritage sites, people should explore the islands.
Q2. When should tourists visit Oman?
Between October and April is said to be the best time to visit Oman as the weather is pleasant. Tourists can easily roam around the streets of Oman without having to worry about the heat.
Q3. What is Oman famous for?
Oman is known for its aflaj oases irrigation system, terraced orchards, ancient fortresses, mosques, islands, wadis, dhows and Al Said.
Q4. What can tourists buy in Oman?
Pottery, Omani Mandoos, Frankincense, Palm baskets and crafts, Omani silver jewelry, Omani clothes and Omani silver crafts are some of the thing's tourists can buy in Oman.
Q5. What are some of the things people can enjoy in Al Fahal?
Snorkeling and Diving are some of the most ideal adventure activities tourists can enjoy in Al Fahal.
Q6. Which is one of the most stunning islands in Oman?
Even though there are all kinds of stunning islands in Oman, Daymaniyat islands is said to be the best. The island is perfect for snorkeling and is known for its fish and sea turtles.
Q7. Which is the main airport in Oman?
Muscat international airport in Oman is the main airport where most of the major airlines fly in and out off.
Q8. Where is Barr Al Hikman, Al Wasta Governorate located?
Barr Al Hikman, Al Wasta Governorate is located at the center of Oman's east coast in Al Wasta Governorate, 500 kms south of Muscat.
---