Qatar is a mystical country of the Middle East. When you speak of shopping, Qatar tops the list. With many majestic and spectacular malls, Qatar has completely changed the world of shopping. The Gulf Mall in Qatar is one of many malls offering the finest shopping experience with an additional factor of entertainment. With several outlets and numerous dining areas, Gulf mall has made its place in one of the prominent malls in the country. Discover every nook and corner of the mall on your visit to the country.
The Gulf Mall welcomes you with open arms.  So don't forget to pay a visit to this marvelous and jaw-dropping mall and enjoy the experience of shopping.
Peep Inside The Gulf Mall In Qatar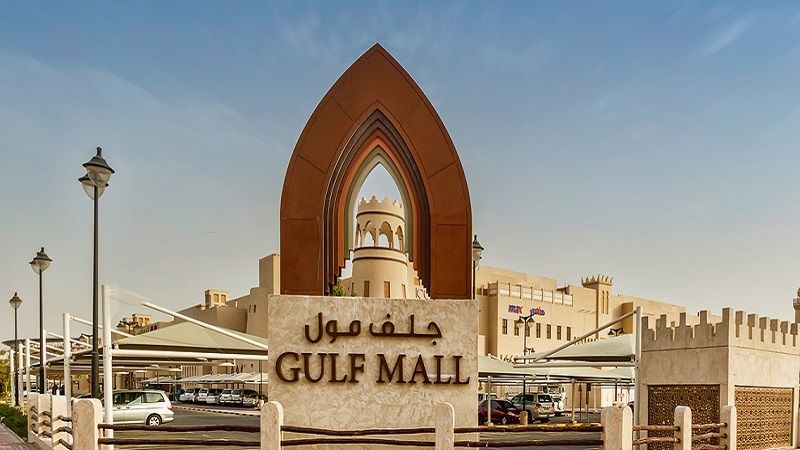 Wondering where to shop in Qatar? Well, here is your one stop solution. The Gulf Mall offers one of the best shopping experiences in the country. It ranks among the top malls in the country when it comes to entertainment and fun. Every inch of the mall is designed and styled in such a way that it lures out travelers from all over the world. It is the signature property owned by Business Trading Company. Spanning over an area of 90,000 square meters it is a splendid locale for all the people who seek entertainment and shopping. There are three levels of catering to shopping outlets, dining, and entertainment sections.
The interiors of the mall depict the traditional beauty and heritage of the country to its very best. Qatar Gulf Mall is a spectacular beauty to the eyes and provides chic satisfaction to the seekers of shopping. Gulf mall is said to signify the six countries of the Gulf Cooperation Council. The mall is intended to be a majestic fort-like architecture that incorporates all the constructive facts from modern techniques to traditional facilities of the Arabian Gulf.
The mall features a unique mix of anchor tenants, houses many international brands, and a lot of other regional stores and kiosks. The Gulf Mall speaks spectacularly from every inch of every corner to big stores and entertainment sections.
Interesting Facts:
Total Plot size: 90,172 square meters
Built-up Area: 144,692 square meters
Ground Floor: 27,256 square meters
First Floor: 28,001 square meters
2,000 Car parking spaces
Location: Al Gharaffa, Doha, Qatar
Gulf Mall Timings:
Saturday to Wednesday – 7: 30 AM to 11: 00 PM
Thursday and Friday – 7: 30 AM to 12: 00 AM
Exquisite Features of Guld Mall in Doha, Qatar
The Gulf Mall is surely a place to experience the leisure and luxury of dining and shopping. We aren't just saying this, as the mall features an incredible collection of luxury brands, casual cafes and much more that makes it a place of high demand.
1. Outlets For Trendy Fashion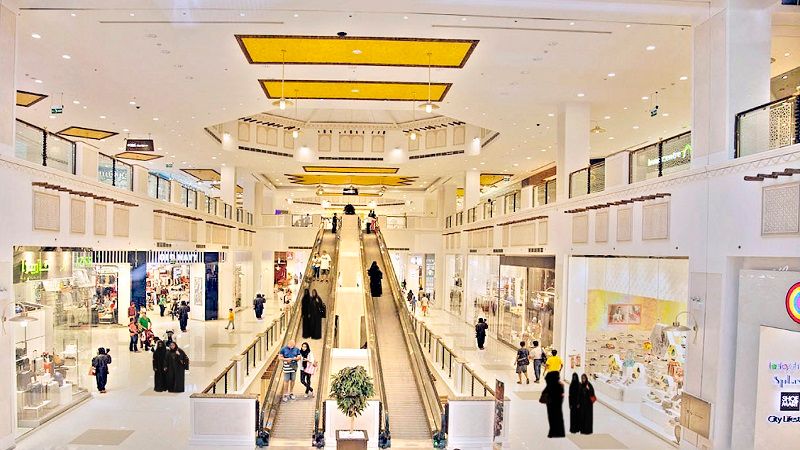 Like any other mall, Gulf Mall also offers shopping. The best way to put it would be, to witness the finest experience of shopping in Qatar, Gulf mall is one of your best options. There are many outlets in the mall that caters to the need of trendy fashion of the visitors. From international brands like H&M and to regional stores and kiosks, the range of products is very wide.
The list of categories starts from clothes for men, women, and kids to accessories for all the age groups and genders. Gulf Mall Qatar shops range from trendy fashion to shops with more traditional items. Keeping in mind the needs of every visitor, there is something for everyone in here. Gulf mall, Qatar is one of the top-ranking malls in Qatar for many reasons, one among them is the outlets here. It is your one-stop destination; you can find it all under one.
Whether you seek clothing, accessories, or footwear, every sector is covered by the mall. When it comes to fashion, apart from your attire, your gadgets need to be up to date as well. Don't worry! Gulf mall has got you covered. Bringing together several international brands of electronics, you can find the best pick for you.
Departmental stores, health and cosmetics outlets, kids care, and of course, fashion outlets, Gulf mall has everything under one roof.
Brands:  
For Women's Fashion
Bath & Body Works
Chelsea Boutique
Sephora
LC Waikiki
Matalan
For Men's Fashion
Centrepoint
Footlocker
Milano
Payless
R&B
For Kids' Fashion
Chicco
Crazy 8
Feathers
Guess
2. Eateries For A Luxurious Meal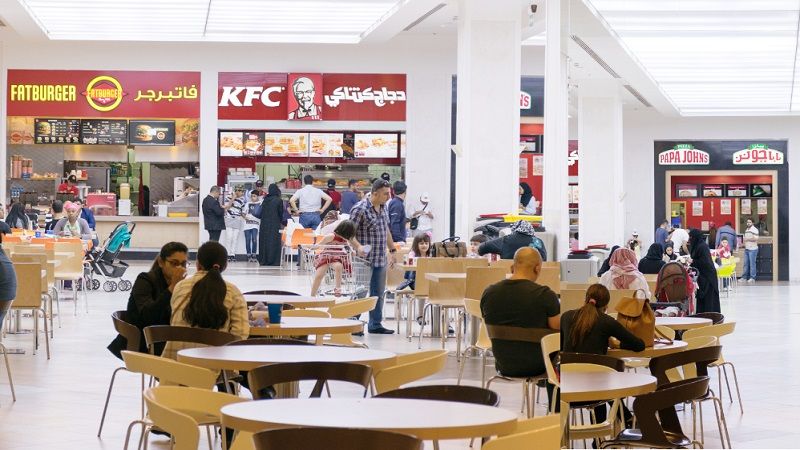 When you talk about restaurants in Gulf Mall Qatar, the first thing that pops up is the variety. Offering many international outlets and regional stores the dine-in experience in the mall is phenomenal. You can relish the luscious taste of cuisines from all over the world. Brands like KFC, Subway, The Rice room, and many others can be found in the food court. Yes, there is a food court in the mall, excluding the cafes and restaurants.
The food court of the mall is spectacular, aforementioned, with many outlets, it gives the ultimate divine experience of savory flavors. Catering the most authentic taste, Gulf Mall caters to the need of every visitor's needs. Some finest cafes and restaurants in Qatar have their outlets in this splendid mall. Serving many mouth melting dishes, the mall also offers a fine dining experience. After shopping, you can have a nice cozy meal, here or you can also grab a bite to go, and for those who can't come to the mall, there is also delivery service available at the mall. Choose from the vast variety of options and enjoy a cozy meal here at the mall. Visitors can also come directly to these outlets, without shopping. Many customers come to the mall just to taste the savory dishes.
Restaurants
45 Degrees
Burger Boutique
Eau De Rose Restaurant
Kosebasi
IHOP
PF Changs
Cafes
Caffarel
Costa Café
Dip n dip
Dippingo
Fouj Café
Kashta Cafe
Leaves
Papparoti
3. Entertainment And Fun Section For A Jolly Escape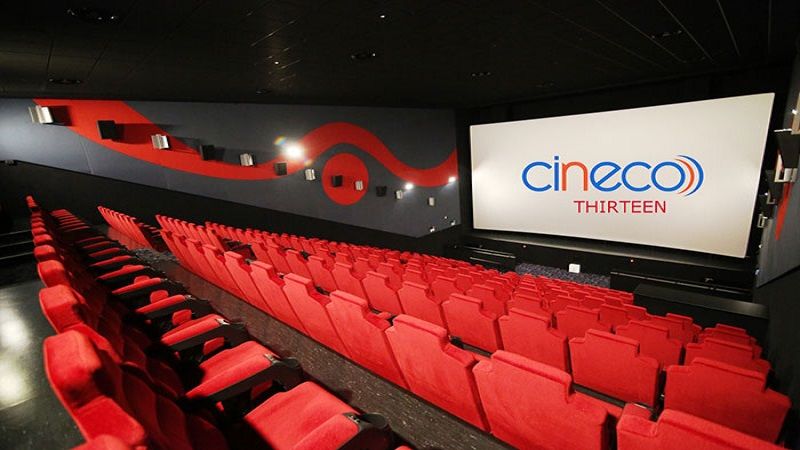 When you say mall, the first word that pops up in the mind is entertainment. The Gulf mall in Qatar has the most fun and joyous entertainment section. This section comes in handy when planning a day around the Gulf Mall. In here, entertainment isn't limited to just kids or teens, this section has a little something for everyone. Apart from shopping and dining, this part of the mall is ruling the hearts of the visitors. Gaming section, cinemas, what else do you need for fun? For gaming enthusiasts, the mall is home to Gamers and Go Fun.
This is the perfect destination to live the fantasy for all the gamers in Qatar. There is also a multiplex in the mall, Cinco Movies. The entertainment section makes Gulf Mall one of the finest places to visit in Qatar. You get to choose your own entertainment, select from watching blockbusters on the big screen or playing video games. Gamers has a great collection of gadgets and toys and the mobile collection here lures out people from all over the country, whereas you get to have a fun day out with your kids in one of the finest kid's zones, Go Fun. The amusement park is home to the best rides and games. Kids can engage themselves in some of the finest activities hosted by the outlet. Gulf Mall Cinema, Qatar, is one of the finest multiplexes in the country. You can enjoy the latest blockbusters in here.
Suggested Read: Nightlife In Doha To Enjoy An Exciting Night With Friends
Key Facilities Of The Mall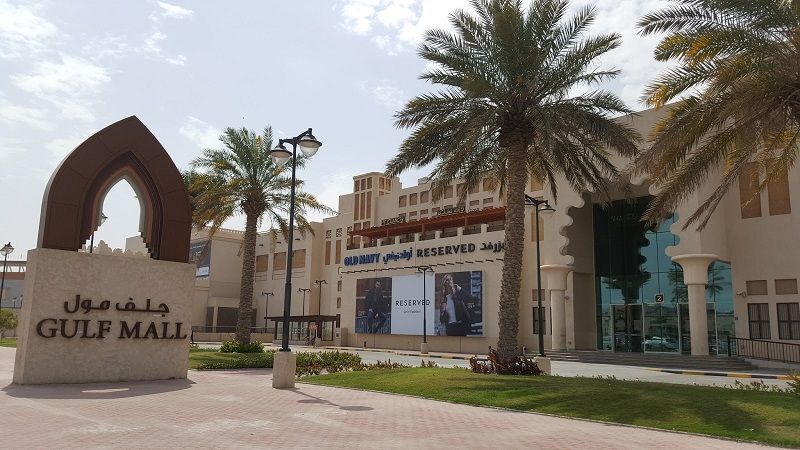 Gulf Mall is one of the prominent malls of the country and thus offers various facilities and services. Listed below are a few main ones.
Shopping: There are several outlets in the mall that offer the finest shopping experience for their customers. There are stores for fashion, accessories, footwear, electronics, gaming gadgets, departmental store and health and beauty products, pharmacies, eateries, and many more.
Entertainment: Entertainment is one of the prime factors for every mall. One of the most prominent features of the Gulf Mall is entertainment. Apart from shopping and dining, you can have a fun day out in the entertainment section of the mall. There is multiplex, kids' zone, and fantasy of every gamer, gaming gadgets store.
Dine-In: There are many facilities offered by the mall, one among them is dining. There are many famous international outlets in the mall plus there is also a food court. You can choose from having a cozy meal at the one of outlets or grab a bit to eat at the food court. The food court houses stores like KFC, Subway, and others. You can choose from a variety of restaurants to cafes that the mall houses.
Parking Facilities: The major facility of any destination is their parking lot. The gulf mall is home to a parking lot big enough to store 2000 cars. You can relax and enjoy the shopping spree, while your vehicle is parked safely.
The mall houses a few other facilities like banks, ATMs, exchange currency centers, charging sections, retail shopping, and antique stores. The opening hours of the parking lot are the same as the Gulf mall Qatar opening hours Pay a visit to this magnificent mall, and believe me, you will not regret even a single second.
Suggested Read: Cafes In Doha: Treat Your Taste Buds At Some Delightful Eateries
Eateries Around The Gulf Mall Qatar
Although there are many eateries inside the mall, there are also a few around the mall that are worth a visit. The best ones that you should try are: -
1. Hunter's Room And Grill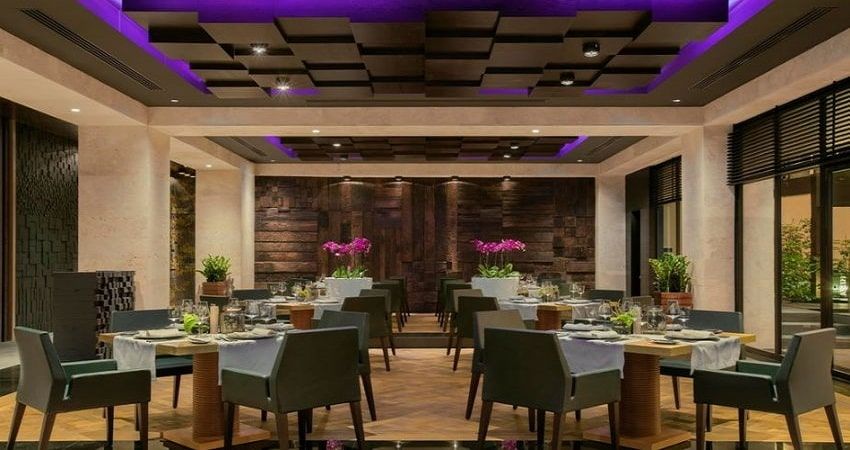 Hunter's Room and Grill is one of the finest restaurants in Qatar if what you are looking for is a contemporary environment. The eatery is often said to be a contemporary steakhouse and it houses an open show kitchen that showcases the flavorsome aromas of the delicious spices. It offers vegetarian as well as non-vegetarian options, top of the line quality makes the food even more luscious. Hunter's Room and Grill will give you a dining experience so unique that it will entice your heart and the ambiance of the restaurant is just a cherry of the top.
Location - The Westin Doha Hotel & Spa, Salwa Road, Bin Mahmoud South, Zone 23, Doha, Qatar
Gulf Mall Timings –
Monday to Sunday – 4: 00 PM to 12: 00 AM
For Brunch: Friday and Saturday – 1: 00 PM to 4: 00 PM
Happy Hours: Monday to Sunday – 4: 00 PM to 8: 00 PM
Top Offerings - Kale Salad, herb brinded veal chop, rib eye, and smokey creamy spinach
2. PF Chang's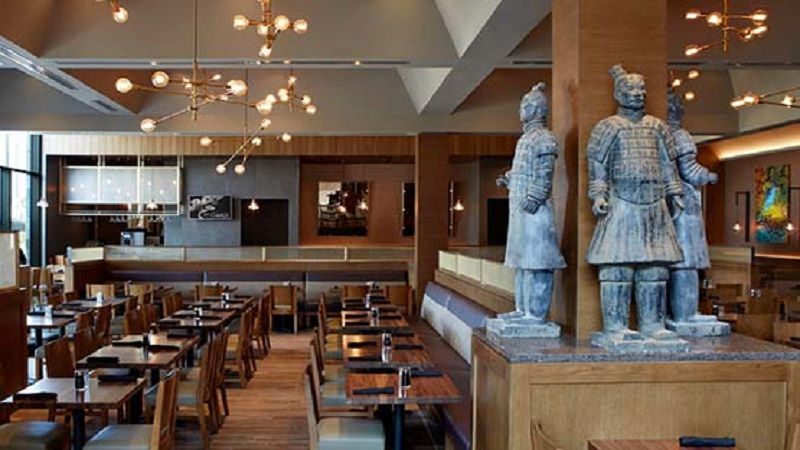 A restaurant that brings you the concept of Asia, PF Chang's is based on the daily preparation of cuisine in each location. This eatery was created in 1993 by Philip Chiang and Paul Fleming, showcases wok cuisine at the focus of guest experiences, which is 2000 years old. From the very beginning, P.F. Chang's started winning hearts.
The chefs here, wave dim sums, cut the hand and slice all the veggies and meats, prepare every sauce, and wok every dish. They also introduced a new menu that emphasizes the restaurant's healthy, scratch-cooking approach, as well as Chang's original dishes including The Original Dynamite Shrimp, Chang's Chicken Lettuce Wraps, Cecelia's Dumplings, and Mongolian Beef, which, by the way, are frequently replicated by competitors across the world. For your perfect meeting location during lunch, supper, or anytime in between, the new dynamic menu also includes new foods and drinks.
You'll find creative inspirations from both Chinese and Arabian cultures at P.F. Chang's. The spot offers one-of-a-kind panoramic hand-painted murals portraying various cultural and natural aspects, guarded by terra-cotta warriors. All of these components work together to highlight the cuisine and provide our customers with a modern, comfortable, and lively eating experience.
Location - Villaggio Mall, Villaggio, Al Waab St, Qatar
Timings -
Sunday to Wednesday - 10: 00 AM to 11: 00 PM
Thursday – Saturday - 10: 00 AM to 12: 00 AM (midnight)
Top Offerings - Sesame Chicken, Shrimp Dynamite, Mongolian Beef, Kung Pao Chicken, Pad Thai Noodles, Noodle
Suggested Read: Fine Dining Restaurants In Doha: Hop-On To This Delightful Culinary Adventure
3. Sora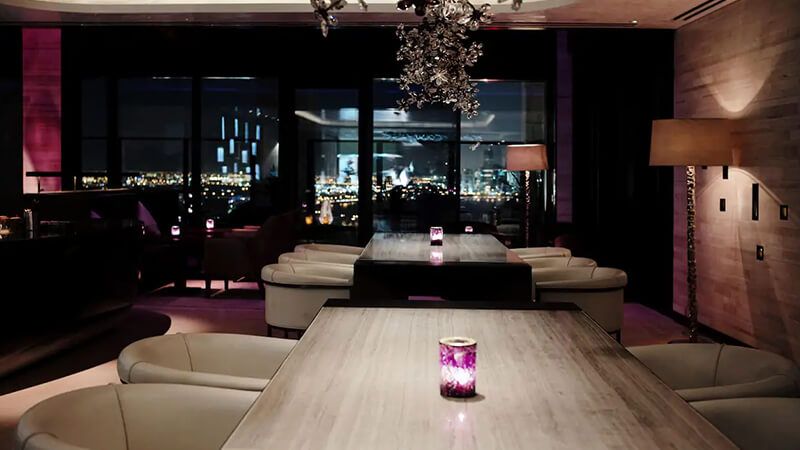 Are you looking for a place that gives you an enchanting view while you eat? Well then, this is the best pick for you. Sora, nestled in Park Hyatt is said to give its guests a view that is absolutely magical. This is the one place in the country that gives such an enticing view and the lip-smacking dishes become the cherry on the top.
Offering an elegant ambiance, sophisticated aura, Sora is a true gem for all food lovers. It is a rooftop Japanese restaurant plus lounge and it provides a perfect balance of small sharing dishes, sushi, sashimi, and the unique culinary art of Robata (meat grilled over charcoal). This restaurant will you the essence of being one of the best restaurants in Doha. It is a place that offers an outdoor seating arrangement (at the terrace because it is a rooftop eatery), where a pre-dinner sundowner while basking in the golden light of an Arabian sun should not be missed.
Sitting on the 21st floor in the Msheireb Downtown Doha, Sora houses panoramic views of The Doha Palace, Green Mosque, Souq Waqif, Corniche, and boasts West Bay skylines.
Location - Park Hyatt Doha, Level 21, Sikkat Wadi, Doha, Qatar
Timings – Sunday to Saturday – 4: 30 PM to 11: 30 PM
Top Offerings - Tuna loin
Suggested Read: Gourmet District Doha: An Indoor Food Park For Casual Dine-in
4. Eau de Rose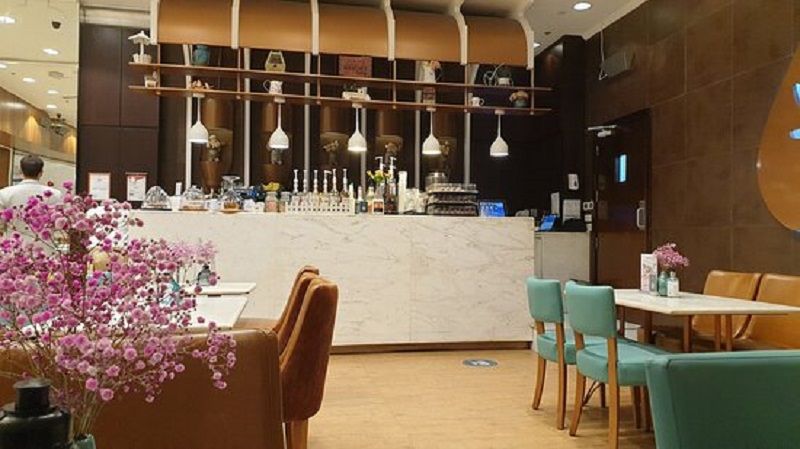 When you talk about a place with sparking and brilliant new ideas and a creative blend of dishes, Eau De Rose is the place for you. As soon as you set foot here, you will be astonished by the dishes conferred and an environment that embraces the experiences of all the flavorsome aromas. Offering the Qatari hospitality to supply deliciously curated dishes in a chic surrounding, is what the restaurant is all about.
All the things have Eau De Rose's signature flavors; distilled rose water that gives its essence to the food and that accents the food that is prepared. Every delicate detail has been designed with a passion that is rooted deep, in the form of cookery excellence and style aesthetics. Eau De Rose always welcomes you with its elegant atmosphere that satisfies all tastes. The eatery will take you on a cookery journey that awakens your senses just like the contemporary dawn.
Location - Mall of Qatar, Al, Rayyan, Qatar
Timings -
Saturday - 10: 00 AM to 11: 00 PM
Sunday to Wednesday - 10: 00 AM to 10: 00 PM
Thursday - 10: 00 AM to 12: 00 AM
Friday - 10:00 AM to 11: 30 AM, 1: 00 PM to 12: 00 AM
Top Offerings - Sweet potato with avocado, baked cheese, creamy mushroom, the crunchy burger, and lotus cheesecake
Things To Do in Gulf Mall Qatar For A Fun-Filled Day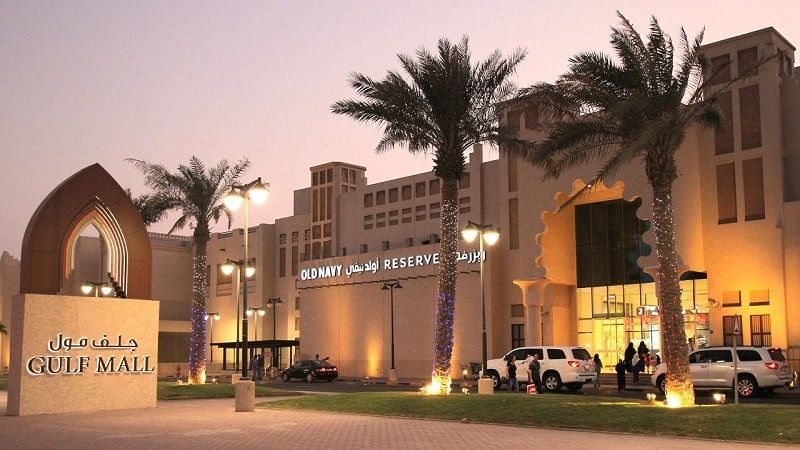 Gulf Mall, Doha, is an entertainment center where you can spend a whole day, enjoying the best with your family or friends. Let's check out what you can do while taking a tour of this impressive shopping corner.
Upgrade Your Wardrobe Collection
Nothing can be as enthralling and exciting as a wardrobe upgrade and when you are in Gulf Mall, you will have the best options to decide on your next style. There are brands for kids, men, and women, offering a plethora of options to choose from. The Brand Bazar, Adidas, and LC Waikiki are a few new stores that opened recently.
2. Redesign Your Home
Do you know, the Gulf Mall has outlets for some of the best home Decor accessories and kitchen items? You will find electronics, department stores, kitchen and dining collections, and so on at the mall for your enhanced home interiors. Stores for health and cosmetics outlets, and kids care are also there.
3. Enjoy Dinner with family
A lavish meal with family is surely an event of the day. While you are at the Gulf Mall, Qatar, you can reserve a table for your family and have a meal together, after your shopping. The 45 Degrees and Costa Café are very famous eateries, offering you a refreshing dining experience. Pick your desired taste from the vast food options and enjoy a delicious meal here.
4. Movie Time With your Folks
A holiday without a movie sounds boring. The Cineco Cinema at Gulf Mall will entertain you with the best show of the day. The Gulf Mall's Cinema is located on the first floor and features 13 screens, two of which include an exclusive VIP lounge. With the launch of Cineco Movies, the Gulf Mall has a new blockbuster addition.
5. Have Fun at Go Fun
An exclusive theme park at Gulf Mall is an ideal addition for families with kids. A range of play and ride machines are available in the indoor amusement complex. Go Fun was created to assist physical and intellectual development, as well as contributing to the development of skills and attitudes in children.
Suggested Read: Top Things to Do in Al Rayyan: For a Fun-Filled Vacation in the Thriving Metropolitan
How to Reach Gulf Mall In Qatar?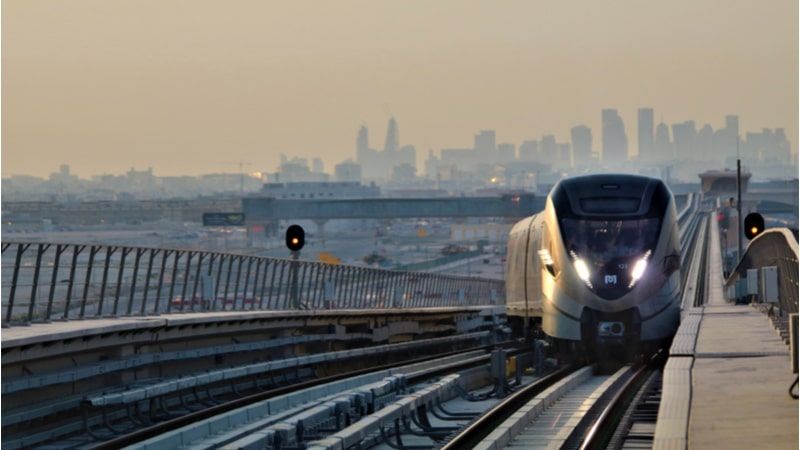 The Gulf Mall Location makes it easier to commute. It is located in Al Gharaffa, Doha, Qatar, as one of the best shopping places in the country. Visitors can choose the conveyance of their choice. You can either book a cab or a taxi, or rent a car, or you can even choose to travel by bus or metro. The best way is to rent a car or go by bus/metro.  Visitors can look for the schedule of bus or metro at the nearest station. To reach Gulf Mall by bus, you have to take the bus en routing 101, 156A, 56, 57, whichever is available at your nearest station. To reach there by metro, you have to choose the route M2. Gulf mall is listed among the finest malls in Qatar and everyone should at least visit it once to cherish the shopping spree you deserve.
Shopping, check! Dining, check! Entertainment, Check! Every box ticks off when you talk about the Gulf Mall in Qatar. Brimming with some of the finest cafes and restaurants the mall is the heaven for food lovers. On a vacation, shopping is one of the major factors to make your stay splendid, and Qatar in its own unique way lets you enjoy this factor to its very best. Home to many malls and several places to visit. Qatar is one of the must visit countries.
So, what is the delay for?  Book your plane tickets to Qatar now and enjoy a spectacular vacation. Hold on, don't forget to visit the mystical Gulf Mall on your trip to the country. It beholds the some of the best experiences. So, don't miss out! Add this mall to your list and be amazed.
FAQs
Q1. Is parking facility available at the Gulf Mall Qatar?
Yes, the parking facility is available in the Gulf mall and not just any small parking lot. The Gulf Mall to parking space of 2000 cars. While you wander around the mall, your car can relax in the gigantic parking lot. Enjoy a fun day out at this spectacular mall.
Q2. How to reach the Gulf Mall from Hamad International Airport?
Gulf Mall is just 24 minutes' drive away from the Hamad International Airport. To reach the mall from the airport, travelers can take either a bus or a metro. Buses with route number 101, 156A, 56, and 57 and metro M2, passes near the near the Gulf Mall. Choose whatever way suits you the best.
Q3. What are the facilities offered by the Gulf Mall Qatar?
Being one of the prominent malls of Qatar, it hosts many facilities and services. To name a few, shopping, dine-in, entertainment, and parking facility are available. Gulf Mall is a gigantic and spectacular mall in terms of its structure and is even more placid when you talk about shopping and entertainment.
Q4. Which are the best malls in Qatar?
When it comes to shopping, Qatar is home to some of the top-ranking malls in the Middle East. For the finest experience, you should pay a visit to the Mall of Qatar, Gulf Mall, City Center Mall, Doha, Lagoona Mall, Villaggio Mall, and Mirqab Mall.
Q5. What are the options for dining in the Gulf mall Qatar?
The Gulf mall houses many restaurants and cafes and also a big food court area. Visitors can enjoy a cozy meal in here. The best outlets that you should try are 45 Degrees, Argo Tea Café, Supplement House, Teavana, Choco Shawerma, KFC, Papa John's, and the Spice Republic.
Q6. Are there any hotels near the mall?
Yes, there are. Some of the best rated hotels in the proximity of the mall are Ezdan Palace Hotel, Warwick Hotel, The Avenue - a Murwab Hotel, Dusit Doha Hotel, and Premier Inn Doha Education City Hotel. You can plan your stay at these hotels for a lavish and comfortable experience with many places to visit not very far away.
Q7. What are the attractions near the Gulf mall Qatar?
While the Gulf Mall is itself an iconic attraction in Qatar, there are several other destinations in its proximity that you must pay a visit to. The best picks among them are Qatar National Library, 365 Adventures, Museum of Illusions, Kozma And Kozma, and Go Fun. After the shopping spree, you can visit these places for an adventurous time out.
Q8. Which outlets are available in the Gulf mall Qatar for fashion?
Gulf mall houses hundreds of outlets for shopping. From international brands to regional stores and kiosks are available offering a wide range of variety for its customers. The best outlets that you should pay a visit to for fashion related stuff are Dressroom, H&M, Matalan, Milano, Morgan, and LC Waikiki.
---