Doha is a paradise for shoppers where you will find the best malls and marketplaces. Speaking of the best shopping experience, City Center mall Doha is one of the famous places where you can satisfy your urge to shop. The Mall in Doha provides the best shopping collection from all local to international brands. It is the largest and biggest mall in the region, attracting a huge crowd for discovering leisure, entertainment, and fun with city center shops. Expanding the features and highlights, let us uncover the wide range of facilities this mall offers for complete entertainment.
Features of City Center Mall Doha
City Center Mall Doha, known to be the oldest mall in Qatar, is a hub for shoppers. As per the estimated record, the mall experiences a footfall of 70,000 visitors during the weekends or peak season. The City Mall is a subsidiary of Aamal Company Q.P.S.C, which is the leading name for retail and leisure in Doha.
It is designed with five floors where you will find everything from the fashion brands, supermarkets, and entertainment units. The City Center Mall Doha houses 350 stores for international brands and more than 38 restaurants that are perfect for family dining. There is a vast leasable area available to add more retail space. Back in 2015, it underwent some development to make it the best mall in the city for every local and expat. Today the center mall in Doha is known for its vast collection and exclusive features promising complete entertainment.
Here are some features that make the Mall an ideal spot for every visitor.
1. Shopping Collection for Home, Fashion, and Fitness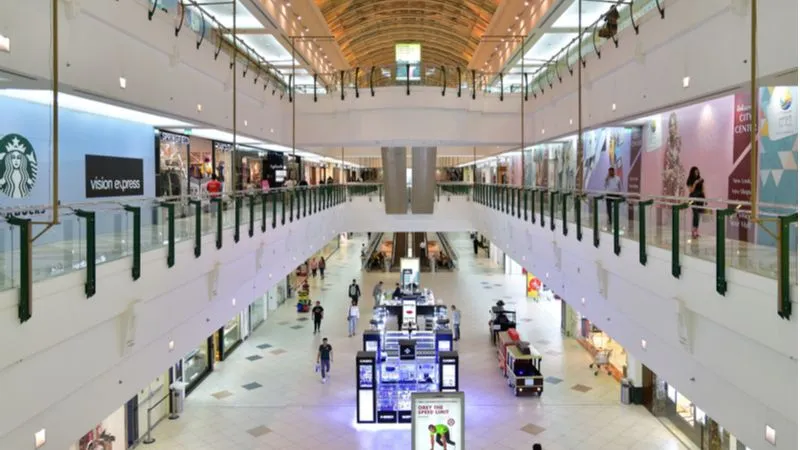 Fitness and Fashion go hand in hand with the best City Center Doha shops. Out of 350 stores, you can easily get every quality material to suit your style and standards. There is a reason why City Center Mall is called a shopper's hub. It is the exclusive collection of every home, fashion, and fitness accessory that can add more to your wardrobe style.
The international brands are a major highlight attraction of a massive crowd each day. You can fill your bags with the most trending fashion of the week. From Mango to Jack and Jones and Calvin Kelin to the beat sports collection of Adidas and Nike, you will have the best quality, price and top City Center Doha shops list. There is a supermarket, cosmetic stores, Home Center, Fitness center, and other stores exhibiting quality material for your enhanced lifestyle. You can buy furniture or home decor items, kitchen accessories, and a lot while strolling around the corridors. Not only this, there are separate stores and sections for kids and adults- men and women.
City Center Mall is a place for millennia where there is luxury, comfort, trend, and quality material available for everyone. From the most expensive brands to the affordable list, this is the best shopping place in Qatar.
2. Dining Spots with the Best Cafes and Restaurants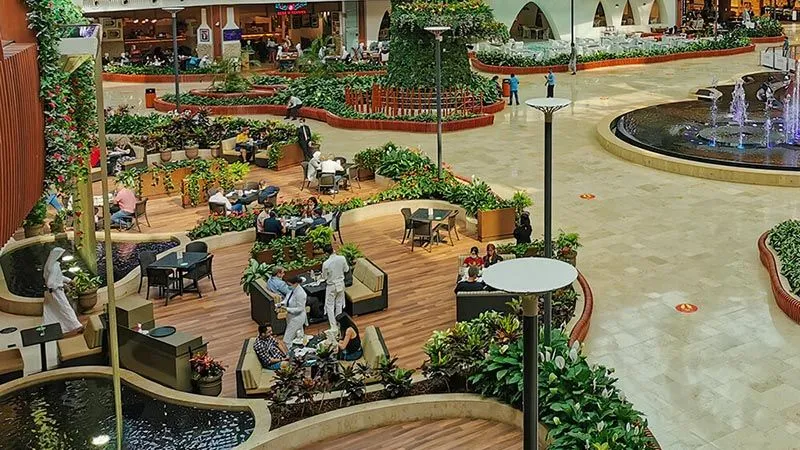 Qatar is known for its delicacies and traditional food that is hard to find elsewhere with the same authentic zest. Well, City Center Mall Qatar brings you the exact traditional and original taste of every indigenous dish with the best eatery.
There are some of the best restaurants in Qatar where you can relish the real taste of Arabian food. While you are shopping, take out some time to enjoy a meal with your family and make the best out of your holiday. Apart from the authentic dishes and the traditional food, there are cafes where you can get freshly made fast food or a complete international menu. From fine dining to coffee houses and cafes, City Center Doha is also a foodie hub.
The food court at the mall has listed every European, Asian, Italian, Chinese or Lebanese dish. There are food corners and fancy dining restaurants for your mood and occasion. From the sweet menu of Robbin Baskin to a spicy burger at Burger King and the main course at Diwaniyat Al Boukhari, Doha City Center Mall serves you the perfect dish each day.
City Center Mall Doha: An Entertainment Hub
Malls in Qatar are no lesser than attractions as they offer the utmost adventure and entertainment. The center Doha is one of the best spots for families to hang out and enjoy a day. While shopping and dining have made it a perfect choice for millennials, there is more to the exclusive feature list.
There is an indoor theme park with rides, fun games and adventure sports to attract every visitor, irrespective of his or her age. Cinema, play zone, go-karting and so on, this mall is surely the place bringing every fun under one roof.
1. The Fun City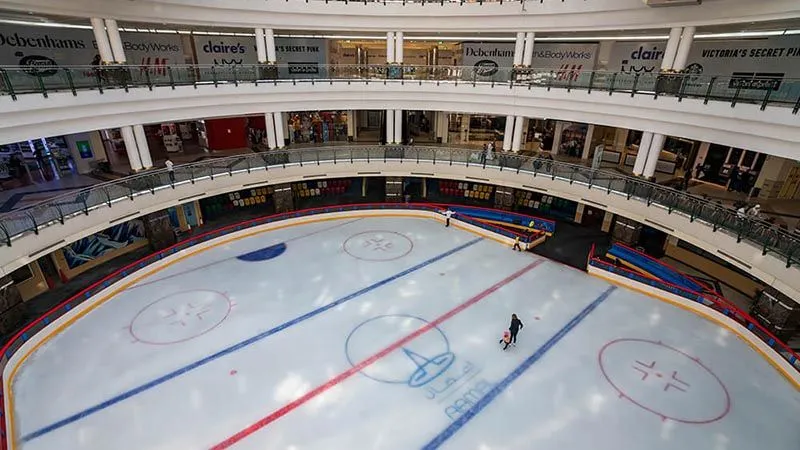 The Fun City, which is located in the Doha City Mall, is renowned for its great use of technology to create the best games and entertainment. The high-tech entertainment is what the fun City brings to make the mall a family attraction in Qatar. From kids to adults, everyone can find some engaging thing and action to make it the best day of their vacation.
Within the city, there are electronic games, video games, and yes, the amusement parks that have been constructed to entertain the native city and tourists arriving from far countries. The Fun City also offers a variety of sports and games that are meant for children of a specific age, as well as exhilarating activities on the huge rides that are just perfect for adults in City Center Doha Mall. This entertainment zone offers a day of adventure and thrill with the best rides and activities, which you don't want to miss.
Let's see what the Fun City has listed in its key features to offer you the most exciting holiday.
Fun 'N' Learn- Let your kid learn and enjoy at the same time, there are special mind games crafted for kids that involves solving a tricky puzzle to keep them engaged with the activities that can boost their mental growth and stability.
What's there to let the kid relax and enjoy a fun-filled day? Well, there are many adventure rides like bumper cars and airplane rides, Barnstormers, Adventure Play, Ferris wheel, and so more at the City Center Mall Doha.
You can let your child live in his fantasy and dream. There are V.R Play zones and 8 D Cinema experience to enhance the experience. Children love enjoying cinema and shows with a magnified version.
For younger kids and adults, Fun city, Doha City Center Mall has a special game area that includes all your favorite rides and sports. From Go-karting to the bowling alley and the big thrilling rides, you can surely let your inner child come out for a day.
Adventure can never be compromised and keeping that in mind, the Fun city has not confined its entertainment activity to rides and games. If your child needs a little more thrill, head off to the play zone in the Film City. This is another indoor play area, the Play Zone, to let your child get some real thrill. This play area offers some activities like wall climbing and tunnels.
Suggested Read: Top Things To Do In Qatar That Every Adventure Seeker Would Relish
2. Cinema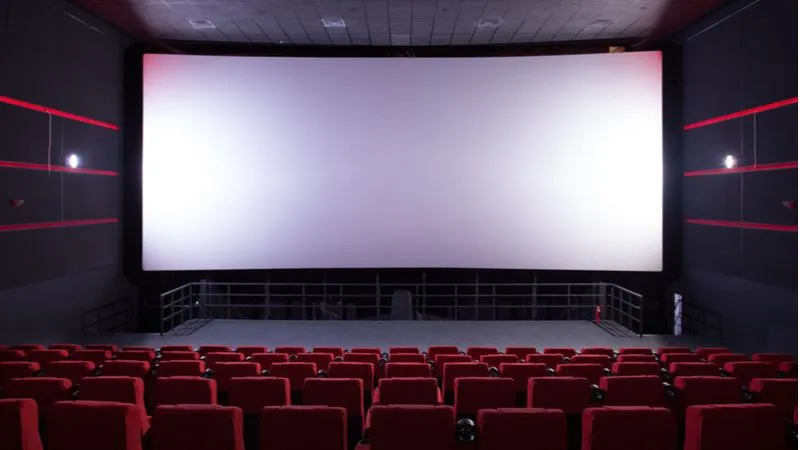 For your fun day with family, the City Center Mall offers a complete entertainment package. Cinema has always been the first choice of every individual when we talk about a weekend or a family day out. The Doha City Mall in Qatar, provides an outstanding cinematic experience. This is the best thing to do in Qatar while shopping and spending a whole day with your family or friends.
Keeping leisure, the priority, this mall in Doha brings you the best cinema experience with top shows from the Arab nation, Bollywood, or Hollywood. Whether you are a fan of some action-packed motion or a drama, love story, fantasy, you can book your show at the City Center mall cinema.
The largest mall in Doha contains a multiplex with 14 screens, featuring the best shows of the time. The hall is vast, and the seats are arranged in a pleasant and relaxing ambiance. While the seats are well-designed to ensure complete comfort, they are made of high-quality substances to enhance the cinema experience. There are food stalls or services for making it a leisure time for all while they delve into a realistic experience of theater and cinema.
Accommodations Offered by The City Center Mall Doha
City Center Mall Doha is connected with some of the best hotel brands, adding more to your comfort. You will find many hotels in Qatar sharing the landmark with City Center but we have the best for your comfort.
There are three hotel chains associated with the mall- the Shangri-La Doha, Marriott Marquis Hotel, and Rotana City Center Hotel. While Shangri-La is no longer operational in Doha, the Marriott Marquis Hotel and Rotana City Center Hotel are still to be considered when it comes to a luxury stay in Doha.
1. Marriott Marquis City Center Doha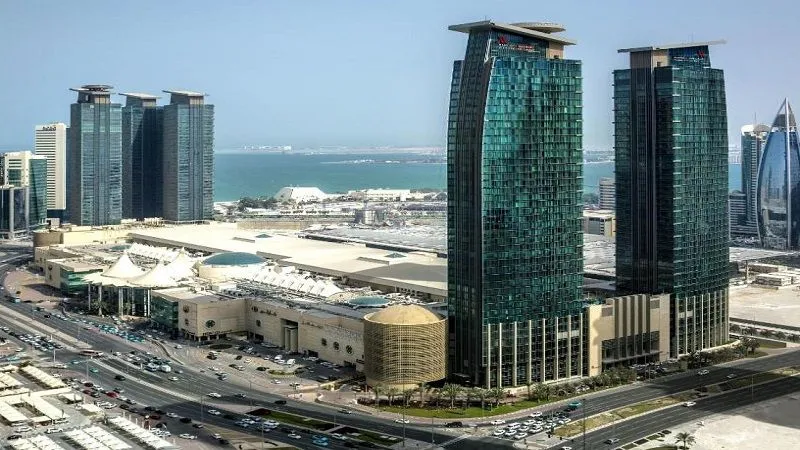 Be it the heartwarming hospitality or the best facilities offered to the guest, Marriot Marquis City Center Doha is an ideal accommodation you can get in the city. This hotel not just features the best luxury service and perfect location but the exclusive features and facilities offered to make it perfect for every guest. From your business tours to a family holiday, Marriott Marquis City Center has brought up the needs of each traveler.
This 5-star hotel of Doha has different rooms categorized as per the needs and are well-appointed with all amenities. Overlooking the dazzling beauty of the Doha Skyline, the room exhibits luxury and leisure in a unique style. You will get amenities like tea and coffee makes, proper bedding and furnishing, separate bathrooms, and more. The rooms are spacious and designed with direct access to the lounge area.
Adding more pleasure and ease to your holidays, Marriott Marquis Doha city center has a relaxing spa and fitness area. The Sarya Spa offers therapeutic massage and healing to let you relax and rejuvenate. There is a heated indoor pool and outdoor pool and sauna for you to delve into absolute leisure.
Don't forget to indulge in the best food offered by the top restaurants there. Marriot Marquis city center has a separate dining area and some top Doha restaurants to serve you the best culinary experience.
Address: West Bay City Center, Omar Al Mukhtar Street, PO Box 25500, Doha, Qatar
TripAdvisor Ratings: 4.5
We Love it For: Indoor and Outdoor Pool, Spa and Sauna, Restaurants and Cafes
Suggested Read: Four Seasons Hotel, Doha: A 5-Star Luxury Retreat Known For Its Rich Grandeur
2. Rotana City Center Hotel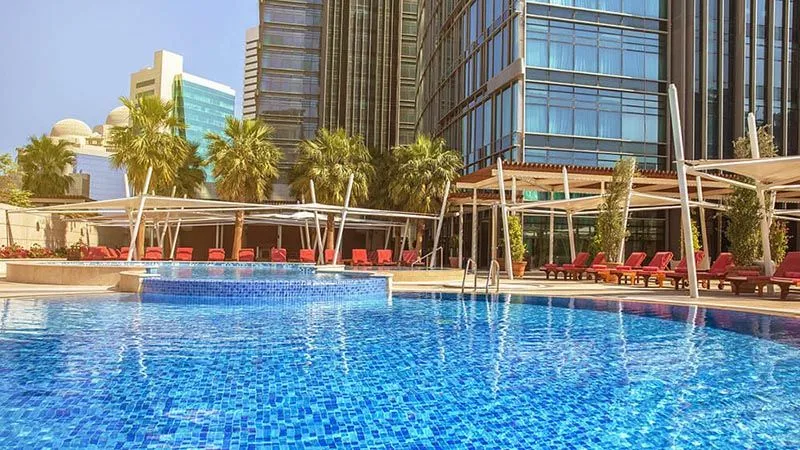 Rotana City Center Hotel is connected to the Doha city mall and is located a few miles from major attractions and landmarks. The facilities and services of Rotana make it the best family hotel in Doha. This is another 5-star property that is the perfect choice for every family holiday or business trip. The hotel features meeting and conference rooms, kid's assistance, and leisure activities for the guests living there.
There are 381 rooms that are spacious, well designed, and laced with every needed amenity. The hotel offers complimentary 24x7 assistance to the guests, ensuring utmost comfort and ease while they are staying at the best hotel. There is a floor-to-ceiling window, proper furnishing bathroom, television, toiletries, and a range of amenities to make you feel at home. Overlooking the scenic beauty of the Doha skyline and the gulf, the Rotana City Center hotel offers a memorable staycation.
Dining in Rotana City Center Doha is a distinct and unique experience for all, there are restaurants, cafes, and the famous Club Rotana Lounge for you to enjoy the evening. With 7 different dining venues, the hotel caters to every taste and zest you desire on your holidays in Doha. Adding more to the features, the hotel has wedding and meeting halls, a fitness center or equipped gym, a spa for massage treatments, an outdoor terrace, and a swimming pool.
Address: Conference Street, West Bay, Doha, Qatar
TripAdvisor Rating: 4.6 stars
We Love It For: 7 Dining Venues, Outdoor Polls, Spa and Wellness Center, Meeting and wedding Halls, Restaurant and Lounge
Cafes and Restaurants At City Center Mall Doha
Home to over 85 food and beverage outlets, 10 coffeeshops, 15 restaurants and several food stalls, the city center mall has something for everyone. People are given the finest experience at the mall right from casual dining, business lunches and brunches at the mall.
Coffee Shops - To Treat Yourself To The Yummiest Coffee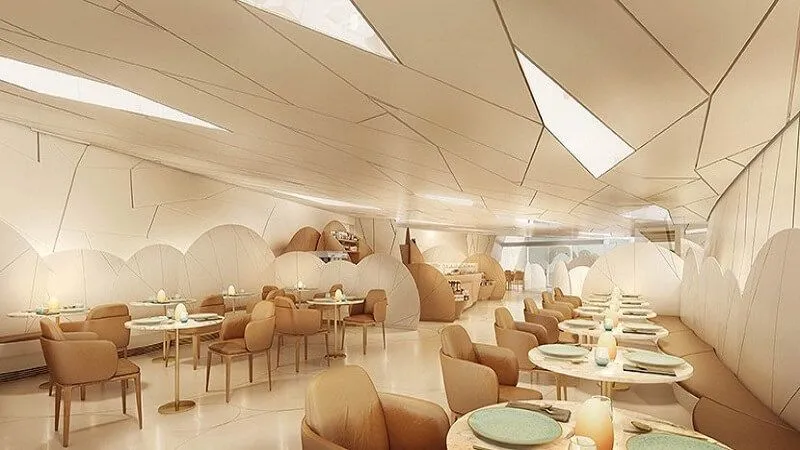 Cinnzeo
People around the world loves to give themselves a taste with the most tempting Canadian style goodies like a Cinnzeo roll. The Cinnzeo at Doha city center will offer you the perfect taste with its baked deserts and savory cuisines. Enjoying a meal at this fancy café is nothing lesser than giving the taste buds a treat to the baked roll that feels like heaven. What more can anyone want when it comes to having the best time of their lives, spending a day at this mall in Doha. So, when you are done shopping, make sure to visit Cinnzeo and grab a bite.
Espresso Lab
Are you a coffee lover like the millions of other people? The culture of fine gourmet coffee is not limited to certain places like Italy or France but it has added so more to the dining culture of Qatar. Espresso lab is one of the most creative coffee chains in the world especially in Qatar. Over the years, the lab has developed a strong fan base of coffee lovers from around the world. With its outlet at City Center Doha, you can easily find a spot to energize yourself with a hot expresso cup. Don't forget to add a side snack for a complementing zest.
Icons Coffee Couture
Have you ever given yourself a taste to healthy savories and sweets? If you haven't, Icons Coffee couture is the place for you. It offers a health- conscious lifestyle with the best menu at all its coffee shop chain. People can give themselves a treat by relishing the taste of some healthy and indulging sweets and savories, maintaining a balanced lifestyle. The Icons Coffee couture is working with an aim to be a leader of a healthy society through its well-balanced food menu that includes complete nutrients and taste.
Kaldi 850
Named after an Ethiopian goat herder named Kaldi, Kaldi 850 is a land with magical coffee beans. Story has it that while herding goats, Kaldi noticed them nibbling red berries of a bush. He was curious and decided to try it on himself, which lead to the establishment of Kaldi 850. Today, Kaldi 850 believes in catering to all the needs of its guests with a menu that includes a fusion of best coffees around the world. It's been a decade since Kaldi 850 is offering fine dining experience.
Starbucks
Starbucks is passionate about its coffee and believes in offering the best coffeehouse experience. People are given a variety of options to some of the best teas, fine pastries, and other treats just to give the taste buds a party. The music in the store is selected based on artistry and appeal.
Restaurants- The Delightful Cuisines For One's Taste Buds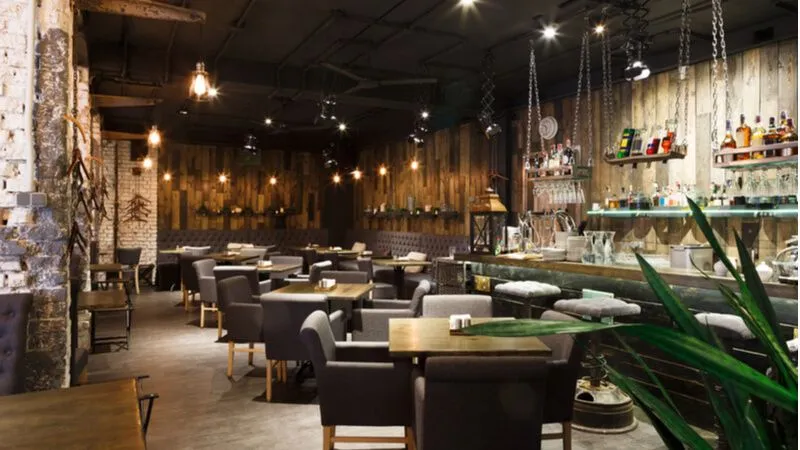 Applebee's
The aim is to offer a warm and welcoming gathering for people to socialize and hang out. Applebee's has built a strong base for itself for over 40 years and is proud of offering all kinds of yummy food and beverages. The dedication to offering a great experience to guests is one of the promises made by Applebee.
Caffe Como-Lavazza
The cozy and homely café is a lot more than just a fleeting trend that embodies the ideal Italian café traditions. It is one of the most ideal places to catch up with your friends as it promises a friendly ambiance with lively vibes. The menu here offers a fine tasting of their Caffe Como, along with its classic interiors, warm and natural colors, and aroma of Italian espresso. One of the most fascinating things about the place is that it leaves a happy memory behind and ensures people come back for more.
Chili's
One of the most popular dining restaurant chains, Chili's offers a fun and energetic environment where family and friends get together for a wholesome meal. Chili's has made a name for itself by opening 1500 branches in over 32 countries. Back in 1975, the restaurant gave birth to its first grill and bar in Dallas, Texas. In Qatar, it is loved by the millennials where they can enjoy the bite of their favorite food. Started from being just a hamburger restaurant, Chili's expanded its facilities and services to be a place that serves a quality menu with every fancy cuisine and drinks in a happy environment.
Nando's
No other place is as popular as Nando's when we talk about family dining in Qatar. This restaurant at City Center is delivering a menu that is laced with every delicious meal for a dull course. Going back to the past, Nando's history was given shape to a hundred years ago when the first Portuguese explorers set sail for the East on the lookout for spices. So, when they reached the shores, they found the African Bird's eye Chilli or Peri-peri. After all these years, Nando is one of the most popular restaurants people come to eat at for their addictive sauces and much more. What more can anyone want when it comes to giving those taste buds a treat to some of the finest cuisines.
Outback Steakhouse
Are you craving chicken and seafood? If Yes, Outback steakhouse is the place serving the yummiest grilled steaks, chicken, and seafood along with its salads, soups, and sides. The steaks at outback steakhouse are seasoned and seared to perfection with over 17 spices. High quality ingredients are seen being used while grilling the food. Once you are done shopping at the City Center Mall Doha, you must give yourselves a treat with the finest deserts, a hot food platter, and every fancy food you are craving.
Pizza Hut
Who doesn't crave a pizza after a long tiring day? You can find a hot crispy and cheesy pizza slice at Pizza Hut. Being a world-renowned eatery that is popular for its detectable taste and smoky flavors, Pizza Hut is loved by every soul, irrespective of his age. The cool and casual vibe of the place has added much to make it quite a place to catch up with your friends or spend leisure time with your gang.
Shanghai Garden Restaurant
One of the biggest most popular Chinese restaurants in Qatar, Shanghai Garden restaurant has won an award for being the best Chinese restaurant in the world, especially in Qatar. People from all over the world come to taste the finest Chinese food and the indigenous aroma of the raw spices. With the best facility, heartwarming service, the restaurant ensures people come back for more. The exquisite interior and comfy seating make it a family spot at the mall.
Sushi Minto
Are you a fan of seafood or just restrict yourself to a certain kind of cuisine? Either way, you should give yourself a treat to some of the finest sushi and other kinds of Asian foods. The chefs at the restaurant have been custom designing a menu to suit everyone's taste, since 2008. The sushi and a range of Asian foods are offered in a happy and warm atmosphere, which is not found anywhere else. The restaurant has not restricted itself to just one location, it has opened up 4 more branches around the city center in Qatar and aims at offering the finest services to every visitor.
Food Court
Who doesn't love going to the food court and giving themselves a treat to all kinds of junk food and authentic cuisine? It has been a dream for so many to splurge on food at the food court that has a vast menu with every traditional and international cuisine. The food court in the City Center Mall Doha offers a different experience altogether, which of course has a quality taste, and a blend of tempting flavors to make it a lifelong experience. What are you waiting for?
Suggested Read: Top Restaurants In Qatar That Ensure A Delightful Culinary Experience
Facilities In City Center Mall Doha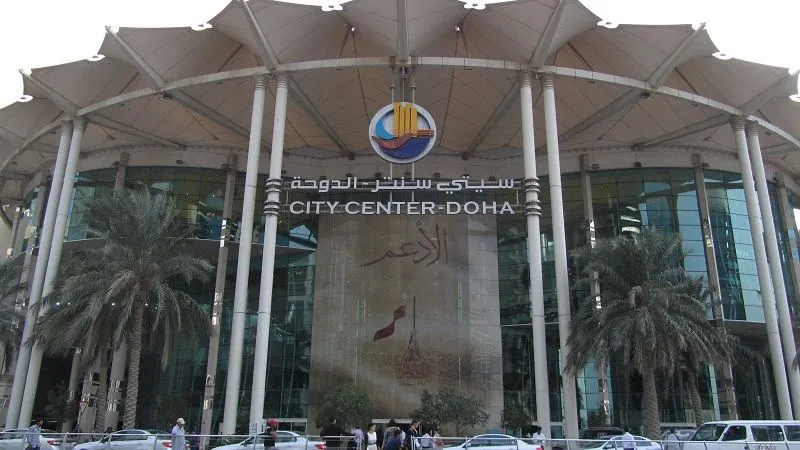 The facilities and services offered by City Center Mall are guest-friendly and make the experience easier. From your emergency needs to basic requirements and more, the mall takes care of every single demand. Here is a brief guide to the best facilities you will find at the City Center Mall.
ATM Machines are there for all your last moment cash emergencies. While there are shops accepting plastic money but if any need for cash arises, you can easily withdraw the needed amount.
Facilities for Kids have made City Center mall a perfect place for families. There are baby rooms in the mall for feeding or changing.
Repair shops and Tailor shops are also there at the Doha city mall. From mobile repairing to watches and electronics, there are many small stores in the mall for essential needs. You can also get alterations or get dressed designed at the tailor shops in the mall.
Qatar holds a great value for religion and spirituality. The mall has prayer rooms for visitors where they can find complete privacy for their day-to-day rituals. The room is well maintained and provides utter peace.
Lost and Found service in City Center Mall ensures the safety and security of your personal products. In case any valuable of yours is missing, you can directly inform the respective team to get complete assistance in finding the belonging.
You can find the Car Wash facility to get your car clean while you are busy shopping at City Center mall in Qatar.
You can now get the benefit of Cargo Service at the Center Mall in Doha for getting your shopped goods delivered at the doorsteps. The DHL here offers home delivery for any product, be it furniture or any bulky, not-easy-to-carry item.
You may now simply exchange the currencies or seek out financial support and services such as money transfers. The City Center Mall in Qatar includes a number of reputable organizations and agents who can assist you with currency exchange. Some of the most well-known City Center Doha shops are Habib Qatar International Exchange, Qatar U.A.E. Exchange, Al Jazeera Exchange, and Al Dar Exchange.
The most important consideration is safety, and the City Center Mall has the highest level of security to maintain a safe atmosphere. Guards have been assigned to the entry and exit gates, and the entire mall is under surveillance. The local security personnel are on the lookout for any illegal behavior or potential risk.
Suggested Read: Things To Avoid In Qatar: Tips and Advice For Travelers
City Center Mall Doha is one of the best malls for complete family entertainment. There are shops, restaurants, and top facilities to make it a safe and secure spot for all. Located close to the top hotels and hand-picked attractions, the mall can be your add-on for the day tour. City center mall has completely changed the term "Mall" with its features that include adventure, leisure, and entertainment. Offering everything from the top brands to gratifying food and extreme fun, this is a new holiday spot for many. So as soon you plan your holiday and book your Qatar flights, make sure to spend a day with your folks at City Center Mall Doha.
FAQs
Q1. Is City Center Mall Doha worth visiting?
City Center mall is one of the best places to visit in Doha if you are on a family holiday. The mall offers the best shopping and dining experience with the best entertainment.
Q2. How can I reach the City Center Mall Doha?
The City center Mall in Doha is located close to the DECC station. You can easily get Doha metro connectivity to the mall. There are cabs and buses also available for an easy commute. The mall has a parking area so, in case you are traveling via a personal vehicle, you can find space to park your car.
Q3. What are the top restaurants at City Center Mall in Doha, Qatar?
The top eateries in City Center mall Doha are:
Al Bayt Al Asil
Attila Mongolian Grill
Diwaniyat Al Boukhari
Pizza Hut
Subway
Q4. Is there any entertainment available at City Center Mall?
Yes, the city center mall has a cinema and an indoor theme park- the fun city that offers the best adventure and fun activities for all. There are rides, go-karting, and activities like rock climbing for kids and adults.
Q5. What are the timings of City Center Mall?
The mall timings are as follow:
Sunday to Wednesday, 10:00 am – 11:00 pm
Thursday: 10:00 am– 12:00 am
Friday; 10:00 am – 11:00 am: 01:00 pm – 12.00 am
Saturday: 10:00 – 12:00 am
Q6. Which hotel chain is associated with the City Center Mall Doha?
Marriott Marquis City Center Doha and Rotana City Center Hotel are the two nearest hotels linked with City center mall. These two are the top 5-star hotels you can reserve for your staycation.
Q7. What type of shops are in the City Center mall Doha?
The City Center Mall Doha shop list includes everything from fashion brands to cosmetics, footwear, kitchen accessories, home décor, and more. There are stores for gadgets, electronics and Carrefour market as well.
Q8. What are the best facilities at City Center Mall In Doha?
City Center Mall offers the top facilities and services that make it the best place for the family. Some of the key highlights of the mall are:
Lost and found for the safety of your personal goods
Cargo service to get your stuff delivered to your doorsteps
ATMs for the cash emergency
Repair and tailor shops
Security personnel at each gate.
---