Qatar is a Middle Eastern gem that boasts of its rich culture, traditions and extravagant infrastructure. From glistening skyscrapers to extravagant malls, Qatar is no short of a marvel when it comes to shopping, dining and entertainment. There is no dearth of fancy malls in Qatar and one on the list is Gate Mall, Qatar where you will be amazed to see a myriad of entertainment, dining, and shopping options. It is just a perfect place to chill and enjoy some precious time with friends and family. Check out this blog guide to the Gate Mall in Qatar for a dose of entertainment.
The Gate Mall In Qatar: Enjoy A Great Shopping Experience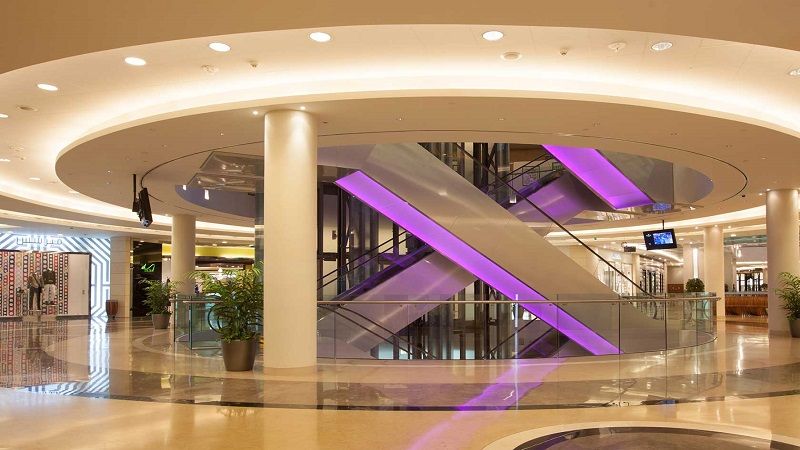 Offering an array of shopping options, the Gate Mall in Qatar is a great place to shop for branded and exclusive products. Not just the luxurious brands but Gate Mall in Qatar is also a great place to shop for medium-budget brands which makes it one of the top malls in Doha. From perfume shops, bridal wear, watch stores to cosmetic shops, clothing stores and handbag shops, there is no dearth of shopping options here. It is also a great place to shop for home décor items as there are designer interior boutiques selling fancy home décor items.
Here are some top brands you can pick as per your shopping list.
1. Fashion and Style For your Wardrobe collection
It's time to upgrade your fashion collection and enhance your wardrobe with the best brand outfits. Gate Mall, Qatar, has the top brand for every age and gender, making it a perfect shopping place for all. From Cathias Edeline- the aristocratic Romanian brand to JustKidding- the best kids' fashion store, there is a refreshing collection you cannot miss. Do try Salam Stores which is the oldest brand in Qatar and is the best and most discerning curation.
2. Beauty And Wellness
Never miss out on skincare routine and more from your daily life and to remind you that, Gate Mal in Doha, Qatar, has the best outlets for your skincare- beauty and wellness therapy. The Botany Lab here is a global name, recognized for the best and most exotic collection of beauty products. The Diva lounge spa is where you can relax for a while, rejuvenating your mind and body.
3. Home and Interiors
Revamp your interiors with the best home and interior collection at Gate Mall in Qatar. The mall exhibits the best and finest accessories that will enhance and make your home a luxuriating place for your living. You can check the best collection of Studio D Décor. It is a luxury interior design studio and showroom where you can find the best international brands with quality furniture and accessories.
4. Perfumes And Cosmetics
Who doesn't love exotic perfume collections and skin friendly cosmetics? Well, if you are looking for the best fragrance, do visit the stores in Gate Mall Doha with some fancy, floral and pleasing collections. The Salam Store is one of the best outlets in the Gate Mall where you can find local and branded perfumes for casual and occasional use.
5. Electronics and Gaming
Are you a big fan of games and gadgets? At Gate Mall, you can buy some of the best video games and high-tech electronics for your home. Store 947 and Hi-Rez are the best stores for the latest tech, gadgets, and gaming.
Fitness Studios At the Gate Mall In Qatar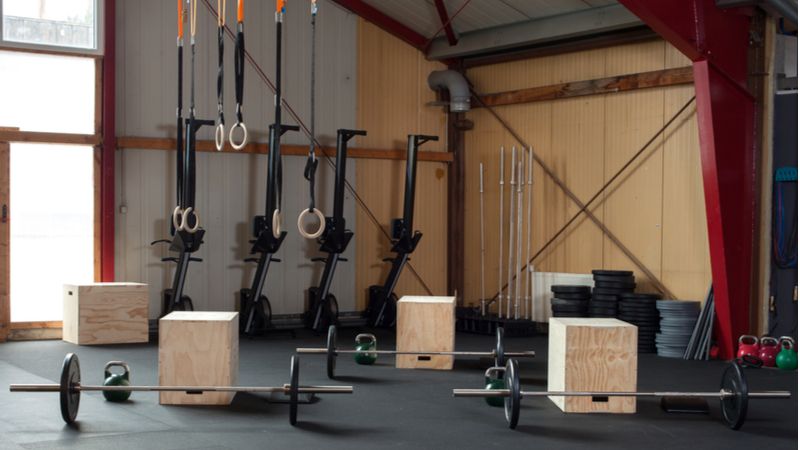 Gate Mall besides offering dining, entertainment and shopping options to visitors also offer several fitness studios where a healthy workout can be enjoyed and also several training sessions can be taken to master your workout skills. Beat Box is one such place where you can learn about fitness training and boxing while enjoying loud music which is especially selected by their trained staff. Encore Pilates is another fitness studio here that provides personal training and classes to clients to help them achieve stronger and healthier bodies. Raise the Barre, Ride Tribe, The Street, and OX Fitness Club are some other options to enjoy a healthy workout at Gate Mall Qatar.
The Gate Mall Qatar: Different Entertainment Options
There is no dearth of entertainment options at the Gate Mall in Qatar. The different entertainment options available here makes it one of the best malls in Qatar.
1. Museum of Illusions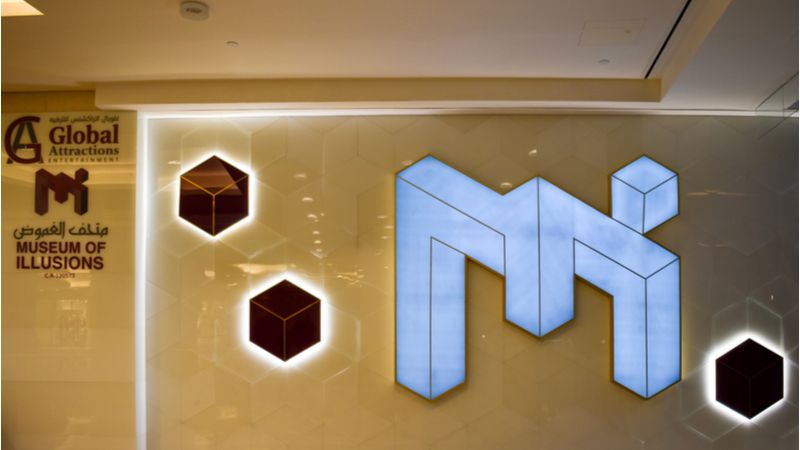 Located on the first floor of the mall, Museum of Illusions is one of the best entertainment places in the city that offers an unusual experience to guests because the illusionary effects here are just like real. Get fascinated by the different attractions of the museum like True Mirror, Ambigous Cylinder, Clone Table, Vortex Tunnel, Anti-gravity room, Rotated room, Holograms, Rubin's Vase, Chair Illusion, and many more. Get fascinated by the different illusionary art here that will give you a real feeling while actually deceiving you. Click pictures of you on the ceiling of the room while you are actually standing on a flat surface or jump into a vortex tunnel that will give you shivers as the effect is so real and scary.
If you are thrilled by this illusionary effect then you can also take educational tours which are conducted here where you will get to learn about the science behind these illusions and visionary effects. There is also a playroom where several mind and puzzle games can be played for the fun and entertainment of guests. The museum of Illusions is located on the first floor of the Gate Mall Qatar and is open all seven days of the week.
Timings: Saturday to Thursday: 09:00 am to 10:00 pm; Friday: 01:00 pm to 10:00 pm
Entry Fee: Kids: 20$; Adults: 30$
Suggested Read: Food In Qatar That Will Leave You Drooling For More
2. Atelier- Music & Arts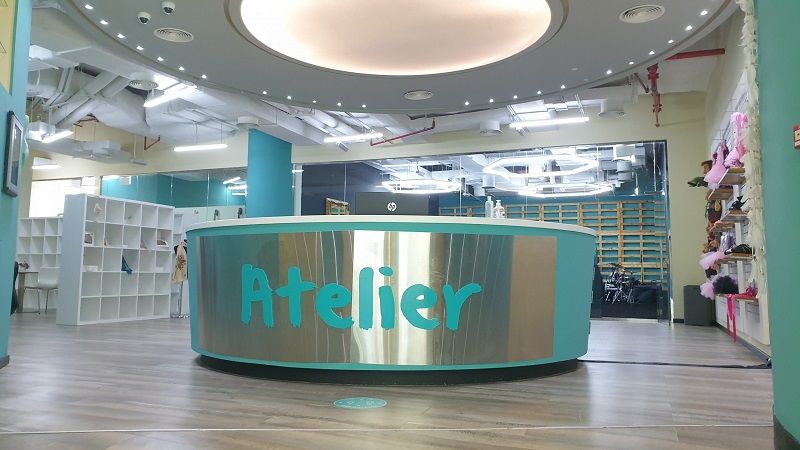 Atelier – Music & Arts offers dance, fitness, music and arts classes to people of all ages. The main aim of this institution is to enhance the skills and art of the people of Qatar so that they can take it to the professional level and contribute to the community through their talents. The professional staff here are well-trained to give professional trainings to kids, adults and seniors in different fields like music, dance, fitness, art, lego and robotics.
It is also a good place to celebrate birthdays and different theme-based events like art birthdays, music and dance birthdays. Decoration and additional facilities and entertainment can be provided upon request like musician, face painting, dancers, host, and many more.
Timings: Sunday to Wednesday: 02:00 pm to 10:00 pm; Thursday: 02:00 pm to 08:00 pm; Saturday: 10:00 am to 08:00 pm; Closed on Fridays
Suggested Read: Yasmine Palace Doha: Serving A Zestful And Luxurious Experience
Gate Mall In Doha: Different Dining Options To Munch Succulent Delights
If you are thinking that Gate Mall in Qatar is just about shopping then you are probably wrong as the mall has some great restaurants that will offer you an unforgettable experience. Housing some of the best cafes of Qatar including restaurants, the Gate Mall is just a perfect place to relish culinary delights from both the local and international cuisines.
1. Sandwich Factory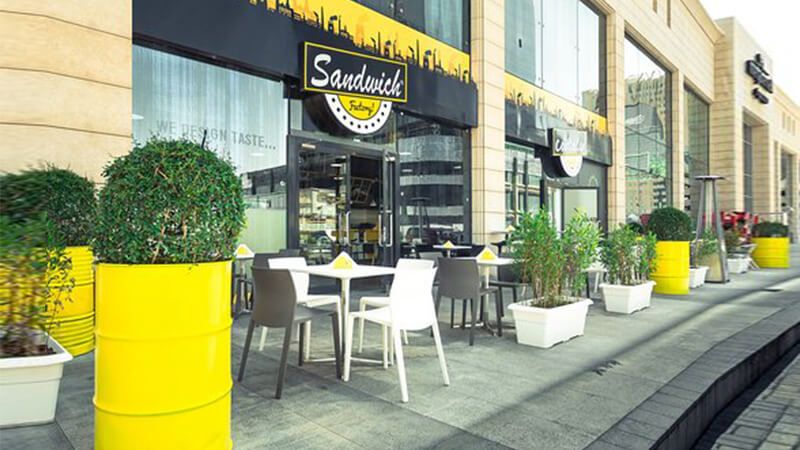 Sandwich Factory is a great place to savor on western and oriental cuisine, mostly scrumptious sandwiches and desserts. It is located on the ground floor of the mall and offers a warm ambience to relish the best of dishes from the western and oriental category. Fatteh, Fattouch, baked falafel, eggplant salad, BBQ chicken, crispy chicken fillet, burgers, Manaeesh and Saj, western and oriental sandwiches are some of the popular items to order from here. The drinks and desserts menu here is also quite extensive featuring dishes like fruit tart, strawberry cheesecake, Eclaire, and freshly squeezed juices.
Timings: Saturday to Wednesday: 08:00 am to 11:00 pm; Thursday to Friday: 08:00 am to 02:30 am
2. Angelina Paris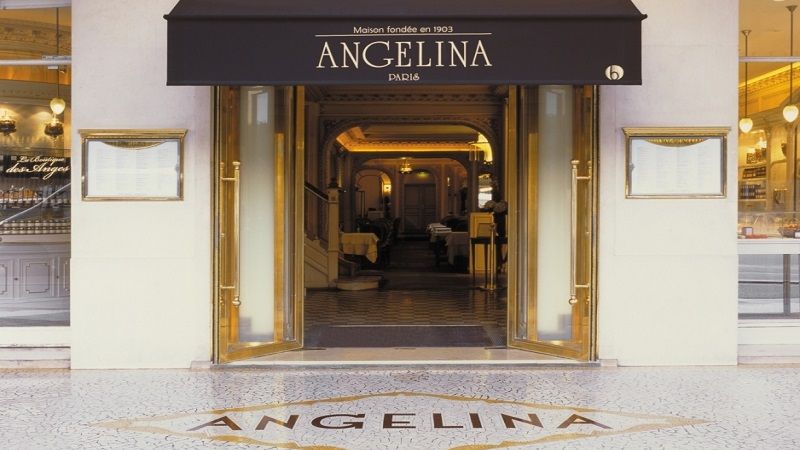 Bringing the authentic Italian flavors to Qatar, Angelina Paris is one of the best bakeries in Doha which is known for its fancy ambience and rich collection of pastries, cakes and gourmets. You can also get your hands on assortment boxes that are sold here which are ideal to be gifted on different occasions as these look extremely elegant and taste heavenly. The interiors of Angelina Paris have also been inspired by Italian architecture that looks elegant and rich. Savor on the rich Italian dessert delights at Paris's one of the best bakeries.
Timings: Saturday to Thursday: 07:00 am to 11:00 pm; Fridays: 8:30–11:30 am, 12:30–11:30 pm
3. Soul Bowl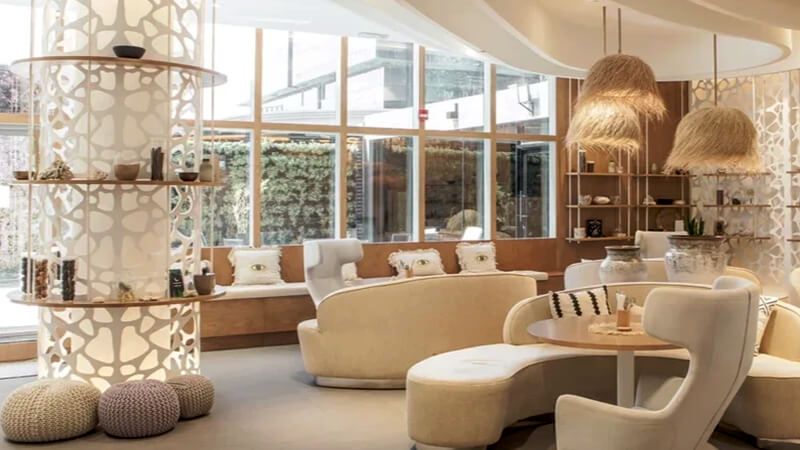 Another delightful place to relish scrumptious flavors at the Gate Mall Doha is Soul Bowl that serves nutritious bowls made with wholesome ingredients and is served fresh. The restaurant is located on the second floor of the mall and boasts of quite a serene ambience which is just perfect to relish rich smoothies, refreshing drinks, frothy coffee and healthy salad bowls. Coco Espresso, Fire Shot, Air Shot, Chaga & Siberian Ginseng, Berry Blend smoothie, Vanilla jade, Healing Mango smoothie, Fiji Bowl, Shiraz Bowl, Petra Bowl, Broccoli, Tulum Bowl are some of the main dishes featured in the Soul Bowl menu.
Timings: 06:00 am to 10:00 pm
Suggested Read: Qatar National Museum: The Story Of The Desert Rose For Tourists To Discover
4. The Meat Market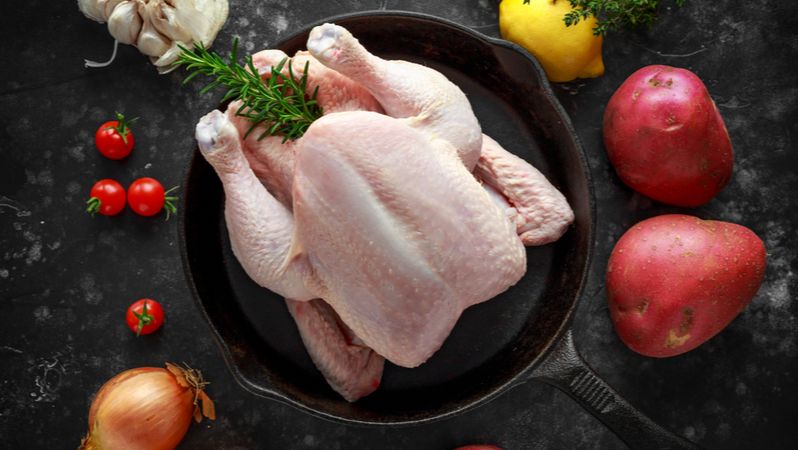 One of the best meat shops in Qatar, the Meat Market is known to sell the finest variety of lamb, veal and premium cuts of beef. Customers can be assured about the quality of the meat that they get from here as this place sells only premium quality of meat. AUS Wagyu Tenderloin, Striploin, Brisket, USA Prime Angus Flank, US Prime Angus Ribeye, US Prime Angus Tomahawk are some of the products to buy from the Meat Market.
Timings: Sunday to Thursday: 10:00 am to 09:00 pm; Friday: 12:30 pm to 09:00 pm and Saturday: 10:00 am to 07:00 pm
5. Dawg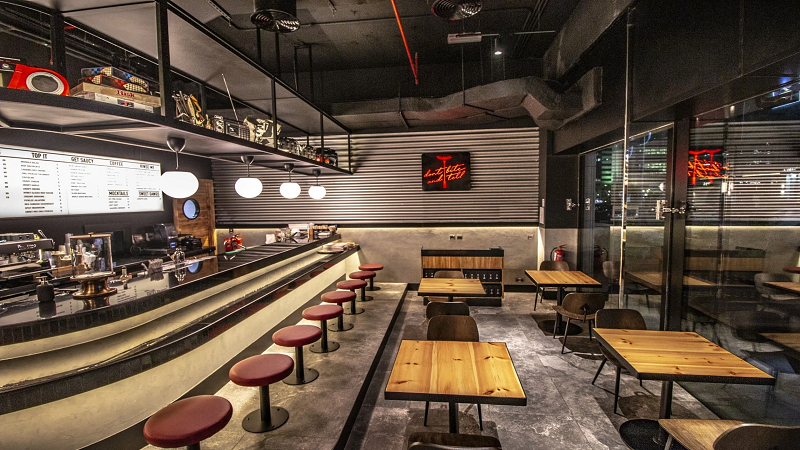 Dawg is regarded as one of the best restaurants in Doha for serving the most scrumptious hotdogs. It is located on the ground floor of the Gate Mall Qatar and is visited by most of the local people of Qatar who love hotdogs and other chicken dishes. The freshly cut sausages topped with homemade sauces when served hot, tastes absolutely scrumptious. Here, customers also get an option to customize their own burger or hotdog with the selection of their favorite ingredients and toppings.
Timings: Saturday to Thursday: 10:00 am to 12:00 am; Friday: 12:30 pm to 12:00 am
Additional Information:
Location: 860, West Bay, 63 Mayasaloun Street, Doha, Qatar
Timings: 10:00 am to 10:00 pm
Distance from Hamad International Airport: Approx. 19 km
Services Offered:
Spa
Pharmacy
Salon
Parking
Fitness Studio
Gate Mall in Qatar is one of the most lavish shopping malls that houses a wide range of shops selling both local and international brands, entertainment and several dining options. Come here with your friends or family to enjoy some great moments indulging in shopping, relishing delectable flavors at different restaurants and exploring different entertainment options here. If you have booked your flights to Doha then do not forget to visit this place for a fun-filled evening outing.
FAQs
Q1. How to reach Gate Mall from Doha Airport?
Gate Mall is located at an approximate distance of 19 km from the Doha Airport and it takes around 26 minutes to cover this distance if you choose to hire a taxi.
Q2. What are some dining options available at The Gate Mall, Qatar?
Some of the best dining options available at the Gate Mall are:
Angelina Paris
Flat White
Sandwich Factory
Eatopia
Soul Bowl
Halo Café
DAWG
Espression Lavazza
Jones The Grocer
MoPo
The Meat Market
Q3. Which are the best malls in Qatar?
Some of the best malls in Qatar offering a dearth of dining, shopping and entertainment options are:
City Center Mall
Mall of Qatar
Lagoona Mall
Doha Festival City
Villaggio Mall
Gulf Mall
Mirqab Mall
Landmark Mall
Ezdan Mall
Al Hazm Mall
B Square Mall
Q4. What services are offered at Gate Mall in Doha?
Some of the best services to enjoy at Gate Mall are:
Spa
Pharmacy
Salon
Parking
Fitness Studios
Q5. What are the timings of Gate Mall?
Gate Mall is open everyday from Monday to Sunday from 10:00 am to 10:00 pm.
Q6. Are there any entertainment options available at the Gate Mall Doha?
Yes, there are several entertainment options available here suitable for both kids and adults like the Museum of Illusions, Atelier- Music & Arts, and Rebound.
Q7. What are some famous restaurants to visit near Gate Mall?
Some of the most famous restaurants near Gate Mall which are worth exploring are:
Lavazza Espression
Qavanna Restaurant
Sora
Aziza Lebanese Restaurant
Jones the Grocer- Gate Mall
West End Cafe & Patisserie
Quick Bites
Champions Sports Bar
Q8. Is there any fitness center in Gate Mall?
Yes, Gate Mall houses 7 fitness studios which are Beat Box, Barry's Qatar, OX Fitness Lab, Encore Pilates, Ride Tribe, Raise the Barre, and The Street.
---