Souqs are an integral part of Qatar's rich traditions and culture. These bustling markets are the best when it comes to shopping in Qatar. From accessories to home décor, clothes to knick-knacks you will find everything here. One of the most famous souqs in Qatar is Gold Souq where you will find exclusive variety of gold at amazing prices. Unlike the extravagant malls here, the souqs in Qatar are vibrant and offers the most unique and traditional things which you won't find anywhere else. If you love dainty gold pieces as well as heavy ornaments then, Gold Souq is the place for you to explore on your next trip to Qatar.
Gold Souq: Your One-Stop Destination To Buy Gold Jewelry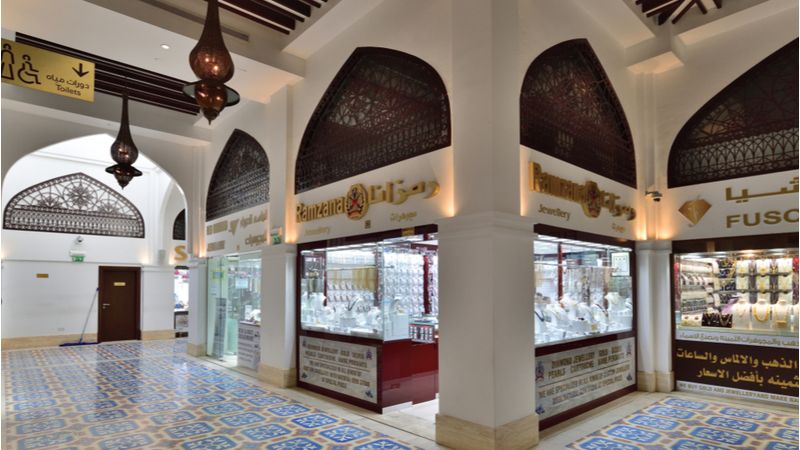 Gold Souq Doha is a paradise for shopping of gold as there are myriad of gold shops here selling gold at the best prices. These gold pieces can also be customized as per the needs of the customers. Gold Souq is located very close to the famous Souq Waqif which is one of the most famous markets in Doha for shopping of souvenirs and everything traditional. The gold which you get here is authentic and you also get a certificate along with it stating its purity and authenticity. The hallmarked gold is weighed in front of the customers so that there is transparency in the whole process of buying.
The best thing to buy from Gold Souq Qatar are pendants with person's name written on them in Arabic. It is also one of the best things to take back as souvenirs from Qatar as it is quite famous here and people love it for being precious and elegant at the same time. 22-carot gold pieces is most famous here but silver, platinum and pearl jewelry can also be bought from the Gold Souq.
Places To Visit Near Gold Souq In Doha
Located in Downtown Doha, there are so many amazing places to visit near Gold Souq which one must definitely explore. Some of the best ones are listed below.
1. Souq Waqif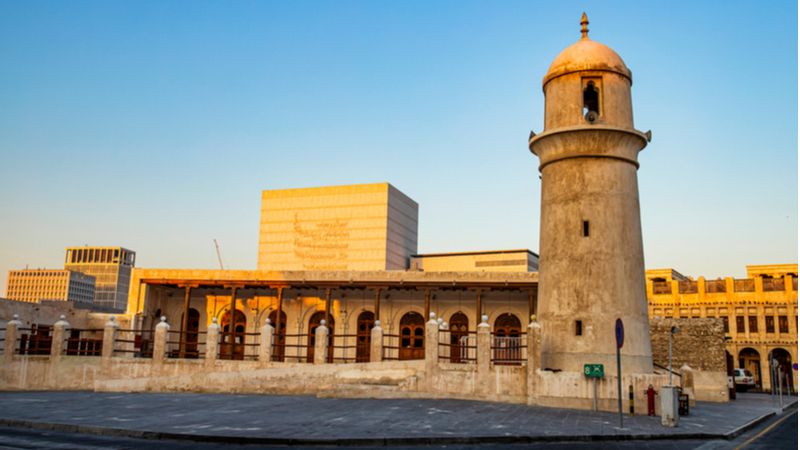 Souq Waqif is one of the main attractions in Doha that is visited by most of the travelers who come for a trip to Qatar. Experience the best shopping experience here as this market is always bustled with crowds who come here for shopping and also to delve into the local culture of the country. From shopping and dining to falcon shows, everything can be enjoyed at this traditional market in Qatar. The shops here sell traditional things like pots, carpets, pashminas, shisha, wooden boxes, incense sticks, spices, dried fruits, and a lot of other things which are unique to Qatar. There are also fancy restaurants located here where you can relish fine flavors of Qatari dishes along with international delights.
Suggested Read: Pearl Qatar: Discovering The Man- Made Island With The Naked Eye
2. The Pearl Monument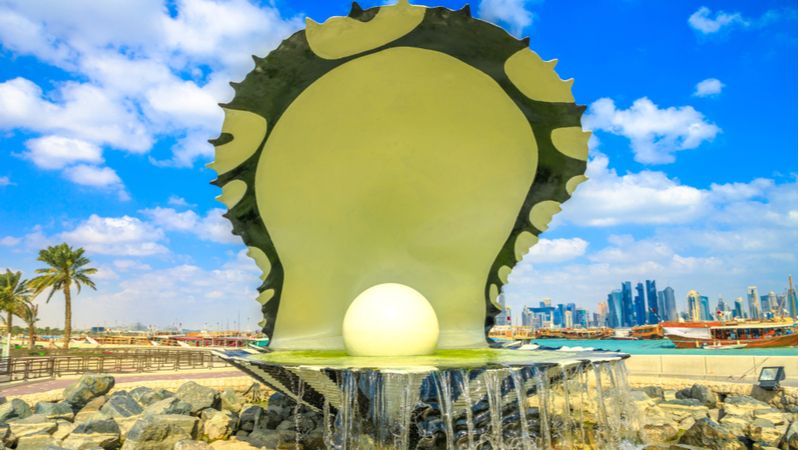 One of the most popular spots to click Instagram-worthy photos is the Pearl Monument and fountain where you will see flocks of crowd admiring this gorgeous monument and clicking pictures in front of it. Before oil was discovered in Qatar, pearling was the main occupation of the country so, this monument signifies the importance of pearls in the country. It is located at the end of the famous Doha Corniche and offers a blissful ambience to click photos and enjoy some pleasant time.
3. Falcon Souq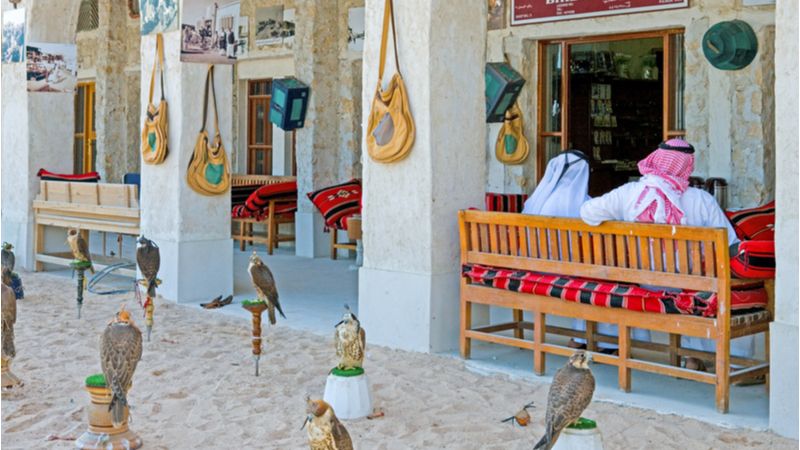 Another intriguing place to visit near Gold Souq is Falcon Souq which is a great place to witness an art of falconry and buy exclusive accessories for falcons. Falcons are an important part of culture in Qatar and local people of Qatar keep these giant birds very preciously. The souq also houses a hospital with all the modern amenities for the treatment of falcons. It is advisable not to poke these giant creatures as they are quite deadly.
Suggested Read: Falcon Souq: One Of A Kind Market Dedicated To Falconry
How to Reach Gold Souq?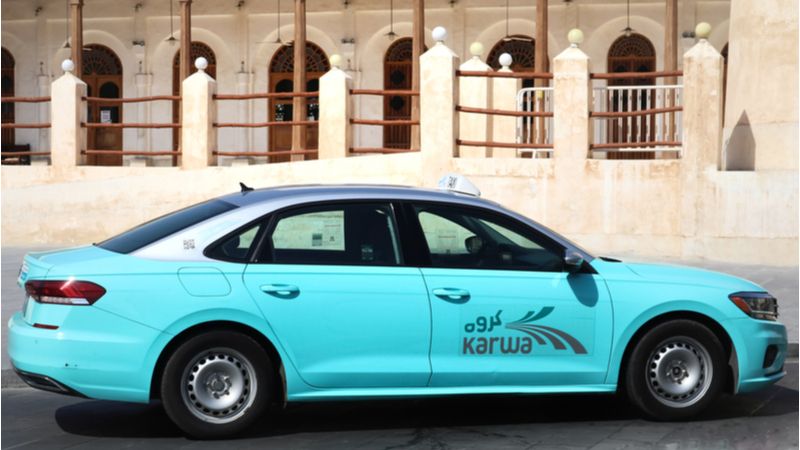 Gold Souq is located in Downtown Doha and it is very easy to get here from the Hamad International Airport. The Gold Souq is located at an approximate distance of 3 km from the airport and is best covered in 10 minutes by hiring a taxi. Gold Souq location is quite prime as it is located in the main city center and is easily accessible from many of the points in the city. If looking for affordable options to reach Gold Souq then, you can take metro line number M3 which will directly take you to the souq. Bus is another option to get to the souq so you can catch any of the buses with number 45, 777, 22, 156A and 136A to get to the souq.
Housing around 40 shops, the Gold Souq in Qatar is one of the best places to buy gold as here you will get the most authentic variety of gold in different designs and patters. Arabic names gold pendant is one of the most unique things to get from here as they look extremely elegant and dainty as well. Surprise your beloved by giving them these stunning pieces of jewelry from the Gold Souq. The shops located in the Gold Souq are regulated strictly by the local government in Qatar hence, one can trust the authenticity of items sold here. Do not forget to indulge in some shopping from this market on your next trip to Qatar.  
FAQs
Q1. What is the best thing to buy from Gold Souq?
The best thing to buy from Gold Souq are customized gold pendants with your name written on them in Arabic. These pendants look elegant and also serves as the best souvenir to bring back from Qatar.
Q2. What are the timings of Gold Souq?
The timings of Gold Souq are:
Saturday to Sunday: 09:00 am to 01:00 pm and 04:00 pm to 10:00 pm
Fridays: 04:00 pm to 10:00 pm
Q3. Can we get pure gold in Gold Souq?
Yes, Gold Souq in Qatar is famous for selling 22-carot gold jewelry which is weighed in front of customers and is sold with proper certification which is a proof of its originality.
Q4. What are the best places to visit near Gold Souq?
Some of the best places to visit near Gold Souq are:
Souq Waqif
Pearl Monument
Falcon Souq
Q5. Which are the most popular souqs in Qatar?
Some of the most popular souqs in Qatar are:
Souq Waqif
Falcon Souq
Omani Souq
Souq Al Dira
Gold Souq
Souq Al Wakrah
Q6. Can I get anything other than gold in Gold Souq?
Yes, Gold Souq also sells pearl, silver and platinum jewelry in different designs and patterns that looks absolutely stunning and elegant.
Q7. Where is Gold Souq located?
Gold Souq is located in Downtown Doha which is around 3 km from the Doha Airport and it takes just 10 minutes to reach the souq from the airport.
Q8. Is gold cheap in Qatar?
Yes, if you compare with other countries like India, gold is comparatively cheaper in Qatar as it has been exempted from taxes. Also, the purity and authenticity of gold here is genuine.
---