One of the most refined and elegant cuisines in the world comes from the country of France. Everything associated with French food is exquisite, from the name of the dishes, their preparation to presenting the dish on the plate and the classy restaurants. And nothing can be better than finding the same French flavour in one of the countries of the Gulf, Qatar; it is the yummiest cherry on the three-layered cake. There are several refined French restaurants in Qatar that will take you back to that eatery in Paris or an opulent restaurant in Bordeaux. It is always fun to get an opportunity to taste different cuisines in one place, and Qatar is always there to save the day.
French Restaurants in Qatar: Best Way to Learn About French Flavors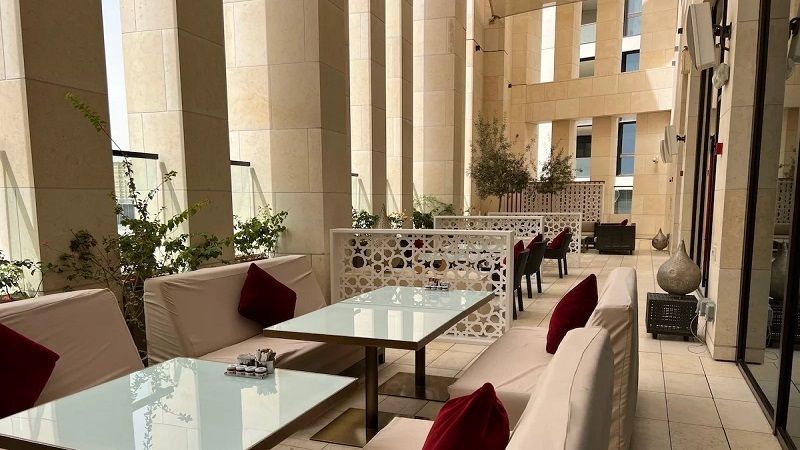 UNESCO has declared French cuisine as a world intangible heritage, and they are not wrong. Every cuisine has its own specialty, and it is unique in its own way. Bringing Qatar into the limelight, the traditional dishes are always appreciated all over the world for their flavor, spices, and seasoning. There are several exquisite French restaurants in Qatar that serve a combination of Qatari and French cuisine, which is an excellent way to offer the guests an optimum quality of culture, class, elegance, and flavor. The architecture and interiors of these French restaurants are inspired by the pastel colours of 20th century palaces to take guests back to France.
Izu
Sel & Miel
French Olive Patisserie and Restaurant
Le Train Bleu
Opus
Le Relais de l'Entrecote
Antoinette's
Le Colonial Restaurant
Paul Bakery and Restaurant
La Patisserie
1. Izu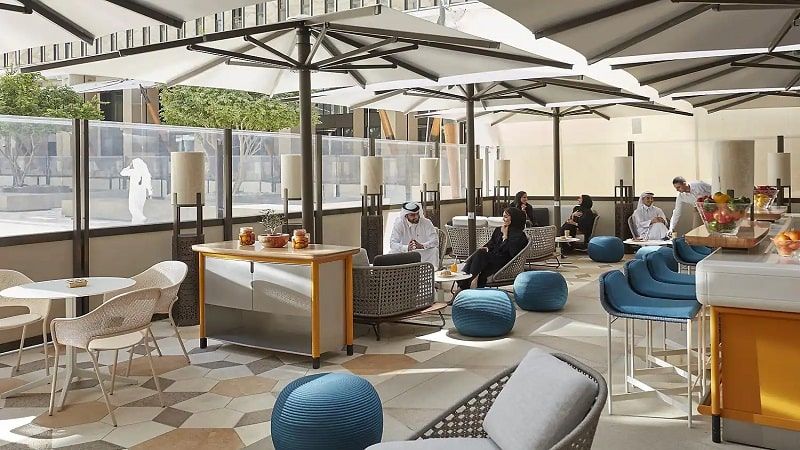 There are some restaurants that leave such a strong print on our memory that we always think of visiting the place. Izu is one of the trendy French restaurants in Qatar that not only serves the most mouthwatering French cuisine, but also the whole vibe of the place sets the whole mood. There is a vast range of a la carte for breakfast. lunch and dinner with an entire menu for beverages. The seating inside and on the terrace is created with the idea of "modern" in mind. The restaurant serves several delectable French Mediterranean dishes, with an entire menu specifically created for chef Izu's signature dishes that include Fromage du chèvre marinée avec salade verte à l'orange, Carpaccio de thon avec une sauce au mandarin, and Cheesecake au Fruit de la passion, among others.
Location: Barahat Msheireb Street, Msheireb Downtown Doha Msheireb Downtown Doha, Doha
Timings: Everyday: 9 a.m. to 11 p.m.
2. Sel & Miel
A menu brimming with classic dishes like Halibut à la meunière, Bouillabaisse, Saumon dans un jardin d'herbes, Bar en papillote, Confit de canard, Boeuf bourguignon, and Planche de charcuterie, Sel & Meil is one of the chic French restaurants in Qatar. The interior and décor of this chic restaurant scream luxury fine dining for all of its visitors.Business lunch and Saturday lazy brunch are some of the favourites among the frequent visitors of this opulent restaurant. The restaurant has recently opened a chic garden where lovers of the night will get the chance to delve into delicious dishes with fairy lights twinkling on palm trees.
Location: The Ritz-Carlton, Doha, West Bay Lagoon, Doha, 23400 Qatar
Timings: Everyday: 12 p.m. to 11 p.m.
3. French Olive Patisserie and Restaurant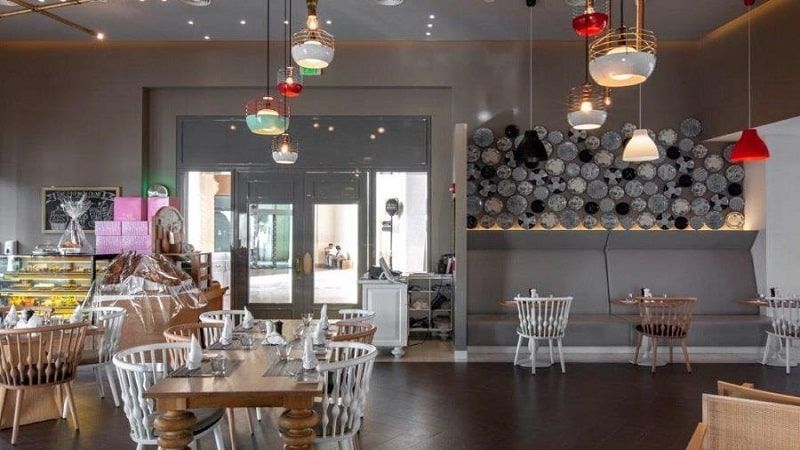 Representing French and Italian gastronomy, French Olive is one of the best restaurants in Qatar to delve into gourmet French food. The interior and décor of the restaurant are in a typical French salon style with pastel colours used all over the property. One can visit the restaurant at any time to try the sumptuous dishes from a wide variety of salads, main courses, vegetarian, non-vegetarian, and seafood. The French Olive restaurant in Qatar has quite a buzz among locals and tourists alike. Some of the most preferred dishes are Pancake Soufflé, labneh brioche, French toast, brisket benedict, ricotta spinach ravioli and risotto, Nutella pizza, Caesar salad with chicken, and avocado toast and eggs
Location: Barwa Al Saad C-Ring Road, Doha, Qatar
Timings: Everyday: 7 a.m. to 12 a.m.
Suggested Read: Food In Qatar That Will Leave You Drooling For More
4. Le Train Bleu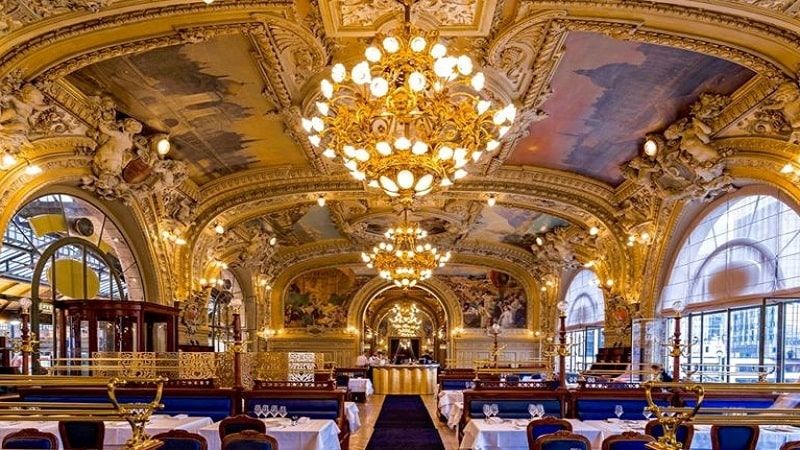 If you are an ardent lover of French cuisine and are planning a luxurious dinner with your better half, then think no further and reserve a fine table. This restaurant is the epitome of French luxury and elegance. It is easily one of the best honeymoon destinations in Qatar to charm your spouse off the ground. The whole interior and architecture are inspired by 20th century palaces in France, so you just might feel that you stumbled into Versailles. All the ceilings and walls are beautifully decorated with paintings representing the cities and regions of France. Foie Gras, Linguine with lobster, Vol au Vent Pastry, Veal medallions with cannelloni, wild mushrooms and chestnuts, and Sablé Breton are some of the favourite French dishes among the frequent visitors.
Location: Al Hazm Mall، Al Markhiya St, Doha, Qatar
Timings: Everyday: 2 p.m. to 12 a.m.
Suggested Read: Inland Sea Qatar: A Place Where Turquoise Water Meets Sand
5. Opus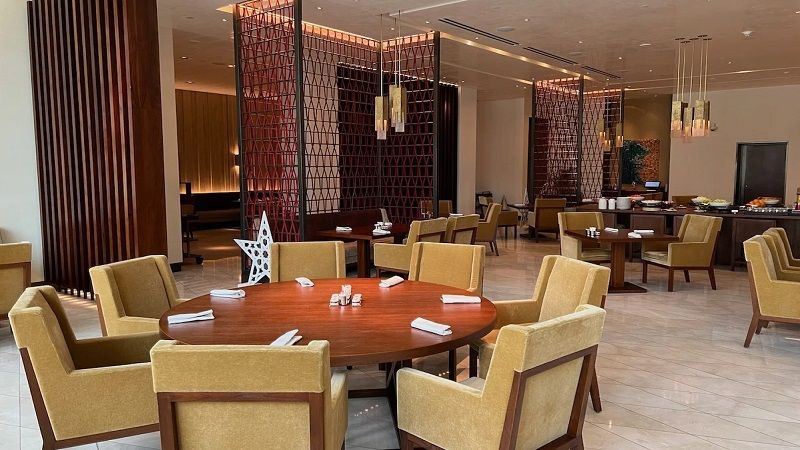 Plan a fun lunch with your friends and family at Opus to have an amazing time eating flavoursome food. One of the beautiful restaurants in Qatar serves a blend of two vibrant cultures, with Qatari – French dishes on your plates. The restaurant offers alfresco seating, which is great for a large group of people relishing the lip-smacking dishes in the pleasant weather. The aromatic combination of Qatari – French cuisine is cooked in an open kitchen, and all meals are served in buffet style. The interior and décor of the restaurant are luxurious and very chic.
Location: Park Hyatt, Sikkat Wadi Msheireb Street, Doha
Timings: Everyday: 7 a.m. - 11 a.m., 12.30 p.m. - 3.30 p.m., and 7 p.m. - 10 p.m.
6. Le Relais de l'Entrecote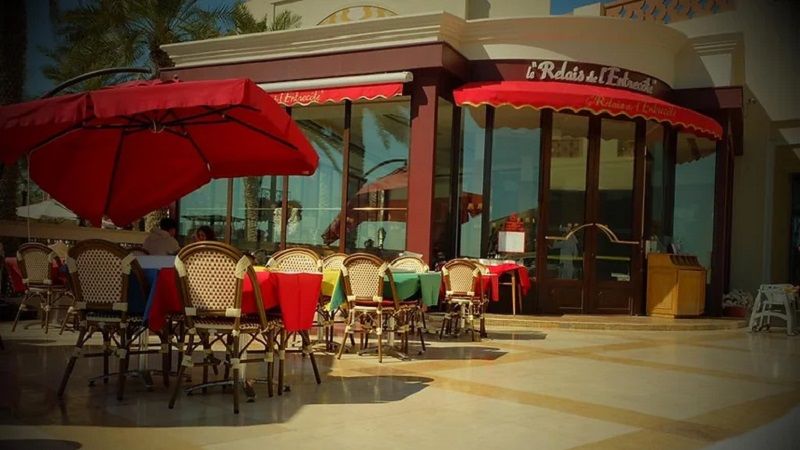 If you like your steak to melt in your mouth, this authentic gastro-temple is one of the best places to visit in Qatar. This restaurant is among the well-known places to enjoy a good French meal on a pleasant day. The amazing hospitality and spellbinding ambiance add more charm to the overall elegance of the restaurant. It is also known for its simple décor, and there is a lot of space to sit outside when the sun feels good. It is an authentic French restaurant that also serves other flavorful food items like entrecote with buttery sauce, salad, frittes, etc.
Location: Porto Arabia, The Pearl, Doha, Qatar
Timings: Everyday: 12 p.m. - 11.30 p.m.
Suggested Read: Malls In Qatar That Will Make Your Shopping Worthwhile
7. Antoinette's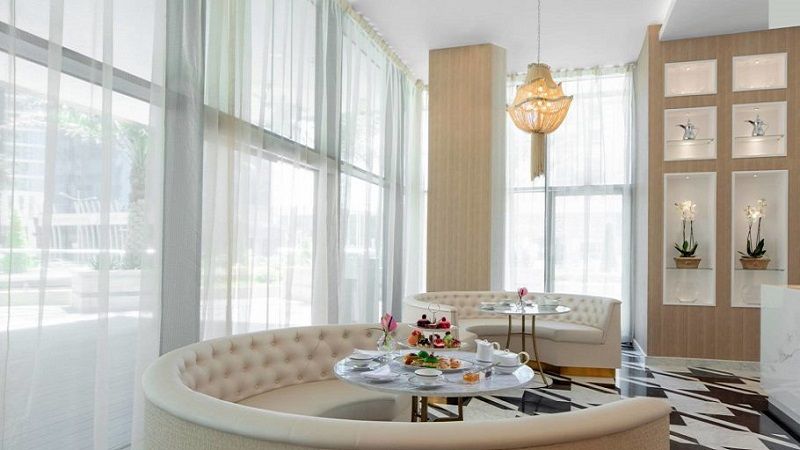 If you have a desire to experience a delicate slice of Paris, then visit this chic French restaurant in Qatar. A well-known French restaurant and patisserie. This place serves a variety of French delicacies right from quinoa & chia seed porridge, acai berry bowl, smoked salmon and labneh, grilled vegetable wraps, pasta, baked salmon fillet or roasted chicken breast, risotto, and baked salmon fileet, grilled beef tenderloin. The interior and décor of this charming restaurant are very trendy and elegant, with spotless white seating. Speaking of the seating arrangement, guests are free to choose to sit inside or outside if they wish to take in some good and pleasant air.
Location: Dusit Doha Hotel, Doha
Timings: Everyday: 8 a.m. - 12 a.m.
Suggested Read: Theme Parks In Qatar For A Family-Friendly Day Outing
8. Le Colonial Restaurant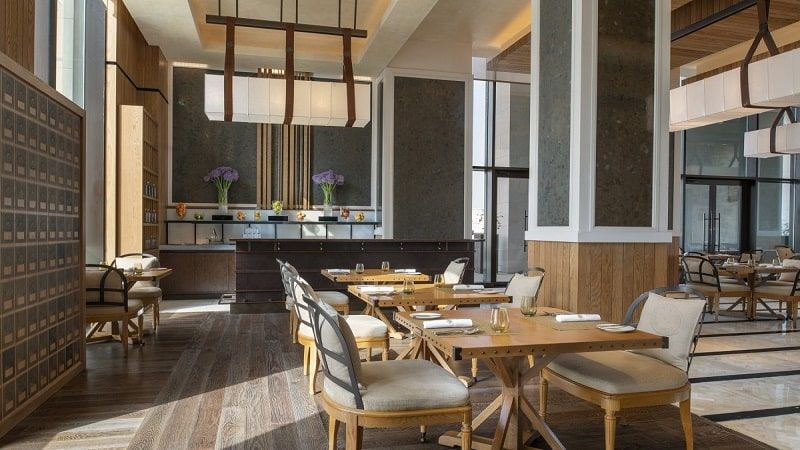 Embark on a mesmerising and memorable journey with a selection of some succulent and flavorful dishes from all around the world, including the French. This amazing restaurant in Qatar is one of a kind and provides the perfect setting to relax and gain some insight about Doha's history during the colonial era. The restaurant is a very popular destination to kickstart your day with a nutritious and delicious breakfast. The walls of the restaurant are imprinted with Doha's timeline and the décor is on point: trendy yet very Gulf. Some of the favourites among frequent visitors are the cold Arabic mezze selection, Caesar salad, Greek salad, brie cheese panini, and Shakshouka skillet.
Location: Alwadi Hotel Doha - MGallery by AccorHotels Corner of Wadi Musheireb and Jassim bin Mohammed Street, Doha 24910 Qatar
Timing: Everyday: 6 a.m. - 12 p.m.
Suggested Read: Shopping in Sharjah: Soak in the Charm of the Exotic Souks
9. Paul Bakery and Restaurant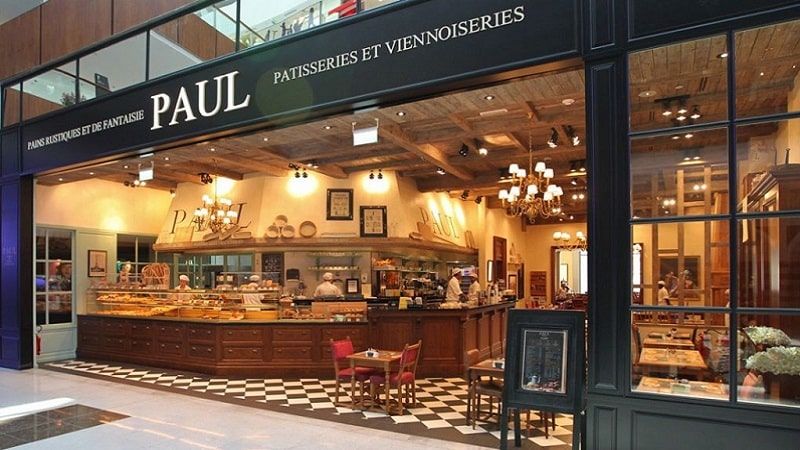 If you are looking for a hearty French meal with an elegant looking and mind-blowingly yummy dessert at the end, then visit this beautiful French restaurant in Qatar. With its simple yet super elegant décor and culture of serving classic French dishes, the restaurant gives visitors a glimpse of French beauty. This amazing place is quite a marvel when it comes to those with a tight budget but who look for high quality food. Some of the favourites among the frequent visitors are Croissalmon Avocado, Grilled Halloumi, strawberry parfait, goat cheese zucchini, eggs benedict, smoked turkey, chocolate gourmandise, and thyme galette.
Location: Al Mirqab Al Jadeed St, Doha, Qatar
Timings: Saturday – Thursday: 8 a.m. - 11 p.m. Friday: 8 a.m. - 11.30 a.m. and 12.30 p.m. - 11 p.m.
Suggested Read: Shopping in Turkey: Souvenirs You Can Find At The Best Local Markets
10. La Patisserie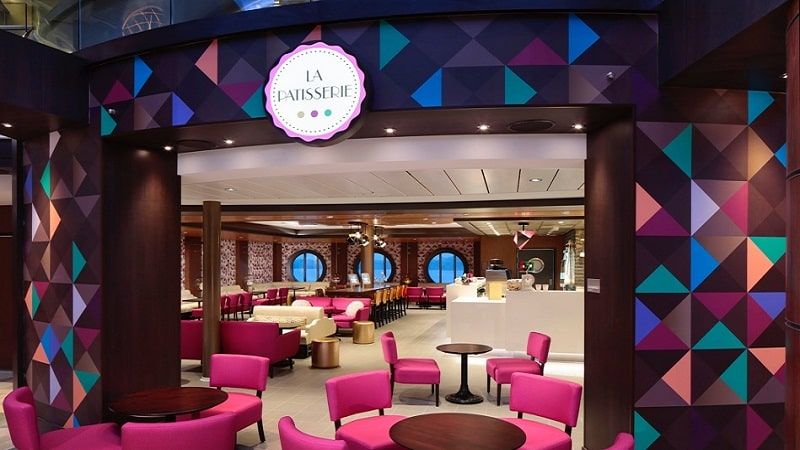 If you are a fan of fresh, oven-baked European bread, special cakes, pralines, macaroons, and croissants, look no further before visiting this opulent and traditional French restaurant in Qatar. The patisserie serves a vast variety of authentic sweet dishes and desserts, which are so soft and delicate that they melt in the mouth instantly. The La Patisserie in Doha is a dream destination for people who visit Souq Waqif to shop and need a break to relax, have a cup of coffee and eat some of the sumptuous French dishes for lunch. The interior and décor of the restaurant are simple and chic, with ample space for visitors to make them feel comfortable.
Location: Boutique Hotel, Souq Waqif, Doha, Qatar
Timings: Everyday: 9 a.m. - 11 p.m.
Be it a local or a tourist, everyone looks for some change of flavour in their food or wishes to experiment with different cuisines while they are on vacation. French restaurants in Qatar provide that change in taste when one wants to try a different cuisine apart from the sumptuous flavours of Qatari cuisine. Also, people who have never been to France get a golden opportunity to introduce their palates to the elegant and delicious French flavours and classic dishes. Now is the time to give Qatar and its restaurants a try, reserve the best from a variety of Qatar holiday packages and delve into the sumptuous flavours of Qatari and French cuisines.
FAQs
Q1. Which are the best French restaurants in Qatar?
There are numerous amazing French restaurants in Qatar that have an elegant décor, a spellbinding ambiance, and flavorful French food.
Sel & Miel
Le Train Bleu
Le Relais de l'Entrecote
French Olive Patisserie and Restaurant
Q2. Is Qatar worth visiting?
Yes, one of the beautiful countries of the Gulf, Qatar, is an amazing blend of cosmopolitan sophistication and respect towards age-old tradition. There are many cities, along with its capital, Doha, which are not just famous for their astonishingly charming manmade structures but also for their tranquil beaches and lush green landscapes.
Q3. What is special about Le Train Bleu restaurant in Qatar?
This restaurant will remind you of a castle in 20th century France with the flamboyant paintings on the walls, the grand and charming chandeliers, the seating, and the rich and authentic French food. Visiting this restaurant is an experience on its own, and eating the delicious dishes is a privilege.
Q4. Is French food popular in Qatar?
Yes, French cuisine is quite famous among locals and tourists in Qatar. The fact that people from all around the world visit the beautiful Gulf country and get to try a whole new cuisine is a privilege in its own right. Other than that, French cuisine is known all over the world and the restaurants give a little glimpse of France.
Q5. What are the travel tips for Qatar?
Here are some important tips to keep in mind while exploring Qatar.
Always keep your passport with you
Respect tradition and culture
Dress appropriately and follow public rules
Try all the traditional foods
Don't forget to bring souvenirs
Q6. What are the exciting places to visit in Qatar?
There are many intriguing places and landmarks that must not be missed during your holiday in Qatar.
Inland Sea Beach
Al Zubarah Fort
The Pearl, Qatar
The Doha Desert
The State Grand Mosque
Q7. Which are the ideal months to visit Qatar?
The months between November and March are the best to plan a holiday in Qatar. The weather during these months is pleasant enough for tourists to explore all the significant landmarks and delve into all the thrilling activities.
Q8. What are some interesting things to do in Qatar?
There are several activities that one can indulge in during their visit to Qatar.
Swim around the beaches in Qatar
Experience crab hunting
Explore MIA park
Take a tour of the World Cup Venues
---