Who says a football fan can't also be an adventurer? If you are around Saudi Arabia or in the host country and enjoying the matches live from the stadiums while also wanting to indulge in some thrilling activities, then we have got you covered. Visitors from all around the globe have many options to indulge in a wide variety of adventures in Saudi Arabia during the FIFA World Cup and even after it. Other than being home to the two holy cities, the country is also blessed with a diverse topography that offers different kinds of exciting activities to tourists.
Adventures in Saudi Arabia During the FIFA World Cup: Don't Miss the Fun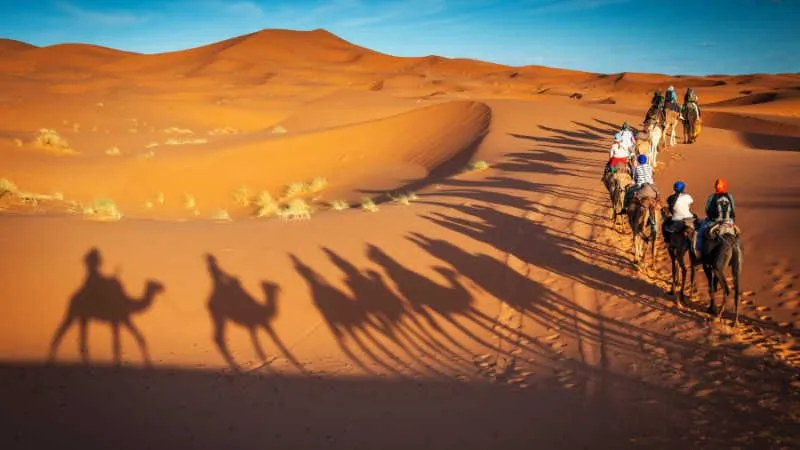 If you are an adventure enthusiast who do not miss to try ay of the thrilling sports while visiting anew destination, then also put the adventure in Saudi Arabia during FIFA World Cup in your list. The enigmatic country offers a wide range of thrilling activities on diverse terrain, giving tourists plenty of options to try them according to their preferences. People can hike through the national parks, dive in the deep sea, encounter the natural wonders, indulge in many thrilling activities during desert safari, and much more.
Trek through the lush greenery of Aseer National Park
Experience the sunrise on the hot air balloon ride in AlUla
Indulge in the thrilling water sports at Red Sea
Visit the enthralling Al Asfar Desert Lake
Enjoy an adventurous safari in the Arabian desert
Try the mind-blowing wreck dive in Abu Faramish
1. Trek through the Lush Greenery of Aseer National Park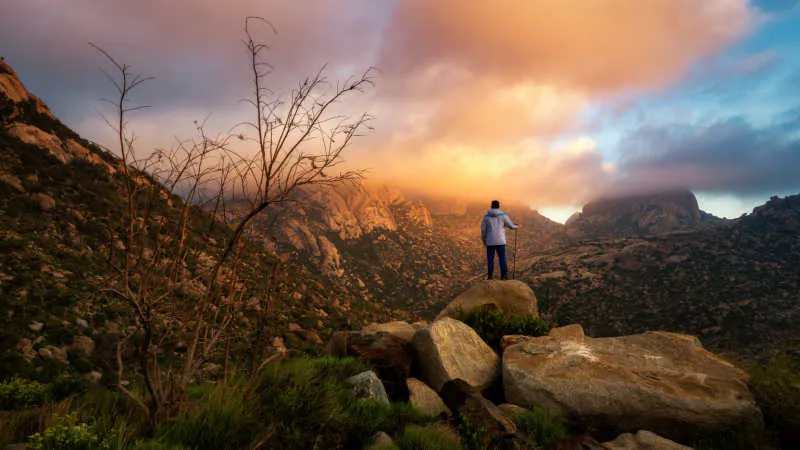 One of the adventures in Saudi Arabia during the FIFA World Cup is to plan a trek through the lush greenery of the beautiful Aseer National Park. With a wide variety of flora and fauna spread across the park and rough trails to hike on, the park is a pure delight for nature lovers and adventure seekers.In addition, visitors have the option of camping for a day or a night, choosing from 67 different sites the one that is best for them. Other than that, people can also get the chance to encounter some of the exotic birds among the 300 species living in the park.
Nearest Airport: Abha International Airport
How to Reach: One can take a taxi from the airport to reach the park
Nearby Attractions
Abu Keyal Park
Al Raqdi Museum
Art Street
Abha Dam
2. Experience the Sunrise on the Hot air Balloon Ride in AlUla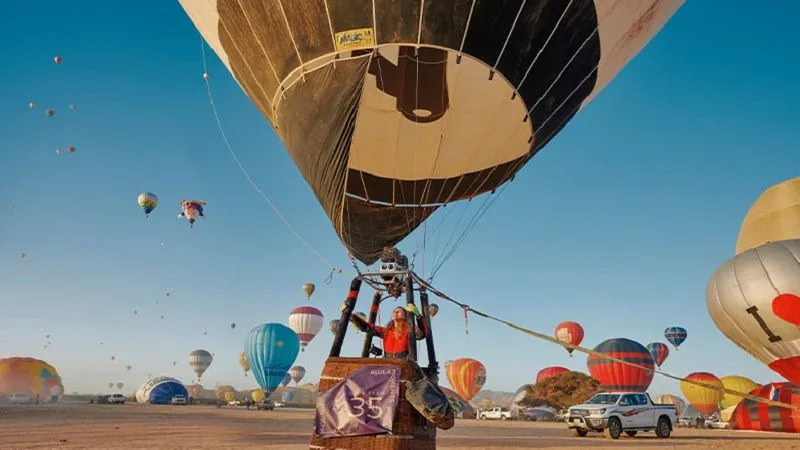 Many adventures are available in several places, but a hot air balloon ride is one of those exceptional experiences that must not be missed if an opportunity arises. Although it seems very simple, going up in the sky is as thrilling as going down underwater. Float across the sky in AlUla and take in the splendour of the city from a new perspective.Do not forget to book your balloon ride for before the sun rises at Winter Park in AlUla, so that you can experience the sun rising behind the horizon as your balloon picks up speed to go higher in the sky.
Nearest Airport: Prince Abdul Majeed bin Abdulaziz Domestic Airport
How to Reach: One can take a taxi from the airport to reach the venue
Nearby Attractions
AlUla Old Town
Elephant Rock
AlUla Tantora
Jabal Ikmah
Suggested Read: Visa for FIFA Ticket Holders: Saudi Arabia to Grant Visas to FIFA World Cup Ticket Holders
3. Indulge in the Thrilling Water Sports at Red Sea, Jeddah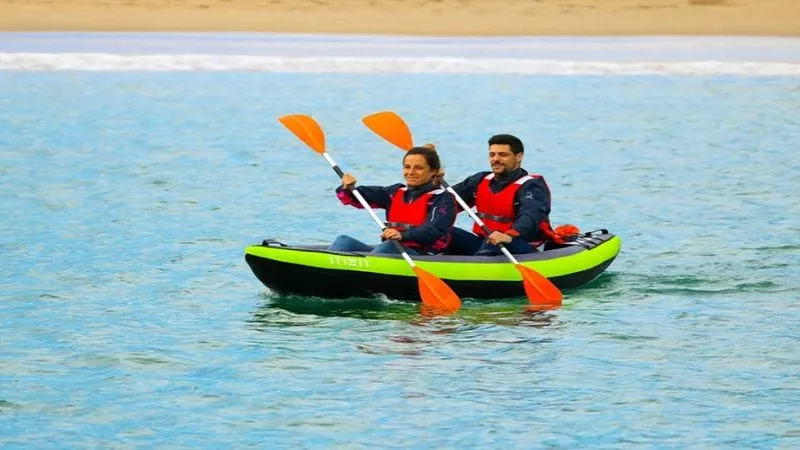 The Red Sea is quite welcoming when it comes to adventure enthusiasts looking for thrilling water activities. There are numerous underwater and overwater activities available for people to participate in or at least try. Two of the most preferred activities are scuba diving and snorkeling, where tourists get to encounter life underwater. One may get a chance to be near many vibrant creatures, including corals, stingrays, eels, rays, lionfish, clownfish, octopus, turtles, lobsters, and starfish. It is recommended to try flyboarding if you are good at balancing yourself. Other than these, some other water sports in Saudi Arabia include wakeboarding, jet skiing, windsurfing, parasailing, stand-up paddleboarding, kayaking, and kitesurfing.
Nearest Airport: Port Sudan (PZU) Airport
How to Reach: One can take a taxi or bus from the airport to reach
Nearby Attractions
Al Shallal Theme Park
Al Tayebat International City
Fakieh Aquarium
Nassif House Museum
4. Visit the Enthralling Al Asfar Desert Lake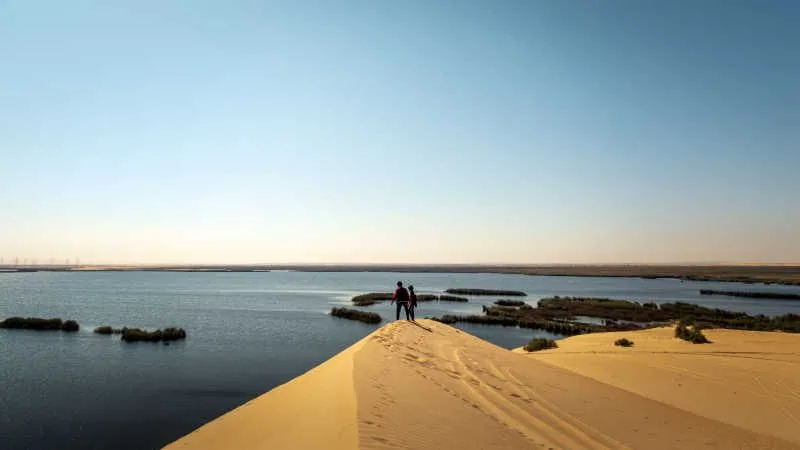 Exploring this incredible piece of nature's wonder is one of the things to do in Saudi Arabia. Not so adventurous per se, but the view of this desert lake definitely takes visitors' breath away. Located in Al Ahsa National Park, this hidden gem which is a stunning shallow wetland in the middle of the desert is also known as Yellow Lake. Visit this extensive water body during the winter season. Al Asfar Lake has also been designated as a UNESCO World Heritage Site.
Nearest Airport: King Fahd International Airport
How to Reach: One can take a taxi from the airport to reach
Nearby Attractions
Al Qara Hill
Al Hasa Oasis
Al Qarah Mountain
Ibrahim Palace
Suggested Read: FIFA Live Streaming in Saudi Arabia: Drink, Cheer, and Goal!
5. Enjoy an Adventurous Safari in the Arabian Desert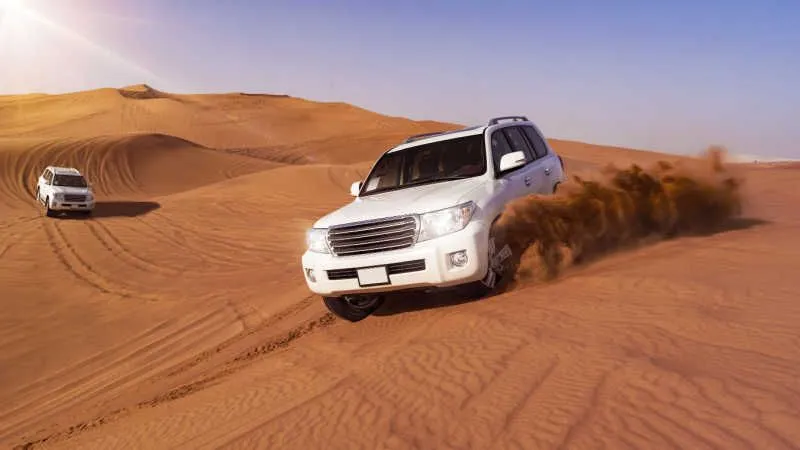 One of the most exciting adventures in Saudi Arabia is taking a desert safari. The country is known to have the largest sand desert in the world, offering outstanding desert activities. Enjoy the unique experiences of sand boarding, dune bashing, quad biking, and sand skiing, among others. The safari also includes camping in the Arabian Desert while enjoying a barbecue meal. Tourists also have the option of taking the overnight safari to experience stargazing, performances by Arabian artists, and just spending a night surrounded by peculiar red sand.
Nearest Airport: King Khalid International Airport
How to Reach: One can take a taxi from the airport to reach
Nearby Attractions
King Abdullah Park
Wadi Namar Waterfall
Al-Bujairi Heritage Park
Al Masmak Palace Museum
Suggested Read: Saudi Arabia Guide for FIFA World Cup: All You Need to Know Saudi Fans
6. Try the Mind-Blowing Wreck Dive in Abu Faramish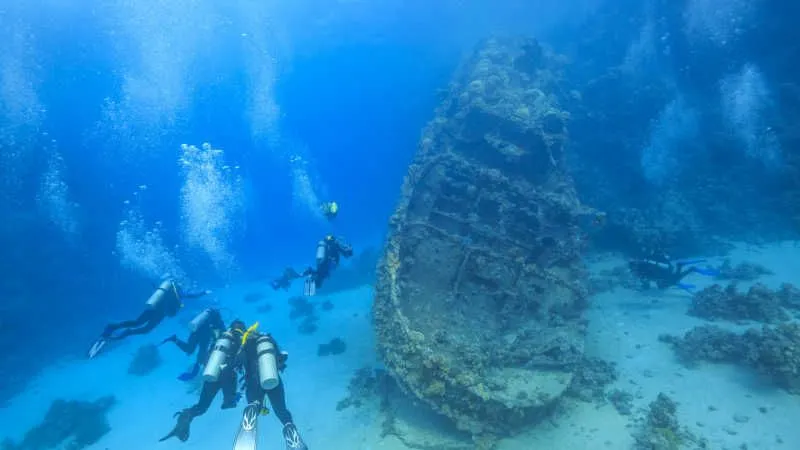 Have you ever encountered a real shipwreck during your dive? If not, here is your chance to experience what it feels like to see something that drowned underwater many years ago and has become a safe haven for marine life. One of the famous sites for a perfect wreck dive is Abu Faramish, where Ann Ann, a ship is sitting underwater since 1977. Some of the residents of the ship as of today include tuna, blue-spotted rays, whitetip sharks, and snappers. A wreck dive is not every diver's cup of tea, as it demands a lot of patience and composure to deal with what you see.
Nearest Airport: Port Sudan (PZU) Airport
How to Reach: One can take a taxi to get to the coast
Nearby Attractions
Al-Balad
Al Rahma Mosque
Fakieh Aquarium
Atallah Happy Land Park
So, if you are looking for adventures in Saudi Arabia during the FIFA World Cup, there are many to explore and loads to indulge in, as per your preference. The country of Saudi Arabia is home to different terrains, from sunbaked desert and a gigantic sea to majestic mountains and tranquil beaches. With such diverse topography comes the opportunity to try different thrilling activities according to the nature of the place. So, without further delay, look through the World Cup 2022 schedule and pack your bags to explore the thrilling activities in Saudi Arabia in between matches. If you want to discover more hidden gems in the country, book a Saudi Arabia vacation package and you'll be in for a treat.
FAQs
Q1. How can I enjoy Saudi Arabia?
There are many adventurous activities to indulge in during your holiday in Saudi Arabia. Other than that, the country is full of famous landmarks and natural wonders that must not be missed.
Q2. What is special about a desert safari in Saudi Arabia?
The Arabian desert safari is full of different thrilling activities like dune bashing, sandboarding, sand skiing, quad biking, and much more. It also includes performances by talented artists, Arabic meals, and exploring the desert.
Q3. How many days are enough to explore Saudi Arabia?
5-6 days are enough to explore all the significant landmarks in the beautiful country of Saudi Arabia. People can also indulge in all the thrilling and exciting activities during these days.
Q4. Is it worth visiting Al Asfar Lake?
Al Asfar Lake is a natural marvel that is located in the Al Ahsa National Park. The view of this water body surrounded by desert sand takes people's breath away. This desert lake has been designated a UNESCO World Heritage Site.
Q5. What are the travel tips for Saudi Arabia?
Here are some important tips that one should keep in mind while exploring Saudi Arabia.
Always keep your passport with you.
Respect the traditions and culture
Carry a water bottle
Learn the basic vocabulary
Try all the traditional food
Q6. Is there a hot air balloon ride in Saudi Arabia?
Yes, AlUla's winter park organises hot air balloon rides during a certain period where tourists get the chance to float in the sky while admiring the picturesque view of one of the oldest cities in Saudi Arabia.
Q7. When is the best time to visit Saudi Arabia?
The months from November to February are ideal for planning a vacation in the charming country of Saudi Arabia. The weather is pleasant during these months, and tourists can explore the significant landmarks and indulge in all the exciting activities with ease.
Q8. What is a wreck dive?
A wreck dive is a very different kind of diving, where the divers get the chance to explore a wrecked ship underwater. Abu Faramish is one of the regions where a ship called Ann Ann has been sitting peacefully under the water since it drowned in 1977. It is a famous spot for a wreck dive.
---