No amount of looking at the pictures of this location on Google is going to prepare you for the awe-inspiring beauty that Wadi Namar Riyadh is. Get ready to swoon over this natural gem, which is no less than a painting. The scenic views of the dam, the lush green park, and serene lake make this place a must-visit for all, especially for families and couples. What differentiates this attraction from the rest is the fact that you can simply sit here and relax, without having to do anything to keep yourself engaged. Therefore, it's a favorite of tourists who wish to spend quality time with their loved ones in the serene atmosphere of this tourist place. So, let's delve deep into what this attraction is all about.
Wadi Namar Riyadh: A Calming Getaway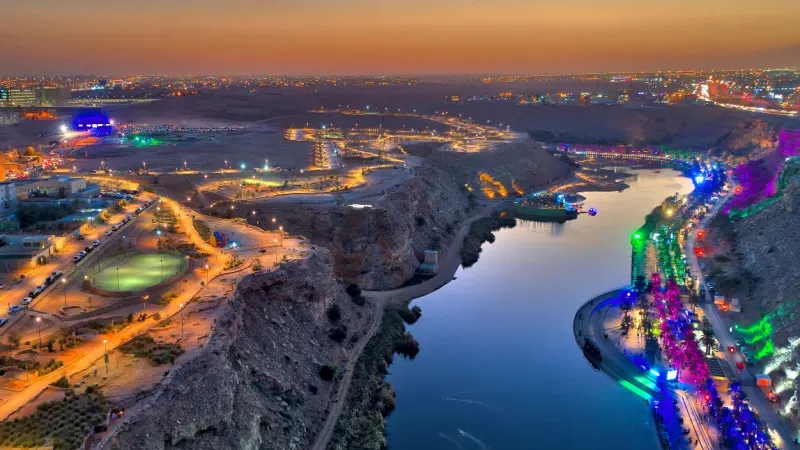 Wadi Namar is a gorgeous park, which includes several attractions. However, the highlight is its natural beauty, accentuated by the huge trees, calm lake, and a tranquil environment. Home to more than 9,500 trees, you're in for a retreat in the lap of nature that will remain etched in your memory forever. This valley connects with Wadi Hanifah, which is another famous picnic spot.
Here's everything you need to know about this destination.
Address: HMCH+QVX, Namar, Riyadh 14962, Saudi Arabia
Timings: Open 24 hours
Entry fee: Free of cost
How to reach: You can take a taxi or a private car to reach Wadi Namar, which is around 19 km away from the city center.
Best time to visit: It's ideal to visit this place after 5 P.M when the weather's comparatively better and the crowd as also dissipated to some extent. Nighttime is the perfect time when you can watch the entire place light up.
Suggested Read: Riyadh Season 2023: Get Ready for the Ultimate Extravaganza
Things to Do in Wadi Namar Riyadh Saudi Arabia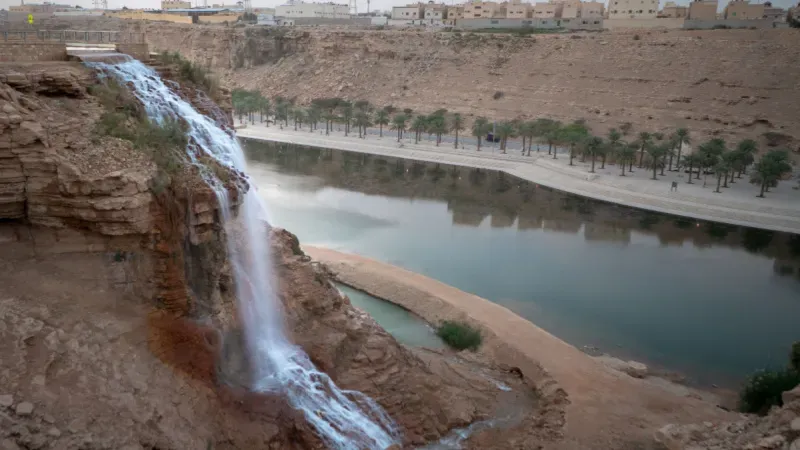 Even though there are several things to do in Riyadh, Wadi Namar is one of the most sought-after ones. There are several places of interest inside this desert oasis that you can explore on your trip.
Walk to the Namar Dam: Watching a dam might sound boring, but not when you have such scenic views to accompany it. Sitting in the park and watching the dam touching the sky can entertain you for hours and allows you to appreciate the simple things in life.
Camping: One of the most famous activities in Wadi Namar is to camp under the twinkling stars and spend the entire night admiring nature and its marvels. There are beautiful campsites available for families, where you can enjoy a bonfire, barbeque, and much more to turn your trip into a memorable one.
Sit by the Lake and Waterfall: Nothing calms your heart better than sitting by a serene lake. Watching the reflection of the surroundings dancing in the water is quite soothing. It allows you to take some time out for yourself and focus on your loved ones without any distractions. There's also a Wadi Namar waterfall Riyadh with milky-white water cascading down the rocky surface.
Click Pictures: There's no dearth of photogenic spots at this tourist attraction, which is why you won't be able to stop yourself from capturing everything. With the lush green surroundings, all your pictures would have a beautiful filter on their own.
Marvel at the Gorgeous Marine Life: The marine life in Wadi Namar has been protected by the authorities, which is another reason that attracts the tourists to this place. With various species of fishes swimming around the lake, you can simply watch them for hours or feed the ducks as well. You aren't allowed to go fishing in the lake, though.
Plan a Picnic: Another thing you can indulge in is to enjoy a picnic in the beautiful park here, surrounded by a dense foliage of trees. You can spend quality time with your loved ones while chatting over anything and everything. You can even enjoy other miscellaneous activities, like bicycling around the park, indulging in outdoor sports, and much more.
Also Read: Ravishing Things To do in Saudi Arabia to Explore the Kingdom Closely
Facilities at Riyadh Wadi Namar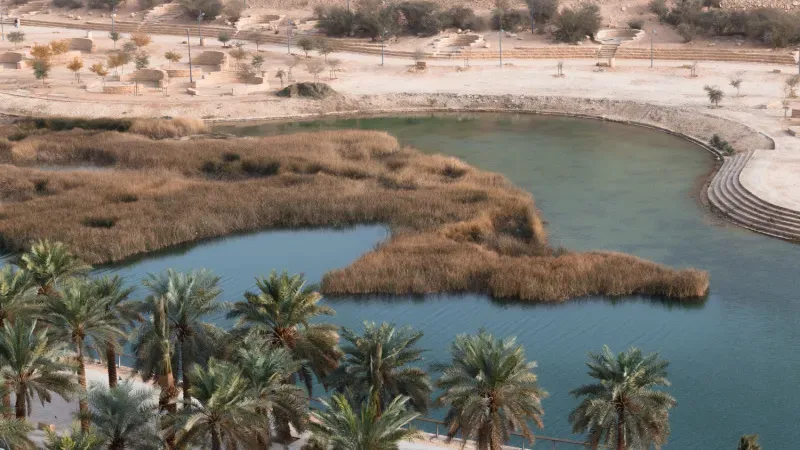 Another reason why this place is famous among locals and tourists is because of the facilities provided to the visitors.
Well-maintained pavements to walk
Bicycles are available on rent inside the park
Separate amenities for men and women, such as washrooms
Places for prayer available along with prayer mats
Markets, cafes, and shops are available
It can accommodate around 800 cars in the parking lot
Suggested Read: Top Cafes in Riyadh: Great Place to Enjoy a Cup of Aromatic Coffee
Attractions near Wadi Namar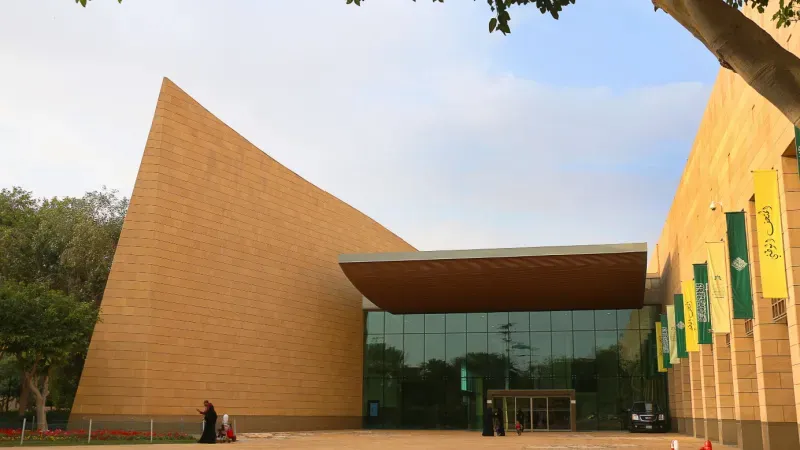 Here are some of the places to visit in Riyadh that you can cover while going to Wadi Namar.
The National Museum
King Abdullah Park
Al Masmak Palace Museum
Imam Turki Bin Abdullah Grand Mosque
Salam Park
Also Read: Historical Places to Visit in Saudi Arabia: Diving Deeper into the History and Heritage
Restaurants near Wadi Namar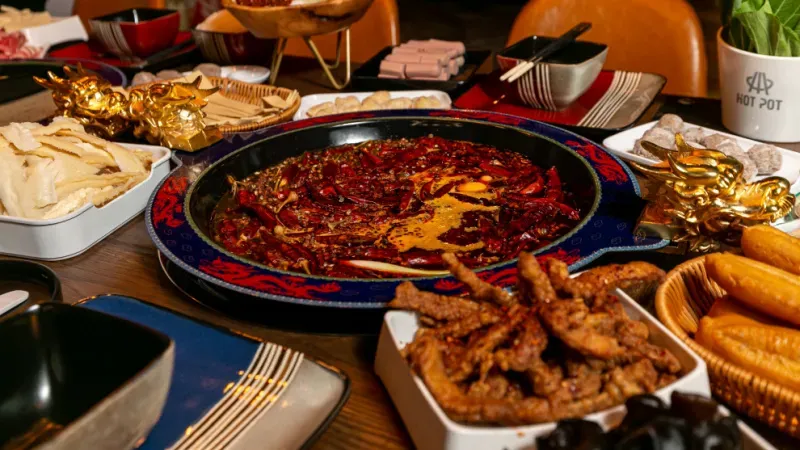 There are some amazing restaurants in Riyadh near Wadi Namar that will satisfy your hunger in the most fulfilling way.
BBQ Tonight Riyadh
Chorisia Lounge
Al Orjouan
Nando's - Turki Square
Azzurro
Also Read: Restaurants in Saudi Arabia: Discover The Fine Dining Spots
Travel Tips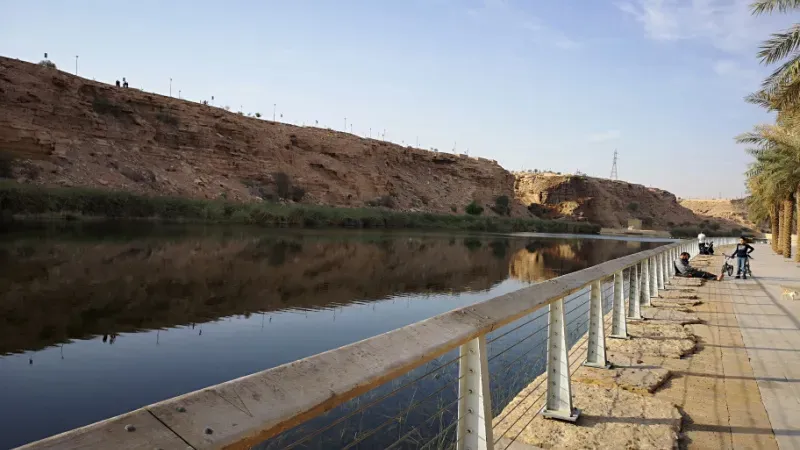 Whenever you travel to a new city, there are certain rules that you must follow to make your stay an even more delightful one. So, here are a few tips you must keep in mind when traveling to Wadi Namar.
Don't litter the area
Wear modest clothes
An adult should always supervise the children
Respect nature and all its elements
Avoid disturbing others
Don't harm the marine life
Suggested Read: Museums in Riyadh- Dig Deep Into The Development Of The City
Wadi Namar Riyadh is truly a breathtaking attraction for all who wish to see nature at its finest. From the verdant green cover to the serene lake and waterfalls, you'll be awestruck by it all. It's an excellent place to escape the city and breathe in some fresh air. The gorgeous views are the cherry on top. You can enjoy quality time with your loved ones as you stroll around the walking trails, sit by the calm lake or watch the animals go about their life. The utmost peace is what you'll experience here, and sometimes that's all one wants in life. So, if you're also in search for a tranquil retreat, then book our Riyadh tour packages and head straight to this natural park.
Wadi Namar Riyadh FAQs
Q1. Is there an entry fee for Wadi Namar?
No, there's no entry fee for Wadi Namar. You can enjoy the beauty of this place free of cost, which makes it one of the top attractions in the city.
Q2. What are the timings of Wadi Namar, Riyadh?
Wadi Namar is open 24 hours. So, you can visit it any time of the day; however, nighttime is when the entire park is illuminated by lights.
Q3. What are the attractions in Wadi Namar?
Wadi Namar has several gorgeous attractions, including a serene lake with fishes, waterfall, and natural beauty that just turns everything beautiful.
Q4. Where is Wadi Namar Riyadh?
Wadi Namar is in HMCH+QVX, Namar, Riyadh 14962, Saudi Arabia. You can reach here via a taxi as it's around 19 km away from Riyadh.
Q5. What are the things to do in Wadi Namar?
There are several things to do in this park, such as camping, picnicking, strolling around the park, sitting by the lake, etc.
Q6. What is the best time to visit Wadi Namar?
It's ideal to visit Wadi Namar after 5 P.M because the weather's comparatively better, allowing you to enjoy your time here.
---