Spice Market by Jean Georges is one of the best fine-dining restaurants in Doha which is known for its succulent South-East Asian flavors amidst a surreal setting. The interiors of the restaurant are top-notch displaying different artifacts that have been brought from Rajasthan, Malaysia, Burma and South India. Everything about this space is intriguing, from colonial-style furniture to pieces from Oriental period, Spice Market Restaurants by Jean Georges is a great place to come with family or friends to relish hearty flavors. Indulge in a pleasurable lunch or dinner scenes here and leave with a rich dining experience.
Spice Market Restaurants: Casual Ambience With Rich Interiors
Spice Market Doha is one of the best restaurants in Doha which is not only known for its South-East Asian delicacies but also for its casual and catchy ambience with rich interiors. The restaurant boasts of a rich collection of artefacts from different countries like Malaysia, Burma, South India and traditional Indian state of Rajasthan including pagodas and traditional wall carvings. The rich furniture of the restaurant with white leather reflects Oriental period including garden stools that have been imported from China and Thailand.
The rich color palette of this restaurant includes different shades of violets, deep reds, indigo and ochres that gives it a soothing appeal with embroidered French fabric curtains. It is a great place to enjoy relaxed dining amidst a sophisticated ambience.
Suggested Read: Fine Dining Restaurants In Doha: Hop-On To This Delightful Culinary Adventure
Spice Market Doha Menu: A Take On Its Menu Featuring Scrumptious Dishes & Drinks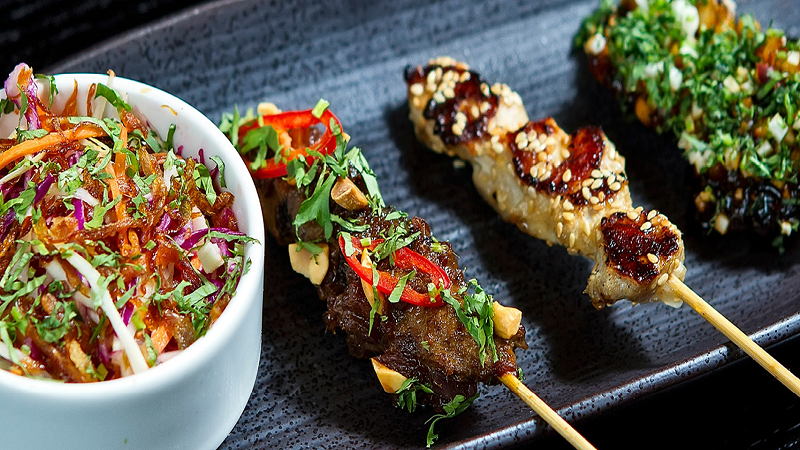 What makes Spice Market one of the top restaurants in Qatar is its menu that features a wide range of dishes from the South-East Asian cuisine. From curries to sushi, small plates to soups and salads, there is a wide selection of dishes to choose from. Let's have a look at Spice Market Doha menu.
Soups & Salads
Quinoa Salad
Steamed Edamame
Green Papaya Salad
Roasted Beetroot Salad
Market Salad
Soups
Shrimp Tom Yum
Chicken and Coconut Soup
Butternut Squash Soup
Main Course
Grilled Salmon
Seared Tenderloin
Charred Grilled Chicken
Ginger Fried Rice
Baby Corn and Broccoli
Wok Fried Mix Vegetable
Classics
Thai Beef Burger
Char-grilled Chicken
Roasted Black Sea Bass Fillet
Grilled Strip Steak
Seared Tenderloin
Pan Seared Salmon
Desserts
Exotic Thai Fruit Salad
Coconut Crushed Ice
Japanese Cheesecake
Assortment of Ice Cream and Sorbet
Matcha Azuki Slice
Now that you have got a good idea about Spice Market Restaurants by Jean Georges, we are sure you must be tempted to book a table here soon to relish international flavors. It is a great place to enjoy dining with friends or family as the restaurant boasts of ecstatic ambience and scrumptious delights. If you have booked your flights to Qatar then, we recommend you to book a table here to enjoy a hearty brunch or dinner date with your loved one.
FAQs
Q1. Where is Spice Market restaurant located?
Spice Market restaurant is located within the premises of W Doha Hotel & Residences at West Bay, Doha, Qatar.
Q2. What are the timings of Spice Market?
The timings of Spice Market Doha are:
Breakfast: 6 am till 11 am
Lunch: 12pm till 4pm
Dinner: 7pm till 12am
Q3. Is there any dress code for Spice Market by Jean Georges restaurant?
Yes, guests need to dress in smart casuals in order to enjoy dine-in at Spice Market.
Q4. Does Spice Market restaurant serve alcohol?
No, Spice Market does not serve alcohol.
Q5. Can one get vegetarian dishes at Spice Market?
Yes, Spice Market Doha menu features several vegetarian dishes.
Q6. How far is Spice Market from Doha Airport?
Spice Market is located at an approximate distance of 11 km from the Doha Airport and it takes around 20 minutes to cover this distance.
Q7. What are the famous restaurants in Doha?
Some of the most famous restaurants in Doha are:
La Spiga by Paper Moon
Burj Al Hamam
Amara
Chingari - Radisson Blu Hotel Doha
Morimoto Doha - Japanese Cuisine
Ric's Kountry Kitchen
Lobby Cafe
IDAM
Layali
Q8. What is the main cuisine served at the Spice Market in Doha?
The main cuisine served at the Spice Market is South-East Asian cuisine.
---