Camel riding is an integral part of Qatar's culture as it is particularly a desert country with massive sand dunes offering myriad of adventure activities. Qatari people love camels and have been indulging in camel racing for quite a long time. Infact, you can find some of the world's richest camels at Al Shahaniya Camel Racetrack in Qatar which is known to organize different events related to camels and is also home to different breeds of camels. Enjoy a leisure camel ride here or watch them living a peaceful life in their stables which are luxuriously designed. Check out this blog to find out more about camel race track in Qatar.
Camel Training At Al Shahaniya Camel Racetrack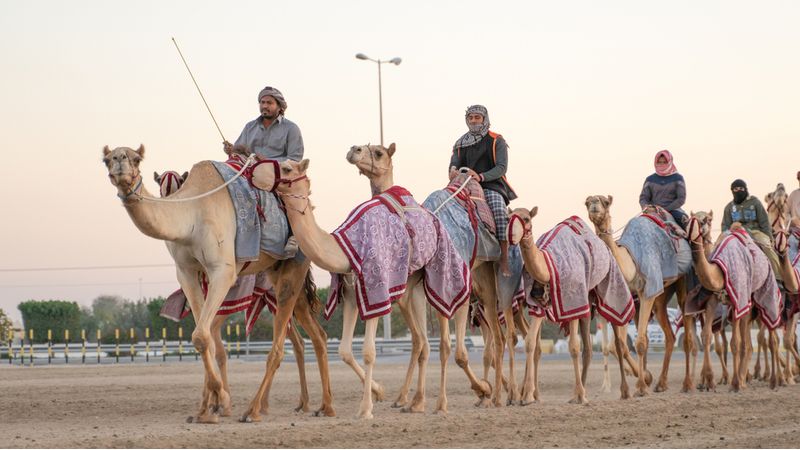 Al Shahaniya camel racetrack is quite famous throughout the country for its camel training sessions that take place twice a day, one in the morning and the other during evenings. Each training session is about 45 minutes long and each of the camel is expected to run 40 km per hour to be eligible for racing competitions. Young camels are left to the racing track where they are expected to self-train themselves with the rest of the camels while baby camels are given proper training sessions at the age of 2. The average kilometers that the camel has to run is determined by their age like camels who are between the age of 2 to 4 can run around 4-5 kilometers while who are older than 6 years can run around 10 kilometers.
Besides training, camels' health is also given special attention to and they are fed only healthy food during their training period. Camels are allowed to take part in race competitions till the age of 10 years after which they are retired.
Al Shahaniya Camel Racetrack Qatar: A Take On Different Competitions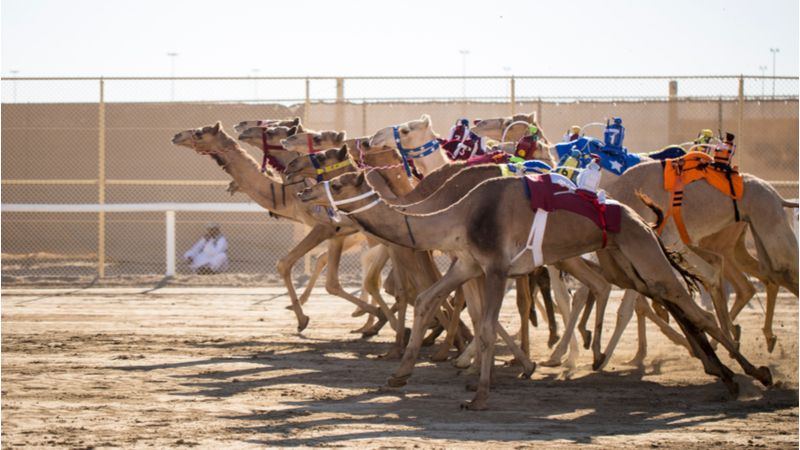 Al Shahaniya hosts different competitions which are attended by not only the residents of Qatar but people from across the world who are interested in camel racing. Camel racing competitions start in October and are conducted every Friday till February. The main event takes place somewhere between March and April and the winner is awarded Golden Sword of the Father Emir H H Sheikh Hamad bin Khalifa Al Thani award which is considered the most prestigious award in Qatar. The main aim of the Al Shahaniya festival is to promote camel racing throughout the world as it one of the best adventures to try in Qatar.
Robot Jockeys: An Innovation That Has Taken Camel Racing To Next Level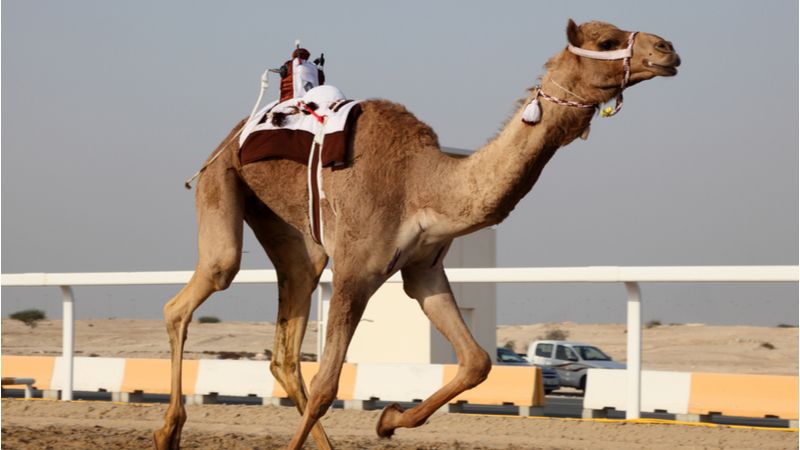 Before 2004, small children were used as jockeys because of their light weight, height age. But in 2004, the use of child jockeys was banned by the Qatar government and was replaced by robot jockeys. At the time of competitions and festival, these jockeys are often decorated in colorful clothes to give them a feel of a real person. These robot jockeys are controlled via a remote by the respective owner of the camel and are very easy to control. These are light in weight and very easy to handle.
Suggested Read: Fishing In Qatar: Your Handy Guide To A Fascinating Activity
How to Reach Al Shahaniya?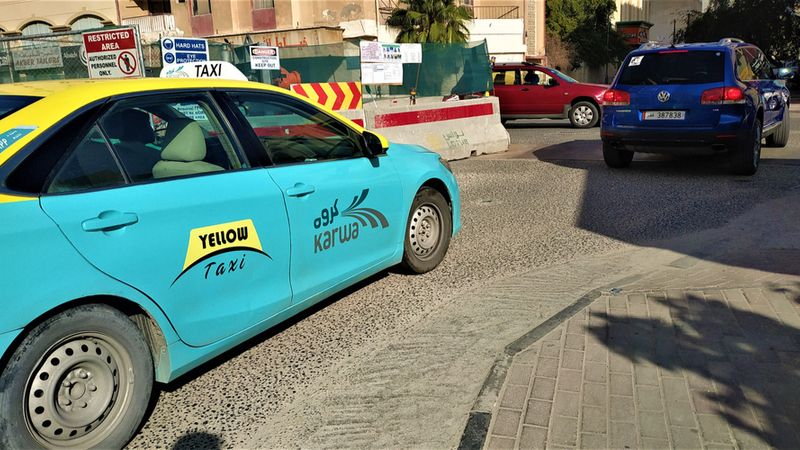 It is very easy to get to Al Shahaniya Camel Racetrack which is located in Ash-Shahaniyah, Qatar around 38 km from Doha city center. The best way is to hire a taxi and take the Dukhan-Doha highway. Once you reach the Al Rayyan football stadium then in a few kilometers there will be a roundabout from where you have to take exit and look for Oryx signboard. Near it you will find another board displaying 'camel race' which is your destination.
Al Shahaniya Camel Race track, Qatar is a great place to know everything in detail about camels and their lifestyle. People come here to attend different events, watch them getting trained and also to witness several racing competitions that take place from October to April. If you come to Doha then we must recommend you to book a taxi to Al Shahaniya to explore this amazing place exclusively built for camels as camel racing in an integral part of Qatar's culture.
FAQs
Q1. What are the activities to enjoy at Al Shahaniya in Qatar?
There are a lot of activities to enjoy at Al Shahaniya like take part in different events that take place here every day from 07:00 am to 02:00 pm, see how camels live their life and also enjoy camel racing.
Q2. Where is Al Shaniya camel racetrack located?
Al Shaniya Camel Racetrack is located in Ash-Shahaniyah, Qatar and is easily accessible by a private taxi.
Q3. How to reach Al Shahaniya racetrack in Qatar?
Al Shahaniya racetrack is located at an approximate distance of 38 km from Doha city center and can be easily accessed by taking the Dukhan highway till Al Rayyan football stadium and then riding through the roundabout till the first exit. From Oryx sign, you will have to turn left where you will see a signboard displaying 'camel race'.
Q4. How much time is required to explore camel racetrack in Qatar?
One needs approximately 2 hours to fully explore Al Shahaniya racetrack in Qatar.
Q5. When does Al Shahaniya Festival takes place?
Al Shahaniya Festival takes place in October and then different tournaments take place every Friday till February. The main event takes place somehere between March and April.
Q6. When is the best time to visit Al Shahaniya?
The best time to visit Al Shahaniya is from November to March when the weather is also pleasant and several events take place.
Q7. Is Al Shahaniya race track worth visiting?
Yes, Al Shahaniya race track is worth visiting as it houses different breeds of camels and some of them are even the most expensive in the world. The stables here are air-conditioned with all the facilities for the comfort of camels as these mighty creatures hold an important place in Qatar's culture. You will also get to enjoy several events here and also try your hands on camel riding.
Q8. How far is Al Shahaniya race track from Doha Airport?
Al Shahaniya race track is appro 42 km from Doha Airport and it takes around 40 minutes to cover this distance by hiring a taxi.
---