If you're feeling homesick or are craving Indian food, then there's no better place than Red Chilli Restaurant, Riyadh to satisfy your hunger. The wonderful Indian flavors and the aromatic smell of the food makes dining here a memorable experience. You'll find authentic dishes here that will remind you of home. This restaurant is designed in such a way that it'll resemble a lot to the highway eateries that you stop by on your long journey, where the fresh dishes served to you taste much better than any other day. You'll get the same feeling here because that was the motive of the owner. So, let's know more about this delightful place.
About Red Chilli Restaurant in Riyadh
When it comes to this restaurant, there's no doubt that it'll serve you the best Indian dishes you've ever had. However, that's not all. There's a lot more that's working in favor of this restaurant, such as its ambiance, décor, etc.
One of the reasons why this is one of the best restaurants in Riyadh is because of its comfortable atmosphere. The warm lighting, a royal color palette with white and red colors, and the gorgeous décor, which makes everything look rich and luxurious. Along with that, you'll be greeted by a warm and friendly staff that will make the experience for you even better. The smooth and effective service is one of the many advantageous points of this restaurant.
Opening hours: 12:30 P.M to 3:15 P.M and 6:30 P.M to 12 A.M
Cuisines: Indian, Chinese, Regional
How to reach: You can take a cab or taxi to this restaurant via route 65 or King Fahd Road. It'll take approximately 15 minutes to reach this restaurant. It's near Centria Mall, Riyadh.
Address: Prince Abdulrahman Bin Abdulaziz St, Al Murabba, Opposite Crowne Plaza Riyadh Palace Hotel, Riyadh 12628, Saudi Arabia.
Suggested Read: Restaurants in Saudi Arabia: Discover The Fine Dining Spots
Red Chilli Restaurant Food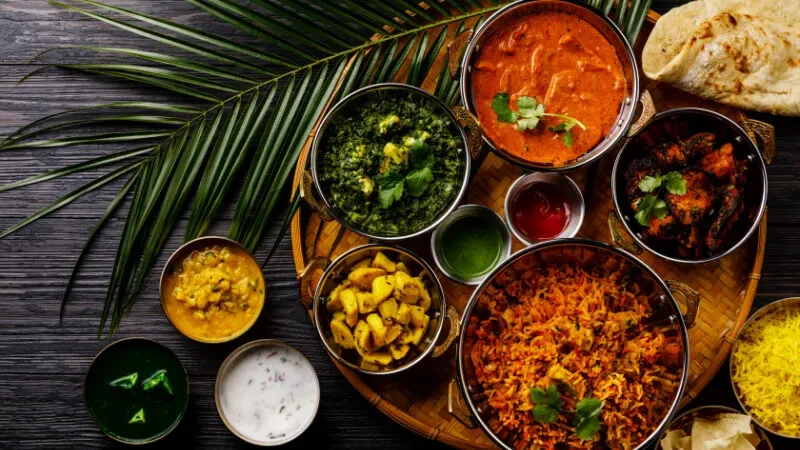 The food of this restaurant is the talk of the town and it's one of the primary reasons why people from all over the world flock to this place. This place ensures that your dining experience is one that satisfies your soul and takes you on an exquisite journey of Indian flavors and spices.
Red Chilli Restaurant, Riyadh serves breakfast, lunch, and dinner for everyone and the vast variety of the menu makes it quite an overwhelming task. Every dish is as tempting as it sounds, and you'll feel like ordering them all. However, let us help you out in choosing some of the best dishes out of all the delectable ones.
You can start with a traditional Lassi or Tea. For appetizers, you can order Pani Puri or Raj Kachori. As for the main course, you can either order a Chicken Tikka Masala or Dal Makhani. Pair these with Butter Naan or Stuffed Kulcha and order a juicy Chicken Biryani as well. For vegetarians, Biryani Rice is an equally delicious option. Conclude the meal with a Kulfi Falooda Ice Cream or Gulab Jamun.
There are many more options to choose from on the Red Chilli Restaurant Riyadh menu depending on your tastes and preferences. Regardless of what you order, you'll be served the most scrumptious dishes.
Facilities at Red Chilli Restaurant
The facilities at Riyadh's Red Chilli Restaurant make it even more convenient for the people to visit this place, making it one of the famous places to visit in Riyadh. Here are the facilities they offer to the customers.
This restaurant is wheelchair accessible
Parking is available
It's ideal for large groups
There's outdoor and indoor seating
They accept credit cards
Takeout option is available
Suggested Read: 8 Best Restaurants in Al Khobar, Saudi Arabia: Tingle Your Tastebuds at the Finest Restaurants
Attractions Near Red Chilli Restaurant, Riyadh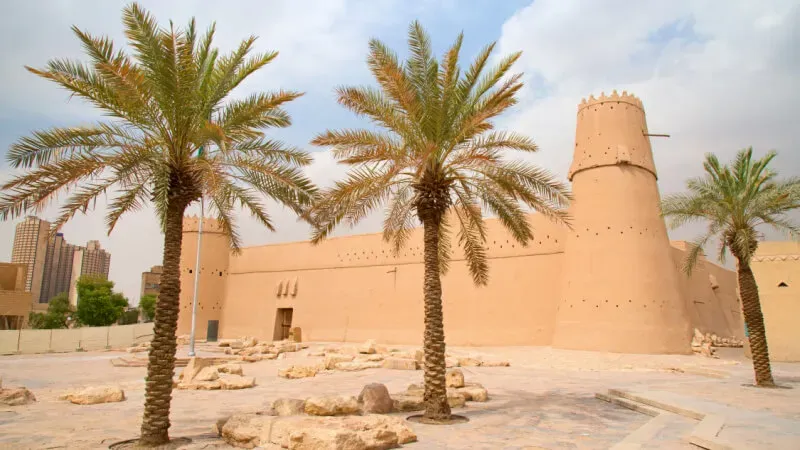 When you're visiting this restaurant, you might as well explore the nearby attractions as well.
Riyadh Avenue Mall (approx. 1 km)
King Abdullah Park (approx. 4 km)
Riyadh Zoo (approx. 4 km)
Al Masmak Palace Museum (approx. 7 km)
Boulevard Riyadh City (approx. 23 km)
So, consider visiting these places along with dining at the Red Chilli Restaurant as one of the most fun things to do in Riyadh.
Now you know where to go when you're craving Indian food because only the best dishes can satisfy those cravings. So, the next time you wish to eat out, instead of going to the popular cafes in Riyadh, visit the Red Chilli Restaurant, Riyadh. I'll be the most wonderful decision you'll make on your trip here because nothing can beat the strong and spicy Indian flavors. So, indulge in the savory dishes here and experience the feeling of being in a food coma because of the heavenly taste. Book your Saudi Arabia tour packages right away for an exciting vacation in Riyadh.
FAQs
Q1. Where is Red Chilli Restaurant Riyadh?
Red Chilli Restaurant is in Al Murabba, opposite the Crowne Plaza Riyadh Palace Hotel. You can go there via cab or taxi.
Q2. What are the timings of Red Chilli Restaurant?
The Red Chilli Restaurant is open from 12:30 P.M to 3:15 P.M and 6:30 P.M to 12 A.M. It's open all seven days of the week, so you can visit it anytime.
Q3. Which cuisine is served at Red Chilli Restaurant, Riyadh?
You'll find Indian, Chinese, and regional cuisine at this restaurant. Its varied menu offers several options for you to choose from.
Q4. Is Red Chilli Restaurant a family-friendly restaurant?
Yes, Red Chilli is a family friendly restaurant and is also suitable for large groups. Its comfortable seating arrangement, warm and welcoming atmosphere makes it an ideal place for families.
---