Abha, a city in Saudi Arabia is famous for its hill station vibes since it's at a strategic location with the gorgeous mountains touching the cloudy sky. Exploring this city is like stepping into a time warp and teleporting to a time with palaces and castles. The cultural and artistic side of this city is worth getting acquainted with. The cafes in Abha are an absolutely splendid way to spend time in this city because they capture the essence of this city's old-school charm. Looking out from the café, admiring the beautiful and vibrant houses, greenery, abstract art, and much more while sipping on a cup of coffee sounds perfect.
Top Cafes in Abha: For People Who Love the Coffee Aroma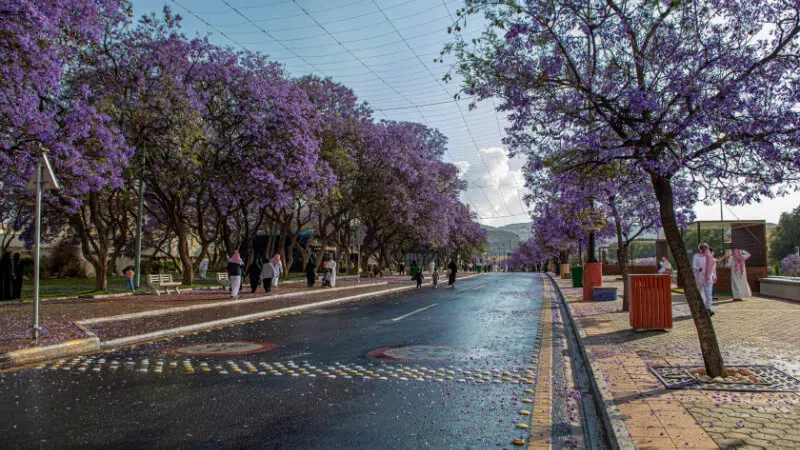 When it comes to coffee, there's no scope of compromise on its taste and aroma. Therefore, these cafes in Abha Saudi Arabia are your best bet to enjoy a delicious coffee with equally delicious snacks to go with it. You can also order a variety of other beverages and snacks because one of the many things you can rely on in these cafes is their wide variety of options.
Here are the top cafes in Abha for you to try-
Elk Café
ONCE Specialty Coffee
The Glass Garden
Giorno Coffee and Restaurant
Address Cafe
Jadelah Coffee
Daniq Café
8oz Coffee
1. Elk Café: Adding Brightness to a Regular Day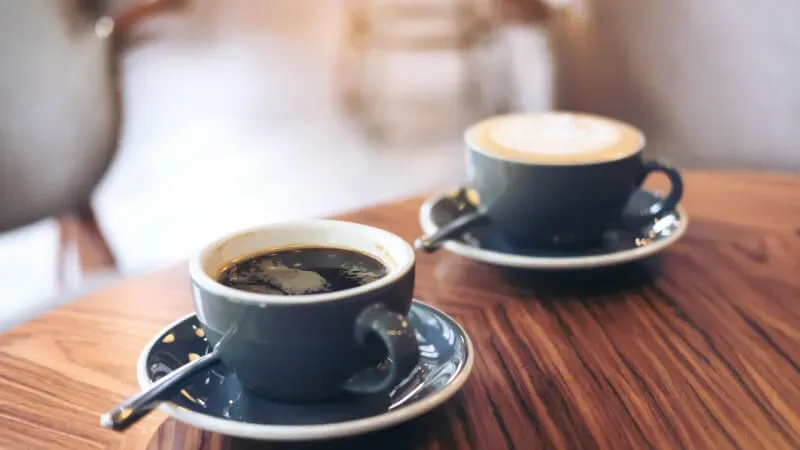 Let's talk about this absolutely gorgeous café in Abha, which is the epitome of vibrancy and elegance. From its white interior and décor to the splash of greenery added by the potted plants and brightened by fairy lights, there's no room for complaints regarding its ambiance. With huge glass windows and an essence of the city in its décor, it makes this an inviting place to enjoy a cup of coffee with your loved ones. Divided between two floors, this café is famous for its delicious desserts that go really well with their coffee. The attention to detail in this café is clear after a single look because everything fits perfectly with the café vibe.
Timings of Elk Café: 4 P.M to 12 A.M
Address: Abu Huraira Rd, Abha 62527, Saudi Arabia
Famous food: Spanish Lattes, Matcha tea, Hibiscus tea, Pecan Cake, French Toast
2. ONCE Specialty Coffee: Taste the Elixir of Life
This is the best café in Abha because of their minimalist yet graceful approach. The spacious dining area accentuated by a chic décor following a solid color scheme of black and brown shades adds a touch of modernity to this place. The wall décor, potted plants, warm lighting, everything is in sync and compliments one another, making your experience here a delightful one. As for its food, you can expect top-notch snacks, desserts, and beverages that would satisfy your cravings and hunger pangs right away. Also, the aesthetic food here along with the modern interior makes this one of the most instagrammable cafes in Abha.
Timings of ONCE Specialty Coffee: 7:30 A.M to 12:30 A.M (Saturday to Thursday) and 4 P.M to 12:30 A.M (Friday)
Address: King Fahd Branch Rd, Alarin, Abha 62524, Saudi Arabia
Famous food: Chocolate Cookies, Hibiscus Iced Tea, Soufflé, Latte
Also Read: Malls in Abha: Enjoy A True Immersive Experience
3. The Glass Garden Café: A Café Right Out of a Storybook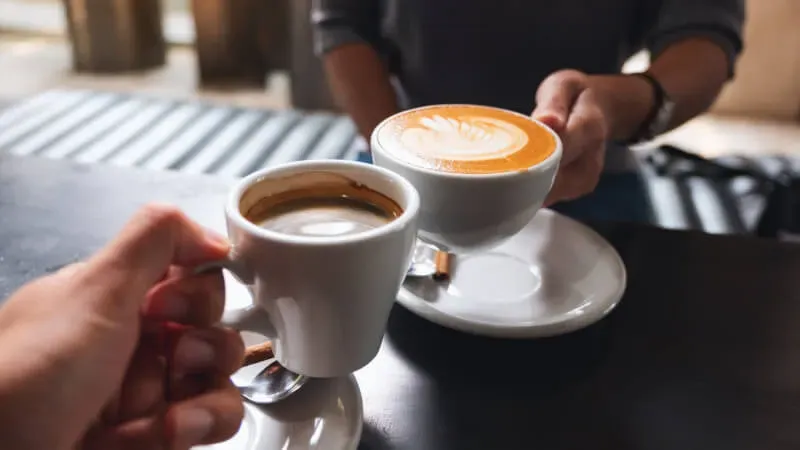 This is one of the cafes in Saudi Arabia, which is nothing less than a fairytale. Its monochrome interior enhanced with a pop of color added by the floral arrangements is a sight to behold. There's a regal aura here, thanks to the dining area's décor with huge glass windows, royal seating arrangement and a lush green ceiling, making this café the talk of the town. You can even go for the outdoor seating, which is set in the garden surrounded by shrubs and trees, beautified by the fairy lights. It's even more gorgeous if you visit this café during nighttime as the entire place is illuminated by soft lights.
Timings of the Glass Garden Café: 1 P.M to 11:50 P.M
Address: Buhaira Street, Abha Al Jadidah, Baha 62512, Saudi Arabia
Famous food: Penne Arabiatta, Margherita Pizza, Espresso, Cappuccino
4. Giorno Coffee and Restaurant: An Italian Love Affair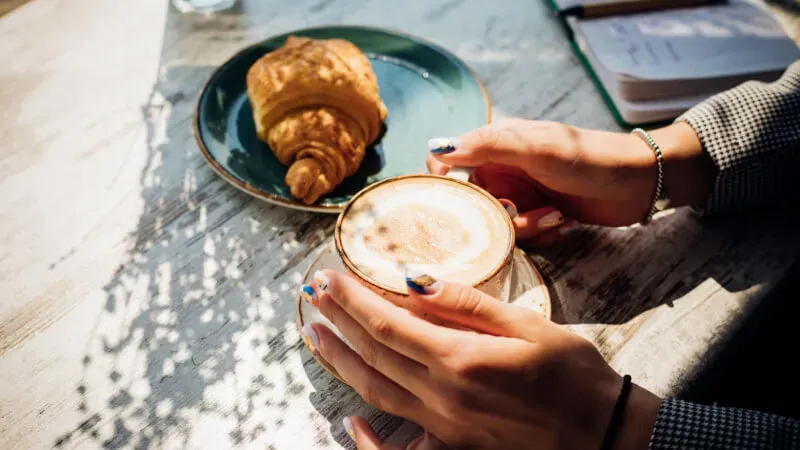 You might have guessed it from the name that this Abha café specializes in Italian cuisine and its cosmopolitan yet rustic appearance sets the right tone for the visitors. With a color scheme of white, grey and black enhanced by a gorgeous blue color turns this entire place into a vibrant space. The city view from its floor to ceiling windows and the quaint décor would take you to the charming streets of Italy. The potted plants add a homely and warm touch to the overall ambiance. Due to the white interior, there's a brightness in this café that just brings out the cheerful and vibrant side of yours, and as for the food here, you'll not be disappointed in the least. The scrumptious beverages and dishes served here enhance your overall dining experience here and is what makes this one of the top places to visit in Abha.
Timings of Giorno Coffee and Restaurant: 6 A.M to 1:30 A.M
Address: Al Dabab, Abha 62522, Saudi Arabia
Famous food: Margarita Pizza and Fusilli Giorno, French Toast, Fettuccini Alfredo
Also Read: Theme Parks in Abha: Stunning View Of The City And Mountains
5. Address Cafe: Step into Luxurious Sophistication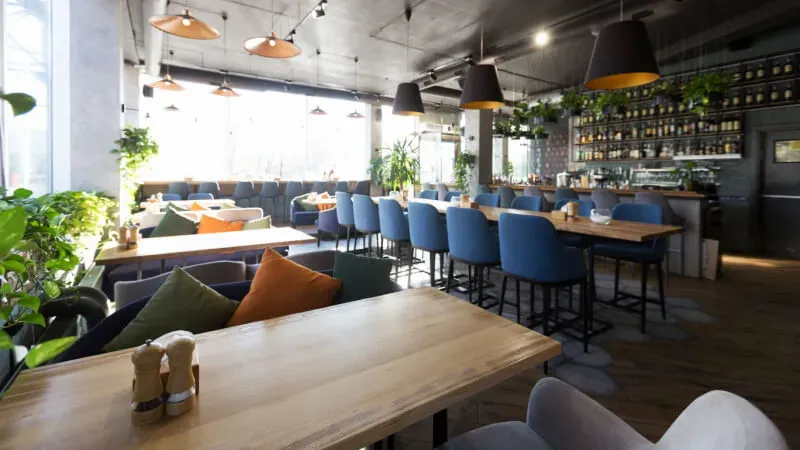 Among the many things to do in Abha, you must add visiting this café to the list as well because the elegant, yet luxurious ambiance and appearance of this place is worth admiring. With warm lighting, minimalist décor, and a solid color scheme exudes an inviting aura, which is hard to resist. Their outdoor seating is equally beautiful with the clear sky and cityscape in view and the lush greenery around you just makes everything better. There's a romantic feel to this café, which is why it's ideal for couples as you can soak in the breathtaking views while savoring dishes chosen from their vast menu. I'll definitely recommend visiting this café for both the food and the pleasant atmosphere.
Timings of Address Café: 7 A.M to 1 A.M
Address: 5143 King Faisal Rd, 7966، Abha 62545, Saudi Arabia
Famous food: Iced Latte, Filtered Coffee, Honey Cake, Cortado, Brownies
Also Read: Abha High City: Hike to a Place Where Sky and Entertainment Unite
6. Jadelah Coffee: A Happy Space for Coffee Addicts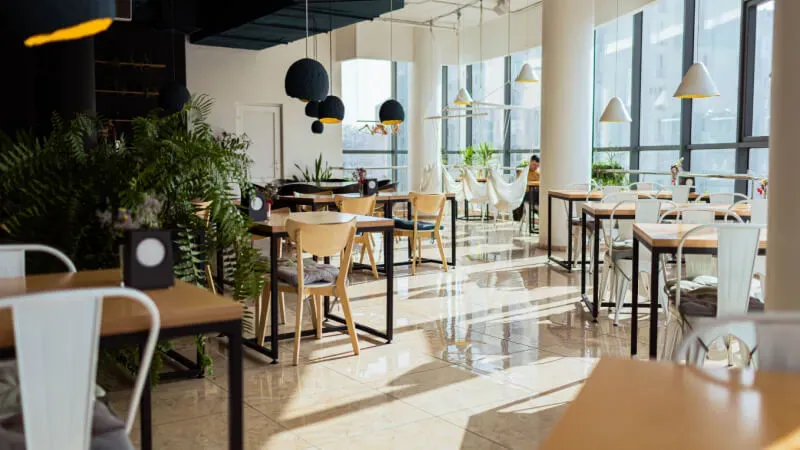 Enjoying a cup of coffee in the right setting is undoubtedly important because it enriches your experience, don't you agree? Well, Jadelah Coffee is one such place, which sets the right tone for you to enjoy a cup of aromatic coffee. The vibrancy and liveliness in the ambiance of this café, thanks to the bright seating area and décor following a blue and white color scheme. The large windows offer a magnificent view of the city, and the laidback vibes make it an ideal place for easy flow of conversations. You can take a pick from the vast range of beverages and desserts available and relax after exploring the attractions in this city.
Timings of Jadelah Coffee: 7 A.M to 2 A.M (Saturday to Thursday) and 1 P.M to 2 A.M (Friday)
Address: 2940 King Saud, Al-Muftaha, Abha 62521 7364 Saudi Arabia
Famous food: Americano, St. Sebastian, Flat White, Cinnabon, Cheesecake
Suggested Read: Green Mountain Abha: Discover the Scenic Beauty Where Nature Meets Adventure
7. Daniq Café: Sip, Savor, and Indulge in the Perfect Brew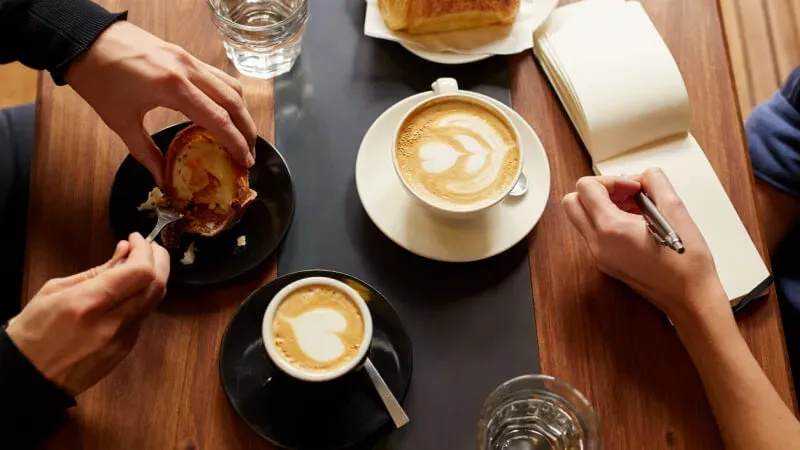 You asked for beauty and this café delivers it. With a colorful interior brightening up the place and the potted plants adding a touch of warmth, there's nothing more satisfying than dining here. The highlight though, is the view from this café, which is beautified with lush greenery and scenic beauty. Even though the dining area is quite spacious, there's still a sense of coziness and warmth that makes this a perfect place for unwinding with your friends or loved ones. The desserts here are heavenly and once you take a sip of their coffee, there's no going back. You'll be asking for more in no time. So, make sure to visit this place as it's truly one of the best cafes in Abha.
Timings of Daniq Café: Open 24 hours (Saturday to Thursday), 12 A.M to 6 A.M and 12 P.M to 12 A.M (Friday)
Address: King Abdul Aziz Rd, Al Rabwah, Abha 62523, Saudi Arabia
Famous food: French Toast, Cinnabon, Red Velvet Cake, Iced V60 Nicaragua Beans
Suggested Read: Top Cafes in Riyadh: Great Place to Enjoy a Cup of Aromatic Coffee
8. 8oz Café: Conversations over Coffee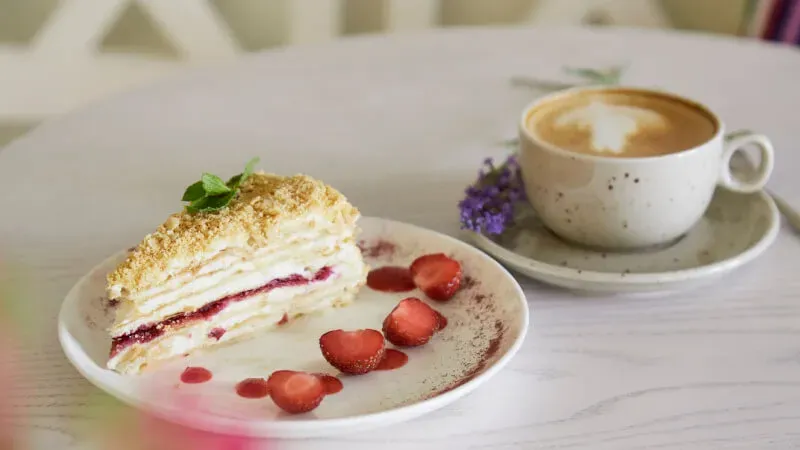 Last on our list is this really special café, which is truly a masterpiece. With its monochrome color scheme, warm lighting, and opulent décor, you'll feel like dining at a high-end place. Instead of going to the restaurants in Abha every time, why not give this place a try. Everything here, from the décor to the ambiance is top-notch and it's therefore one of the best cafes in Abha you must visit during your trip. You can enjoy the beauty of this place while relishing the mouth-watering beverages and dishes because everything tastes much better and refined in this gorgeous setting.
Timings of 8oz Café: Open 24 hours
Address: King Fahad Rd, Sirr ad Ghalidh, Abha 62521, Saudi Arabia
Famous food: French Toast, Honey Cake, V60 Coffee, Cortado, Cheesecake
Suggested Read: Top Cafes in Jeddah: To Relish Frothy Coffee and Light Snacks
You're in for a refreshing time at these cafes in Abha because they offer a relaxing and lively ambiance to its visitors along with delicious beverages and dishes. From desserts to savory items, you can choose from the vast menu and indulge in a delightful time there. There's a coziness and warmth that these cafes exude, which is what attracts customers to these inviting places. So, book our Saudi Arabia tour packages and taste the local coffee and quick bites that this city has to offer.
Cafes in Abha FAQs
Q1. What are the best cafes in Abha, Saudi Arabia?
Some of the best cafes in Abha that you must visit at least once are Elk Café, The Glass Garden, Jadelah Coffee, 8oz Café, and many more. You can expect a good cup of coffee with delicious snacks at these places.
Q2. Which are the ideal cafes in Abha for couples?
The Glass Garden Café, Giorno Coffee and Restaurant, and Address Café are perfect for couples because of the romantic vibe they exude. The gorgeous setting of these cafes makes them ideal for couples.
Q3. What are the opening hours of Daniq Café, Abha?
Daniq Café is open 24 hours (Saturday to Thursday). On Friday, though, it's open from 12 A.M to 6 A.M and 12 P.M to 12 A.M.
Q4. Where is 8oz Café Abha?
The address of 8oz Café is King Fahad Rd, Sirr ad Ghalidh, Abha 62521, Saudi Arabia. It's a must-visit café for tourists and locals.
Q5. Which cafes in Abha are family friendly?
Even though all the cafes in Abha are family friendly, you must visit ONCE Specialty Coffee, Elk Café, and 8oz Café for some family time. These cafes offer a warm ambiance, ideal for families.
Q6. What are the attractions near Elk Café Abha?
After spending some relaxing time at Elk Café, you can explore the nearby attractions like Clock Tower Museum, Abraj Al Bait Towers, Al Masjid Al Haram, Masjid Al Jinn, etc.
Q7. Which cafes in Abha are open 24 hours?
8oz Cafe and Daniq Cafe are two places that are open 24 hours and offer scrumptious beverages and snacks to satisfy your hunger pangs at any time of the day.
8. What are the timings of Address Cafe, Abha?
Address Cafe in Abha is open from 7 A.M to 1 A.M. So, if you have midnight cravings or simply wish to savor delectable desserts, then this is the place for you.
---